This restaurant is closed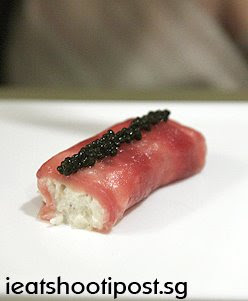 Crab meat wrapped in Tuna Sashimi with
smoked Caviar and blood orange sorbet
Restaurant Ember: 15th Anniversary Degustation Dinner – ieatishootipost
Marriage isn't for everyone I guess, but personally, it suits me just fine. I am the kind of guy who likes stability and predictability in life, so it is comforting to come home everyday, have my meal, play with the kids, watch TV and go to bed.
I once joked with my wife that one of the reasons I wanted to get married (to her) was the fact that I did not like to say goodbye after a wonderful meal and a movie. I hated taking a bus all by myself after midnight (Those were the NS days). Another good thing about getting married is that you don't have to decide who to go to the movies with and you never have to grapple with the embarrassment of being turned down. Ah yes, you also save a lot on phone bills.
Anyway, Amagada's tastebuds can be quite difficult to please. There have been so many occasions when I brought her to one of those "die die must try" places which I have blogged about only to be told that she felt it was quite ordinary. So I was under a lot of pressure to find a nice place to bring her for our anniversary dinner. Of course, she told me that flowers and dinner were not necessary, that we should save money lah, blah, blah blah. But take it from me guys, they might say "no", but often that "no" is often a test of your ability to read their thoughts. So, sometimes "no" means "No dinner huh? Next time you wait long long for your favourite Carrot Cake". But, sometimes "no" really means "no". So the secret of a good marriage is knowing when "no" means "no" and when it means otherwise. And that, unfortunately only comes through experience. So you can imagine how many times I kena from her in the early years of marriage.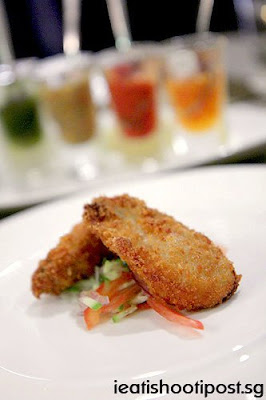 Breaded Oysters with selection of 6 dips
Restaurant Ember has been around for six years already and has regulars like Jackie from Cilantro who can't stop raving about them. I did a quick search on the net and indeed most of the reviews have been positive, so it seemed like a sure bet.
Our degustation started with a very nice crab meat wrapped with tuna sashimi. The smoked cavier added a nice smoky savoury flavour and the orange sorbet gave it a nice zing. Simple and satisfying and got me really looking forward to the rest of the meal. 4.25/5
The Breaded Oysters is one of the restaurant's signature dishes and you will see most tables ordering one. The six shot glasses are filled with various flavoured mayonnaise, chutney and sauces which the chef has concocted. Now, you can't really go wrong with anything that is breaded, deep fried and served with a creamy or zesty dip. The oysters were perhaps not as creamy as I would have liked but tasty nonetheless. My favourite sauce was the Asian Peanut sauce and the tomato chutney. 4/5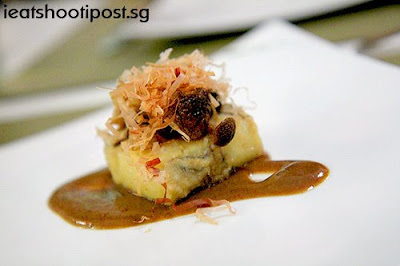 Homemade Crispy Tofu with Foie Gras Mirin Sauce
The sweet Foie Gras and Mirin Sauce was really very good and went very well with the tofu. It was smooth and a little sticky with a mild savoury Foie Gras flavour. Quite shiok. 4.5/5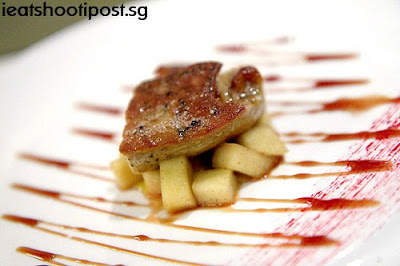 Pan Seared Foie Gras with Caramelised Apple and Clove Port and Raspberry Glaze
Just when we thought that the Foie Gras with Mirin sauce was all the Foie Gras we were going to have that night, out comes the real deal. The Foie Gras was expertly done with a nice crust on the outside and smooth and creamy on the inside. I felt it would have been better if the apples were a little more caramelised. The Raspberry Glaze which you had to scrape off the dish was a really nice tease. 4.25/5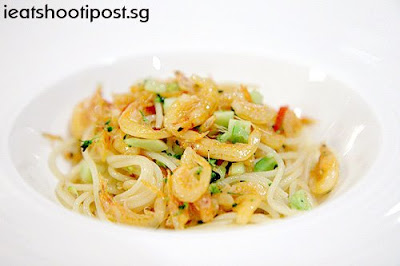 Angelhair Pasta with Sakura Ebi in lobster oil
According our Lilian, out feisty and very friendly waitress, there are patrons of the restaurant who will only come back for the Sakura Ebi pasta. Sakura Ebi itself is a really tasty "Hae Bee" with lots of umami, but the chilli in the pasta just did not agree with me. It was a nice dish but I certainly did not share the same sentiments as the other patrons. I liked the Ebi but felt that it just did not not gel with the flavours of the pasta sauce. 3.5/5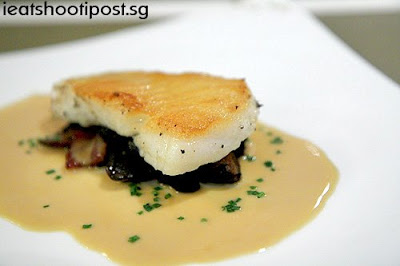 Pan Seared Chilean Sea Bass on a bed of Mushroom and Smoked Bacon Ragout
with Truffle Uzu Butter Sauce
The Chilean Sea Bass was my favourite dish of the night. You know how the difference between a good dish and a great dish is that elusive element of surprise that makes you go "Whoa what did they put in that?" So, whilest the previous Foie Gras was a good dish, you sort of knew what it was going to taste like when you saw it. This dish on the other hand caught me by surprise. The Truffle Uzu sauce was fantastic and really got me analyzing the flavours that went into the sauce. (For this dish Lilian kept the description of the dish secret till after I finished the course) I am looking forward to coming back for this dish as the main course! 4.75/5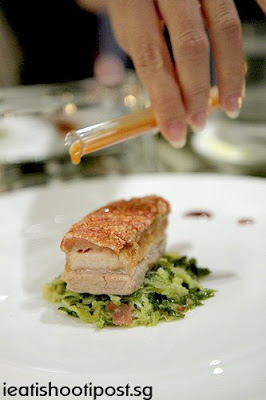 Pan Roasted Pork Belly with Savoy Cabbage and Pork Jus
The Pork Belly is another signature dish of the restaurant with a regular following. Chef Sebastian braises the Pork Belly for 12 hours before separating some of the layers to remove the excess fat. The skin is then fried to a crisp just before serving so you have a crispy crackling contrasting the soft and tender layers of meat. I felt the meat was a little too soft, to the extent that it felt a little powdery on the palette and somehow it lacked that wonderful nutty savoury flavour of a good suckling pig. The pork jus which was served in a test tube was a good sauce to go with it but the Hoi Sin sauce was just a little too stark. 3.75/5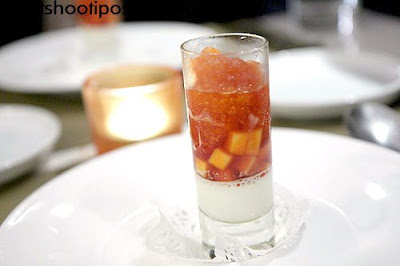 Creme Brulee with Tea Granita
Our first dessert was a very nice surprise. This was almost like a deconstructed Teh Si Peng (Ice Milk Tea). Chef Sebastian used the type of Tea you always get in Thailand where the colour is intense and orangey with a very unique flavour. (Not sure where he managed to procure this as I thought that this type of tea isn't commercially available in Singapore). The creme brulee tasted more like pannacotta but went very well with the Tea Granita. 4.5/5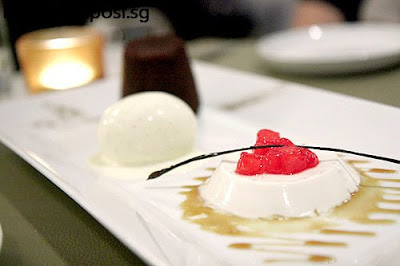 Coconut Pannacotta with Gula Melaka, Water Chestnut, and warm Valhorna Chocolate cake
For the last dish, we had another Thai inspired Coconut Pannacotta with "Red Rubies" and warm Chocolate Cake. The Panncotta was interesting as it was like the Ang Moh version of the Thai Red Ruby dessert. The Chocolate Cake was good but pretty standard. 3.75/5
Conclusion
It's no wonder that Restaurant Ember has been around for six years and still going strong. The atmosphere is pretty informal and the waiting staff were friendly and personable. But I guess it is the excellent food that keeps their customers coming back for more. I seldom use the word "Shiok" for these sort of fine dining style food, but I must say that several of the dishes here were quite "Shiok". My only grouse was that even though I told them that it was our anniversary, the only thing that I got at the end was a "Happy Anniversary!". Would have been great if there was a little surprise item to mark the occasion, like a candle on the chocolate cake perhaps?