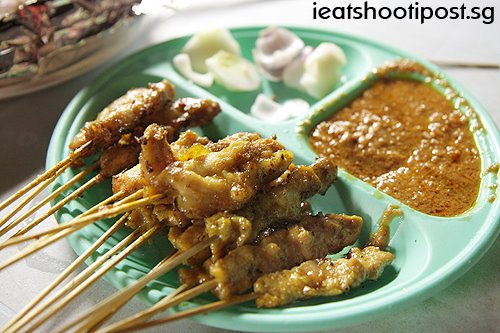 One thing I really enjoyed about Penang is the fact that they still have real streetside hawkers who come out at night to peddle their wares. These type of hawkers have long since dissappeared from Singapore except for the contrived ones along Lau Pa Sat and Gluttons Bay.
There is a certain charm as well as a sense of trepidation when one eats at streetside hawkers. I guess it is like the thrill of eating Fugu where there is a small risk that what you eat might kill you. Well, ok, it is not as dramatic as that, but hey a few of us did come down with a bout of diarrhoea the next day, so you have been warned. I still enjoyed the experience though and wouldn't think twice about doing it again, although the next time round, I am going to avoid the homemade drinks and stick to the canned drinks.

There are of course several streets that turn into hawker centres at night. One famous and might I add, overrated one is the one at Gurney drive. It is by the sea and within the tourist hotspot. I was there with CK and Jino one afternoon and they both concur that there really isn' t any die die must try dishes there. So like our Newton Circus, its more for the tourists.
Now if you want to eat some really nice streetside food, then you should head for New Lane Hawker centre which is located at the junction of MacAlister and New Lane road.
The satay here is quite famous and it is special because the lady dips the satay into the peanut gravy then grills them. They were very good but we can find satay of a similar standard in Singapore, so it is not like the Char Kway Teow where you would go all the way there to eat. 4.25/5.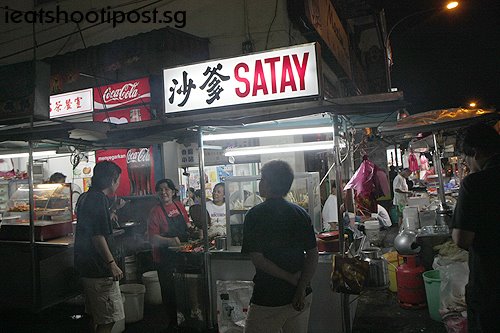 The one stall which we went there for was the Chee Cheong Fun which was unfortunately not opened that night. (or have they moved out?) Not many people in Singapore talk about Penang Chee Cheong Fun, but when we were there, both our local food experts were ordering Chee Cheong Fun for breakfast, lunch and dinner. The key ingredient in the Chee Cheong Fun is the World Famous (or dare I say World's Best) Hae Gor (prawn paste) which is liberally poured over the steamed rice sheets. So if you happen to be at New Lane, do check them out.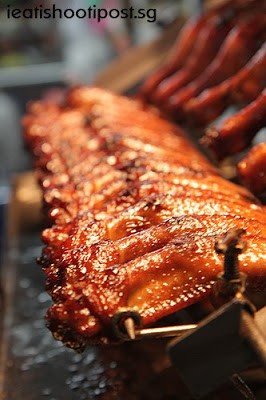 The one dish that I was eating non-stop that night were the BBQ chicken wings. They were marinated with a five spice marinade which is quite similar to Singapore but the flavour of the marinade is more intense as they were marinated it so long that the texture of the flesh changed to be a little more dense, less springy and slightly sticky. I must have eaten close to 10 sticks that night. 4.5/5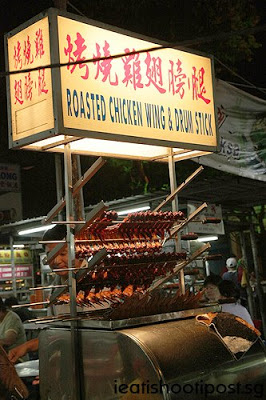 These two stalls were the most outstanding ones. We also tried other stuff like the Fried Hokkien Mee, Beef Noodle Soup, Otah, Chilli Clams but I don't think I'd bother next time. If you are only in Penang for a couple of nights and just want to try as much of the good stuff as Penang has to offer, then rather than just eating other stuff here, what you should do instead is to hop over to Kimberly Street next to try their Braised Duck Kway Chap.

Kway Chap with the sum of anatomical parts from duck and pig
Street hawkers also line this stretch of road which is even more rustic than New Lane. This particular Kway Chap stall still has a motorbike attached to it! Now, when it comes to Kway Chup in Penang, just about anything goes. So this is one place which you could satisfy your Vampirous passion for congealed pigs' blood.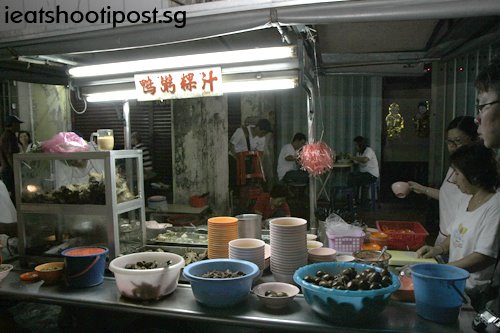 Stall near intersection of Kimberly Street and Jalan Sungei Ujong
With many of the street side stalls, the flavours are very intense and down to earth, almost on the brink of being pungent. We Singaporeans are too used to clinical tasting food, thank to our ever viligent NEA. But perhaps it is not the food itself, but idea of eating next to an open drain might happen to be the water source as well that adds to the flavour of the dish. Just joking lah, if you like Kway Chap, the braising sauce here is very good. However the most interesting feature here is the Kway itself.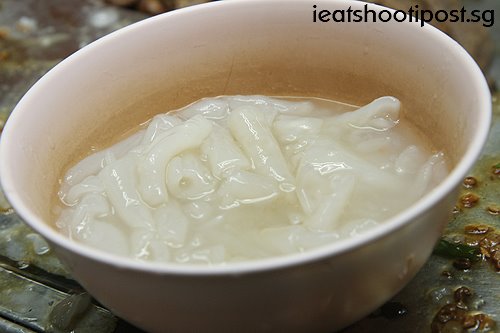 Homemade Kway
The Kway here is made by the hawker himself who explained to us that it is made very much like a pancake where batter is added to a hotplate and toasted. Then it is dried and cut and rehydrated when it is time to eat. The texture of the kway is very different from what we get in Singapore. It is more gummy and starchy, more like a Mee Tai Mak then Kway Teow. CK Lam has some excellent pictures of the process in her blog which you can view by clicking here.
If you like your Kway Chap rustic and no nonsense, you will like this one. 4.25/5 On the other hand, if you cannot stomach the sight of meat juices and gristle draining off the edge of a chopping block that looks like it is the original one that grandpa used, then you probably won't eat this.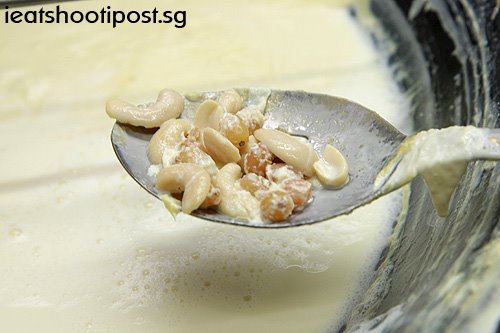 Ingredients include cashew nuts, peanuts and raisins
Now, after all that food, you might be wanting to call it a day and finish off the wonderful meal(s) with a nice and soothing nightcap. I have got just the thing for you. CK brought us to this stall that sells Badam Milk, which is basically milk straight out from a cow cooked with cashew nuts, raisins, peanuts and other spices like cardamom.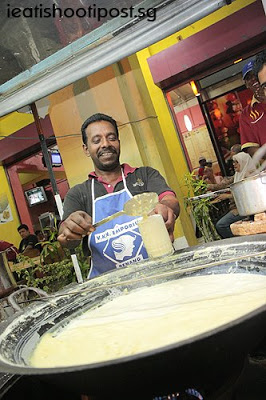 Need a boost of energy? Try some Badam milk!
Now, if you enjoy puddings, then you are going to love this. It is sweet and rich and creamy and Wahcow had one of those Anton Ego flashbacks to when he was still a baby. Both Wahcow and another of our makan kakis, Maple Syrup loved it so much that they had to come back the next day to have it again! For me, I had one of those flashbacks too, but to a time when my mom had to force me to drink Nespray milk, for for me it was OK only. I expect that Wahcow and Maple syrup would give it at least a 4.5/5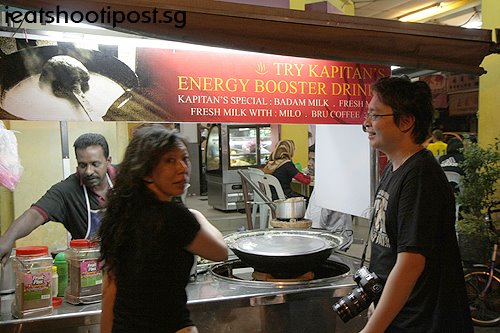 Located just outside the Kapitan Restaurant along Chulia Street
That wraps up our first Penang Night Spots trail! If you have been to any of the stalls listed, do let us know of your experience!