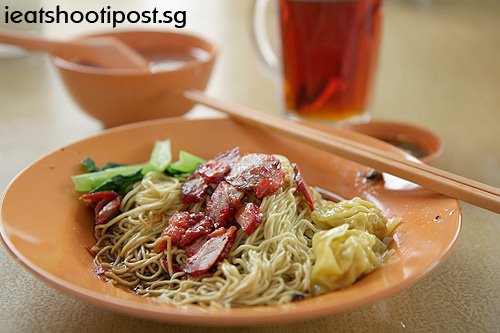 I know that there are quite a few people out there who regard this particular Wanton Mee as the best in Singapore. The most famous of whom is Gerard Ee, the ex-President of AA and also Singapore's most well known philanthropist. His face is unceremoniously pasted on the glass display cabinet next to the noodles. Apparently, he comes here every Saturday to have his wonton mee fix. The other not-quite-as-famous, but perhaps still quite famous personality (at least within foodie circles) who frequents this stall is Aston of Astons Specialties. When Aston is not eating steak, he is sitting here eating what he considers to be the best Wanton Mee in Singapore.

I have written much about Wanton Mee and have posted reviews of twenty of the most well known Wanton Mees around Singapore. It is in actual fact a very simple dish which many Singaporeans enjoy, but I still haven't been able to find one that stands head and shoulders above the rest. The highest I have given for Wanton Mee was a 4.6/5. They all seem to have just something lacking to make the 4.75 grade. When the noodles and sauce is good, the Charsiew is lacking. When the Charsiew and noodles are good, the Wantons are lacking. I reckon that the main stumbling block for most Wanton Noodle sellers must be the Charsiew because unless you are able to Chargrill your own Charsiew, it is difficult (an expensive) to procure one that is really good.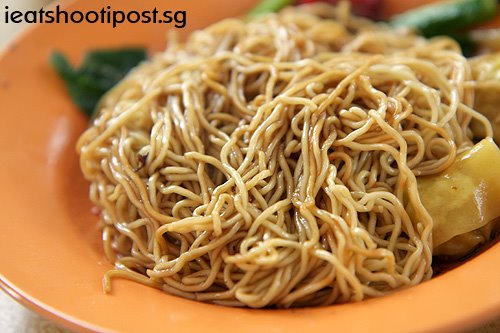 The Charsiew just happens to be the stumbling block for this particular Wanton Mee. The texture and taste of the noodles are very good, as are the Wantons and the soup which is full of anchovy flavour. But the Charsiew just couldn't make it. Now, if I could get hold of some freshly roasted "Bu Jian Tian" Charsiew from Fatty Cheong to add to the noodles, I reckon this might then be a Wanton mee I would really rave about. 4.25/5
Conclusion
I know I will be getting a lot of protests from fans of this stall who consider this to be the best Wanton Mee stall in the East, if not the whole of Singapore. That's fine, if you feel strongly about this Wanton Mee than do write in to express your support. And btw, if you know why it is called Hong Mao (red hair), do write in and let us know. Apart from the lady boss, I certainly don't see anyone there with red hair.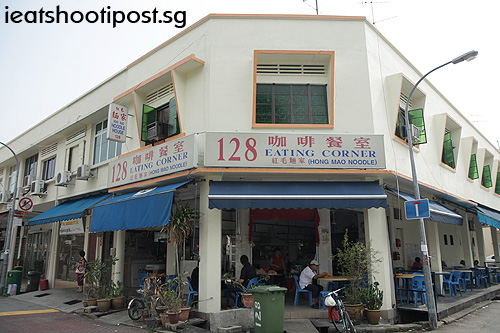 Please note that the stall has changed hands and it is no longer the original owners who are serving the noodles.