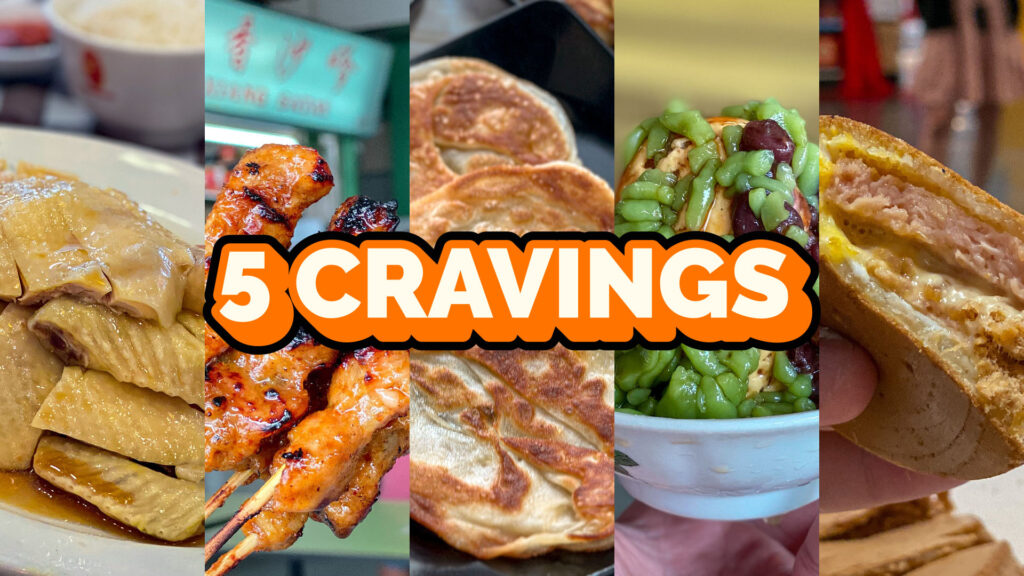 You can take a boy out of Singapore, but you can never take Singapore out of a boy. Living in Perth Australia for the last 10 months has taught me that Singaporean food really slaps!
It's not that you can't find Singaporean food in Australia. On the contrary, Perth has a high concentration of Singaporeans and Malaysians and there are quite a few shops selling hawker cuisine; from "Hey Hawker" to the famous "Ya Kwang" (Jason still makes good hawker food for any of my fellow countrymen in Perth!). But, the food just isn't quite the same! Importation laws, suppliers, weather and air pollution (ie the lack of it) create such a vastly different environment that the food just doesn't taste as Singaporean, as it does here. You'd be hard pressed to find a good prata, or hokkien mee (Ya Kwang's is pretty good but still not the same) and even if you do, the price would make you faint before the hot Perth summer does (imagine paying $12 AUD for a plate of chicken rice).
So What Now?
Luckily for me, my dad is a veteran food blogger, who has been surveying the hawkerscape since 2006. Although the pandemic had affected a few of the old favourites, I still managed to get enough amazing Singapore food to make me feel fully Singaporean again!
1. Hainanese Chicken Rice (鸡饭)
鸡饭 Ji Fan, is arguably the most popular Singaporean dish (we actually did a survey back in 2014). The Steamed variant of the Hainanese specialty has been on my mind since Day 1 of moving to Perth. Perth actually has this favourite dish of mine in the form of Chicken Rice Corner, which is passable, but costs upwards of $12AUD! So where can I find a plate of Chicken rice for a reasonable price that is shiok enough to be worth 10 months of waiting?
BOON TONG KEE (Balestier)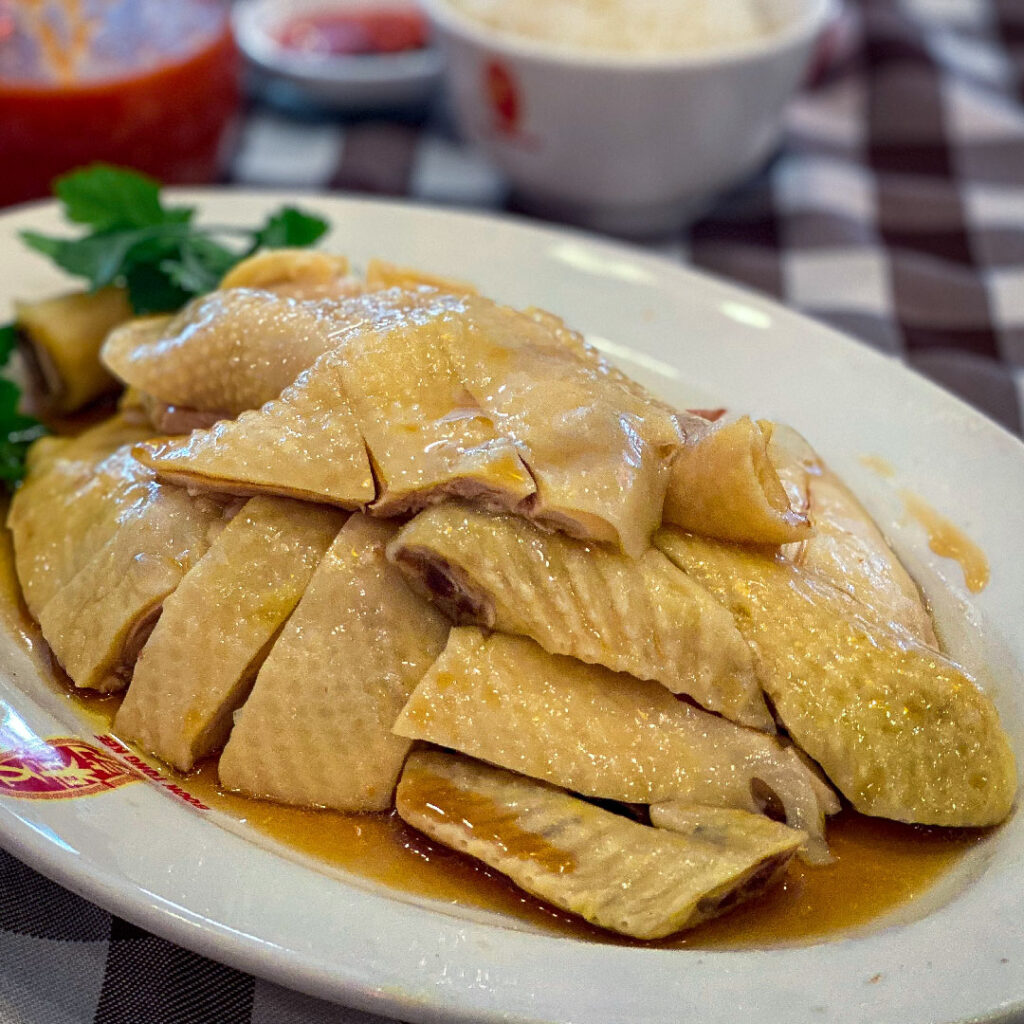 My good friend Donald, a fellow Singaporean studying in Perth (and also fellow food enthusiast), recommended Boon Tong Kee countless times. I've always held some suspicion for large franchises, as their quality often dips with the rise of their business enterprise. However, the craving for a plate of chicken rice got the better of my cynicism and I went to check them out.
We headed down to Boon Tong Kee's original place in Balestier. When dad first wrote about them, they were still located in the corner coffeeshop there.
I must say that I was pleasantly surprised! They use Kampong chicken, which has firmer meat and is more flavourful. The presence of the collagenous sliver between the tender meat and the slippery skin is proof that the chefs at the restaurant know what they're doing! Their Chicken Rice rice is also the best I have tried since coming back. The grains are "Ji Liap Ji Liap", so each grain of rice is plump and distinct. The wonderfully fragrant mix of ginger, garlic, lemongrass and pandan leaves in the rice go so well with the excellent chicken. The winner has got to be their sauce, which is lavishly poured unto the chicken in front of you. Overall, Boon Tong Kee's Chicken Rice is so nice, I've got to award it a 4.25/5!
Balestier Rd, #399 401 & 403, Singapore 329801
TIAN TIAN CHICKEN RICE (Maxwell Food Centre)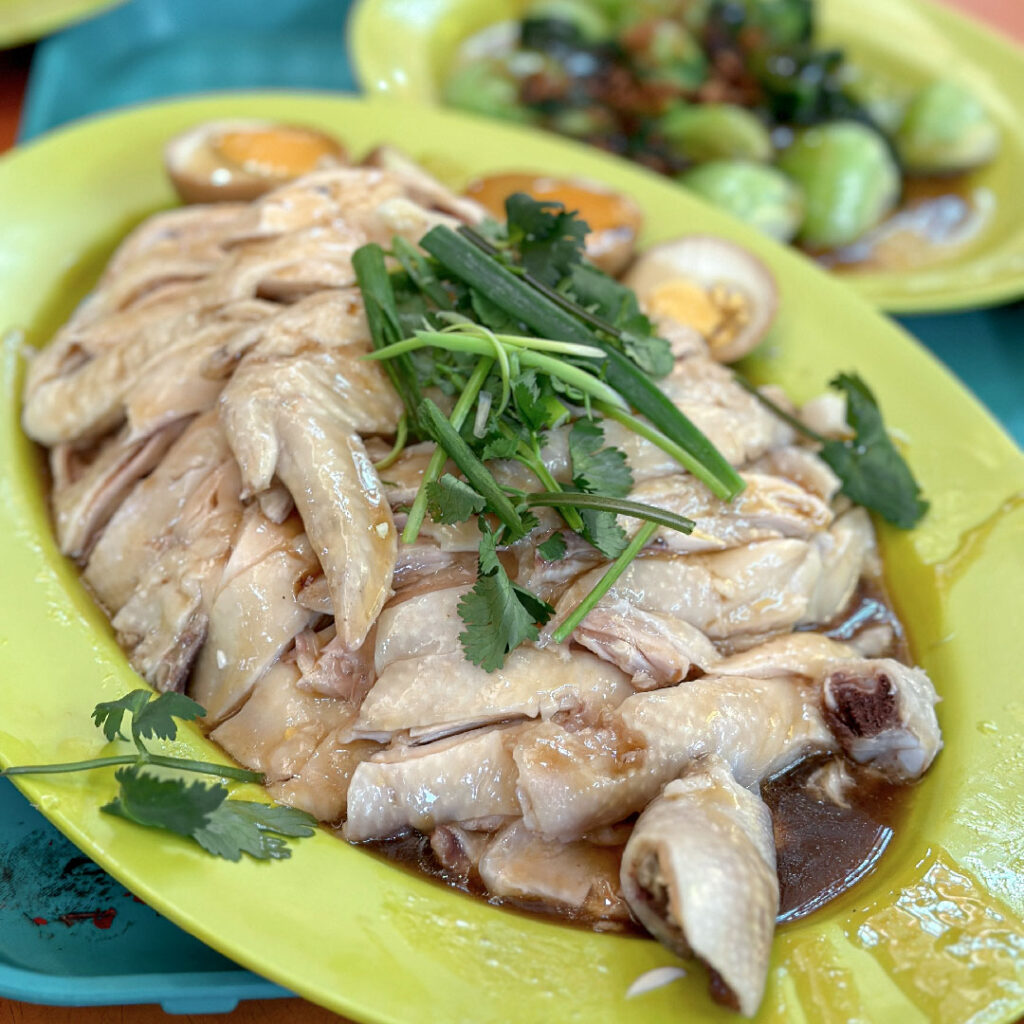 Whilst Chicken Rice is the most popular hawker food, Tian Tian is probably the most popular store for chicken rice. Michelin Guide lists Tian Tian as a must try for chicken rice, and Dr Tay (Dad) recommends them as well! So it was a no-brainer to drive down to Maxwell Food Centre to give it a shot! The question is: Does Tian Tian Chicken rice live up to the hype?
The first thing about Tian Tian Chicken Rice that stood out to me was the hawker centre. Coming back from Perth, there was nothing I wanted more than to step into a hawker centre. Crowded tables, long lines and cheap prices all make for a more authentic UNESCO hawker experience. "But what about the Chicken Rice?" Tian Tian's chicken rice was still quite competent! Their chicken was moist and tender, coupled with a competent chicken rice rice. However, we all agreed that the chicken wasn't as good as it was in the past. More specifically, the collagenous layer was missing from their steamed chicken that day and the sauce seemed to lack that special something.
We are not sure if standards had slipped over time or if they are still recovering from the recent Malaysian chicken ban. The current Tian Tian Chicken rice just doesn't hit the spot as it used to. Still, the meal was still far better than what I managed to get in Perth. 3.75/5
1 Kadayanallur St, #01-10/11, Maxwell Food Centre, Singapore 069184
2. Satay
Satay is one of the best reasons I hit the gym. Marinated meats, skewered and grilled over charcoal is one of those primal things to die for. (Cavemen have actually died getting meat in the past, I am sure) Satay is something I haven't been able to find in Perth (If anyone knows a place, please hit me up!) I have been craving for those bite sized morsels of meat for the longest time, and now I'm ready to eat 10 months worth of Satay.
SHI XIANG SATAY (Chinatown Smith St)
When you think of Satay. Two variants come to mind, the Hainanese variant, and the Malay variant. Hainanese Satay (mainly the pork) is probably my favourite version of the dish. Slivers of pork fat sandwiched between lean meat is perfect for grilling. My sister, Megan insists that Shi Xiang Satay is the best Hainanese Pork Satay in Singapore. Mom and Dad seem to think so too. So is it worth the trip?

Oh definitely! The first bite of that Satay and you just know that it's on another level. The meat is sweet and juicy, the piece of fat in the middle just pops and melts in your mouth. Paired with the peanut and pineapple sauce (which is a must have when eating Hainanese Satay) and you get some of the best Satay in Singapore. Personally, I found that 30 sticks can feed about 3 adults as long as the other two are really small eaters. They still provide Kueh Tu Pat wrapped in Coconut leaves, which certainly brings back memories. I'd say Shi Xiang Satay lives up to the hype, and is worth the calories, 4.5/5
Chinatown Complex 050335, Smith St, 335号 #02-79
HARON'S SATAY (East Coast Lagoon Food Village)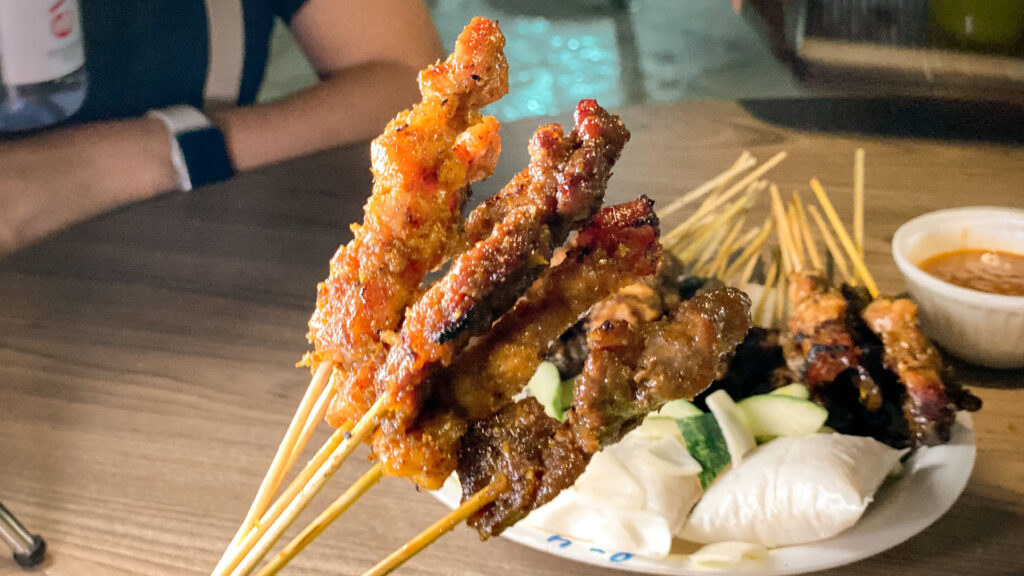 You cannot talk about Satay in Singapore without thinking of East Coast Lagoon Food Village. The cool of the lagoon contrasted by the heat of satay grills in the open all create (in my opinion) the best environment for Satay. I remember lazy Saturday afternoons cycling along East Coast Park, and winding up at Laguna (our pet name for the hawker centre). Undoing all our hard work with a pile of meat skewers.
Haron's Satay was the recommendation Dad had for us. Haron's Satay is tasty and sweet, with a nice peaunt sauce. However, Bandung coloured glasses aside, we agreed that the satay wasn't as Sedap as before. The sticks weren't as charred as we wanted, and resulted in the taste not being smoky enough. The Kueh Tu Pat were also the ones in plastic, which are mushy and aren't as good as the ones in coconut leaves. Still, their Satay isn't bad, and if you're craving for it, I'd say give them a shot! 3.75/5
1220 ECP, #55 East Coast Lagoon Food Village, Singapore 468960
3. Prata (Roti Canai)
It's 11pm, you've just finished the last remnants of your project and NOW you realise that you're famished. No one is open and you're not about to go crawling back to Maccas. If you're in Perth, no dice. But if you're in Singapore? Being able to get to the nearest Prata joint is a luxury that I have sorely MISSED. Crispy prata Kosong late in the evening paired with a warm cup of Teh Tarik? Mmm! Now that I am back in Singapore, I am in search for the best Prata joint to get my cravings fixed.
MASTER PRATA (Alexandra & Sembawang)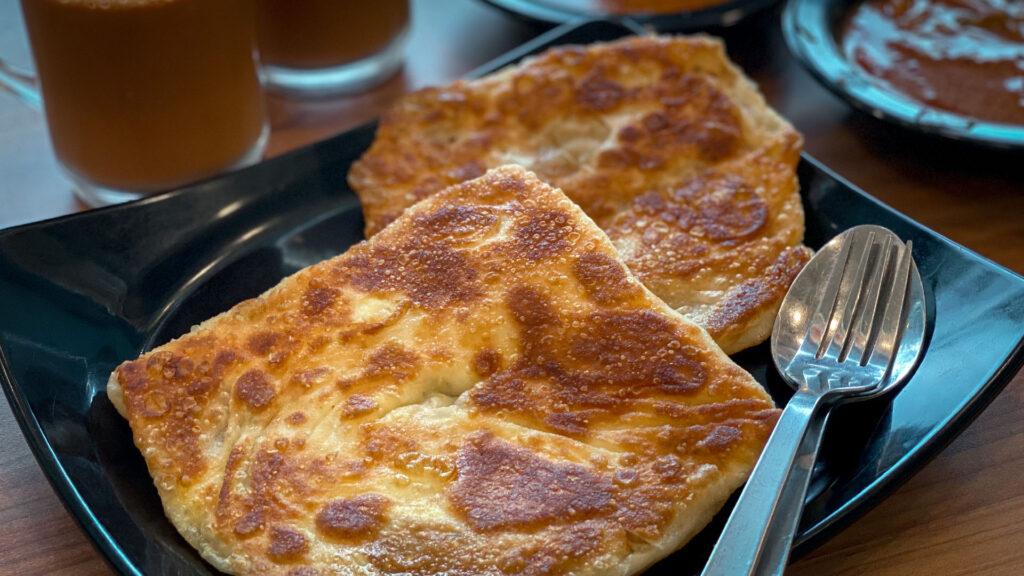 What makes the perfect prata? Crispy outer crust and layers of soft doughy goodness in the middle? A perfect fish curry with just the right amount of spicy tang? Maybe even the ambience? I'd say that everything boils down to their dough. Many prata places use pre-made dough from factories. A trick taught to me by Dad is to look at where the dough comes out of. If it is from a cardboard box, its a sign that your prata is gonna be quite the average, run of the mill type. If is is from a plastic box, then the dough is probably made in-house and you might be in for a treat!
Master prata is probably the best prata place out there right now. I have enjoyed their Prata at BOTH locations: Alexandra and Sembawang. Their dough is made in house from a recipe derived from the famous Thesevi Prata at Jalan Kayu. A healthy dollop of ghee goes unto the grill to crisp it up and I swear that you can literally still hear it sizzling when it hits your table. Ok, I exaggerate. Crispy and fluffy, their Roti Prata will fill up the tank emptied by all the hours of hard work. Don't forget their excellent Fish curry, which is a must for eating with prata.
Master Prata lives up to their name, I say that they are probably the MASTERS of Roti Canai right now. They're worth the drive and you will not regret spending your calories there. 4.5/5
604 Sembawang Road, #01-24/25, Sembawang Shopping Centre, Singapore 758459
321 Alexandra Road, Mall, #01-02 Alexandra Central, Singapore 159971
4. Cendol
Perth is generally cooler during the Autumn, Winter and Spring. When Summer hits, the place feels like one big sauna. The one thing that I wished for, CRAVED for, was Singaporean shaved ice desserts, specifically Cendol. Cool shaved ice doused in Coconut milk and Gula Melaka, accompanied by a mouthful of silky smooth Pandan flavoured Cendol and sweet red beans. So where can I find Cendol to melt away away the heat?
OLD AMOY CENDOL (Chinatown Smith St)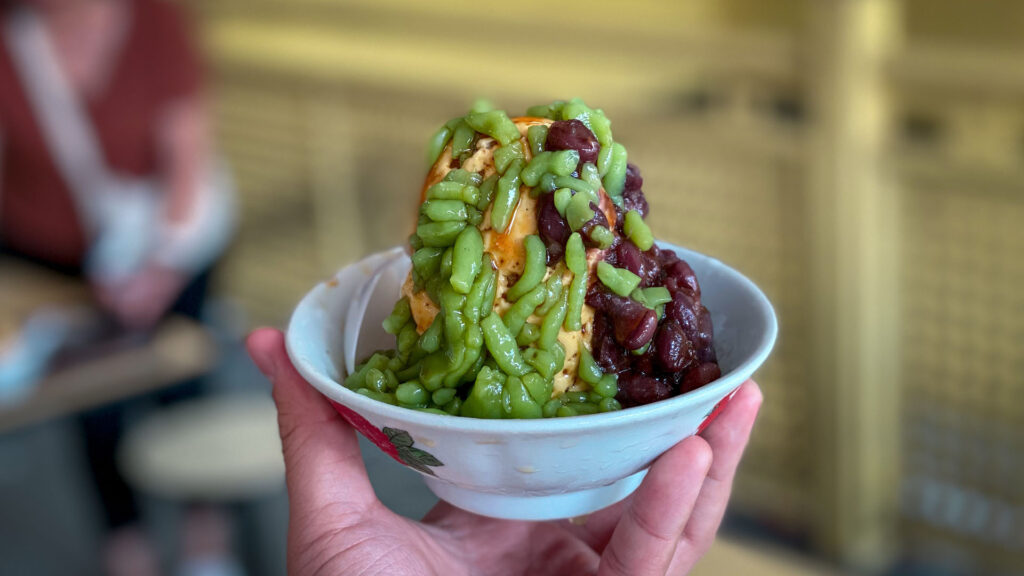 I used to work near People's Park Complex as an intern for Goodstuph. which meant that lunch time was filled with opportunity for good food! However, I am aghast that I had often glossed over the unbecoming stall which was Old Amoy Cendol. So when Mom and Dad brought me to the exact same stall, I started to beat myself up. How can a self professed foodie miss out on such a gem of a Cendol which is literally at my doorstep?
Their Cendol is homemade, with a subtle yet distinct pandan flavour. Japanese Azuki beans gave each bite a good texture and sweetness. However, the winner is the Gula Melaka and Coconut Milk which compliments shaved ice so well. Although $2.50 is a little more expensive for a hawker centre Cendol, the amount of quality ingredients still gives you enough bang for your buck. So, Old Amoy Cendol gets a 4.25/5
Chinatown Complex, 335 Smith St, #02-008, Singapore 050335
THAI NOODLE HOUSE (Coronation Arcade)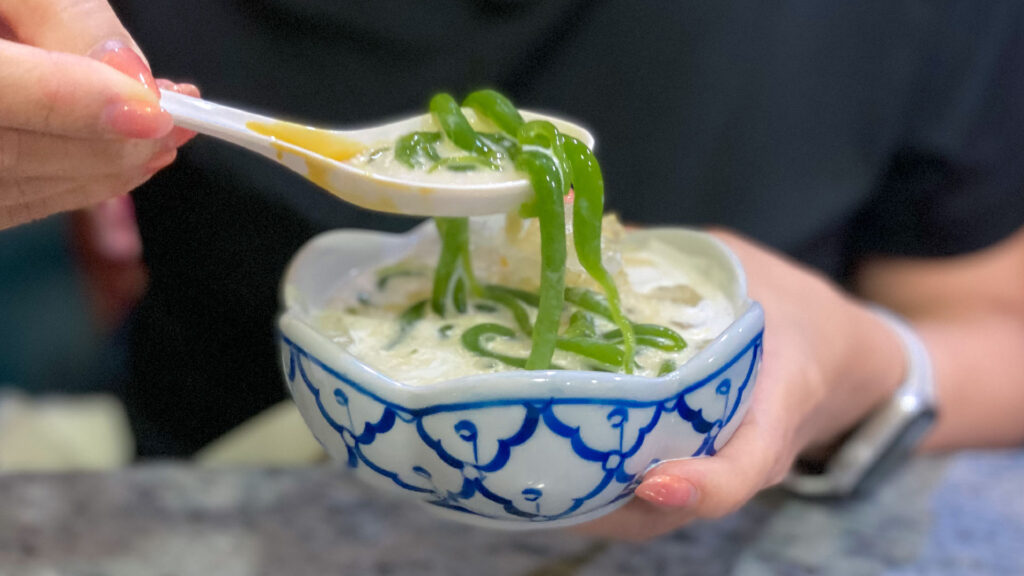 If you think about it, Cendol can be considered a type of a noodle, so we headed to Thai Noodle House. Mom (FeiEats) couldn't stop singing the praises of their silky smooth cendol. So being the filial son that I am, we drove all the way to Coronation Plaza to see if was worth all the hype.
Aunty Ivy pipes the Cendol by hand everyday, which is why the glowing green noodles were so long and silky smooth. She grows her own pandan leaves and you can definitely taste it in the Cendol. Aunty Ivy definitely doesn't cut any corners with her bowl of Cendol! The only gripe I have with their Cendol is the lack of shaved ice. Given the small working area, installing the machine for it is not feasible. So the Cendol resembles the Melakan version of the dish, which is like a cold soup with slushy ice in it.
Thai Noodle house also serves a variety of Thai dishes (Duh), all of which are incredibly shiok! I particularly liked their Fried Prawn Cakes, which are a step above the ones found in some other Thai Stores. However, if you go, make sure to call before hand as Aunty Ivy can only make a limited amount of Cendol a day. 4.5/5
5 Coronation Rd, Unit 01-03 Coronation Arcade, Singapore 269406
5. Min Jiang Kueh (Peanut Pancake)
I remember waking up to steaming peanut pancakes freshly bought from the market on a Sunday morning. Biting into the doughy pancake, and then encountering the crunchiness of the peanuts creates for a contrast of textures and flavours. Of course, the crisp edge is not to be missed. I could eat 2 whole pancakes at a time! With the absence of Min Jiang Kueh in Perth (again, if you know a place, let me know!) I have been, yes, CRAVING for this dish.
GRANNY'S PANCAKE (Ghim Moh Market)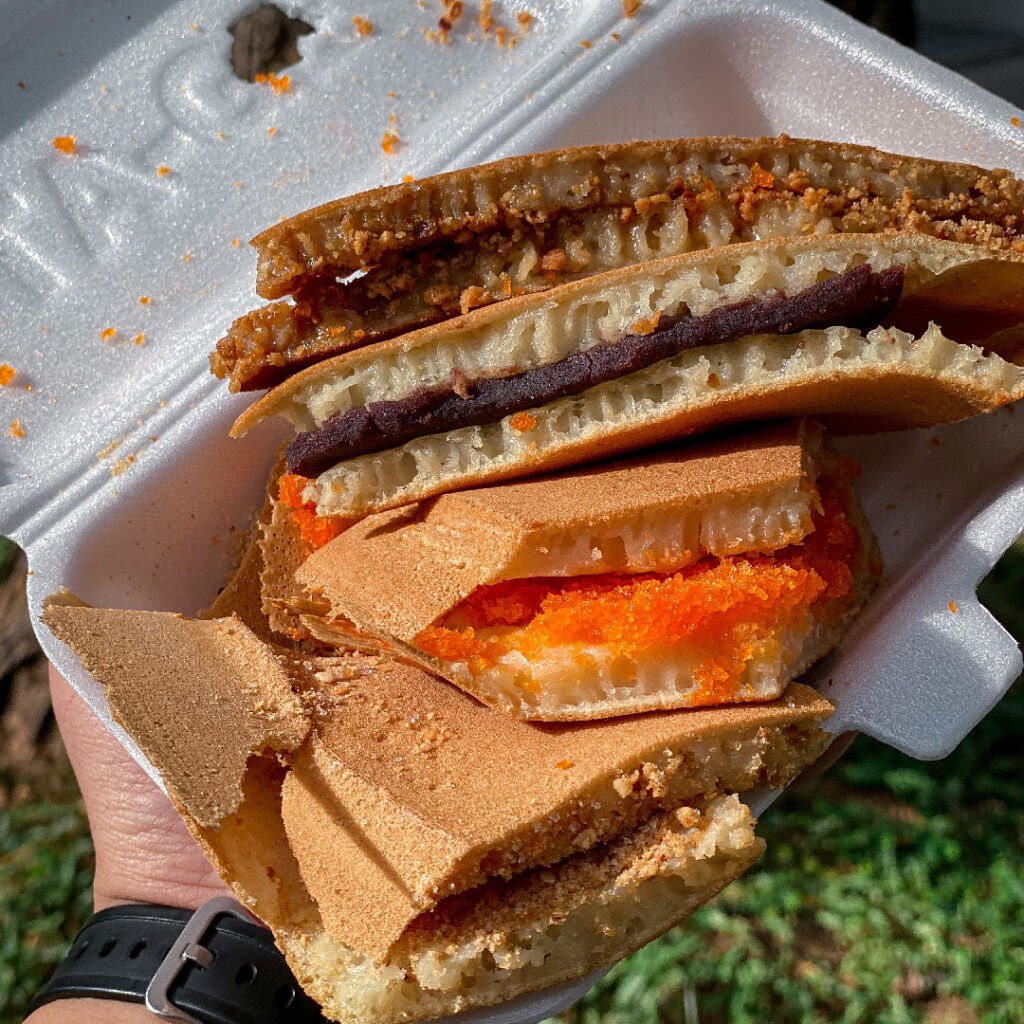 I was directed by TikTok to the famous Granny's Pancakes when I was doing my research for Min Jiang Kueh. I have never been one to follow food trends on TikTok (Check us out on TikTok BTW) but I figured, why not?
Granny's Pancakes is a more traditional style Min Jiang Kueh, offering 4 flavours. The lady there is quite friendly, so that's great for me!
Coconut and Red bean are pancake flavours I've heard about, but never tried. In my opinion, they are not as impressive as good old Peanut. The Peanut Butter version of the pancake is probably the best of their offerings! Soft doughy pancake with a sweet peanut butter, mmm…, and did I mention the crunchy peanuts? However, because the pancakes were not made fresh on the spot, the outer crust wasn't as crispy as I would have liked. Granny's Pancake gets a 4/5
20 Ghim Moh Rd, #01-52, Singapore 270020
THE PANTREE (Marina One)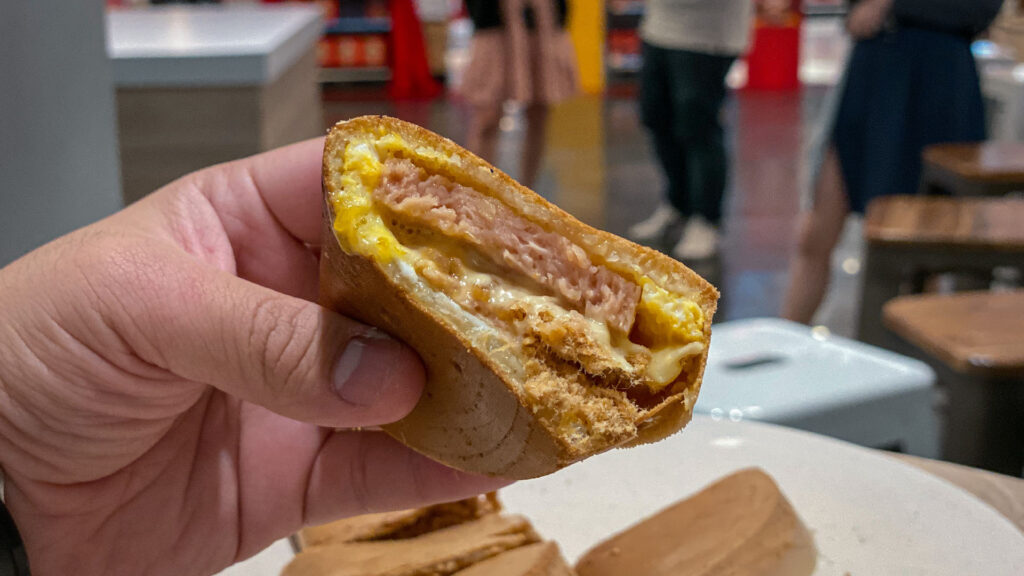 If Granny's pancakes was traditional, The PanTree is Min Jiang Kueh for the modern metro man (or woman!). I've known them for as long as they have been around, and they've gained some recognition online and even on the Michelin guide! Now located in the heart of the CBD, their store is opposite a Cold Storage supermarket and has limited seats.
They serve all the fan favourites from peanut to nutella. But by far, my favourite is their HPL (Hum Pa Lang; ie all thrown in) Pancake. I mean, freshly made pancake with luncheon meat, eggs and pork floss? If that doesn't sound good, you may need to get your ears checked. Their pancakes are made to order so you know you're getting that crispy outer crust and a warm squishy inside! The HPL is savoury with a capital S, and Umami with a capital U and almost PERfect, making it SUPER! For those with a sweet tooth, you can also go for their Peanut butter flavour, which tastes just like the ones from the good old days. The PanTree gets a 4.5/5 from me!
5 Straits View, #B2, #24 The Heart, Marina One, 018935
Man I'm full…
I'll be back next year, probably craving for different things! Food is always subjective so if you've got a place to recommend, do let us know! Have I put on more weight since coming back? Yes. Am I happy? YEAH! Cost of operation and ingredients have risen for many of these stalls, which means that they're charging more than before. But even then, it is still cheaper to eat here than in Perth! It's pretty tough in the hawker-scene right now so do continue to support them in spite of the price increase!