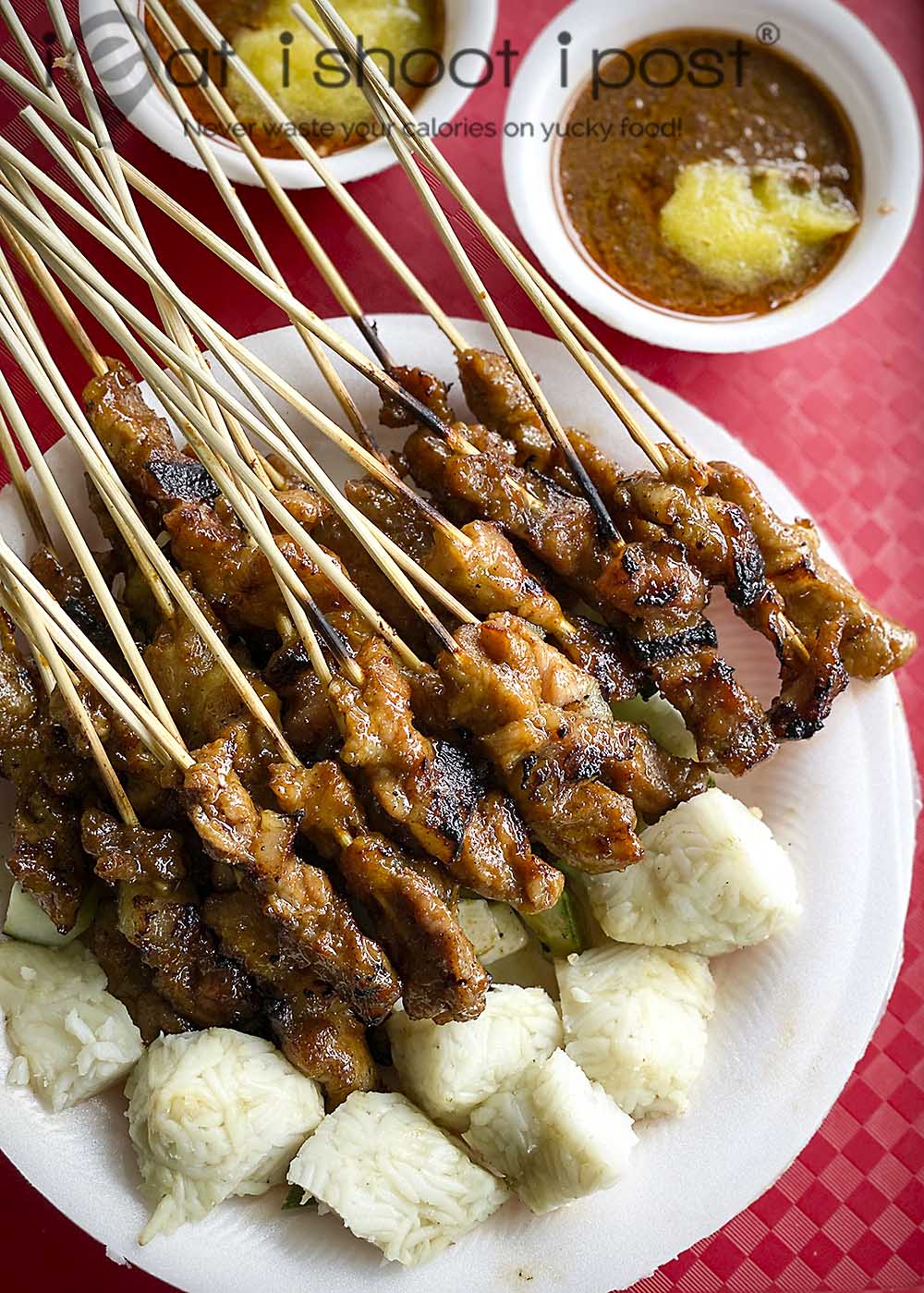 Both my dad and I share a love for satay – especially a juicy stick of Hainanese pork satay! So when my dad asked me if I wanted to join him on a Satay trail around Singapore to "Make Satay Great Again",  I did not hesitate to say yes! So with that, we embarked on our Ultimate Hainanese Pork Satay trail.
This list will show you the BEST places to eat Hainanese pork satay in Singapore! However, we have also included other Hainanese pork satay stalls that we have visited during our trail so that we can celebrate all of our beloved hawkers who are still practicing this laborious trade!
Also, the reason why this list is targeted so specifically to Hainanese Pork satay is that we realized that there aren't any lists that are so targeted. As many know, Hainanese-style and Malay-style satay is very different, for obvious reasons!
A little trivia that my dad tells me every time we eat satay: Traditionally, the name "satay" came about because the traditional way to make it was to have 3 (sa) pieces (tay) on each stick! So remember to look out for that every time you eat satay.
This list is organized by the taste of each satay, the top (1) being the very best! (I'm going to put it at the end so that you have to read through the entire article hehe)
Without further ado, let's get started with the list!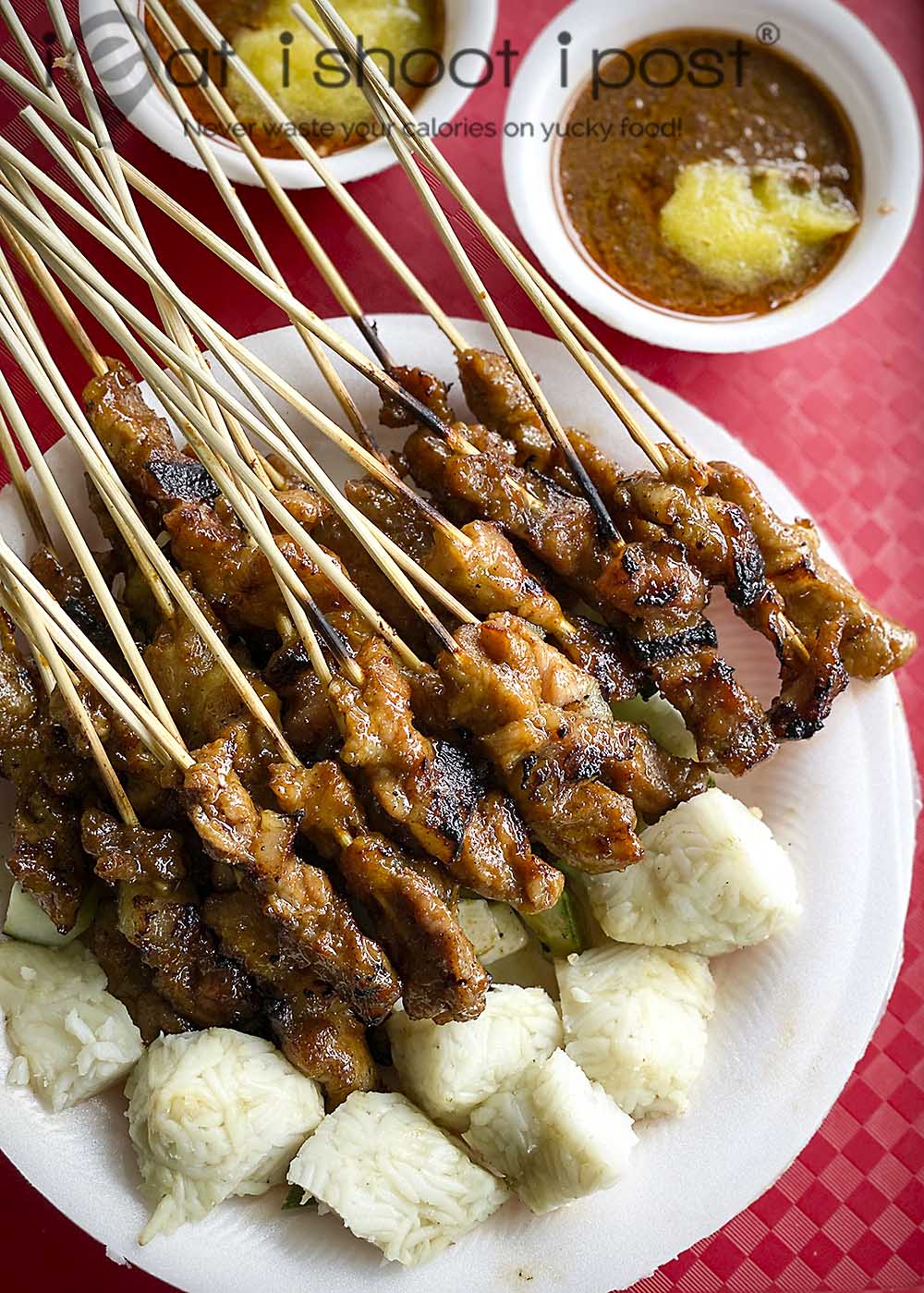 Price per stick: 70 cents
Address: 335 Smith St, Stall 02-79, Singapore 050335
Opening Hours: 12:30 pm – 8:30pm
Telephone: +65 85223186
Topping our list is Shi Xiang Satay at Chinatown! This stall is purely artisan. The satay is extremely tender, succulent, and particularly delectable! The fats are really nicely charred as well, giving the satay a nice smokey undertone. We actually came to this place 3 times throughout the course of our satay trail, and I can safely vouch for the quality and taste of this satay. However, while I felt that the sauce was quite good, my dad and mum thought it could use a little work. They also use a very traditional marinade that uses special Indian spices, passed down from generation to generation. This stall is definitely something you do not want to miss out on! It is a place that I will bring anyone to if they ask me what the best satay in Singapore is. 4.8/5
Read the full review here.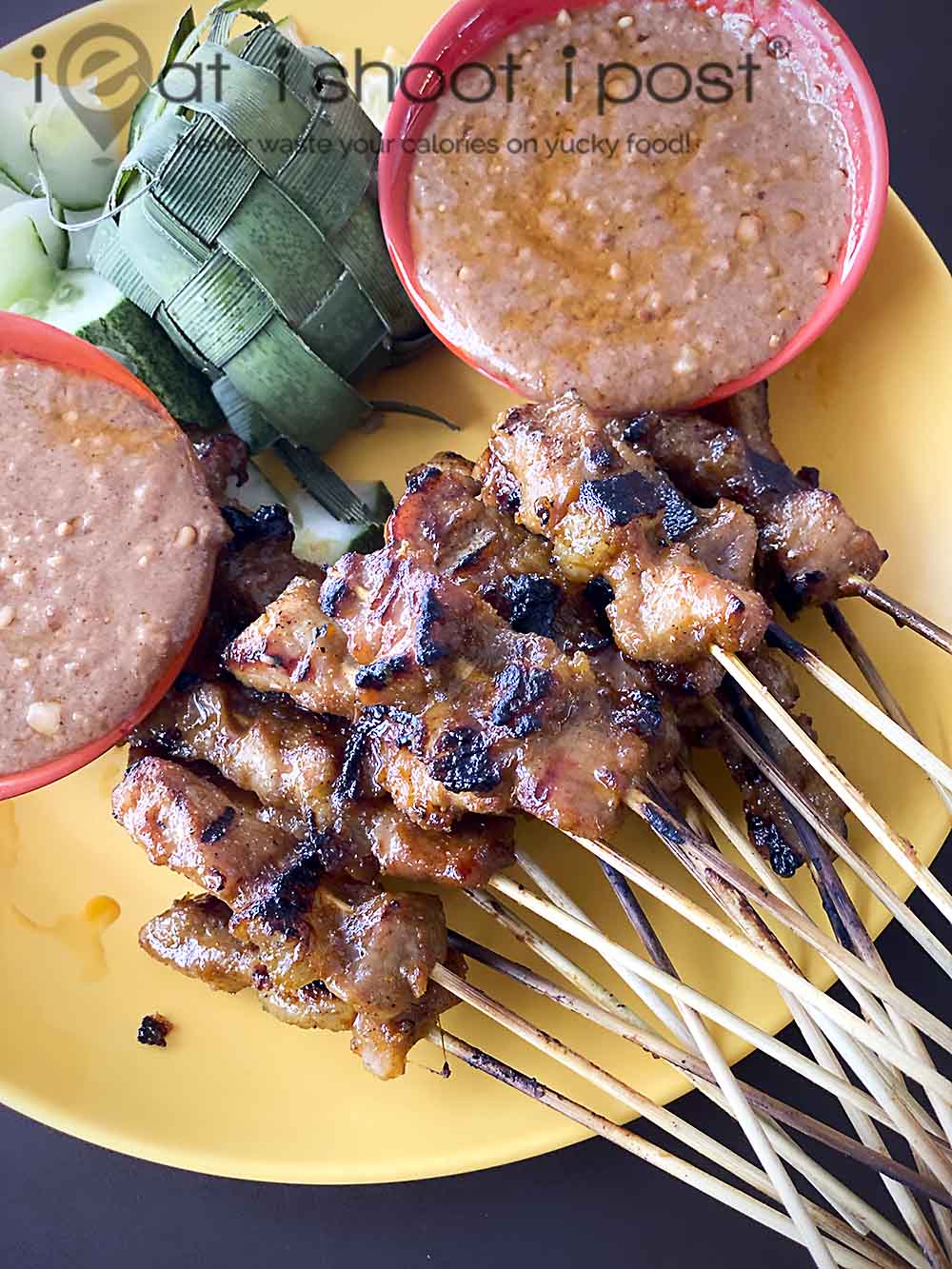 Price per stick: 50 cents
Address: 448 Clementi Ave 3, #01-10, Singapore 120448
Opening Hours: 2:00 pm – 8:00 pm, Closed on Mondays and Tuesdays

I really enjoy eating satay from this stall so much! If I stayed closer to Clementi, I'd probably eat this at least once a week, not an exaggeration. Not only is it relatively cheaper than other satay stalls, but it also has a taste that can rival any other! It has a really nice charred flavour which I absolutely love on a piece of satay, and is really tender and juicy as well! Definitely up there with Shi Xiang, and something you would not want to miss. We liked it so much that we brought my brother to try it as well! 4.5/5
Read the full review here.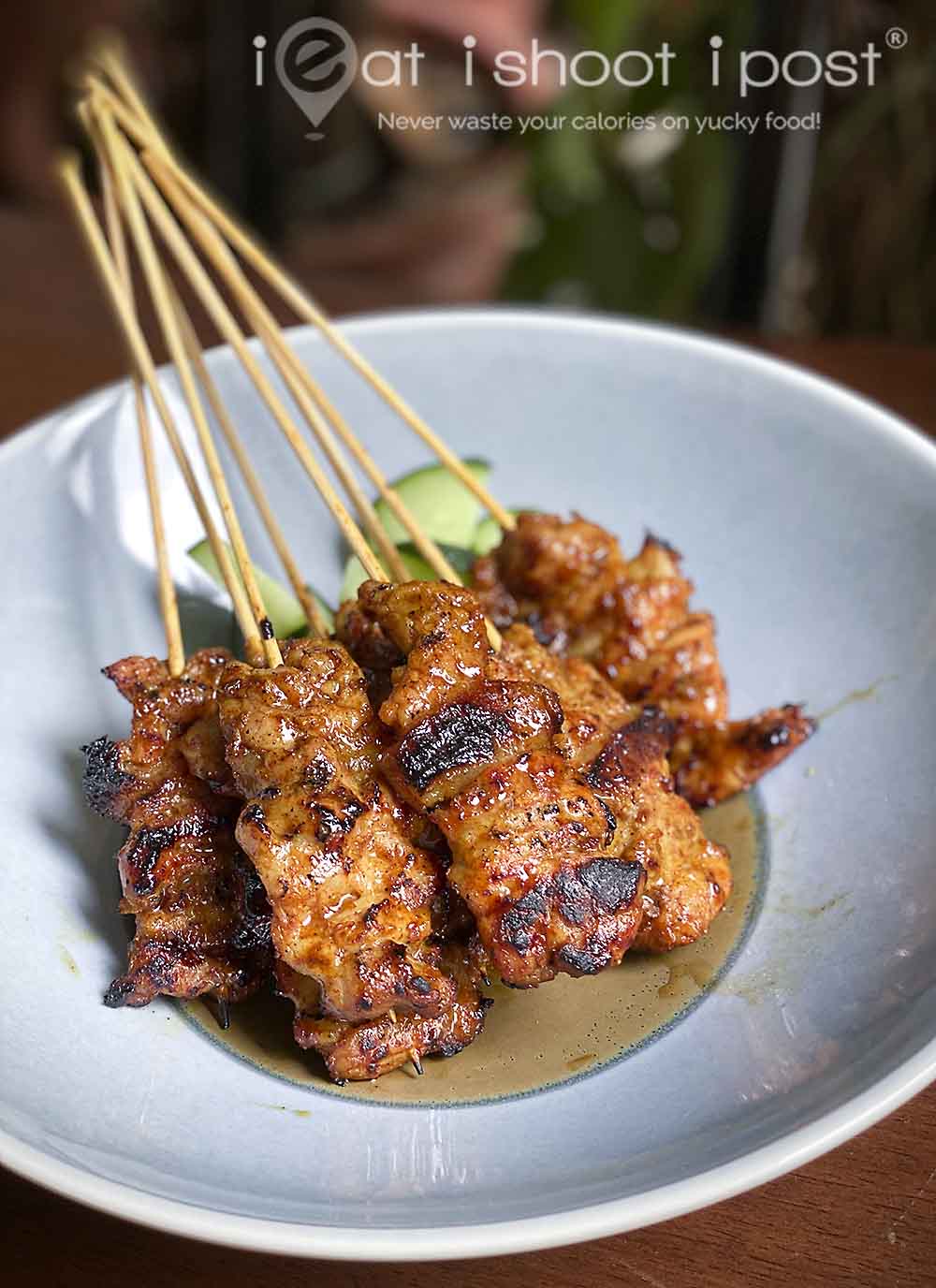 Price per stick: 90 cents
Address: 195 Pearl's Hill Terrace, #01-56, Singapore, 168976
Opening Hours: 11:00 AM to 5:00 PM, Closed on Sundays
Telephone: +6597489904
Of course, this would not be a satay list if we do not put in the legendary and mysterious Ah Pui Satay! As many know, Ah Pui was illegally selling satay from a pushcart back in the day. His satay flavour is as rich as his history! There is a lot of meat on the satay, and I feel that this stall has the best sauce out of every other stall we went to. Definitely a must-try, so book your slot now before the line gets even longer! 4.5/5
Watch our TikTok on Ah Pui Satay here.
Read the full review here.
Note:  Ah Pui has since left Pearl's Hill to start his own restaurant here.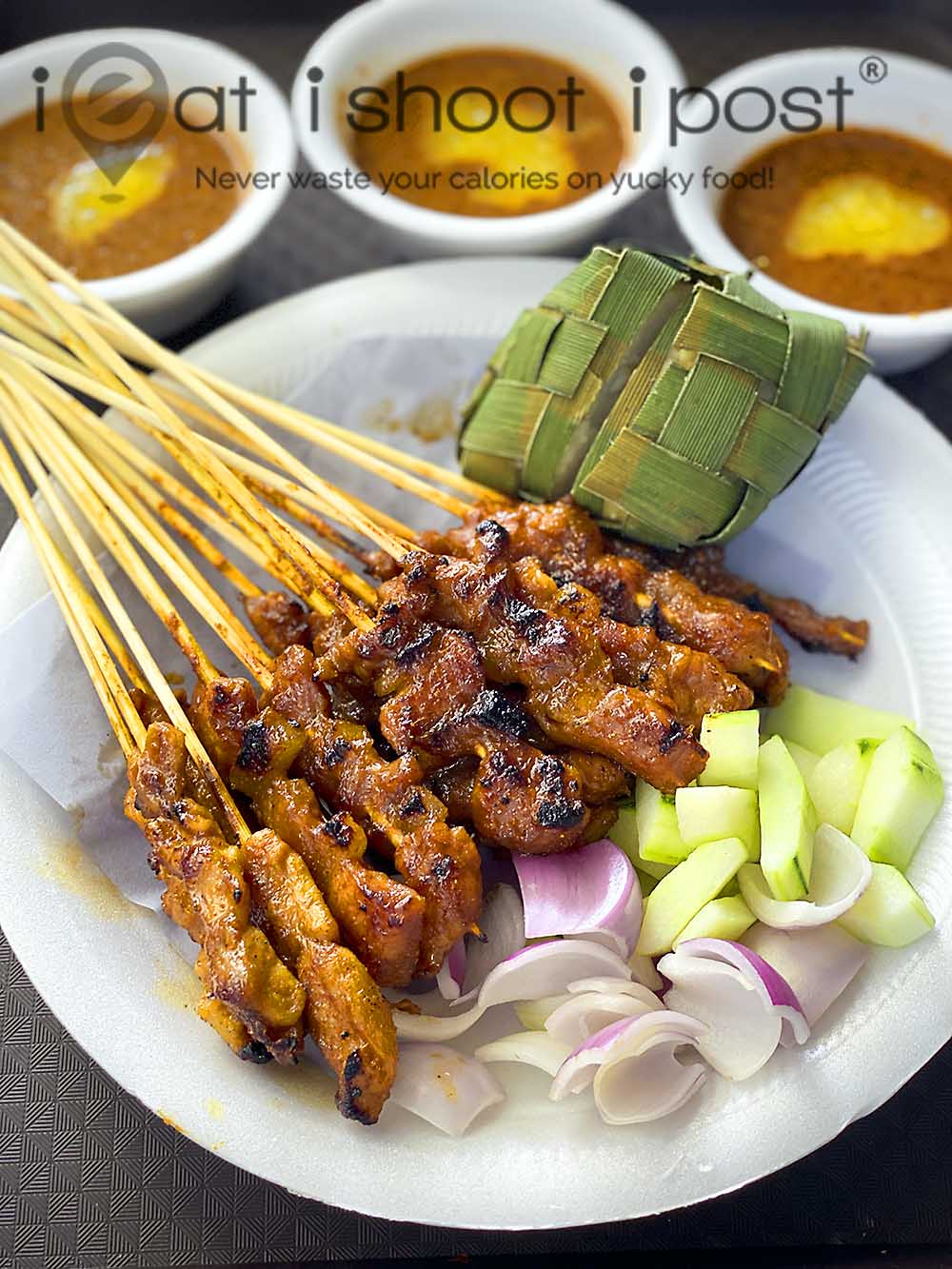 Price per stick: 60 cents
Address: 335 Smith St, #02-168 Chinatown Complex Food Centre, Singapore
Opening Hours: 9:00 am to 7:00 pm, closed on Mondays
This satay is one of two stalls in Singapore that has been rated as a Michelin bib gourmand stall, cheap and good. Their satay is juicy and yummy, and has a taste that leaves you wanting more! Their sauce is also quite nice and goes well with their satay. The only downside is that they do not make their own satay, which begs the question as to why they are in the Michelin bib gourmand list and not their supplier, CMY satay. Nonetheless, I really enjoyed this plate of satay and would like to commend Spencer, the owner, for his passion and grilling technique that can be easily seen on the plate. Spencer also tells me that people actually eat their satay for breakfast! 4.25/5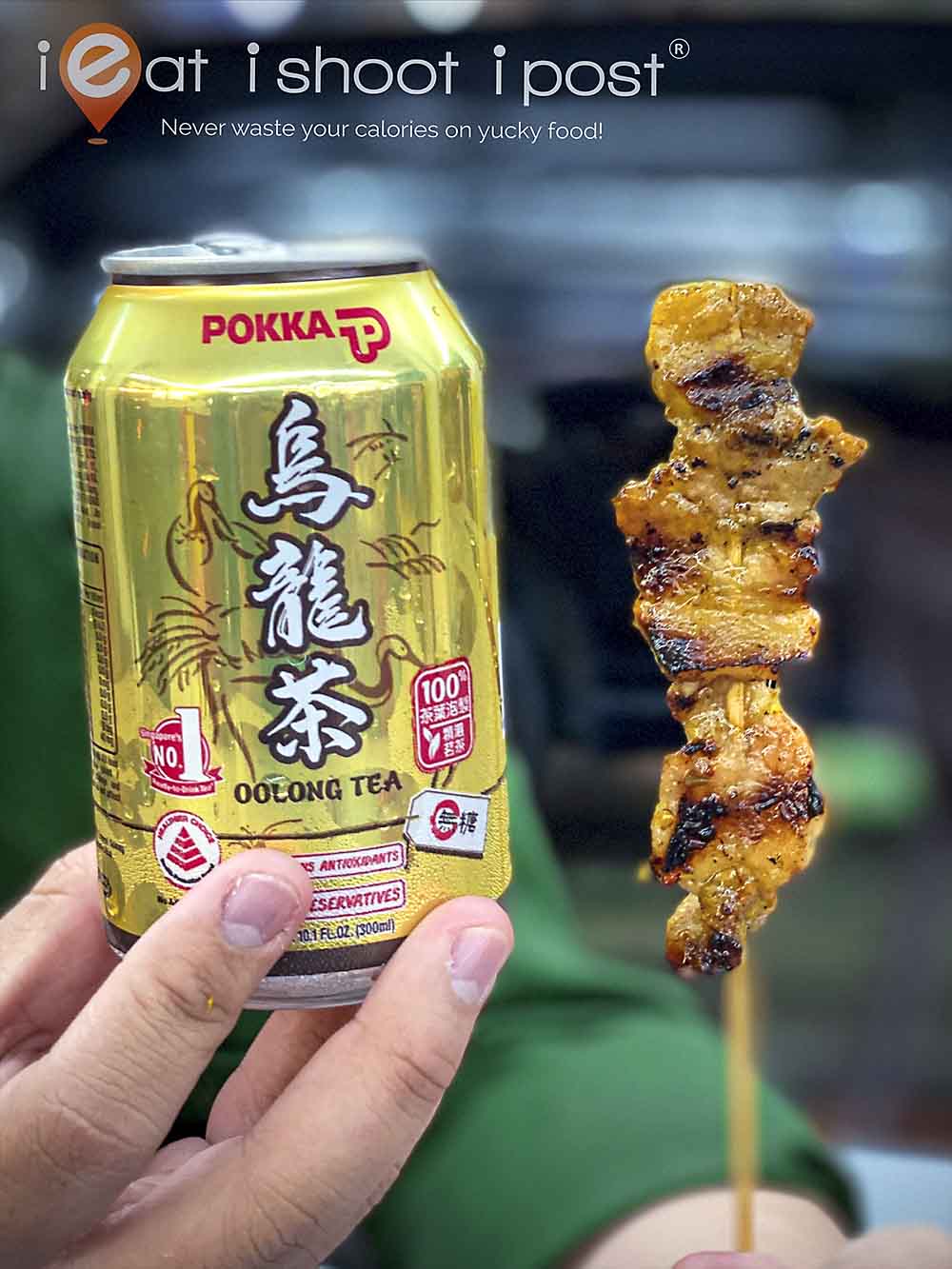 Price per stick: 80 cents
Address: 517 Lor 27A Geylang, Singapore 389473
Opening Hours: Weekdays: 5:00 PM to 11:00 PM
Weekends: 4:00 PM to 11:00 PM
Telephone: +6597552771
If you eat this with my dad, he would love to tell you again and again about how he came up with the idea of pork belly satay and gave his idea to this stall back in 2008! I must say that they have executed this idea really well – their pork belly satay is nicely charred, and the succulent pieces of fats burst in your mouth! However, I felt that the normal pork belly, while above average, was nothing much to rave about. Their sauce was also quite mediocre, but the reason why their rating is still so high is because of how smashingly good their pork belly satay is! Coming here at night is also a really fun experience, as it is supercooling. Definitely come here to get a taste of their pork belly satay! 4.25/5
Read the full review here.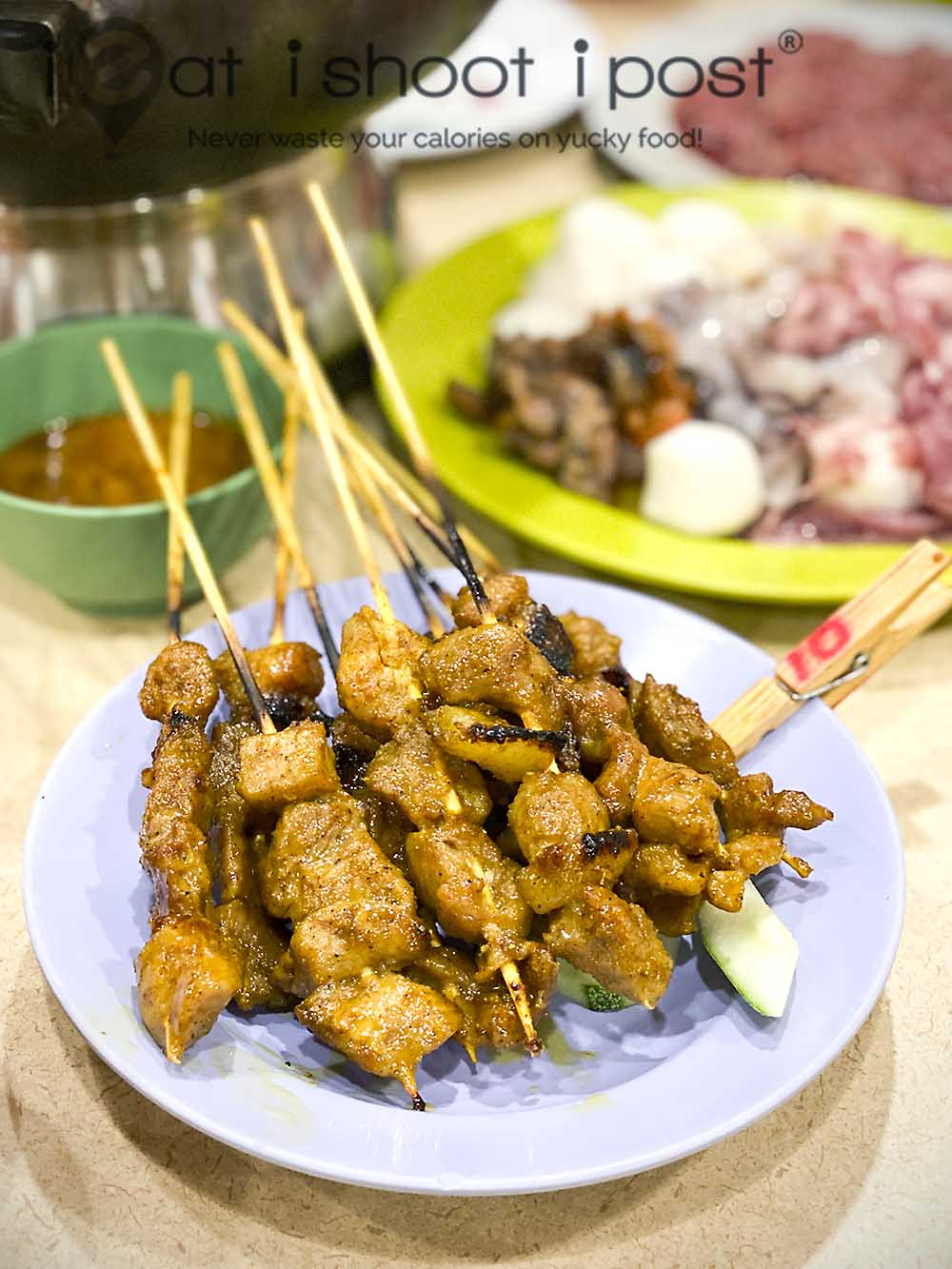 Price per stick: 80 cents
Address: 6001 Beach Rd, #B1, 20 Golden Mile Tower, 199589
Opening Hours: 11am to 10pm
Telephone: +656298 5891
Who said satay is only tasty when people handmake it themselves? While the "handmade" factor definitely gives satay a certain kick, this machine-made satay from Golden Mile Thien Kee is actually pretty good as well! Their satay is significantly meatier than the usual satay you will find in hawker centres and is quite tender. Their sauce was a little more on the spicy side though, and it was not really my cup of tea. Bonus: if you come here you can also try out their chicken rice, which is actually quite good!  4/5
Read the full review here.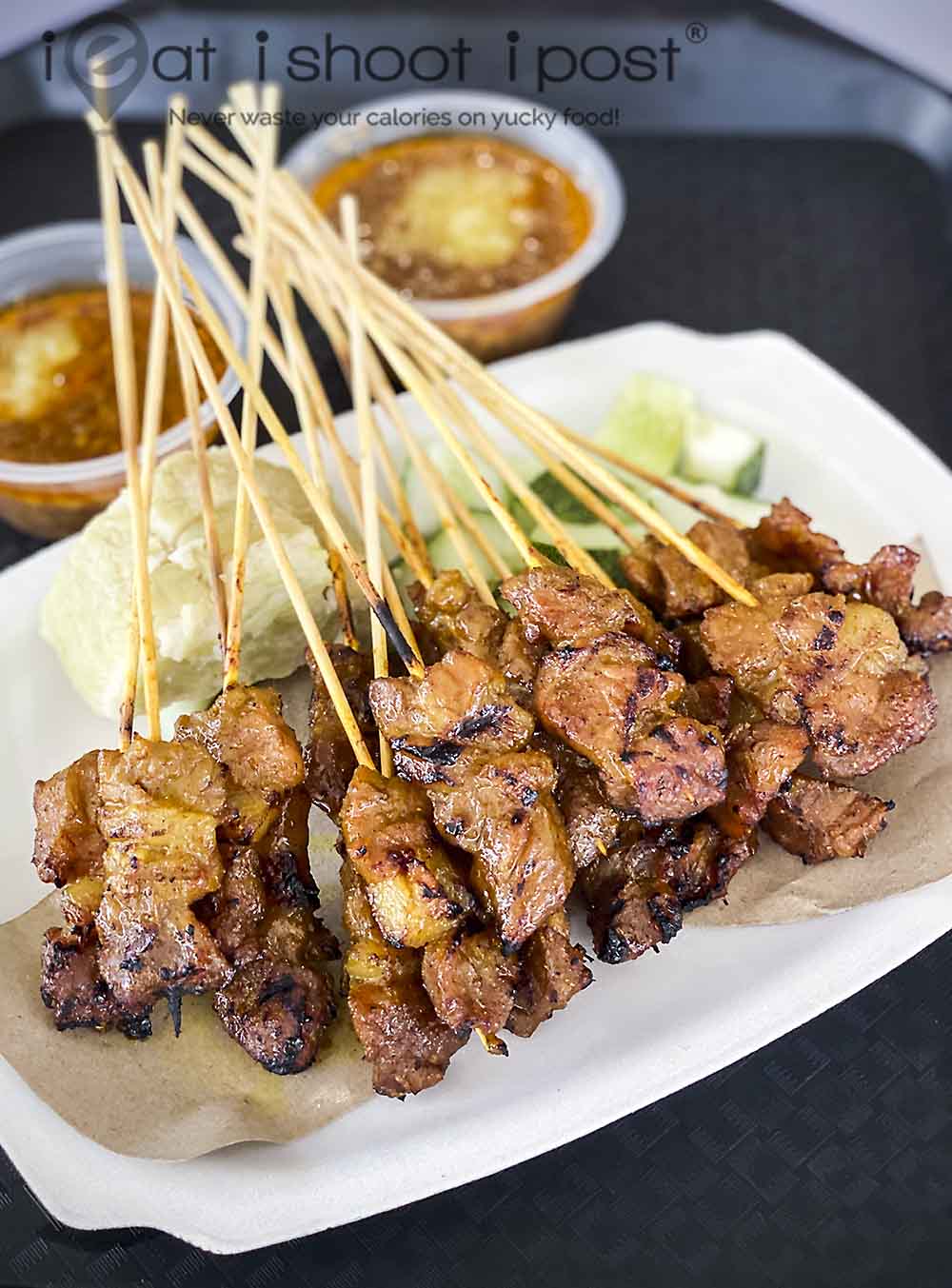 Price per stick: 60 cents
Address: 51 Old Airport Rd, #01-146, Singapore 390051
Opening Hours:  6:00pmto 10:30pm
Telephone: 9696 8845
This satay stall is run by a cute old couple, and the owners handmake everything by themselves – from satay, ketupat to even grinding their own peanuts! Their satay has an old school flavour to it, and the hearty taste lingers on your tongue, leaving you wanting to take more and more. This stall is quite under the radar and has not appeared on any of the lists I've perused. Their sauce also compliments their satay quite well! This is really a precious gem as they really make everything with love! 4/5

Read the full review here.
8. Chong Pang Huat Eating House
Price per stick: 70 cents
Address: 12 Foch Rd, Singapore 209257
Opening Hours: 10:00am to 3:00am
Telephone: 8305 2075
The satay here lives up to its name: It's really quite "pang", which basically means that the flavour is strong, in Singaporean lingo. This is the type of place that is very common around Malaysia but is quite scarce in Singapore – an eating house that specialises in satay. We actually dabaoed this satay and ate it at a nearby coffee shop: Dynasty Ipoh Seafood. The sauce was pretty good, and the satay was quite meaty and tender. It's the type of place you'll go for a midnight snack! 4/5
9. Pang's Satay
Price per stick: 60 cents
Address:335 Smith St, #02-213, Singapore 050335
Opening Hours: 5:00 to 9:15 pm, Wednesdays closed
Telephone: 9663 8015
This is yet another mom-and-pop shop, which goes to show how our satay culture is dying! Hopefully, we can find more next-gen hawkers who make satay! That said, I felt that this satay was quite sweet and tender, and the sauce was actually quite good.  While you're in Chinatown, be sure to check out Old Amoy Cendol for some delectable dessert to complete your meal! 4/5
Price per stick: 50 cents
Address: Old Airport Road Food Centre, #01-85, Singapore 390051
Opening Hours: Daily: 5:00PM to 10:00PM, Sunday: 1:00PM to 10:00PM. Closed on Mondays and Thursdays.
Telephone: 92205118
I did not get the benefit to eat Chuan Kee Satay during their golden years, and while still good, is not really something I would go all the way back to Old Airport Road to eat. The meat and sauce were pretty average, despite us going there 3 times just to suss it out. It's all purely handmade though, and the cute couple has been manning their store for over 70 years! Turns out they got together because the old lady used to frequent the old man's stall, and got to working together with him, a really sweet olden-day romance. This is still a nice place to eat satay overall! 3.5/5
Read the full review here.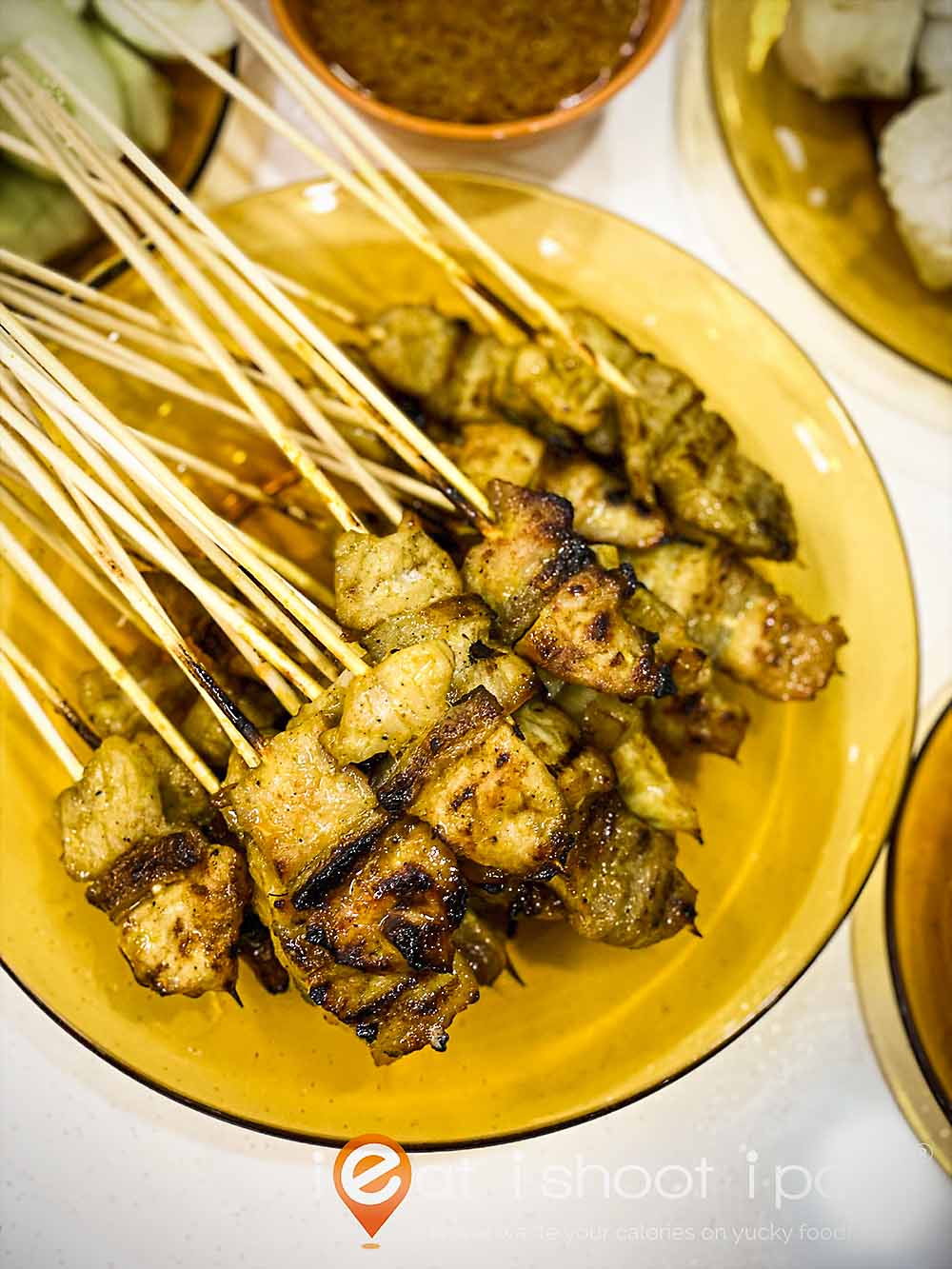 Price per stick: 30 cents
Address: 57 Geylang Bahru, Singapore 330057
Opening Hours: 7pm – 10pm, Tuesdays closed
Telephone: +656293 3766
This stall is on this list solely because of its extremely extremely attractive price point! The couple who mans this store is another cute old couple and fun fact: I actually had principle of accounting tuition from their son back in secondary school! This stall is definitely your ticket down memory lane, as both their flavours and prices are very old school! The taste, while not the best, is something that reminds you of olden day Singapore. This stall is definitely not something you want to miss out on! 3.5/5
Read the full review here.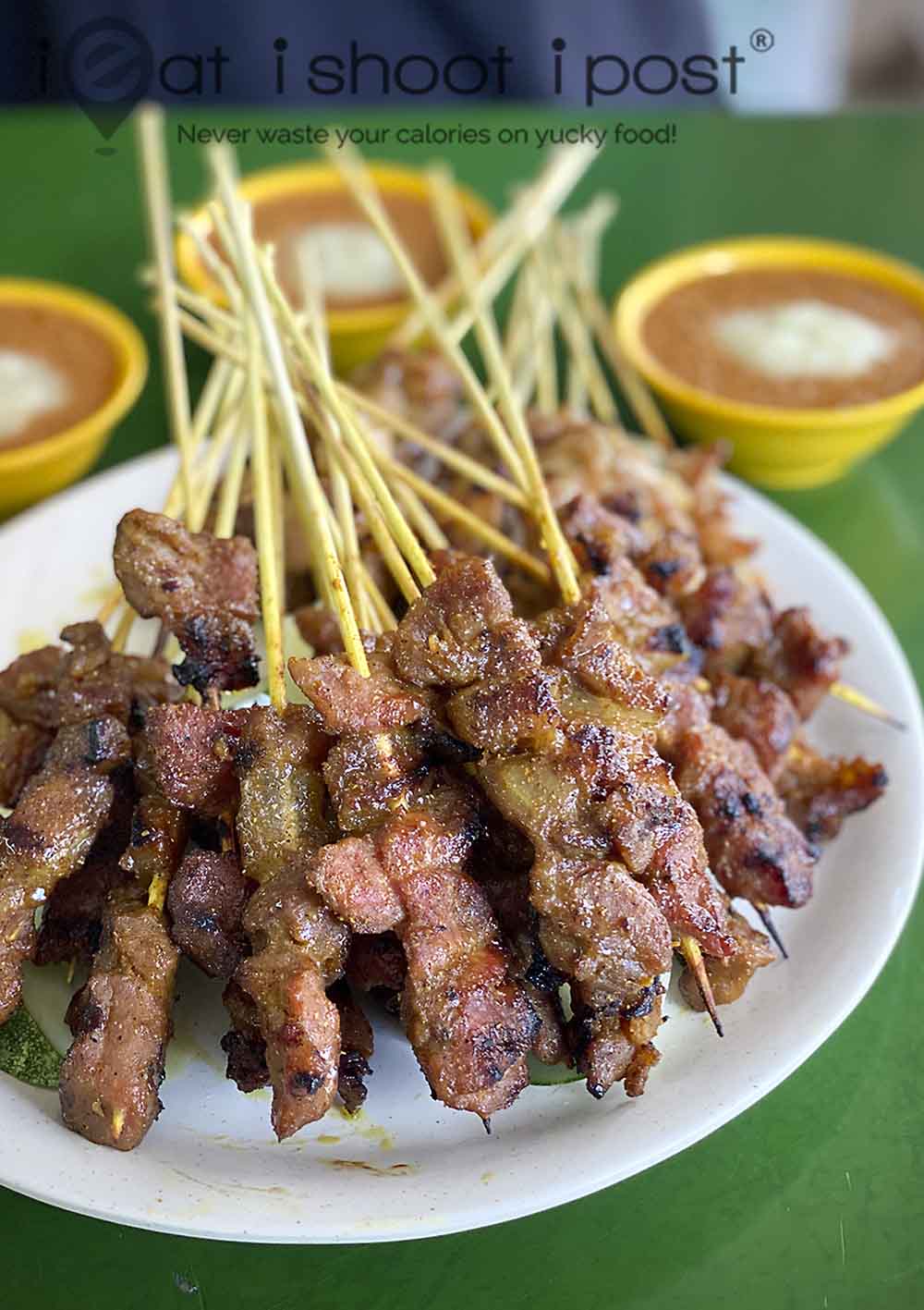 Price per stick: 70 cents
Address: 51 Upper Bukit Timah Rd, #02-123, Singapore 588215
Opening Hours: 11:30 am to 10:00 pm, closed on WednesdaysTelephone: +65 96265173
This stall has been around for over 70 years and is one of the longest-standing satay stalls around! While their satay is quite affordable given the amount of meat they put on each skewer, I feel that the satay was still a little dry and not as tender as other satays I've had. That being said, their satay is still definitely something to try if you stay in the west! 3.5/5
Read the full review here.
13. City Satay (Satay By the Bay)
Price per stick: 90 cents
Address:18 Marina Gardens Dr, #01-19, Singapore 018953
Opening Hours: 11 am to 10 pm
Telephone: 6538 9956
I think you will come to this place for the ambience rather than the satay. Eating satay by the ocean was quite a surreal experience! So, it is still a good place if you want to bring your foreign friend a taste of Singapore. However, I felt that the satay flavour did not exactly hit the sweet spot for me, and it was more Malay-style satay if that's your thing! They also have an option to eat pork belly satay, but for me, Kwong still is the best in that area. 3.5/5
14. Chomp Chomp Satay
Price per stick: 70 cents
Address: 20 Kensington Park Rd, Singapore 557269
Opening Hours: 4pm – 12:30am
After seeing many online reviews on this stall, we were quite hyped up for it. Unfortunately, it wasn't much of a hit for me. It could be because this was the last stop on our satay journey, but I felt that the meat could have been a little more tender. That said, the portions are quite big for the price! The ambience, as you know, is still great as well. Remember to eat the Hokkien mee from here! It's very delicious. 3.5/5

Dr Leslie's own version of the Hainanese Pork Satay
15. Dr Leslie's Authentic Hainanese Pork Satay
Alternatively, if you feel that you want to make your own satay, you can check out this authentic Hainanese pork satay recipe that Dr Leslie has written! He came up with this recipe after many years of compiling bits and pieces of information from numerous hawker aunties and uncles. I can vouch for the taste of his satay – it really is super delicious! I would rate it a solid 4.8/5!
You can check out our related hawker listicles:
Best Hokkien Mee
Best Char Kway Teow
Best Carrot Cake
Best Roti Prata
Till then, happy eating!