With Holydrummer, Holybunny, Wahcow, Cactuskit, Khim, Amagada, Denniz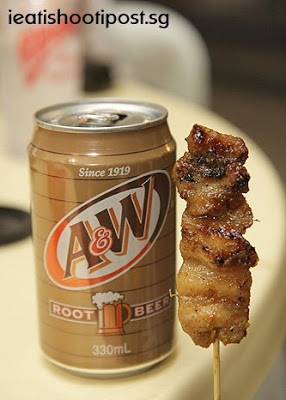 Kwong's Premium Pork Belly Satay$1ea
Kwong Satay: Kushiyaki style Pork Belly Satay! – ieatishootipost
I had a dream.
I dreamt that I was eating Pork Belly Kushiyaki (Butabara) and all the wonderful juice was bursting out in my mouth as I sank my teeth into the springy flesh. But in my dream, instead of the plain salt and pepper marinade, the pork was marinated Hainanese satay style and I enjoying the sweet fragrance of the cumin, coriander, five spice powder and saffron….yummm…
Then I woke up right at the part where my pastor said: "And in conclusion……."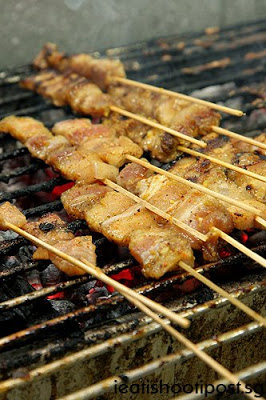 Pork Belly Satay on the grill (note size of the normal satay beside it)
Now that I had that dream, I just couldn't get it out of my mind. Somehow, I had to find some Satay seller who is willing to take on my idea. As if by divine intervention, I stumbled upon this blog whose author just happened to be the daughter of Kwong's Satay whom I blogged about a while ago. In her blog post, she said that she was pleasantly surprised that one day, person from one of Singapore's major organizations called up to place an order for a large function. She found out later that they had found out about them from reading my blog post! So since I knew she was happy, I decided it was an opportune time to try my luck and see if they would agree to my idea of a Kushiyaki style Pork Belly Satay.
So that is how our group of Makan Kakis ended up in Geylang Lor 29 one evening to taste-test the latest "ieat creation". The majority of the makan kakis including myself gave it a 4.75/5 for being the juiciest and best tasting satay (certainly the largest). Cactuskit was not as ecstatic as he did not like fats in his satay (where got pork satay with no fats?) but still gave it a 4.25/5. The satay is almost 2 and a half times their normal Pork Loin Satay, so I guess the price of $1 is justified and furthermore you are getting Pork Belly meat which is more expensive than Pork Loin.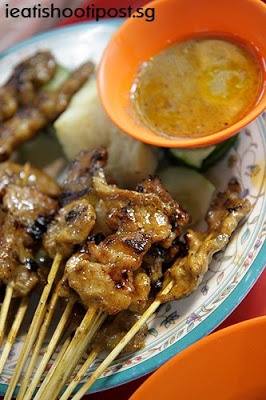 Original Pork Satay 40 cents each
Don't miss out on the normal Pork Satay (40 cents) as well as the two meats are different. The normal Pork Satay is more tender compared to the Pork Belly which is a little more chewy but more flavoursome and juicy. One of the secrets of Kwong's satay is that he still insists on using Saffron ($6000 per kg) in the marinade which made it very aromatic. 4.5/5
The peanut sauce comes with crushed pineapple which would please most foodies. However, I did feel that the sauce could have been more "peanutty" to make it even shioker. The Ketupat is very nice as they use pandan leaves instead of coconut. Have a bit of a sniff before you pop it into your mouth when you try it.
Somehow, I felt that the Satays here at the original stall taste better than the one that I blogged earlier at one of the franchisees. It could have something to do with the high turnover of the satays as well as the person who is actually doing the grilling.The original owner, Mr Kwong has since passed on the everyday running of the stall to his disciple whom he has trained in the art of Satay BBQing. He now concentrates on supplying his satay to various stalls around Singapore (as well as home parties). However, he can still be spotted at the stall occasionally since it was where he first started his business in the 80's.
Conclusion
One of the most memorable Satay experiences for me and, I hope, for you too!
Post Script:
This is already quite a popular stall on weekends, so be prepared to wait for your satay!