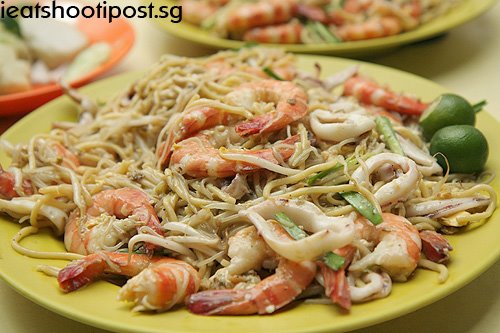 Xtra Large Plate Hokkien Mee $20 (for 3-4 persons)
Now if you are at Geylang Lor 29 to try the Pork Belly Satay, don't forget to order a plate of Hokkien Mee to go along with it. Hokkien Mee and Satay is my number one, all time favourite Singapore hawker combo. So it is a bonus to find two really good stalls side by side.

Now it might be a little confusing but this Hokkien Mee that is located at Geylang Lor 29 is not called "Geylang Lor 29" Hokkien Mee, but rather "Swee Guan" Hokkien Mee. The "Geylang Lor 29" Hokkien Mee is located at Telok Kurau instead. Both are using charcoal to fry the Hokkien Mee and as you might have guessed, this is another of those hawker family stories where the famous patriachal hawker had a few kids who went their own way to start new branches to carry on their father's legacy. It has happened with Beach Road Prawn Noodles, Hock Lam Beef Kway Teow, Rochor Bean Curd and many more.
As far as I know, there are three members of the same family who still use Charcoal to fry their Hokkien Mee. They all originated from the original Geylang Lor 29 stall. The other two have already been blogged viz Uncle Alex's Geylang Lor 29 Hokkien Mee and his sister-in-law's stall, Charcoal Fried Hokkien Mee. This stall thus completes the trio of stalls that continue the Geylang Lor 29 Hokkien Mee tradition.
The style of the Hokkien Mee is similar at all three stalls. They use thin bee hoon to fry and it tends to come out a little gooey but full flavoured. This stall though is a little cheaper, being in Geylang, and the prawns are slightly larger. Tastewise it is definitely one of the better Hokkien Mees around that will complement Pork Satay perfectly! 4.25/5

Conclusion
Satay and Hokkien Mee! Any others also like this combination? What other combination of hawker foods do you all enjoy? I know Prawn Mee and Ngoh Hiang is another favourite of many people.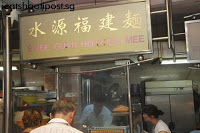 What to do next?
Try Kwong's Pork Satay next door
Check out the other stalls in Geylang
Check out the other famous Hokkien Mee Stalls