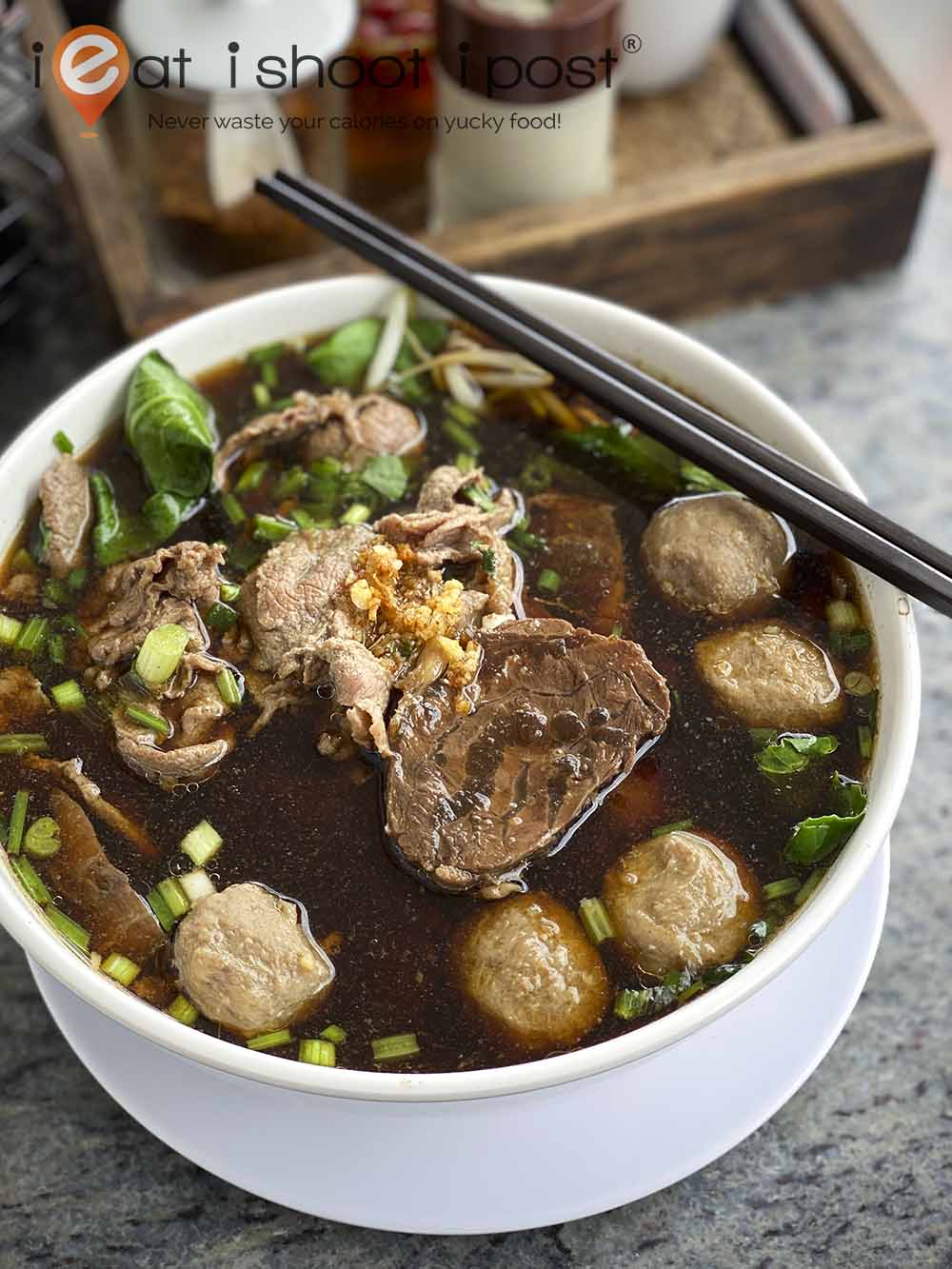 Amidst the current explosion of new Thai eateries, places like Thai Noodle House seem like a quaint echo of the past.  You are not likely to find millennials on their smartphones queueing outside this restaurant, but rather, a steady stream of regulars who have been enjoying the food here for almost two decades.
So what can we tell you about this place that might make you want to plan a visit?
Well, let's start with the cendol because of all the dishes we had that day, this is the one which we felt was really different.  I thought that I had cendol all figured out when I published my cendol recipe.  But after tasting the cendol here, I felt that I needed to redo my recipe.
The texture of the cendol was excellent.  Its soft, slippery and sublimely slurpable and the flavour of the pandan was really strong.  It set a new benchmark for the cendol.  The coconut and gula melaka can still be improved, but the cendol is the best that we have had in Singapore. If they started using freshly squeezed coconut and really good gula melaka, then this would easily be the best bowl of cendol you can find here.  But, the other issue is that you don't really find gula melaka in Thai style cendol, so we are in a bit of a quandary about what to make of it.    4.25/5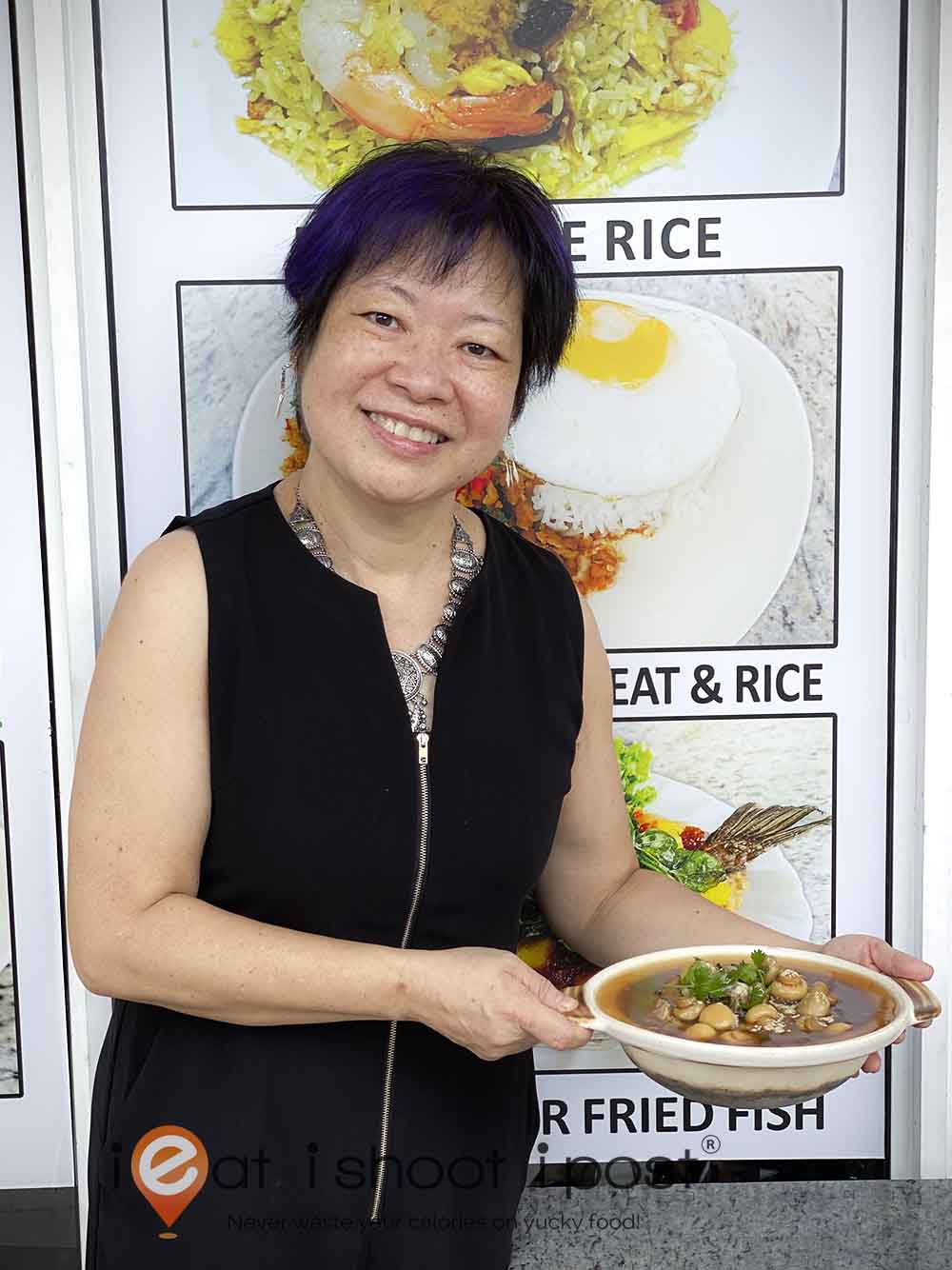 The reason the cendol is so good is because of the new owner, Ivy Kan, who bought over the restaurant from the previous owner who had retired and returned to Thailand.  Ivy was a lead Science teacher in school before she decided to leave teaching to pursue her passion in food and farming.  She rented a gardening plot at Sprout Hub to grow her own pandan leaves and other herbs and vegetables.  Her pandan leaves then go into making her cendol which is all extruded, strand by strand, with a piping bag!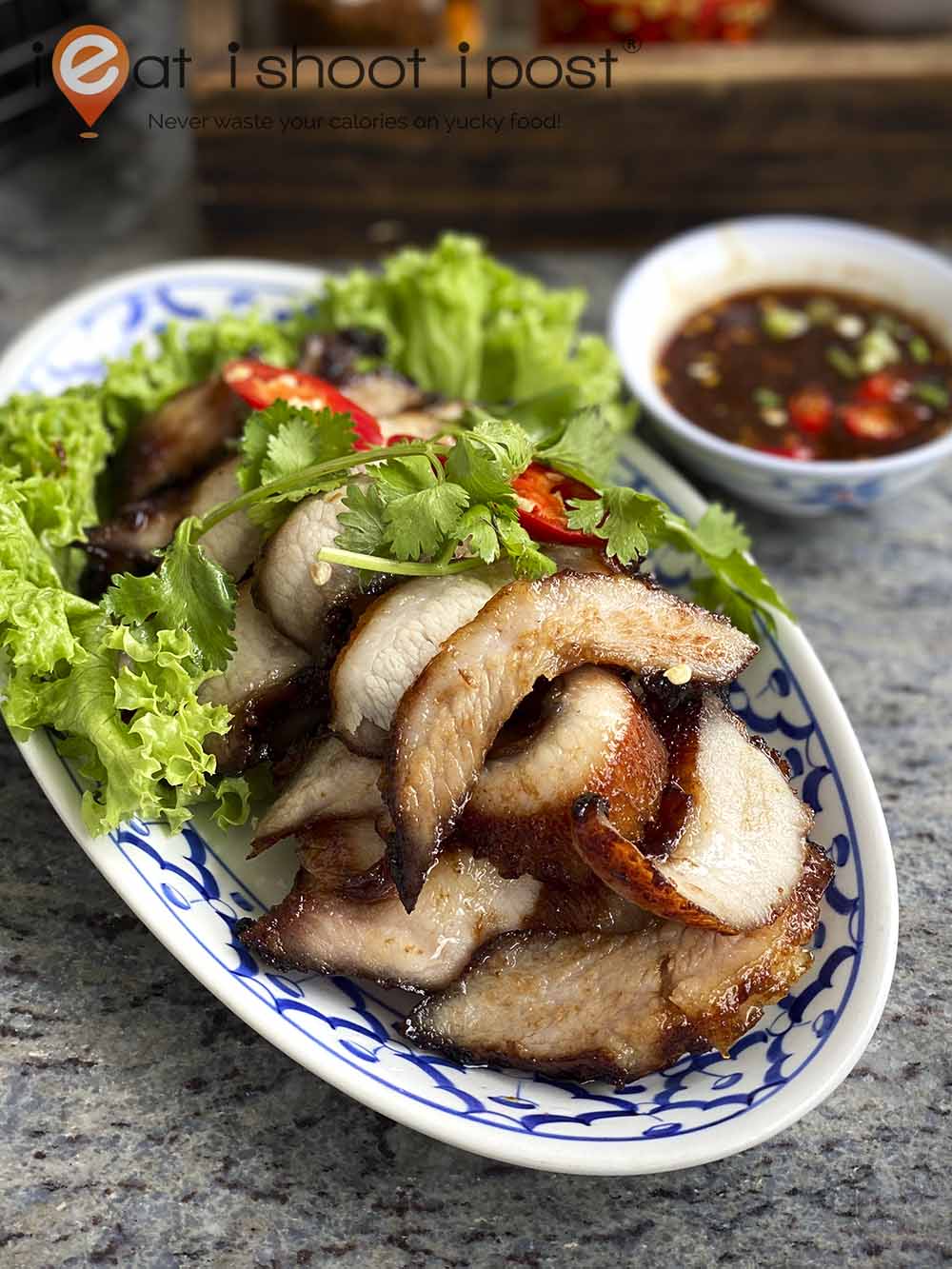 There were some hits and some misses.   In general, the Thai food that was inherited from the previous owner was ok, but the ones that have had a makeover by Ivy, like the cendol, really stood out.
Another dish that she worked on was the pork jowl.  She managed to get a very good supply of pork jowl which were thick and meaty.  They are marinated with a mix of black pepper, coriander and garlic and grilled till they were nice and tender. The only thing I was missing was the charcoal smoke as they did not have a charcoal grill in the kitchen.  4.25/5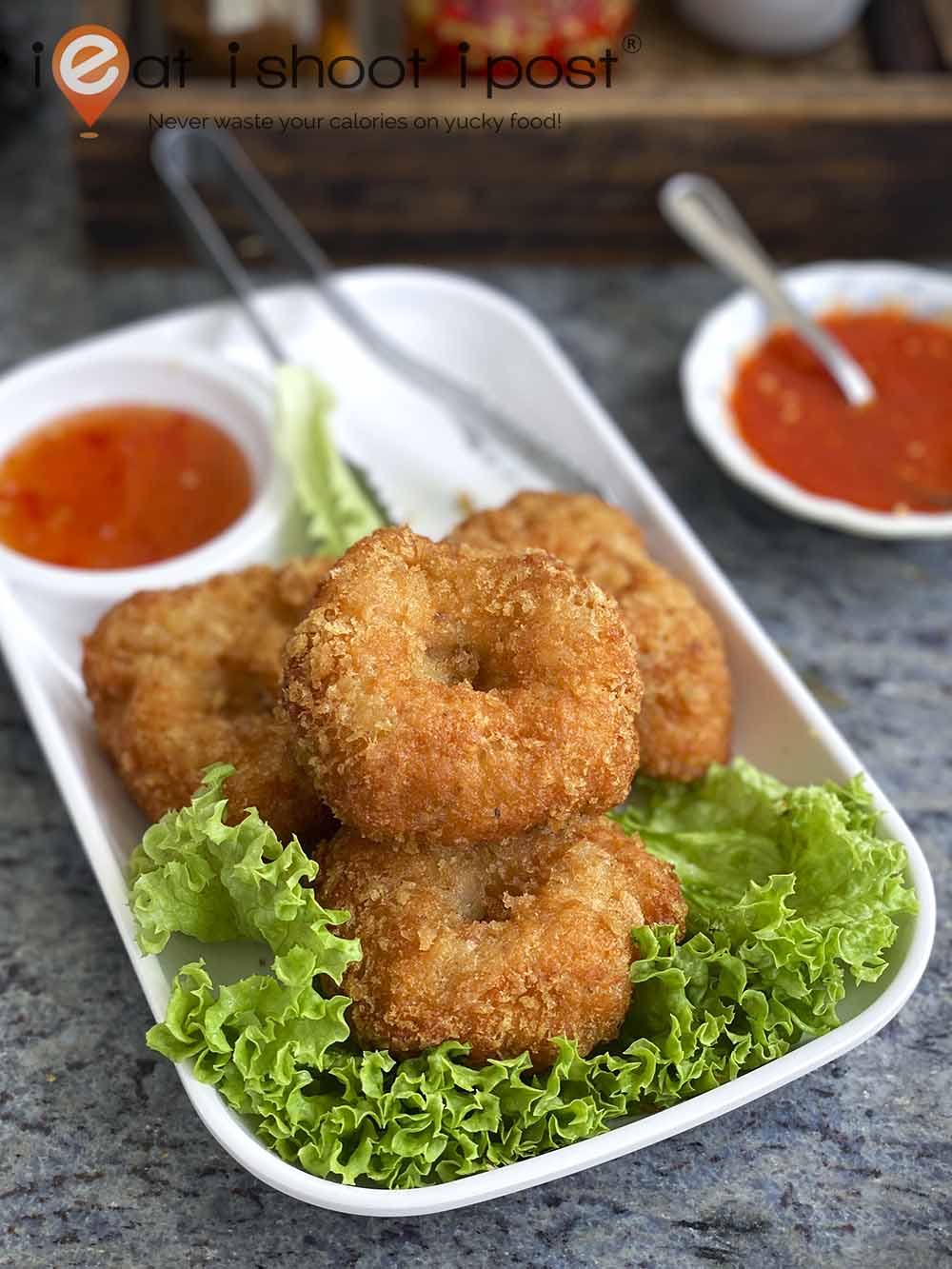 We liked their prawn cakes which were pretty substantial.  Unlike many other places where the prawn cakes can be pretty measly, the ones are pretty generous. They are still all being handmade at the restaurant and has a nice, juicy and bouncy texture. 4/5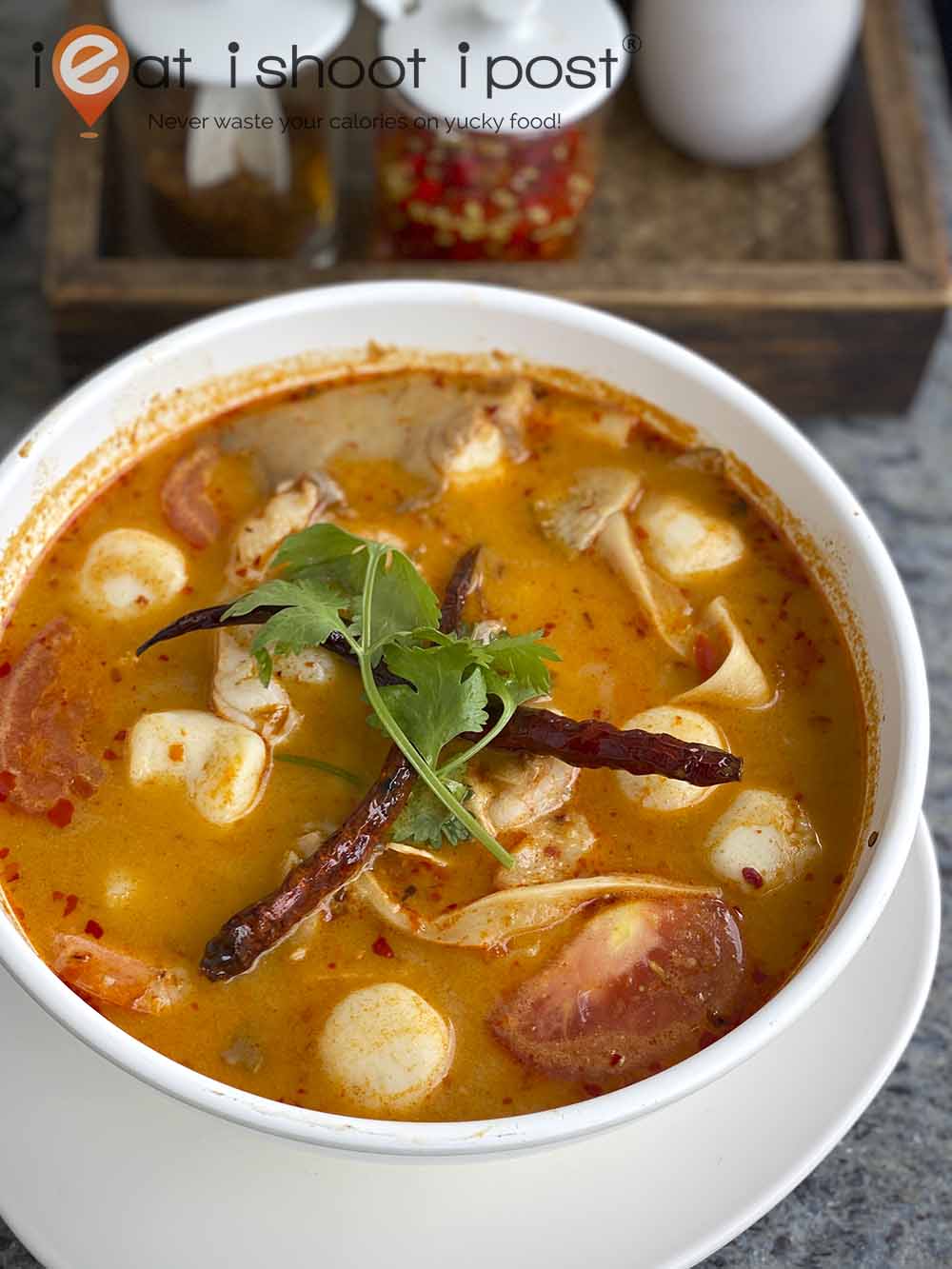 Tom Yum soup is one of the key dishes that we use to gauge the level of expertise of a Thai restaurant.  Unfortunately, the Tom Yum soup here didn't quite meet our benchmark.  Somehow the Tom Yum soup lacked that oomph that we were expecting.  3/5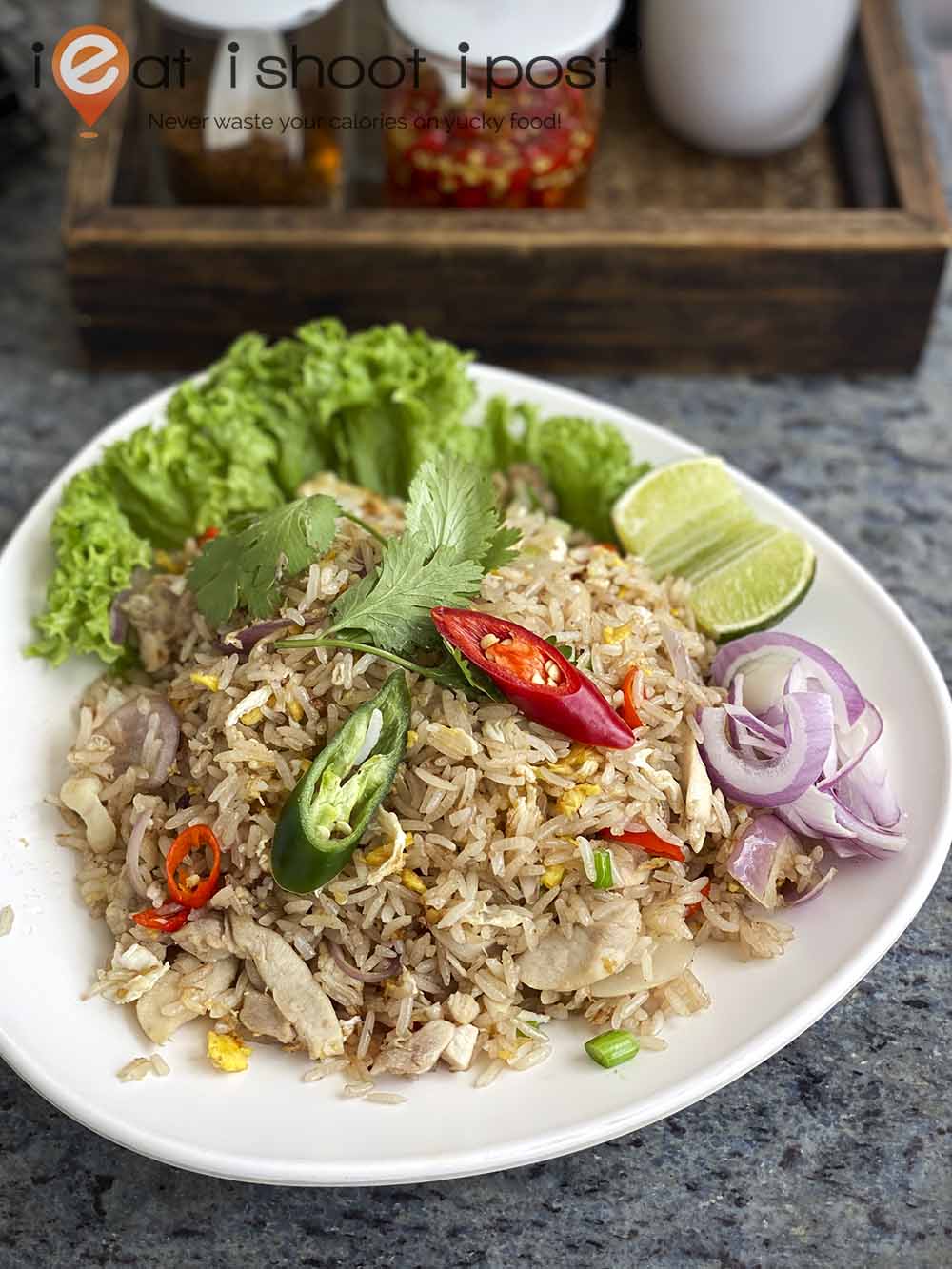 Their Thai Belacan Fried Rice is nicely fried and has a wisp of wok hei flavour.  But again, it didn't quite deal a knock out blow for us.  Good, but not compelling enough to travel there to eat.  3.75/5
Of the dishes that have been inherited from the previous owner, the Beef Noodle Soup shown on the top of the post is one of the better ones.  The shin beef was cooked till nice and tender and the soup was sweet and robust.  The sliced beef could be a little more tender though.  4/5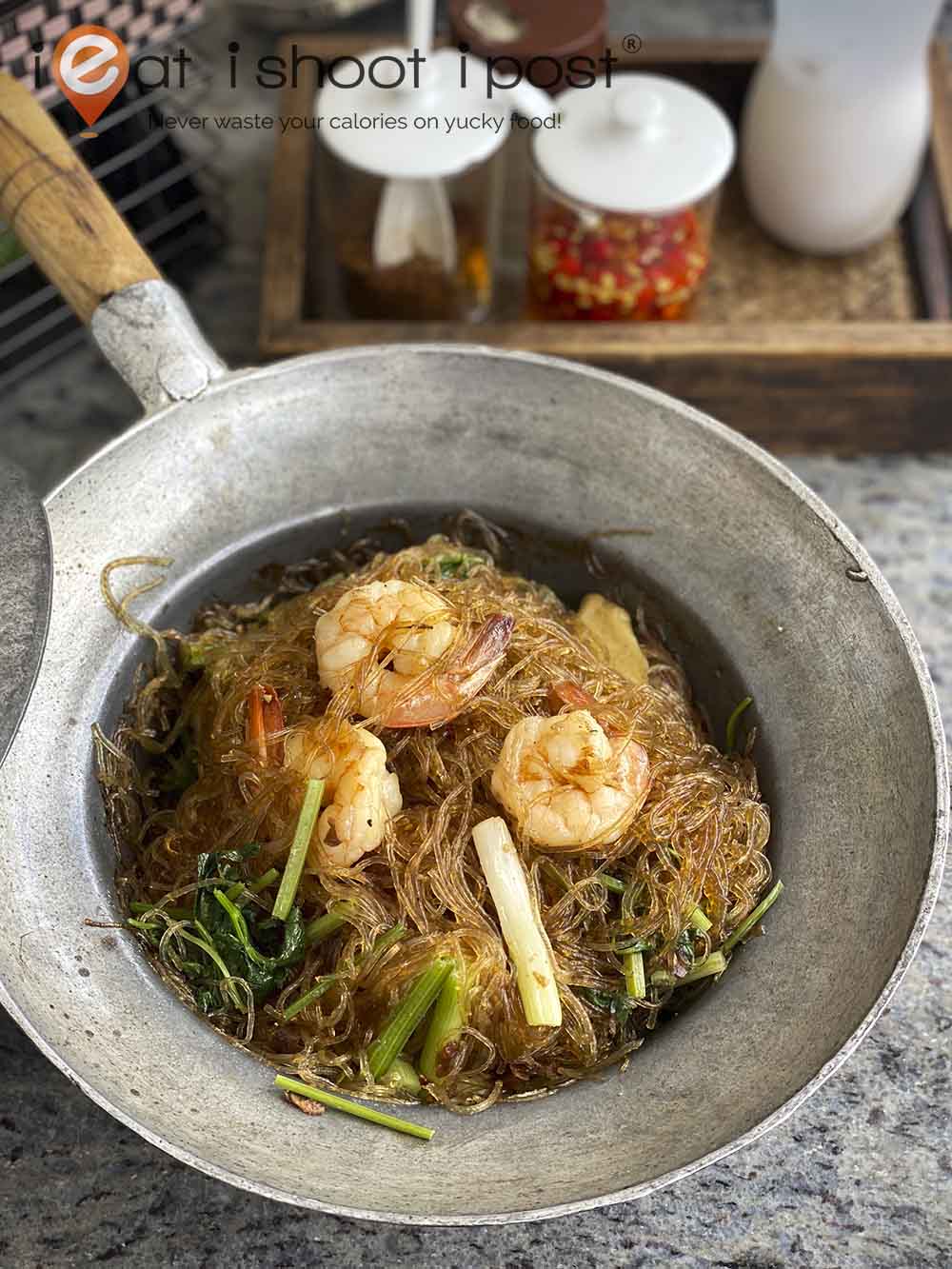 Another of my favourite Thai dishes is the goong ob woon sen (prawn vermicelli).  The version here is good, but like the other Thai dishes here which has had the Ivy makeover, it still lacked that extra something to bring us back again.  What I think it needs is a thick slice of pork fat and the addition of small skin on Thai garlic cloves.  The vermicelli could has be more resilient.  3.5/5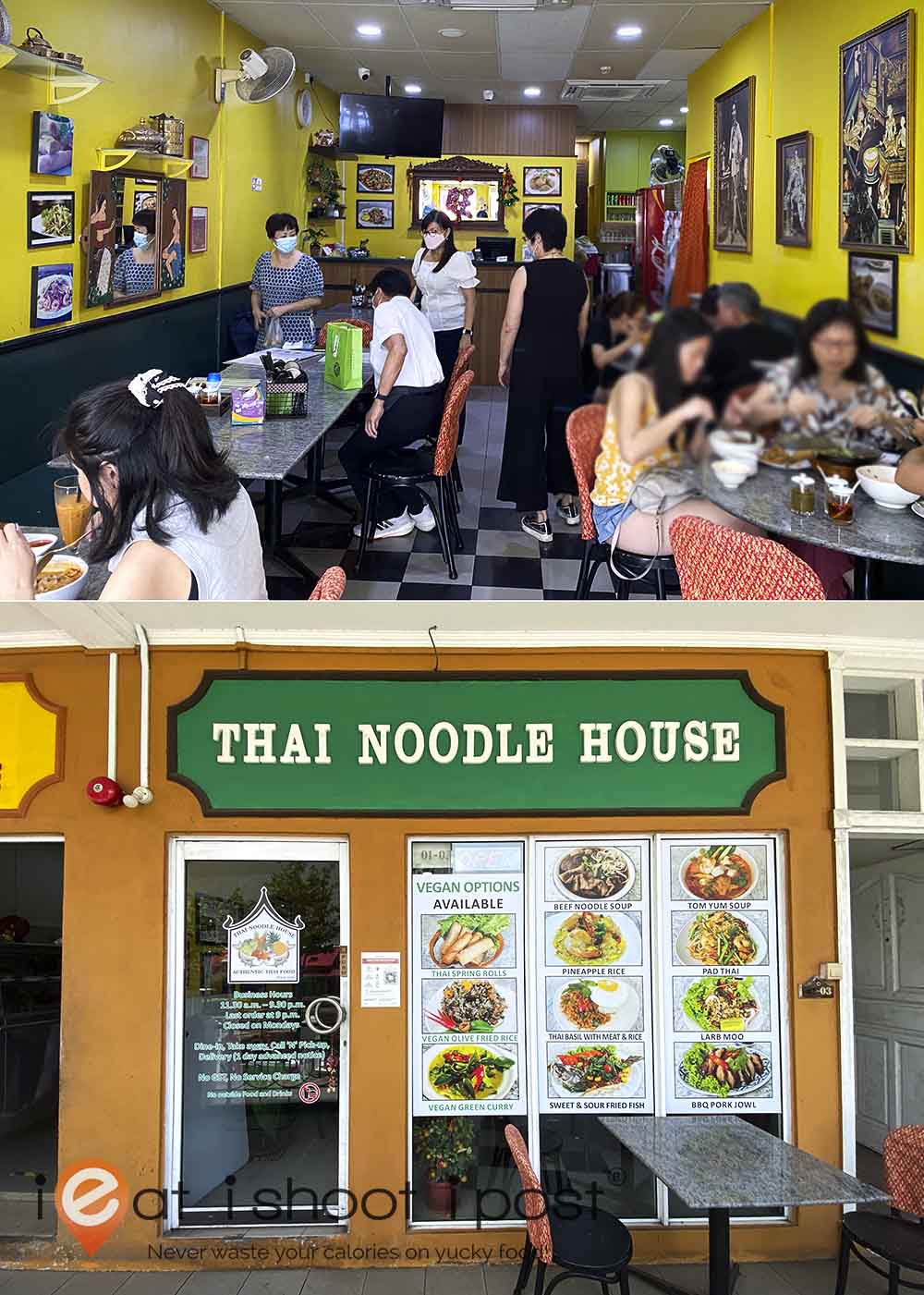 Conclusion
Thai Noodle House has been around for a while now and its initial buzz has now been usurped by newer Thai joints that continue to sprout up in the heartlands.  For regulars, it still delivers dependable Thai favourites.  What we are excited about are the dishes which the new owner, Ivy has given a makeover. The passion that the new owner is injecting into the restaurant might just be what it needs to undergo a renaissance.  We'll be keeping an eye on this one.