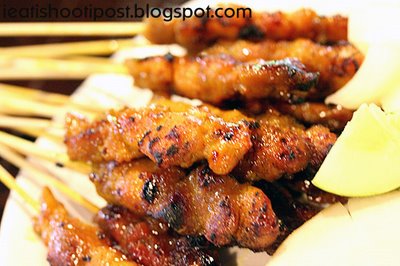 If you are like me, you'd get frustrated when you visit a place like East Coast Lagoon Food Village. They have at least 5 stalls selling satays and you just don't know which one is good. Well, fortunately for me I got a tip off from another foodie about Haron 30 Satay, so I decided to try it.
And it was really the best of the lot. I have randomly tried the satays there, but now I am sticking with Haron. Firstly, they use chicken pieces instead of mince and the sticks are quite generous. The taste of the satay is quite good and the homemade peanut sauce has got a generous amount of peanuts in it. If the peanuts were ground coarser, it would have been perfect.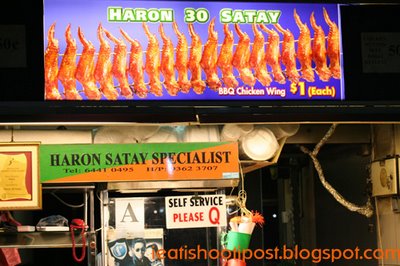 This is the only store with Adrian Pang's face on it and I notice that they are the first to close for the night. I guess that says something about the store.
Conclusion
Not the "die die must try" satay like Super Chicken Satay Power, but certainly if you are at East Coast Lagoon Food Village, you can't go wrong with this stall. $0.40 per stick 4/5