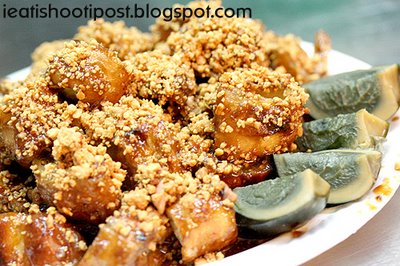 This is my personal pick for best rojak so far. It does not have any newspaper writeups or Adrian Pang's photo anywhere near the shop, but they serve a really mean You Char Kway (Dough Fritters) Rojak.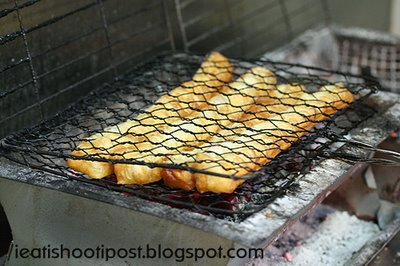 To make a good You Char Kway Rojak, y0u have to grill the You Char Kway over charcoal till it is crispy and just slightly charred. The You Char Kway here is fresh, so you get a nice crispy outside but the inside is still fluffy and chewy.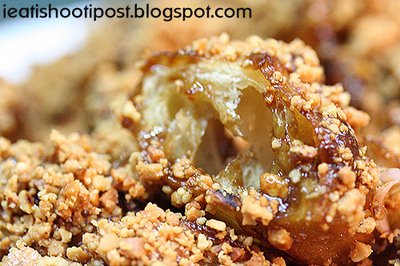 After Panggang'ing (grilling), the You Char Kway is then cut it up and tossed in the rojak sauce. They use very good quality Penang Hei Gor (Prawn Paste) and are really generous with the roasted peanuts which they grind themselves.
This stuff is really addictive. I usually finish up all the You Char Kway and then sit there picking up the peanuts with the bamboo sticks until I clean up the plate. I don't like too much tang in my rojak, so I usually request less lime juice. The coarsely ground peanuts are a bit oily and really pang (savory). Some places toast the You Char Kway and serve with a dipping sauce. I think this is a much better way of enjoying the You Char Kway Rojak.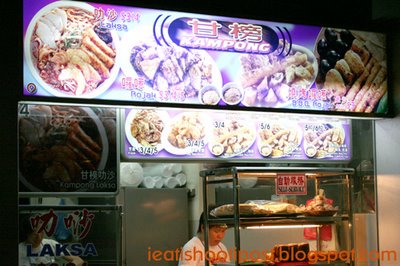 Conclusion
My one and only regular Rojak stall. Planning to try the Makan Legend at Dunman Food Centre to see how it compares to this one but hard to imagine how it can much better. 4.5/5
PS: The laksa here is quite shiok too.