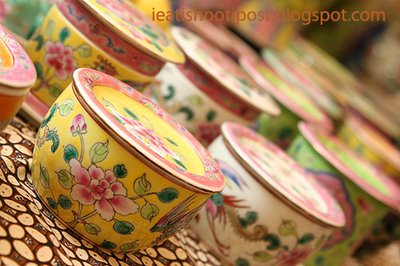 Kim Choo's is more than a restaurant. It is a showcase of our Peranakan Heritage. This restaurant played a significant role during the recent IMF meetings by hosting some of the IMF delegates there. The place is just so homely, that when you are dining upstairs, you will literally feel as if you have been invited to a home cooked meal.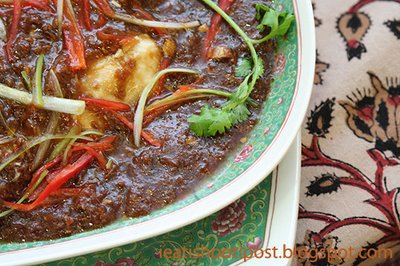 The Tau Chio (Bean Paste) fish was quite good. The salty and slightly sweet sauce goes very well with rice. $12 4/5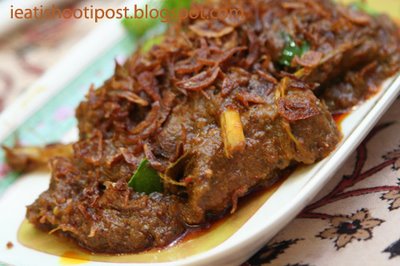 I liked the gravy of the beef rendang but the beef could have been more tender and it would be great if they could use more Shin Beef in stead of lean beef. $8 3.5/5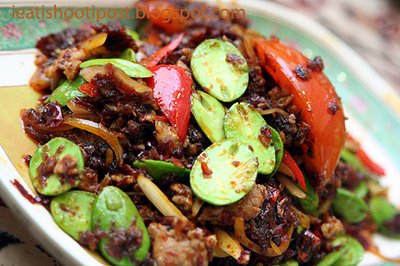 Don't know why people rave about Petai. I found the beans are just too bitter to my liking. But the sambal chilli with ikan bilis was quite nice. $8 3/5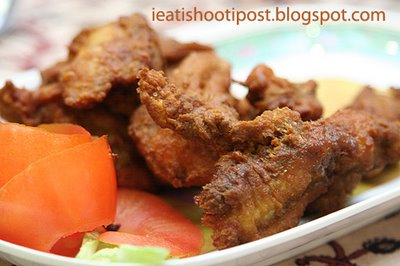 Can't go wrong with Ayam Goreng (Fried Chicken). Kids finished the plate. $8 4/5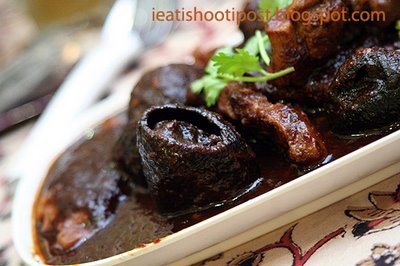 Ah, the gold standard dish for any Peranakan restaurant, the Ayam Buah Kerluak. Their version is not like Peramakan's which I reviewed earlier. Here the nut is left intact instead of being scooped out and refilled. I found the gravy a bit on the soury side and still prefer the other version. $8 3/5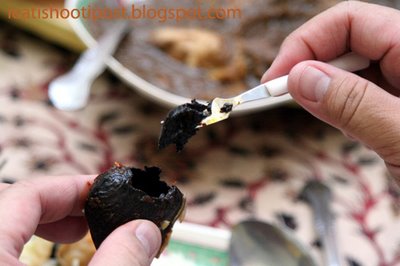 They reverted to this way of cooking after some customers said they preferred the nut intact.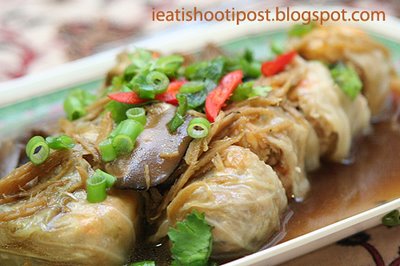 The Cabbage Rolls were quite nice. They are stuffed with pork and shrimp and doused in oyster sauce. $8 3.5/5
Babi Ponteng is the Peranakan version of Braised Pork. As with all the other dishes that night, I found it a little on the tangy side. $8 3/5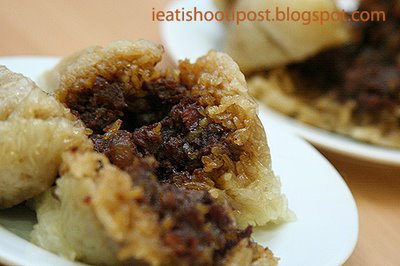 Kim Choo's Bak Chang is probably one of the best version of the Nonya Bak Chang around. In fact they started off the business selling this in Joo Chiat before expanding into the restaurant business. $1.70 each 4/5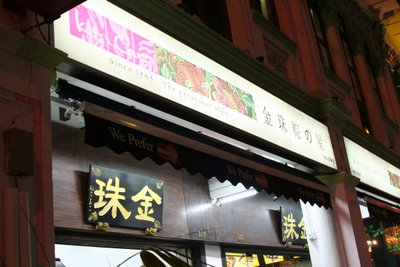 Conclusion
This is a great place to bring foreign guests to introduce them to the Peranakan Culture. The restaurant is full of antiques and Nonya stuff that you can buy. The food is ok and the prices are very reasonable. The coffee here is only $1 and it would be a great place for an afternoon tea of Nonya Kueh (Nonya Desserts) or Bak Chang with local coffee.
It was inevitable that I was comparing the food with that of Peramakan which was really exceptional or else I might have been quite happy with the food here.
7/10 (T2+V2+S2+E1)