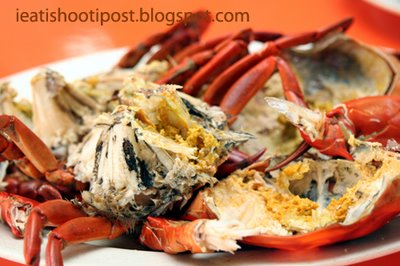 This restaurant is closed!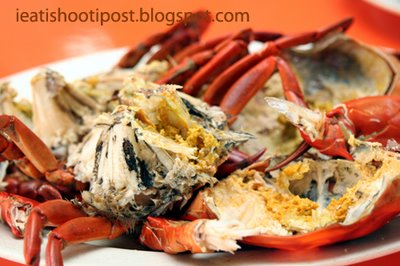 I love old restaurants. When you walk in and feel that these guys have been doing this business for over 30 years, you know you are in for a treat. Guan Hin has been blogged by my fellow bloggers from the makansutra forum and is already quite well known. It's in the top 50 best restaurants in Singapore list (#50). Hey there's even a newspaper article on the wall showing the Bishop of the Anglican Church having lunch here!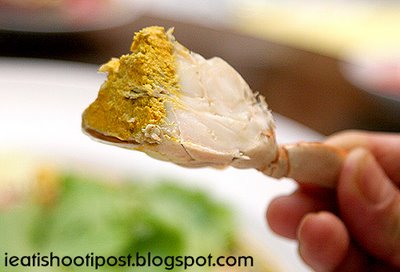 We start with the famous cold crabs. This is a Teochew delicacy and not readily available anywhere. The secret to a good cold crab is that you need to have a good source of crabs. Not any crab will do. No you want a crab that is just about to molt, then it is full of Gor (Milt). For many years I was under the impression that Gor was the egg of the female crab until I found out that in order to have Gor, you need to have a male crab! (I later found out that Milt is actually Semen and Seminal Fluids – hope that doesn't put you off. Hey you eat roe what, what's wrong with the male equivalent?)
Anyway the crabs were solid and as far as cold crabs go, all the older folks loved it. I think I still like my black pepper crab sans milt. The crabs are not cheap, 2 crabs cost $54. 4/5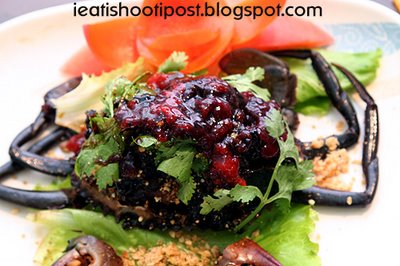 Another rare delicacy is the Teochew Fermented crab. Live crabs, this time female crabs full of roe, are dunked into a mixture of dark soy sauce, chinese wine, ginger, chilli, and other ingredients and left for 8 hours. Then it is served with peanuts. We were forewarned that this dish is not for those with a weak stomach and for children. The MakanSutra Kakis rave about this, but unfortunately I did not find it that fantastic. But still controversial enough for you to give it a try. 3/5
Mmmmm…. raw fermented crab with creamy roe!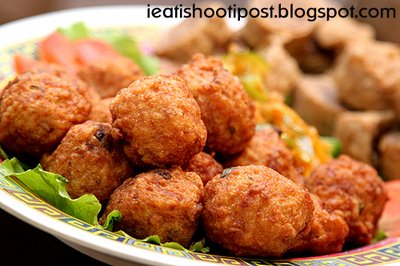 The prawn balls and crab rolls are very very good and definitely worth trying. As with many teochew dishes the addition of waterchestnuts adds crunchiness and sweetness to the savory crab and prawn paste. $25 4.5/5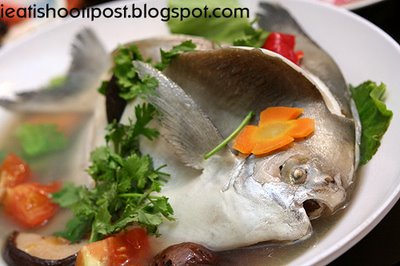 This is as good as Teochew Steamed Pomfret gets. The fish was very fresh and the delicate flavours of the fish preserved by the light and slightly sourish (sour plums and tomatoes) broth
$40 4/5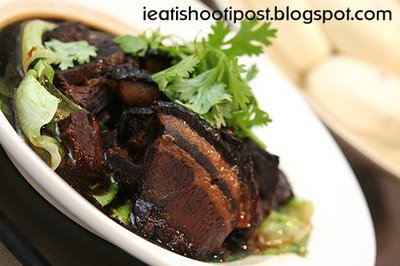 I was excited about the Kong Bak Pau. This is one of my favouritest dish. The skin of the pork was wrinkly because the skin was deep fried before braising. Alas the taste lacked the "Kong Bak" flavour I so love. I also felt that parts of the lean meat was a little dry. $14 3.5/5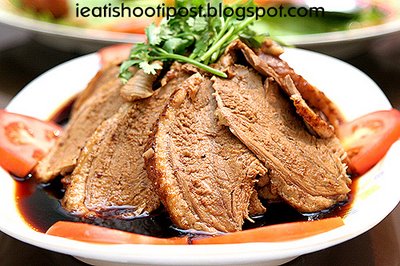 If you are looking for Braised Goose, this is the place to get it. Goose meat is a little coarser then Duck but the flavour are more robust. I liked it, but in terms of the Lor, I was expecting to get a bit more of that "I can't get enough of it" feeling out of it. $24 4/5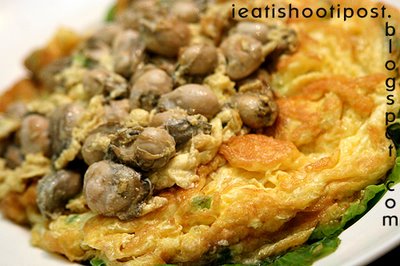 The fried oyster omelette was done very well. The eggs were fluffy and very shiok. Great if you like oysters (I don't really like them). $20 4/5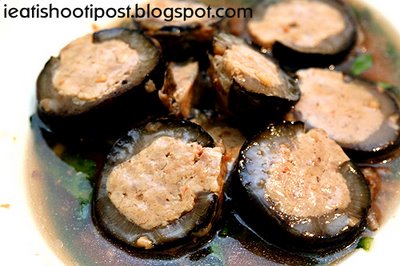 I was dissappointed with the pork stuffed sea cucumber. The sea cucumber was crunchy and the pork could have been much better seasoned. $40 3/5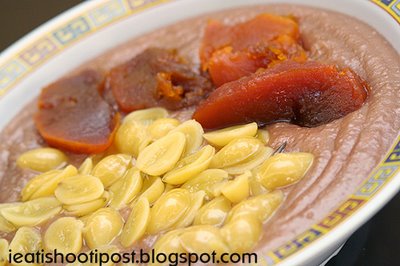 What's a Teochew meal without Orh Nee? (Yam Paste). This is probably one of the best ones you can get in Singapore. Most Orh Nee is Singapore feature a watered down yam paste with lots of coconut milk. This one, the yam is slowly cooked in a big wok until it caramalises and becomes a paste. Plus you get a generous serving of Caramalised Pumpkin and Gingko Nuts. Very nice. 4/5

Conclusion
Teochew cuisine is very different from the usual stuff we get at the Cze Char. Most of the emphasis is on tasting the quality ingredients and not so much on adding lots of flavours. I have pretty mixed feelings about this restaurant. On the one hand, I should be proud of my Teochew heritage, on the other hand, I just can't help wanting my Black Pepper Crabs and Jingdou (Sweet and Sour) Pork Ribs.
8/10 (T3+V2+S2+E1) If you really like fresh tasting food without lots of deep frying and flavourings, you might rate this restaurant higher.