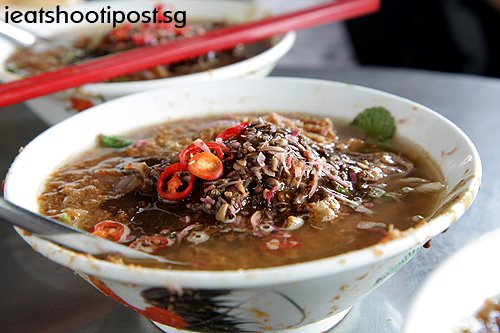 Penang Food Trial 3: The Iconic Penang Hawker Dishes! – ieatishootipost
Everyone talks about Penang Laksa. You either love it or hate it. But it is one of those things you have to try when you are in Penang and one of the most famous stalls is the one at Ayer Itam market which is just at the base of the trial to Kek Lok Si Temple.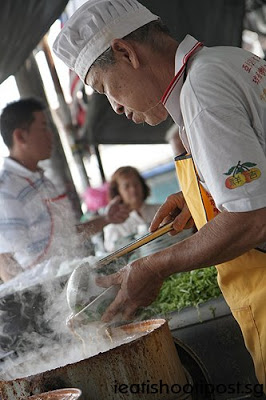 If you love pungent stuff like stinky Toufu, you might like this. As you approach the stall, you will feel as if you have walked into a sauna with a bucket of rotting prawns.
One thing about Penang I observe, is that their prawns are very good. So any of their dishes with prawns in it is good, be it fresh prawns or stinky prawn paste. And because they produce their own prawns, it is cheap and they have no qualms in using lots of it. So the Penang Laksa is no exception, they use so much Belachan here that you'd stink of Belachan for the rest of the day after a visit to the Assam Laksa stall.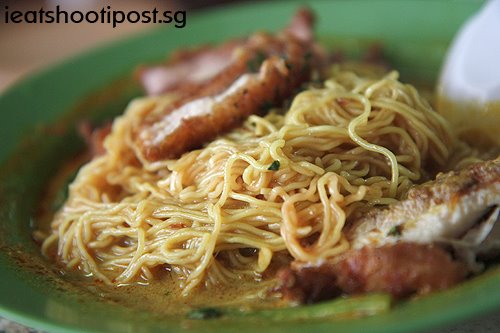 Suffice to say that this is one dish that I don't need to try again. Damien tells me that although this is probably the most famous stall, it is not necessarily the best. I wonder if better ones mean even more stinky Belachan? 3/5 for me but it might be 4.5/5 for lovers of Penang Laksa.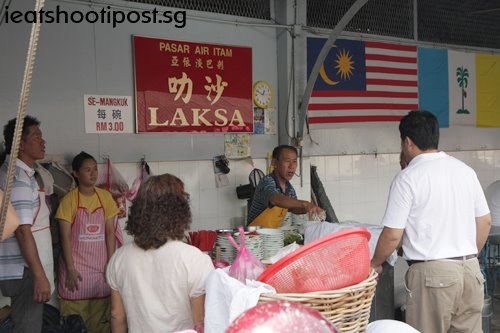 Laksa at Ayer Itam market, near Kek Lok Si Temple
Now, there's dried fermented prawns paste (Belachan) and then there's prawn paste (Hei Gor) which is a sweet sticky paste that is used for rojak. In Singapore, any rojak seller will tell you that the best Hei Gor comes from Penang. So I had to hunt down some serious Penang Rojak.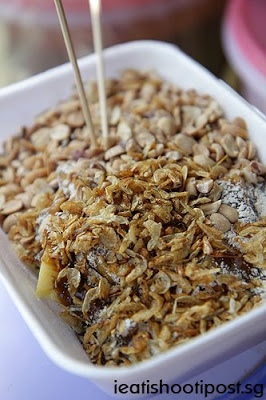 Penang Rojak RM5
And if you want the King of Rojak, you have to visit Hock Seng Rojak, the self declared Rojak King of Penang. (Actually after eating this Rojak, you might crown him Rojak King yourself). Penang rojak is different from Singapore rojak as they don't have You Char Kway (fried doughstick) and just has fruits in it. At least traditionally, that is how it is. But nowadays some stalls are putting You Char Kway in Penang rojak, although they don't freshly toast it over charcoal like what we do in Singapore.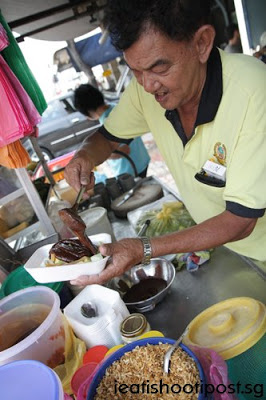 Hock Seng Rojak is anything but your typical Penang Rojak. The Rojak Uncle believes in eating "Ho Liao" (good stuff) and would keep chanting "Jia Ho Liao" (eat good stuff) over and over again. He does not stinge on anything and you can see just how much Hei Gor he avalanches his rojak in. On top of the Hei Gor, he puts a light tan coloured powder which I found out later was ground roasted cuttlefish. On top fo that, he adds a cupful of whole roasted peanuts and dried shrimps!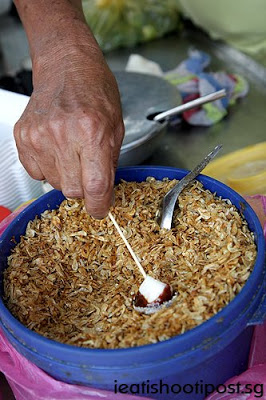 Dipping a cube of fruit in Hei Gor, Cuttlefish powder and finally dried shrimps (Tasting sample)
If you have never had this before, then you have never eaten rojak. This was actually our final stop after 8 hours of eating and although we started off ordering only one plate, we ended up with 3 plates and everyone packing home the sauce and condiments. Singapore Rojak really got no fight. I just wished I had some freshly toasted You Char Kway to go with it! 4.8/5.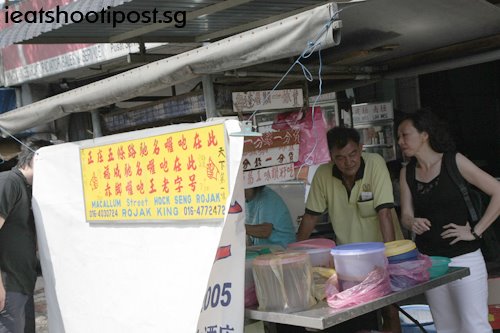 Macallum Street at the junction of "five ways" Open 1.30pm to 5pm
Another dish that Penang is quite famous for is their curry noodles. Like their laksa, their curry noodles is also very different from the curry noodles that we have here.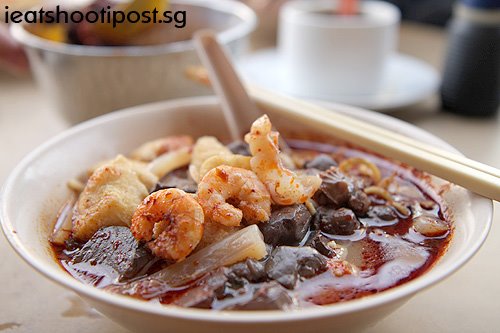 Instead of a thick coconut based curry gravy, the noodles are served in a very light, but sweet and pungent prawn stock and it is up to you to add the sambal to make it inot a fiery curry. They also have all the other goodies like cuttlefish, cockles and congealed pigs blood to add to the dish. Too bad I was down with a bit of diarrhoea that morning so I did not get to really enjoy the dish. The soup was really good but somehow I still prefer our thick and rich coconut gravy version. 4/5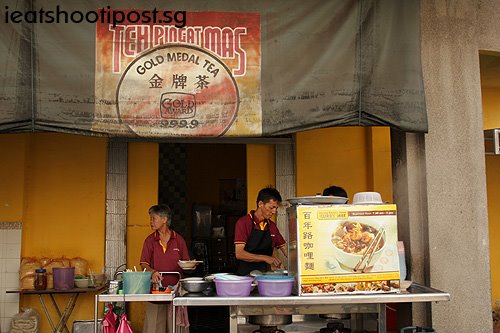 If there is one stall that you absolutely must visit while in Penang, it is the famous Penang Road Teochew Chendol. This hawker is featured everywhere. I even saw him in our Hotel's recurring video clip on the highlights of Penang. Some even go as far to say that he is even better than the Chendol in Malacca.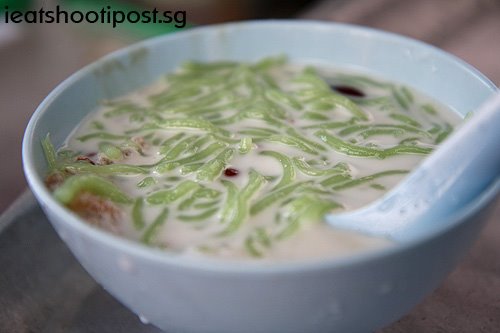 Chendol from the famous Teochew Chendul
There always seem to be a perpetual crowd around the stall at any time of the day. What is interesting is that there is a stall on the opposite side of the road which is much less popular. Our tour guide (Mr Yap) chose to eat at the less popular stall because he didn't want to wait for his chendol. He said the chendol is almost as good.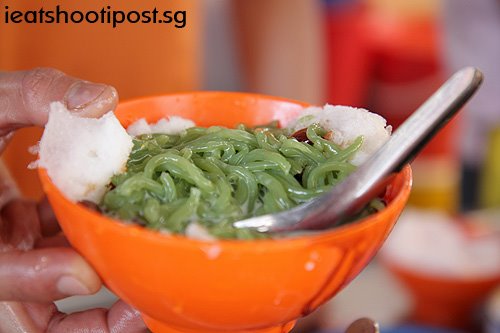 Chendol from the competitor directly opposite
So I had to do my usual, unrandomised, unblinded, uncontrolled trial to see if both chendols are indeed compatible. As you can see from the picture, the chendol (green stuff) is different at both stall. Whilest the one at Teochew Chendul (sic) is pale green with a softer, more powdery texture, the one opposite is a little more springy to the bite but with less pandan flavour. Actually the coconut and gula melaka is quite similar, so if you are just going for the soup, both stalls are compatible. However, what really made the difference for me was the taste of the red beans and kidney beans. This is where Teochew Chendul wins hands down. Theirs is very nice, well marinated, sweet and very "pang". So it is no wonder that people still flock to his stall.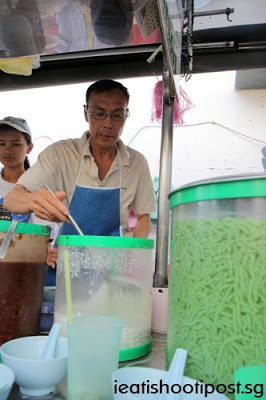 To me the Chendol is very good, but the shaved ice was not very fine and there was very little of it. I like my Chendol with the ice still in its shaven form so that I can still taste the gula melaka and coconut milk separately. I haven't been to Malacca recently, but I suspect that Chendol can still be better than this. 4.25/5
Conclusion
So are you a fan of Penang Laksa? I have just been told by a Penangite that the one I featured here is famous but the locals actually to go a better one near the Airport as they feel that the one at Ayer Itam is not as good as before. The Rojak is definitely a winner but the Chendol I am not so sure until I get to eat the famous ones in Malacca.