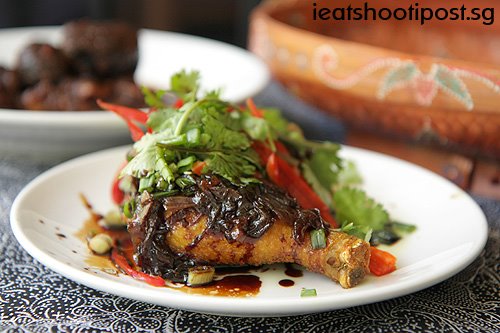 Ayam Goreng with Tempra $7
Ok, I admit it, I was one of thousands that have been mesmerized by the Little Nonya. Granted that Yue Niang is an attractive lady who is very easy on the eyes, but the scene that I remember most vividly was the one of Matriach Chen Lao Tai in ecstasy after taking a bite of the Rempah Udang. (Here's the clip if you don't know what I am talking about) Doesn't it just make you want to go and eat some Rempah Udang? Speaking of which, I am on a quest to find the best Rempah Udang in Singapore, so if you have any leads, let me know.

Anyway, the Little Nonya series has really ignited a lot of interest in Peranakan culture. This is great, as I reckon the number of Nonyas still wearing Kebayas is much less than the number of Pandas in the wild. Fortunately, Nonya food culture still burns warmly in many Peranakan families. They might have given up on the clothes and the beading of slippers, but there are still many Peranakan families who laboriously pound their spices in stone crucibles and spend countless hours over a simmering pot to prepare their Nonya dishes.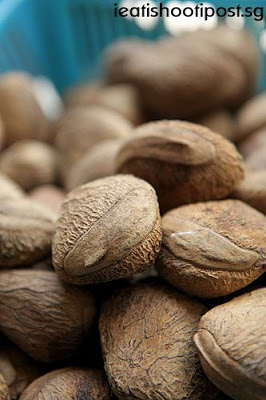 Buah Keluak
I guess when it comes to Perankan food, a lot of Peranakans would probably tell you that the best Peranakan food is cooked by their Grandmothers. That is really unfortunate for the rest of us Non-Peranakans who can only rely on other people's Grandmothers in order to get to eat really nice Peranakan food. So the next best thing is to find a small family Peranakan restaurant that serves "home cooked" Peranakan food and hope that they will serve you the stuff that is prepared to impress the Matriach.
Well, I think I might have found one such restaurant located in a pretty "Ulu" (remote) part of Singapore. Well at least in Singapore, an old forsaken Shopping Centre like Bukit Timah Shopping Centre can be considered quite "Ulu".
This little stall in the most unlikely of places is run by a Peranakan family and if you didn't know about them, you would most likely just pass by without trying the food. But then you'd be missing out on some really nice Peranakan food. The dish that I am most ecstatic about is the Ayam Goreng (fried chicken) topped with Tempra. The tempra might seem to be a simple caramelised onion sauce with Kecap Manis (Sweet black sauce), but I was told that each batch takes around 4 hours to cook with someone closely watching and stirring it to prevent it from burning. Anyway, I loved how the crispy savoury skin of the fried chicken complements the fragrant sweet syrupy sauce. It had that elusive "Fried Chicken" flavour that really makes a good fried chicken great. 4.75/5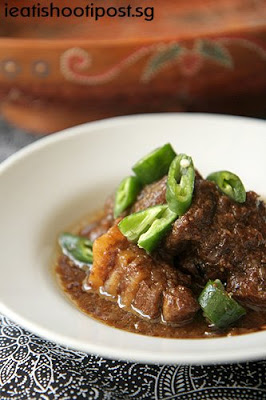 Babi Ponteh $8
I haven't tasted a Babi Ponteh that I liked until now. (Ok lah, I haven't eaten all that many Babi Ponteh) Here, they managed to stew the pork till the fats just melt in your mouth and it had a bit of that "Kong Bak" flavour that makes pork belly so irresistable. The wonderful tau cheo (fermented bean) based sauce really makes you want to eat more rice. 4.5/5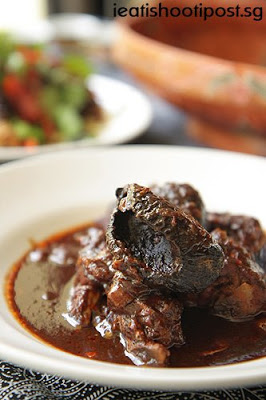 Ayam Buah Keluak $8 (2 kernals)
The Ayam Buah Keluak here is very good, but unfortunately not as outstanding as the first two dishes that I highlighted. They serve the variation where the kernals are first removed from the nut, fried with prawns and minced pork before being stuffed back into the shells again. That bit is great and I was gingerly picking at the stuffing. However, the sauce was lacking in that nutty flavour that I was looking for. It's very good, but I know it can be better. 4.25/5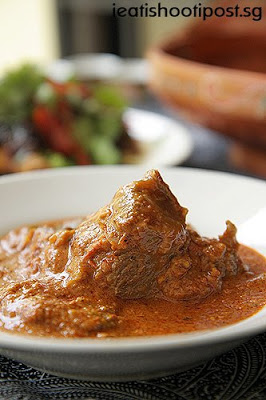 Beef Rendang $8
The dish that didn't do too well that day was the Beef Rendang. The beef was too lean and lacked the sinews and tendon that makes a great stewed beef. The gravy also lacked that oomph. What I always enjoy about a good beef rendang is the fragrance of the tumeric and lime leaves in the gravy which is lacking here. 3.5/5
Conclusion
I just finished watching the whole series of little Nonya on DVD and the haunting tune is still ringing in my head. This must be the first TV series that I followed since "Samsui Woman". I guess I liked it because it is the good old "Cinderella" story coupled with lots of background info about the Peranakan culture and of course the seductive appeal of the wonderful food! If you haven't seen it, it is well worth watching.
Anyway, back to Peranakan food. Are there any Peranakan restaurants around that you can highly recommend? And oh, don't forget about the Rempah Udang! I want to know where I can experience that Chen Lao Tai, eat already, eyes big big kind of ecstasy.