With SCS Butter, Happi Mummi and ieatFamily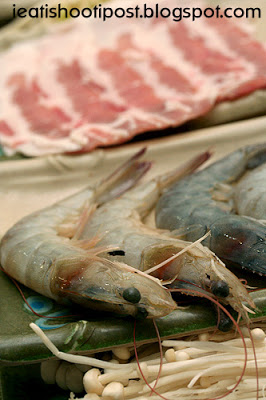 I never used to like Steamboats. To me, dunking pieces of raw meat into chicken broth was not as exciting as a good plate of fragrant Hokkien Mee. I mean, all the boiled pieces of meat tasted the same. It's not shiok like a good bowl of lak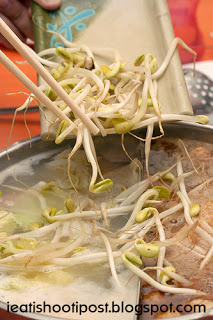 sa, if you know what I mean. And the soup was like a hodgepodge of everything. I just could not understand what was the big deal with Steamboats.
But then along came the Buffet Steamboat with Hotplates which served beef bulgolgi and lots of side dishes like fried chicken wings and other stuff which I quite like. It was then that I suddenly began to appreciate the social aspects of having a Steamboat. It's like a bonding session where friends gather round a steaming bowl of soup to clear their sinuses…..
It was only when I ate my first Shabu Shabu that I began to appreciate how tasty a piece of boiled meat can be. After that, I was well and truly hooked.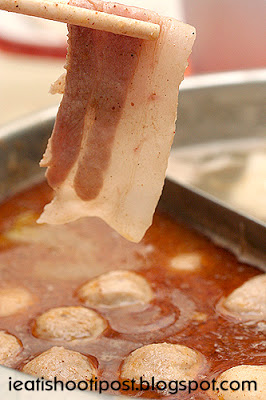 So far, all the buffet Steamboats I have been to were pretty much the same deal, which is why I got excited when I found out about this one through Camemberu's blog. There are quite a few things that make this one stand out from the rest. First, they have a special satay soup base which reminds me a bit of the Lok Lok in Malacca. I was also very impressed with the size and quality of the prawns they dished out. For $17.50, they provide very good sized grey prawns rather than the usual small tiger prawns found in many other places. The thinly sliced pork belly is also very shiok when cooked in the satay sauce. Rather then he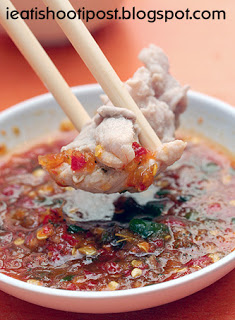 lping yourself to all the ingredients, you order the stuff from the menu and they are brought to your table. As a result, all the ingredients are neat and fresh.
The only drawback to the place is the fact that they only provide one sauce. But the sauce they gave is quite unique and goes well with the meats. The only other grouse I have is that the ala carte sliced beef at $13 per portion really looked very very good. The next table had ordered it and the meat was well marbled and served on a block of ice to keep the fats firm until just before you cook it. But alas, it is not included in our buffet set. Darn, it felt like we were sitting in Economy watching what others in First Class were eating.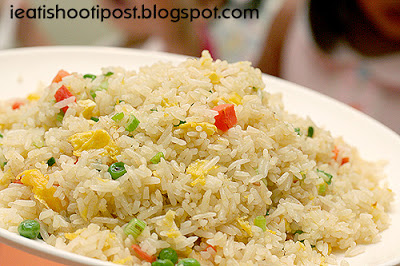 Of special mention is the Yang Chow Fried Rice which is free flow for the buffet. Each plate is freshly fried and has enough wok hei flavor. We felt it was a fried rice that we would gladly have ordered at a restaurant.
Conclusion
Overall, very good value for money. Though it is a few dollars more than other places, the quality of ingredients and service really makes up for the price difference. This is the first place I would think of going when I feel like having steamboat.