My last post on Beef Hor Fun drew quite a few comments about how the
Geylang Lor 9 Beef Hor Fun's
standards have dropped. ahbeR and some others wrote in to suggest this Cze Char Stall which was opposite the Thomson Medical Center. Strangely no one actually remembered the name of the stall.
I am afraid to say that the Hor Fun on that day was not as great as expected. The Hor Fun lacked a good Wok Hei flavour and the sauce lacked the ooomph. Sorry guys, but in my opinion, Geylang still tasted better despite the drop in standards. On the positive side, the beef here is not over marinated in bicarbonate so you can still chew on the fibres of the beef instead of it having the texture of fish cakes and the portion was generous. Still it is a much better Beef Hor Fun than most other Cze Char Stall but I suspect, like many stalls, standards may have been dropping. 3.75/5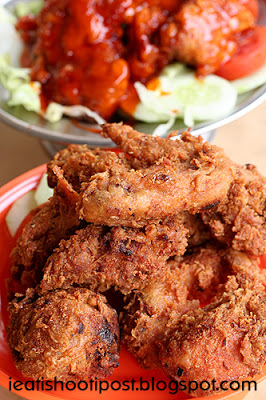 I personally found the prawn paste chicken here pretty good, though my makankakis were ambivalent about it. It might have been a little overfried that day, such that the flesh was a bit dry. What I enjoyed about it is the super crispy batter which was thick enough so that you get a nice tingle on your tongue while eating it. The Prawn Paste flavour was a little too subtle. Its good if it were just fried chicken, but not that great if you called it Prawn Paste Chicken. Still, I enjoyed it.
4/5
Conclusion
We were not overwhelmed, but I am sure there are many supporters out there who would differ.