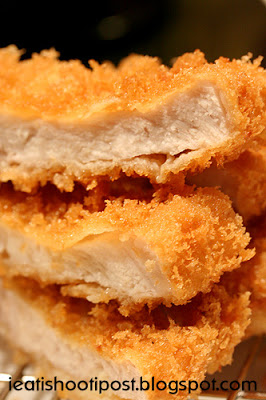 Black Pig Tonkatsu (Top Grade): $25.80 with Soup, Rice and Salad

I think I have really fallen in love with a little black pig.
I don't know why, but it seems to me that creatures which are black tend to command a premium price for their meat. Consider Black Chicken, Japanese Black Hair beef, Black Cod and of course Black Pig.
Unlike the Kobe Beef which was first cross bred in Japan, the Black Pig aka Berkshire Pig is an American animal which the Japanese have grown to love and made their own. Same as what they did with Baseball, Mickey Mouse and Elvis!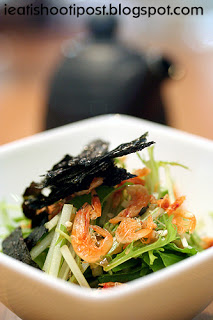 When Damien mentioned this new restaurant that served Black Pig Tonkatsu, I just had to go have a taste of it. As I have mentioned before in my Ohsumi blog, the taste of Kurobuta (Black Pig) is very fragrant and more tender compared to normal pork (Pink Pig?). So the thought of sinking my teeth into a whole chunk of Kurobuta Tonkatsu was too much to resist.
But before I tell you about the Tonkatsu, let me just start you off with this delightfully light but savoury Sakura Ebi Salad with Wafu dressing. The Sakura Ebi has got a unique taste which reminded me of Roasted Rice. Eaten with together with the salad, I imagined myself in the middle of a freshly mowed lawn in spring. (Don't ask me why, just try it yourself and see!) 4/5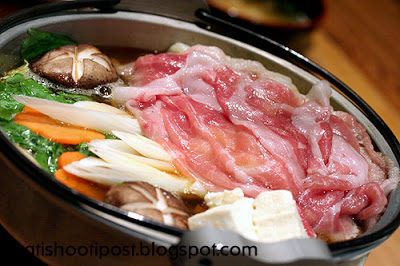 Black Pig Sukiyaki $18.80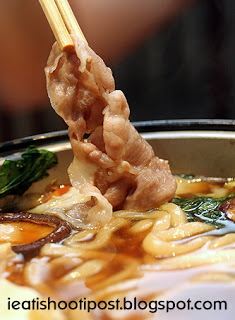 Be still my tingling tastebuds. What you are seeing is the Kurobuta Sukiyaki. I tell you, I have never tasted Pork so good. Each sliver of pork sent me to heaven and back. It is so good that I would even choose this over a beef shabu shabu (unless of course they are serving Wagyu Beef…..maybe)
The Sukiyaki soup base which is more on the sweet side, resonated very well with my tastebuds. The udon that they serve with the Sukiyaki had a very good bite to it and did not get overly soft even after simmering in the soup for a long time. 4.75/5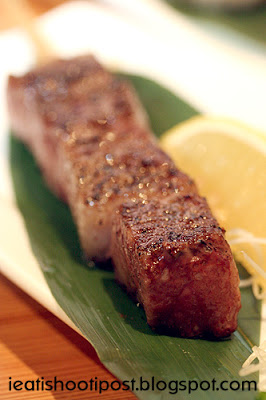 Black Hair A5 Beef Sumiyaki $15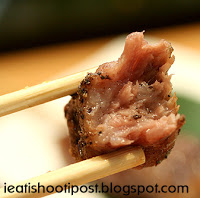 For beef lovers, if you are fortunate enough that the boss has just returned from Japan, you can order the Japanese Black Hair A5 Beef Sumiyaki. No one actually supplies this beef in Singapore, so the meat has to be hand-carried personally. So, considering the cost of the beef in Japan and the air ticket, $15 per skewer is still quite good value.
There is really no need to describe to you the ecstasy of biting into one of these pricey morsel of meat except to say that you have to eat it to believe it. 4.5/5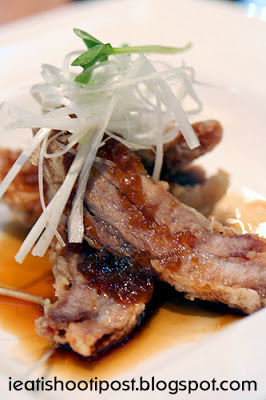 Another item that I was impressed with is the Kurobuta Pork Ribs. Deep Fried Prime Ribs of Black Pig, deboned and drizzled with a soy based leek sauce. If you like Pai Gu Wang, you should give these a try. 4/5
OK, let me tell you about the Black Pig Tonkatsu which is afterall what this restaurant is most famous for. Actually, Tonkatsu is just the Japanese way of saying Schnitzel. It really is their adaptation of Western style cooking. However, a well prepared Tonkatsu is something that can really put a smile on your face should you be having a bad day at work. On the outset, it seems quite simple. Take a piece of pork loin, sprinkle some salt and pepper, dust it with flour, dip it in egg and milk wash, coat in bread crumbs and deep fry. You don't even need to marinade the pork first.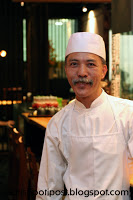 Well, if it were so simple, then you just cannot explain why the restaurant owner would bother to hire Chef Tan whose specialty has been Tonkatsu for the last fifteen years. He explained that each step in the process is meticulously controlled. From quality of the pork to the temperature of the oil and even to the use of a specially procured Japanese Bread to make the bread crumbs. The result is a Tonkatsu which is tender, juicy and accentuates the natural, nutty flavour of the pork encased in a light and super crispy batter which you can cut with a fork. The Tonkatsu sauce here is also made by Chef Tan and is the best I have tasted so far. I often find Tonkatsu sauce a tad on too tart for me. This one is more mellow and sweet. Should you go for the Tonkatsu, ask for his special Miso Paste Sauce which is even more shiok! 4.6/5
Conclusion
My current favourite Japanese Restaurant. The prices are pretty reasonable for the quality of ingredients you are getting. I have been thinking about the Kurobuta Sukiyaki almost everyday since the day I ate it. If you have never raved about pork before, now is the time to start!
Baa Baa Black Pig, Have you any Wool?
No Sir, No Sir, Use me for Tonkatsu
One for my Uncle, One for Aunty,
Slice up my shoulder for Sukiyaki.