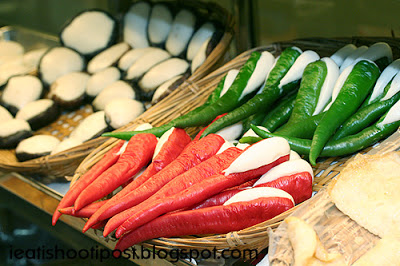 I usually end up eating Yong Tau Foo when I feel that I want something that is reasonably tasty yet healthy. So the idea of a big bowl of soup with Toufu, vegetables and other stuff that has been blanched in water seems to me a good idea for healthy food. Of course, if you choose the deep fried stuff, then it is not so good. But soaking deep fried stuff in water first does remove some of the oil.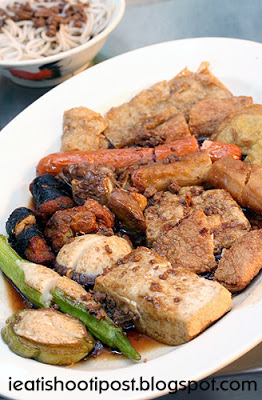 If you want something healthy, this is NOT the Yong Tau Foo to go for. They don't blanch their stuff in water, they actually deep fry everything before serving it in a Soy based minced pork sauce. So even the healthy stuff like fresh tofu and lady's finger gets deep fried in the oil.
But that is what makes this Yong Tau Foo so shiok! If you are the type that finds Yong Tau Foo a bit bland then this one will tingle your taste buds and change your mind! Although they don't use any pork in their filling, their Ngoh Hiang and wontans are all very savoury and yummy. Ah a Yong Tau Foo with oooomph! 4.5/5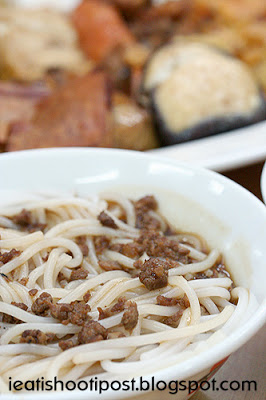 The other thing that is unique about this YTF the thick beehoon that is served with a meat sauce made from Chicken Mince. According to the Alex, the stallowner, this style of Yong Tau Foo was first introduced by him 10 years ago. The stall had subsequently become so popular that they moved out of the corner coffeshop in Siglap to become a standalone restaurant.
Conclusion
For those who want some ooomph in their Yong Tau Foo!