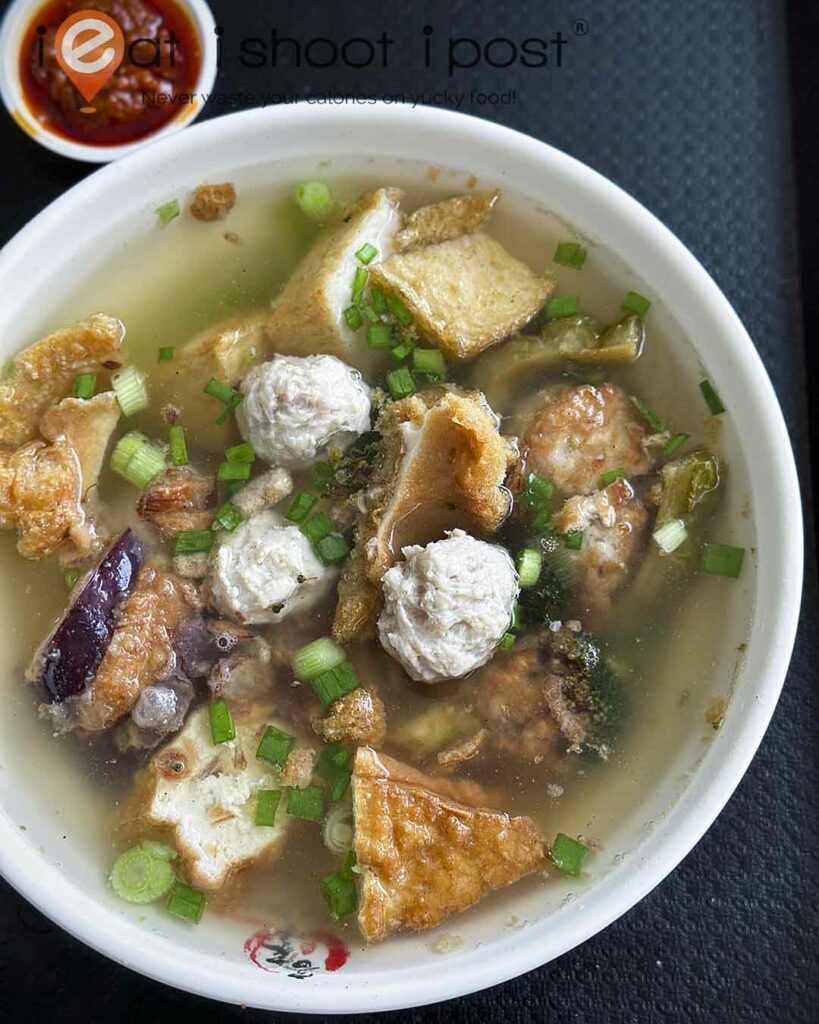 I am sure you would agree that most Singaporeans think that food across the Causeway is tastier. It is really true, or is it just another manifestation of the "greener grass" phenomenon?
When Hakka Taste made its grand debut last September, the social media paparazzi were quick to swarm in to digest its story and spread it across the digital grapevine:
"THIRD GENERATION HAKKA YONG TAU FOO FROM BATU PAHAT OPENS!"
The queues quickly form and the hapless hawkers are soon overwhelmed by a tsunami of enthusiastic frontline foodies. The stall would either find itself surfing the wave to success or, as in this case, suffer a wipeout and find itself having to swim out to the deep again, hoping that the next wave will be the one to keep them afloat.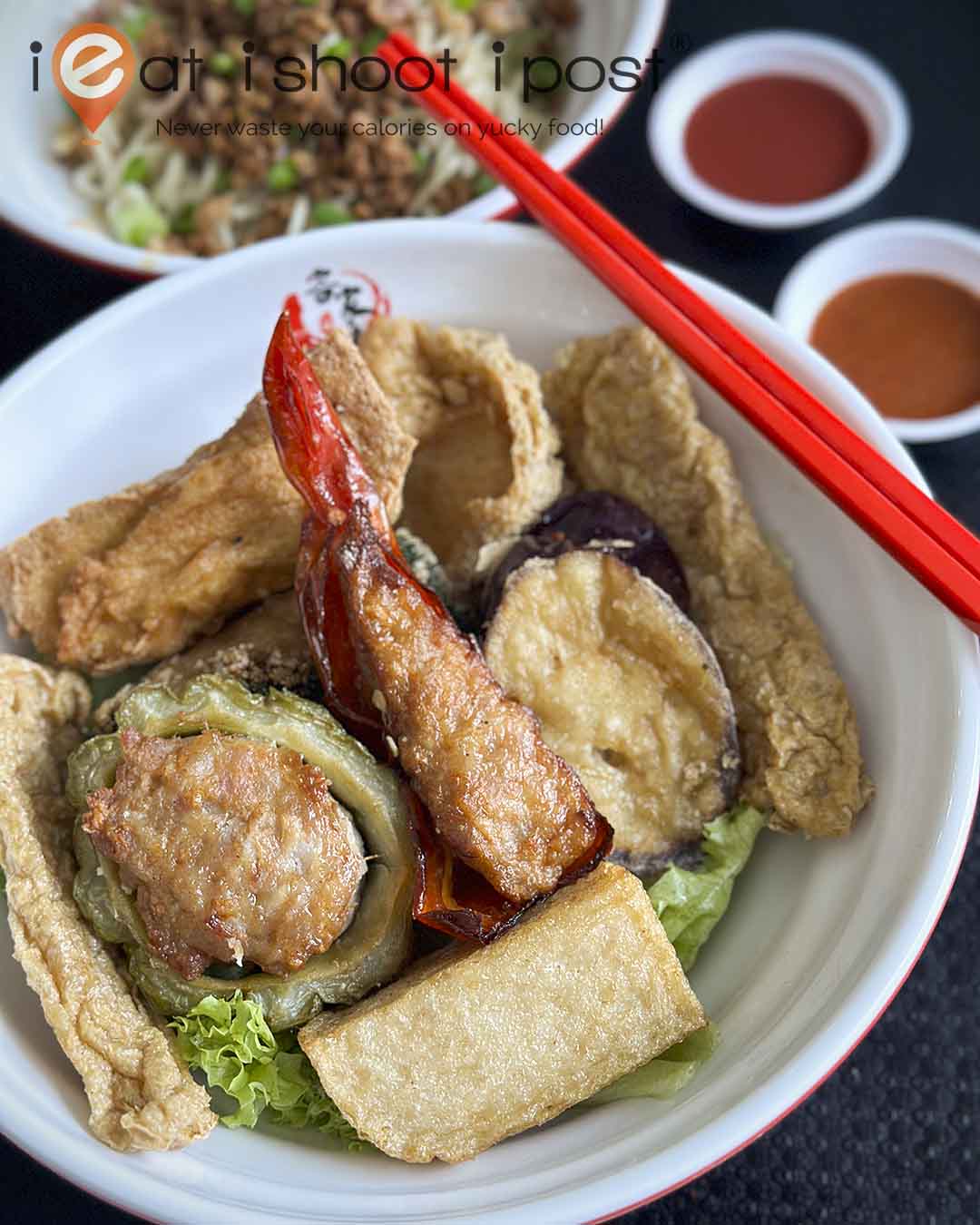 We are presently witnessing a trend where new hawkers are receiving an inordinate level of social media attention shortly after opening their stalls. A lot of them are not ready. Either their dish still needs work or their operations are not streamlined to handle the crowds. Instead of being a boon, this publicity can become a stumbling block from which some may never recover. That is why I prefer to let the hawker have some time to settle in before I visit. Alternatively, if I do visit and perceive that they are still finding their footing, I prefer to offer some feedback and revisit again when they are more settled.
Hakka Taste Sg managed to get a lot of publicity right at the start and was enjoying long queues very quickly. At the time, they were serving the same style of Hakka Yong Tau Foo that was being served in Batu Pahat. But, it turns out that while Singaporeans say we are seeking authenticity, when the experience fails to align with expectations, complaints soon appear on the internet.
"How come the soup is so bland?"
"Hakka Yong Tau Foo is supposed to have meat filling leh!"
Ah Hui from Batu Pahat
According to Ah Hui, a native of Batu Pahat, their initial intention was to faithfully recreate the renowned Yong Tau Foo of his hometown. His boss, Fico, whose father owns the hugely successful Hakka Taste in Batu Pahat had sent him to train for a month at the original stall. He returned to Singapore, determined to recreate the Batu Pahat experience here. However, it appears that authentic Batu Pahat Yong Tau Foo wasn't what Singaporeans actually wanted!
Modified to suit Singaporean taste buds
Soon the initial queues dwindled and the team had to do some soul searching. It was decided that they can't serve the original soup which is just a very simple salty brine. Instead, they added pork bones and other vegetables so it becomes more robust. Then they started using minced pork filling in some of their items. The Yong Tau Foo that they now serve is quite different from that of the original stall and they are starting to attract more fans at a more sustainable pace.
So, folks, here's the bottom line:
If you have been to Hakka Taste following the initial publicity and thought nothing much of it, it's time to give them a second chance!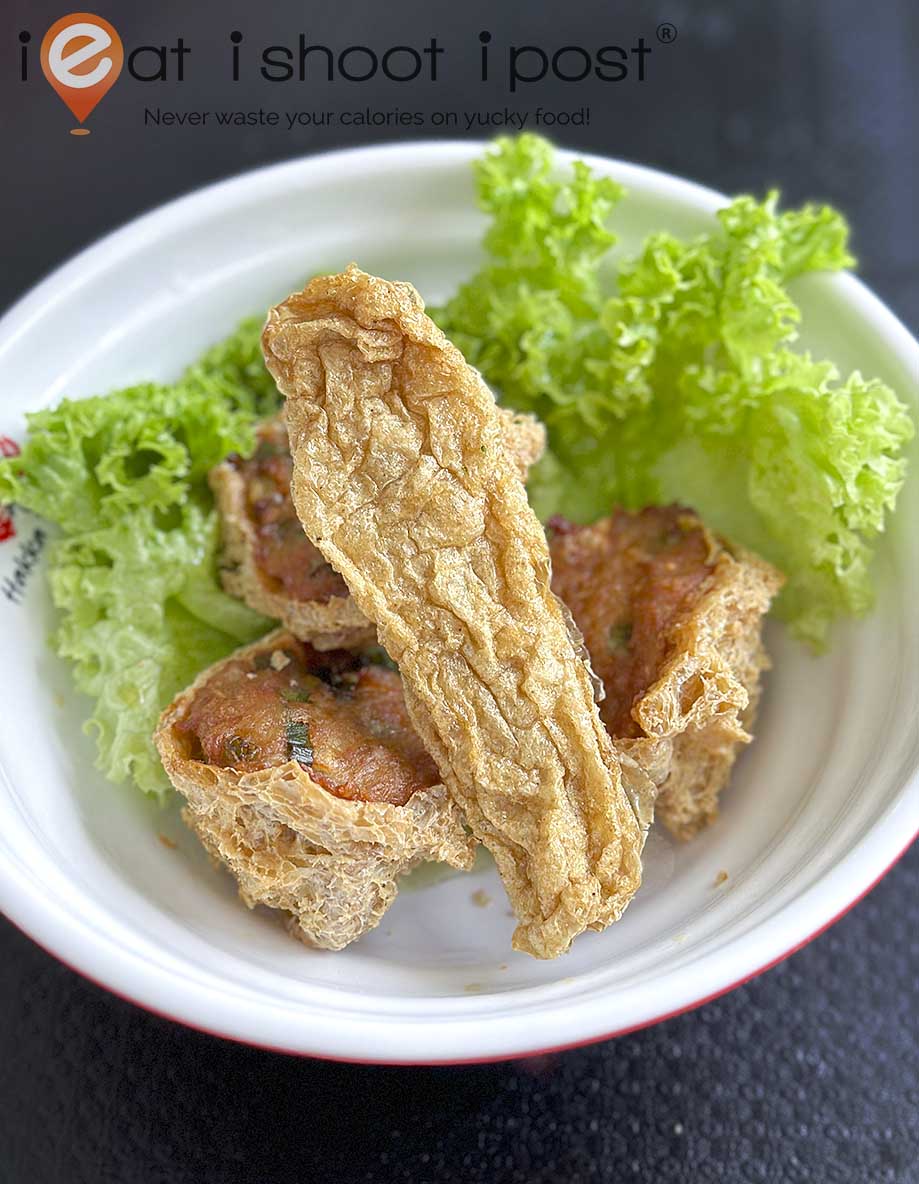 So, is this a Yong Tau Foo that is worth traveling all the way to eat? Perhaps not, but certainly if you are in the area and are looking for Hakka-style Yong Tau Foo and they do have several things that make them stand out from the crowd.
Tau Kee & Noodles are imported from Batu Pahat
The first thing I would draw your attention to is the tau kee which is specially imported from their main stall in Batu Pahat. The fish paste is made from local eel meat and has got a very unique texture and flavor. It tastes a little like ikan keropok lekor and is quite unique. It might come across as a little rubbery at first if you are expecting the usual yellowtail fish paste, but once you know how to appreciate it, it is actually quite tasty.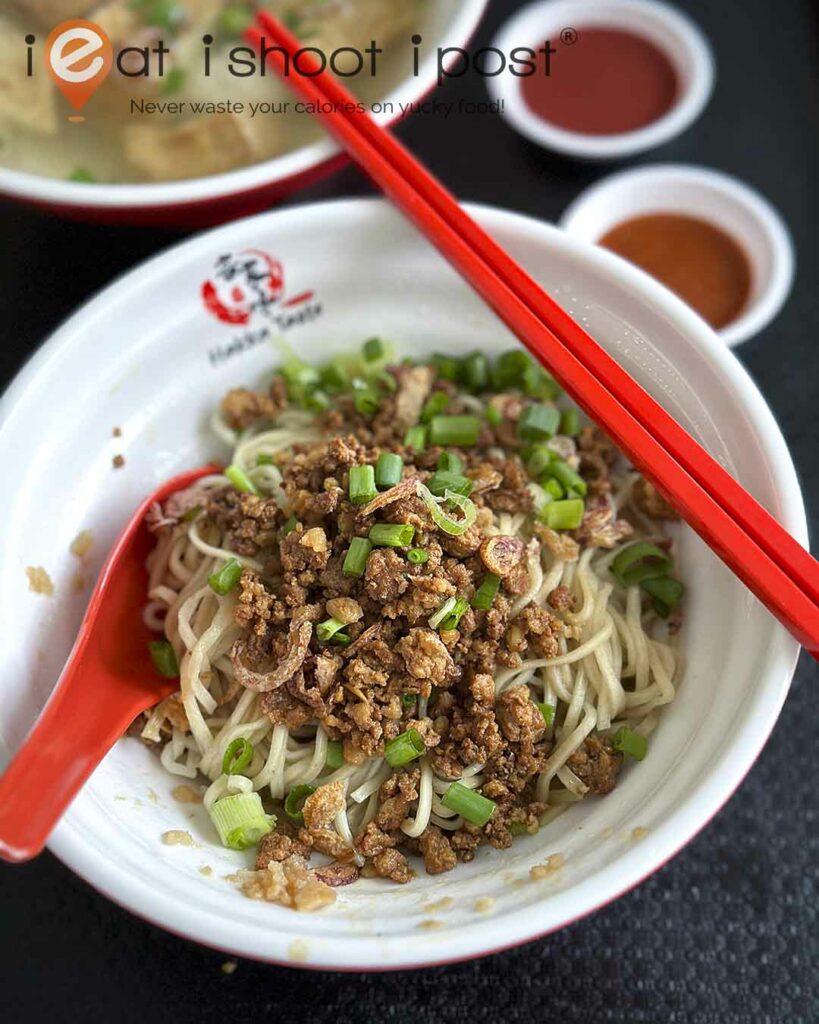 Their wheat noodles are also imported. They are specially made for their stall in Batu Pahat and do not contain alkali (kee). Although they are good, it isn't something that I haven't come across locally. The meat sauce was nice but could be a little more punchy. Overall, it's not bad, just not exceptional.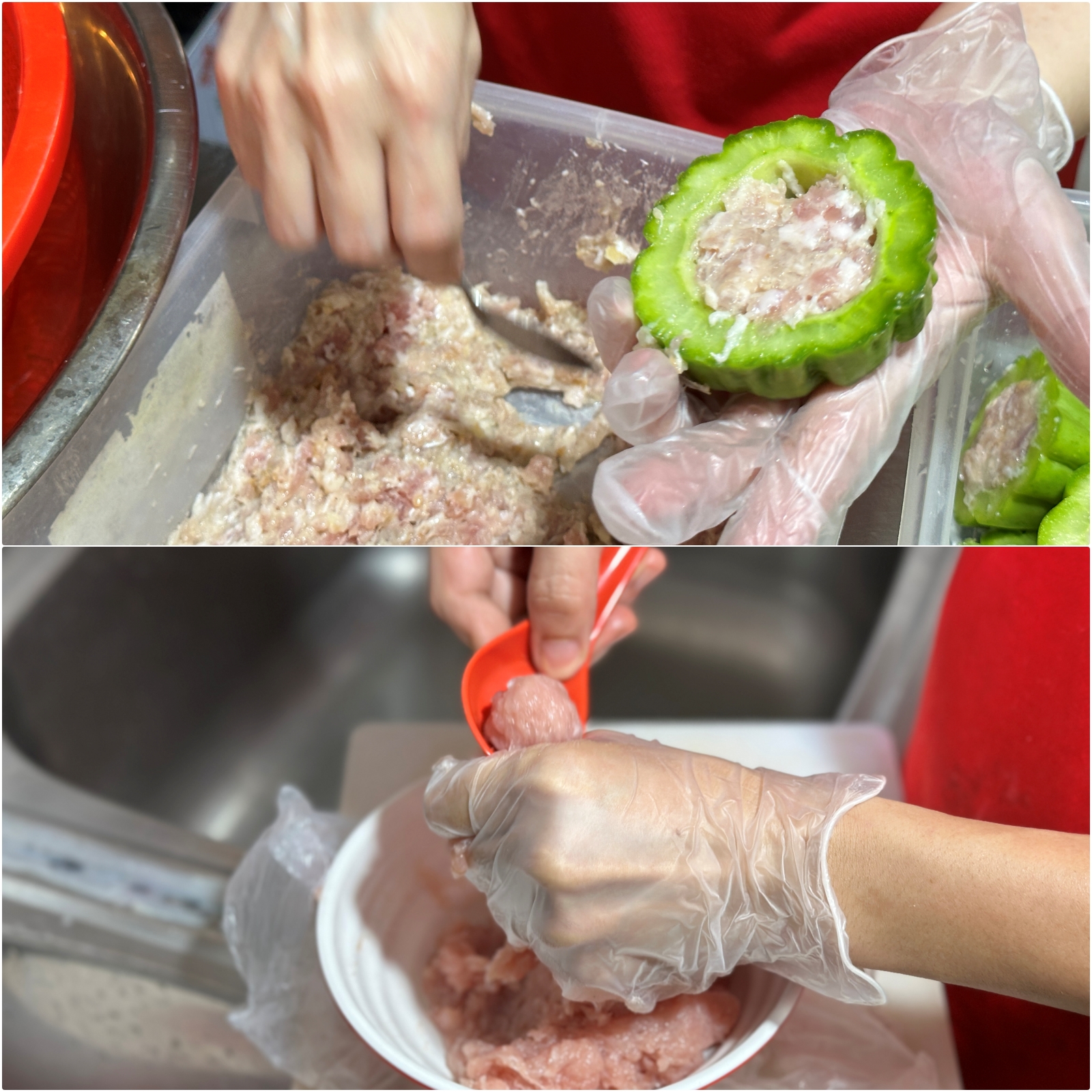 Their meatballs, though are quite special. They are made in-house using only lean pork and are molded by hand. Ah Hui tells me that they use only fresh pork and the meat is processed by a machine at the stall. These pork balls are unique as other stalls usually use a mixture of fat and meat to make pork balls. The use of only lean meat gives the pork balls a more toothy texture. The texture is very good but the seasoning could do with a bit more oomph.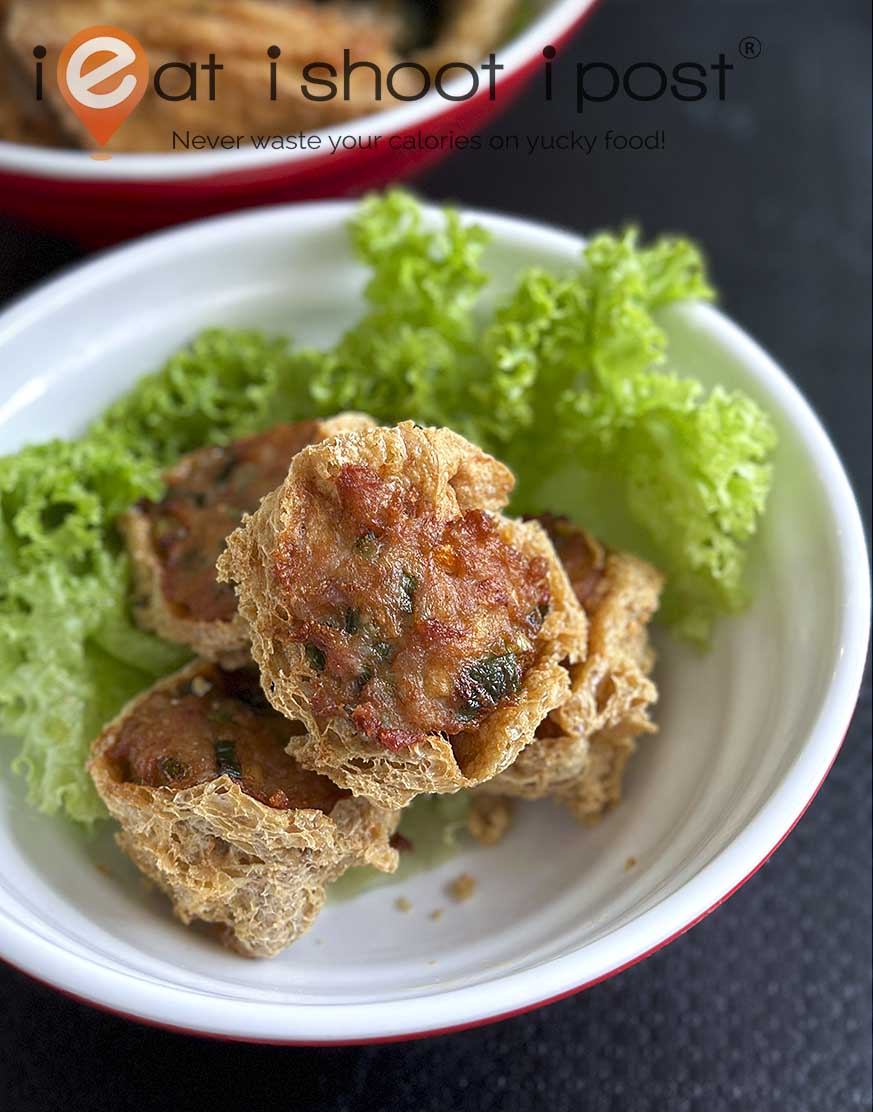 They have several items with minced pork filling and they are very good. The lovely umami flavour comes from salted fish which is first fried and then ground into a powder before it is added to the minced pork. I like it that they are very generous with the pork filling too! As with all fried items, the best time to have them is when they first come out of the fryer, so do go at the beginning of the lunch service rather than at the very end!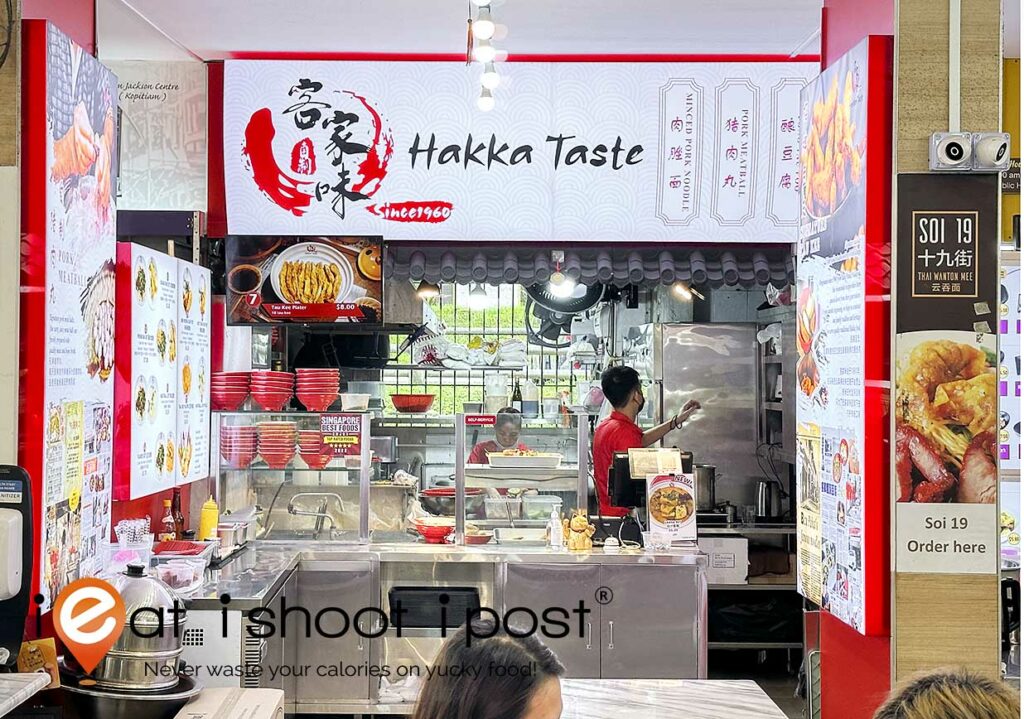 Conclusion
This Hakka Style Yong Tau Foo place in Ang Mo Kio that's worth checking out if you're in the area. Although they originated from Batu Pahat, the Singapore stall has made some adaptations to suit local preferences. Their tau kee stuffed with eel paste and hand-molded meatballs are particularly noteworthy and the meat paste stuffing made from fresh pork is delicious! 4/5
MENU