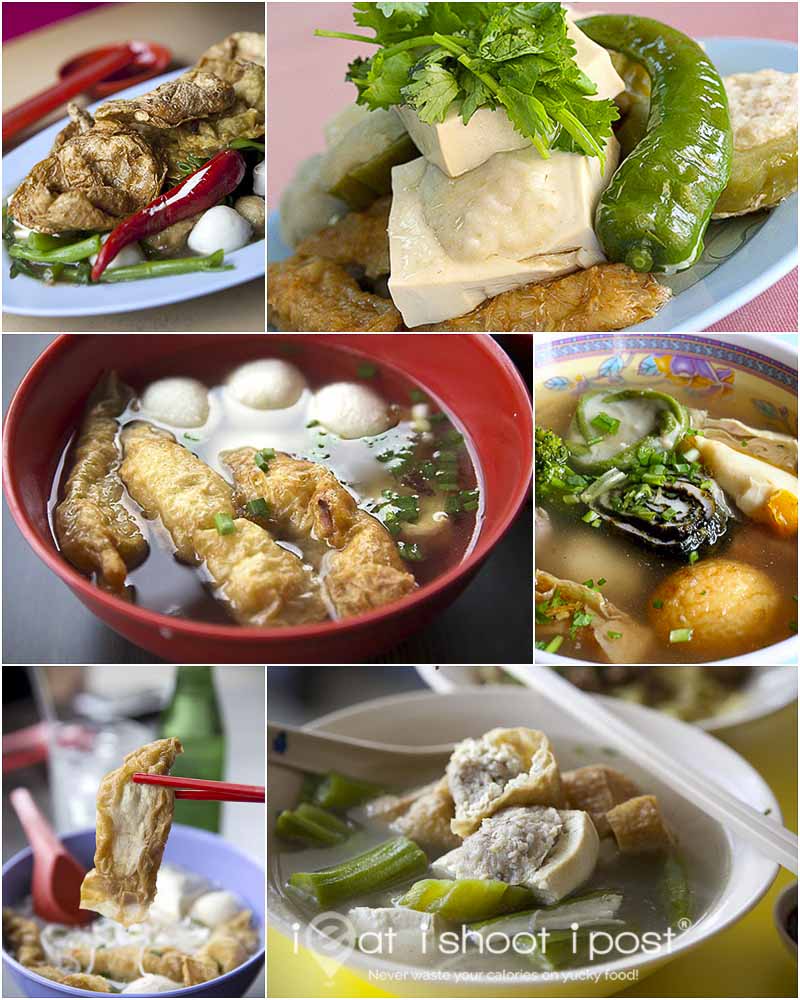 When you think about Yong Tau Foo (YTF), what comes to mind is probably a smorgasboard of items stuffed with fish paste and served in soup or drenched in sweet sauce. Then there is Hakka YTF which is supposedly the original version which has minced meat stuffing instead of fish paste. But just how did YTF evolved to become what it is today?
This was the question that intrigued us when we visited the Singapore Chinese Cultural Centre SINGAPO人 exhibition and got us to embarking on our journey to find out more about the story of Yong Tau Foo.
Let's ask the Hakkas
Our first stop was a quaint little Hakka restaurant called Plum village, where we met with Mr Lai Fak Nian, the owner of one of Singapore's oldest Hakka restaurants. Mr Lai told us that
"Long ago, the Hakkas started migrating Southwards in order to flee the war in Northern China and through a series of migrations, finally settled Southern China. Because they couldn't get hold of wheatflour to make dumpling skins during the festivals, they started using tofu instead. The word "Nyong" in Hakka describes the action of filling the tofu with the stuffing and hence "Yong Tau Foo" was born."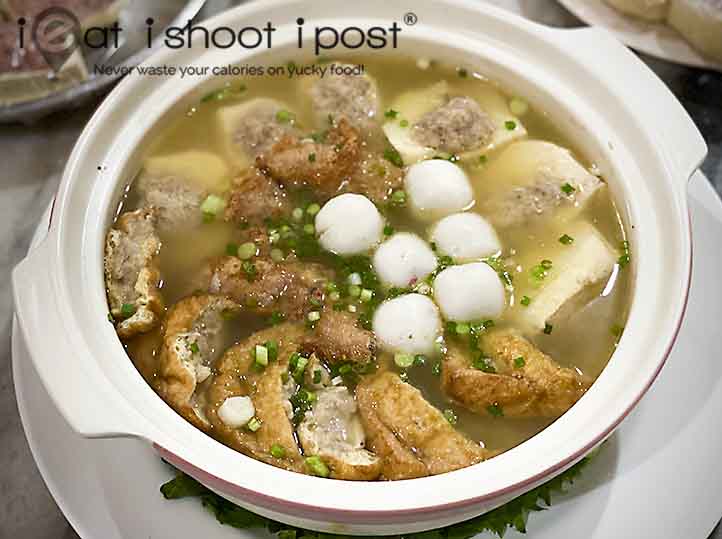 The original Yong Tau Foo is just minced meat paste stuffed in tofu and served in a soup made with soy bean. Accompanying the Yong Tau Foo is a common staple of egg noodles served with minced meat.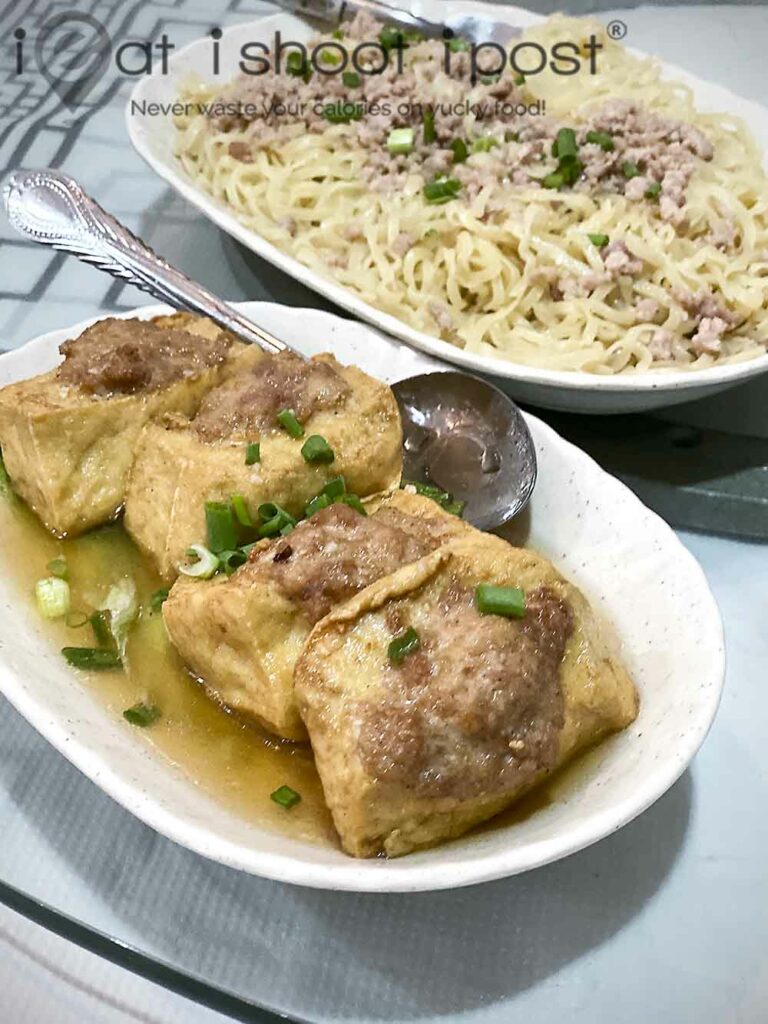 So how did the meat paste filling turn into fish paste?
Mr Lai then told us that when the Hakkas came to the Nanyang region where there was an abundance of seafood, they began adding some fish paste to the meat which helps to prevent shrinkage of the minced meat. Fishballs also made its appearance because of the Teochew influence. They also started to deep fry the tofu and serve it with oyster sauce which is a condiment that only became available when they migrated to coastal regions.
Plum Village (click to read their story)
16 Jln Leban, Singapore 577554
Fish Paste only Yong Tau Foo – Xiu Ji Ikan Bilis Yong Tau Fu
Xiu Ji Ikan Bilis YTF was started by Lee Siew Khim's grandfather who used to sell his meat-paste Yong Tau Foo along Sago Lane in the early 60's before the hawkers were relocated to Chinatown Complex Food Centre. According to Khim, it was during her father's time when they started stuffing their YTF with fish paste.
Her mother, Mdm Tang Chui Har used to work at her family's laundry shop just behind Sago Lane. After getting married, she began to help out in her husband's YTF stall. She got a little teary eyed as she recalled how they would spend long hours at the stall scraping the flesh off wolf herring (Ikan parang) to make the fish paste.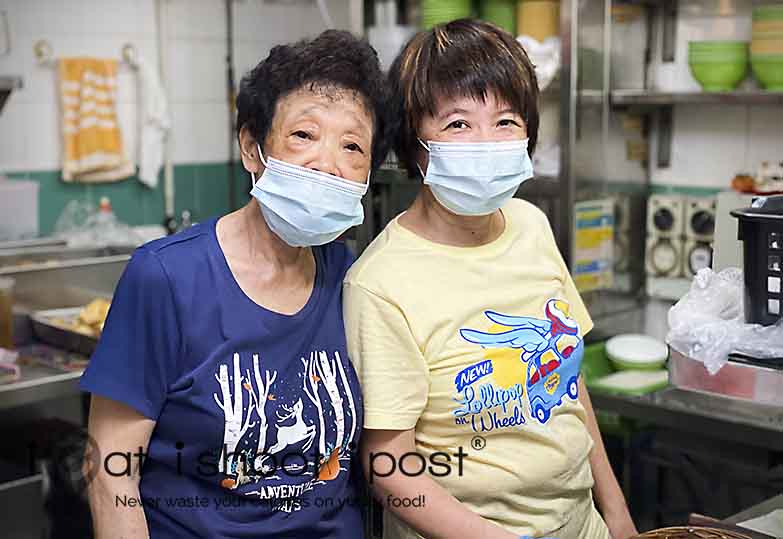 For a while, they were still serving a mix of fish and pork stuffing, but it was finally a "pork scare" that drove them to switch to 100% fish paste YTF. A quick internet search reveals that this might be due to the anxiety over swine flu which started in 1958.
Today, the making of the fish paste is outsourced to a trusted supplier who makes the stuffing according to their special recipe. However, there is still the arduous task of "nianging" the tofu and other ingredients at the stall which starts in the wee hours of the morning and continues till they close after lunch.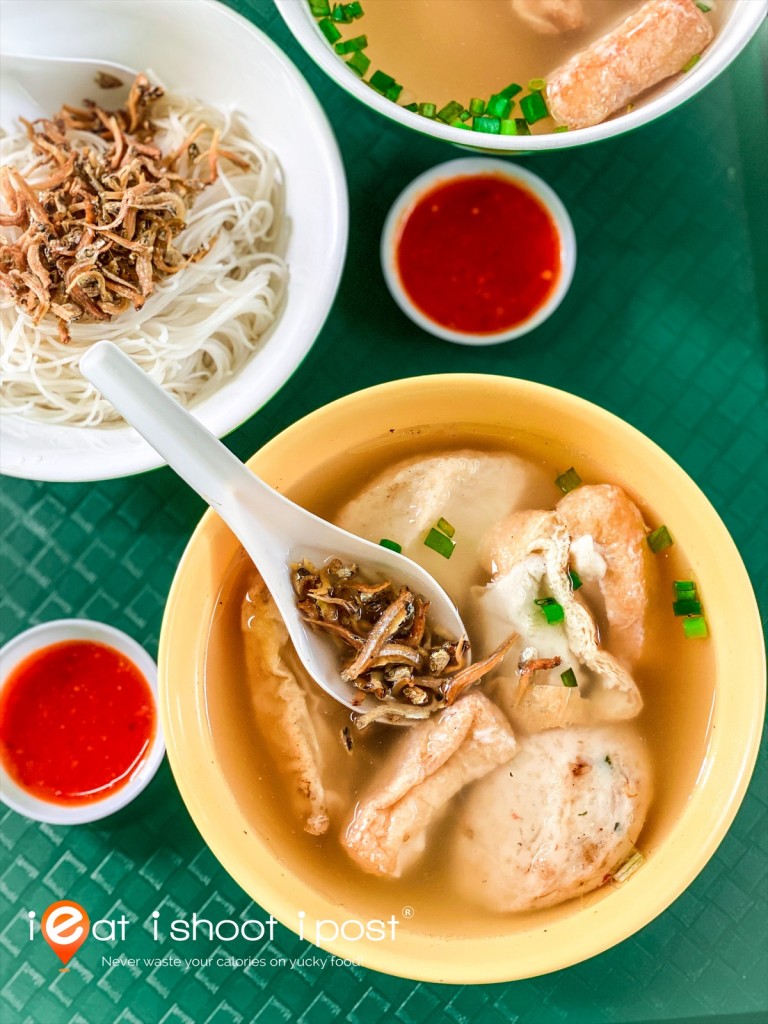 The Yong Tau Foo here is excellent. The ikan bilis adds a unique sweetness and flavour to the soup and you get 4 pieces of bouncy, smooth and succulent Yong Tau Foo with noodles for just $3! Not to mention a spoonful of crispy fried ikan bilis that you can toss into your noodles or stir into your soup. No wonder there is a perpetual queue outside the stall from 5.45am in the morning all the way to closing time!
Xiu Ji Ikan Bilis Yong Tau Foo (click to read their story)
Chinatown Complex, #02-88 Smith St, 050335
Wet Market Yong Tau Foo – Chinatown Yong Tau Foo
After visiting Xiu Ji Ikan Bilis YTF, we ventured downstairs to the wet market to speak with Mdm Koo Yoke Luan of Chinatown Yong Tau Foo. She has been selling Yong Tau Foo since 1978 and as far as she knows, you can only find fish paste YTF in the wet market. The meat filled versions can only be found in the cooked food section.
From her perspective, she doesn't attrribute YTF to any particular Chinese dialect group.
Their YTF is pretty good. The portions are generous and tastes really good when lightly pan fried and served with an ikan bilis and soy bean soup base. No wonder they have a constant queue and the safe-distancing ambassadors are often stationed in front of their stall!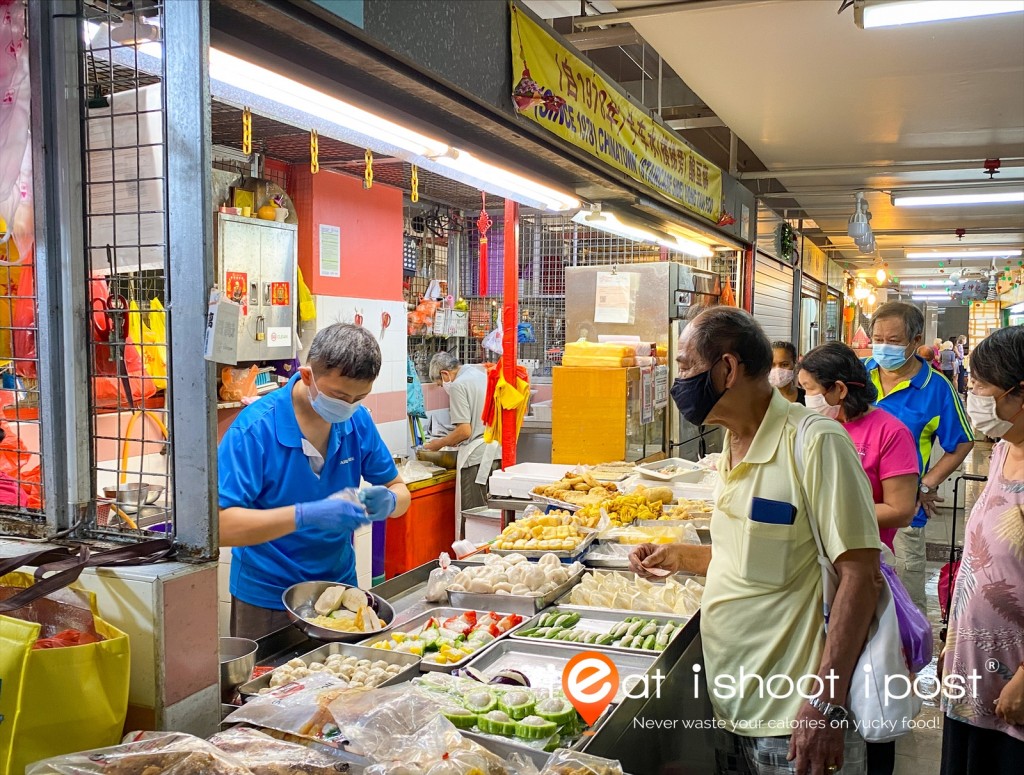 Modern Yong Tau Foo – Hup Chong Hakka Yong Tau Foo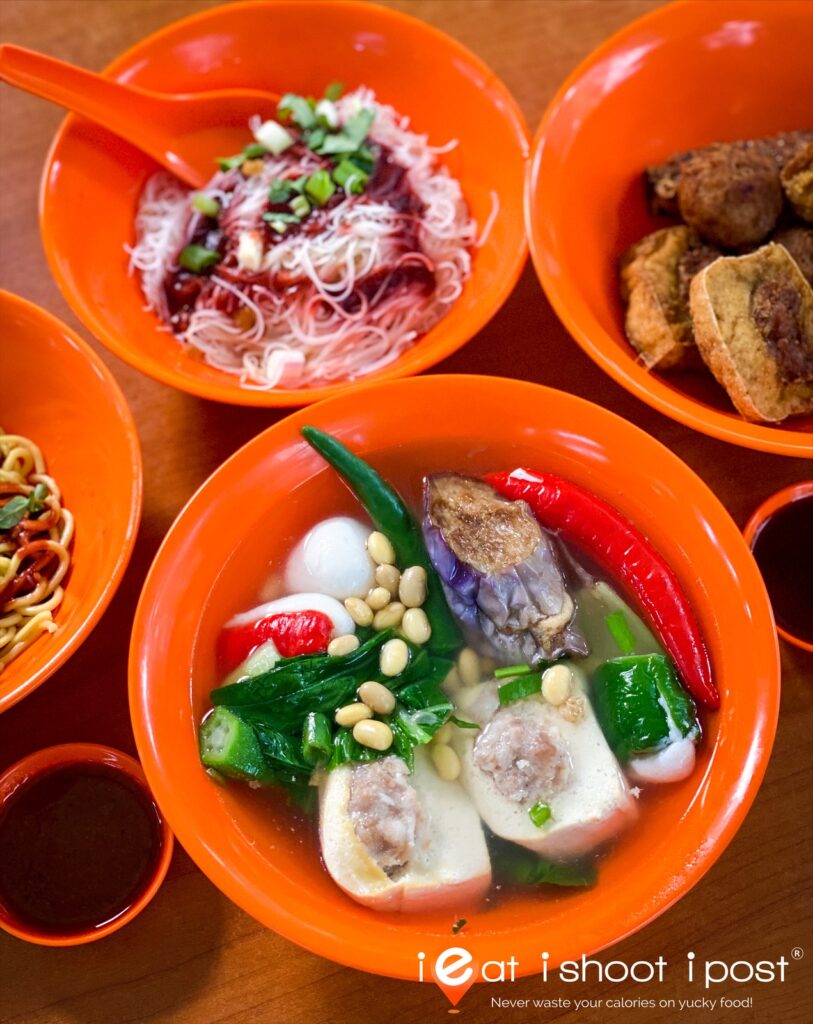 Next, we headed to the Toa Payoh heartlands to meet with Mr Alan Woo, the fourth generation owner of Hup Chong Yong Tau Foo. Alan's great grandfather used to ply the streets in a pushcart around the Kallang area. It was his mum who settled in a coffeeshop at Blk 109 Toa Payoh Lor 1 in the 60's. From Blk 109, they moved to Blk 116 and finally to Blk 124 where they are currently.
Alan tells us that the number of items during his great grandfather's days was very limited as they were selling from a pushcart. It was likely during his grandfather's time (after the war) that they they started to introduce fish-paste Yong Tau Foo stuffed in eggplant, bittergourds and other vegetables.
At Hup Chong, you get a choice of both the meat and fish paste Yong Tau Fu. They also serve their Yong Tau Foo in the style we are all familiar with where get to choose the items you like.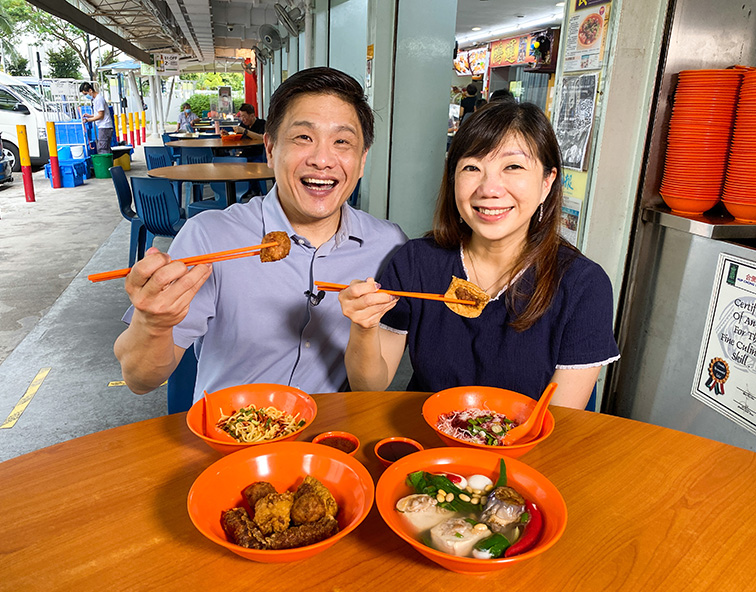 The one thing you don't want to miss at Hup Chong is their fried meatballs and Ngoh Hiang. They are super tasty and addictive! Even after a full day of eating YTF, we couldn't say no to a second helping of the deep fried yummy meat filling!
Hup Chong Hakka Yong Tau Foo (click to read their story)
124 Lor 1 Toa Payoh, Singapore 310124
So where is the Cantonese Connection?
Some research says that somehow the Cantonese were involved in the transformation of the traditional Hakka Yong Tau Foo from the minced meat stuffed tofu to the wide variety of fish paste Yong Tau Foo which we are familiar with today. However, none of the three chefs we met with could definitively say that the Cantonese were responsible for the transformation.
What we can surmise is that is that many Hakkas speak fluent Cantonese and that the two communities are actually quite closely knit. It so happens that Siew Khim's mother (Xiu Ji Ikan Bilis) and Alan's father (Hup Chong) both happen to be Cantonese! There are also other clues that point to the Cantonese influence, such as the sweet sauce which is also used in Chee Cheong Fun.
However, when you look at the modern day Yong Tau Foo, there are also items that are borrowed from other dialect groups such as fishballs from the Teochew and yellow noodles from the Hokkien!
The SINGAPO人 exhibition
This interactive exhibition traces the history of the Singapore Chinese and how its culture had evolved over the years. There is a section that is dedicated to our most popular Hawker dishes where you can take part in various activities such as a kopi-making challenge as well as a multimedia movie which talks about the origins of our favourite hawker dishes.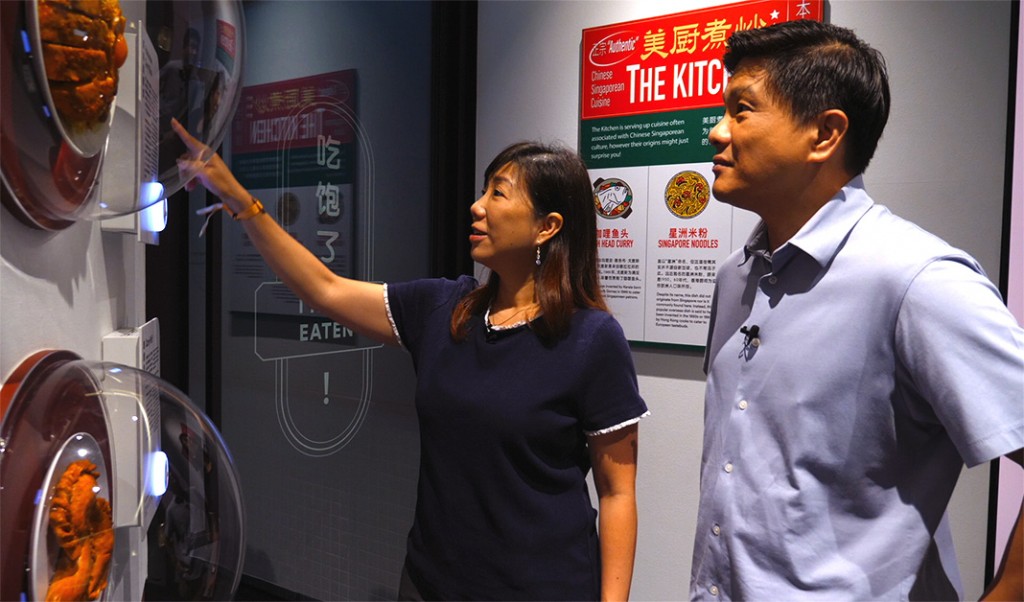 At the beginning of the exhibition, you pick up a wrist band token so that you can "interact" with the different multi-media displays and find out what type of Singaporean you are through a personalized report card after the visit!
It's definitely worth a visit and get inspired to go on your own hawker food story trail after that.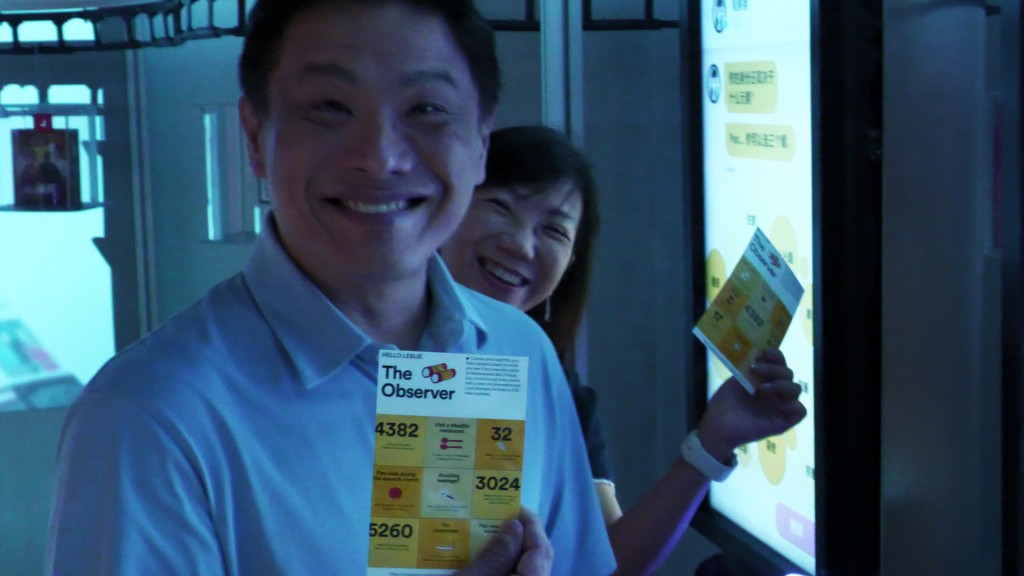 The SINGAPO人 : Discovering Chinese Singaporean Culture Exhibition
Where: Singapore Chinese Cultural Centre, level 2.
Admission: FREE
Opening Hours: Monday (2 – 8 pm), Tuesday – Sunday (10am – 8pm)
Click for more information
Conclusion to the Yong Tau Foo Story:
We certainly have the Hakkas to thank for bringing this dish to Nanyang – Singapore. But we can safely say that our current rendition of Yong Tau Foo is a result of the melting pot of different dialect groups that have migrated to the Nanyang region!
Disclosure: This post is written in partnership with the Singapore Chinese Cultural Centre