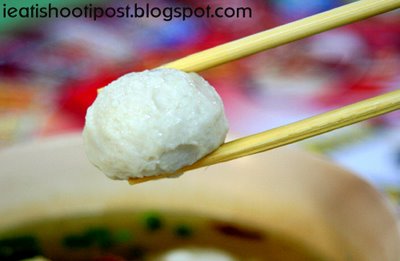 If you want to taste a REAL fish ball, you just have to head down to this stall. Just look at the all the craters on the fishball. It looks almost like the face of the moon! Actually, that large crater at the 5 o'clock position almost reminded me of the Death Star in Star Wars.
Neh, I prove to you that they actually make their own fishballs! Good fish balls are made from Hang Zhe Her (Yellow Tail – See that yellow tail?) and Sai Tor Her (Wolf Herring/Parang). The fish shown above is the yellow tail — see its got a yellow tail.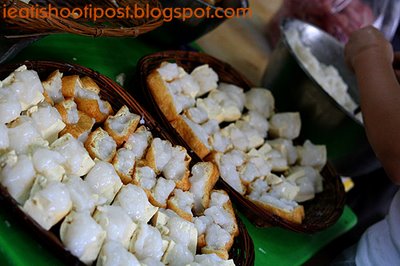 The fish paste is then used to fill all the Tau Fu and Tau Pok (Tau Fu is the fresh bean curd and Tau Pok is the fried bean curd shown in the picture). Everything still done by hand.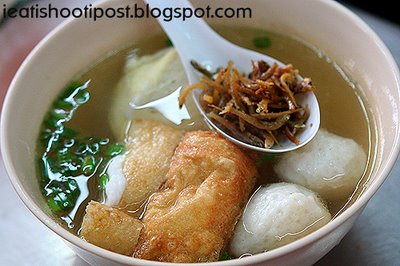 The difference between this stall and others is the addition of ikan bilis which gives that extra savoury taste to the soup. The texture of the fish ball is very light and it is not overly bouncy like those you get from the factories. The other thing is that they serve the Yong Tau Fu with only chilli sauce with no option of the sweet sauce.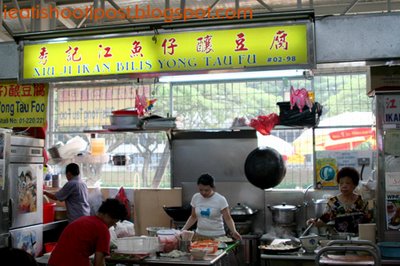 Conclusion
Make sure you visit them either very early or very late or you'll have to wait in line for your bowl of Yong Tau Fu. Too bad I am not a very big fan of Yong Tau Fu, fans will definitely give them a higher score. 4/5
Updated 25 June 2008
The stall has moved back to its permanent location
Update 16 Dec 2020
Over the years, I have returned to the stall several times for my Yong Tau Foo fix.  Back in 2006 when I first wrote about them, I was only at the cusp of my gastronomic journey.  Now after almost a decade and a half of writing about hawker food, I have a better appreciation of the yong tau foo at this stall. There are only a few items but they are all done very well and it is really a bowl of comfort food! 4.25/5