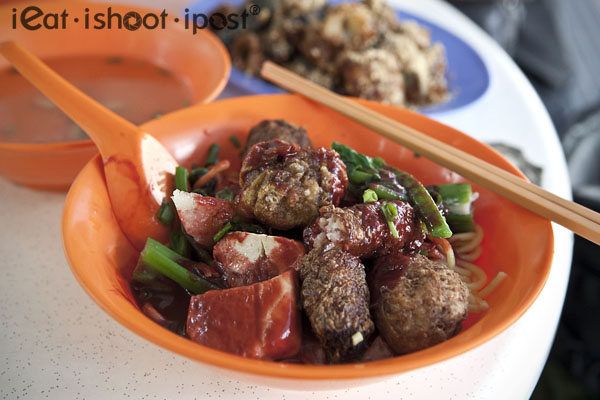 Ever wondered why Yong Tau Fu is called YONG Tau Fu? Tau Foo we all know is bean curd, but what's teh meaning of "Yong"? Well as it turns out, the word "Yong" is actually a simplification of the Hakka dialect "Nyiong" which means to stuff. Thus Yong Tau Fu simply means stuffed bean curd.
But both you and I know that they have other stuff besides stuffed bean curd right? The same meat or fish paste can be used to stuff everything from bittergourd to eggplant. I guess someone long ago thought that we should eat more veggies besides just bean curd and started stuffing lady fingers as well.
Ok so how come there is Yong Tau Fu and then there is Hakka Yong Tau Fu? Why do stalls make the distinction that they are "Hakka"? Well it turns out that even though the dish is widely regarded as Hakka in origin, over time, the meat and seafood stuffing at some stalls was replaced by fish paste. Some people think that this is probably due to the fact that our ancestors wanted to make the dish available to the Muslim population who are unable to eat pork. Over time, fish paste Yong Tau Fu became so common that the stalls selling the original version had to distinguish themselves from the others by calling theirs Hakka Yong Tau Fu.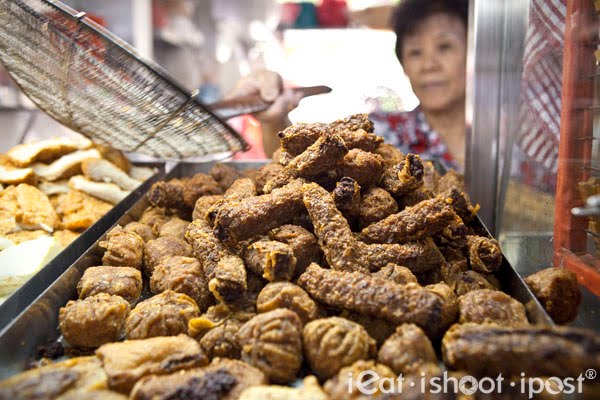 For me, the tray of deep fried wonton, meat balls and Ngor Hiang in the photo above is irresistible flavour waiting to be devoured. The meat filling here is shiokalicious and very addictive. It is great in the tofu, but when simply deep fried as a meat ball and dipped into the sweet sauce…. man why does something so good have to be bad for you? 4.5/5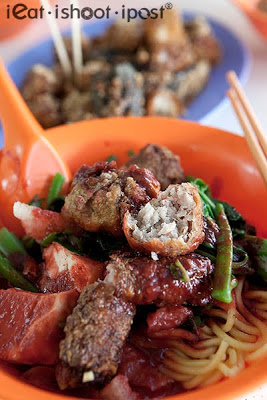 Conclusion
Well, much as I wish I could just eat a whole bowl of meatballs, my good sense tells me that I should balance out my bowl with some veggies and greens and of course some tofu to add some textural contrast to the deep fried items. But next time, I could do with a few more meat balls….
Update 13 Jan 2021
The stall is now at 124 Lor 1 Toa Payoh, Singapore 310124