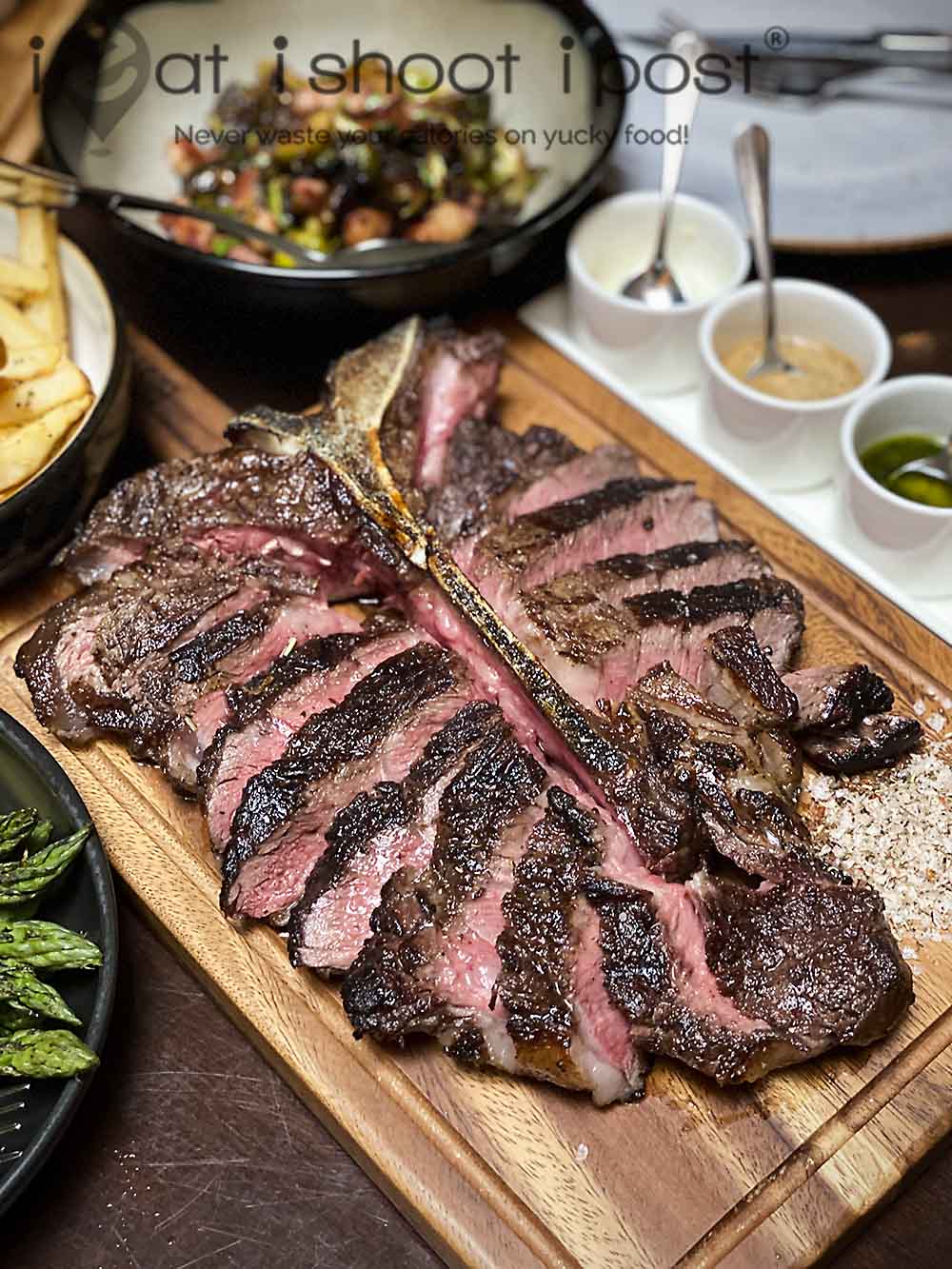 Just what is a steakhouse?
According to the Merriam Webster dictionary, a steakhouse is simply:
"a restaurant whose specialty is beefsteak"
But I feel that this definition doesn't capture what the term "steakhouse" really means to most consumers.
When you mention "steakhouse", what I immediately think of is the typical American steakhouse with dim lighting, dark wood furniture, booth seats and of course, a menu that screams Beef, Beef, and more Beef!
But perhaps I need to bring my concept of the steakhouse to the 21st century.  A quick survey of the steakhouses in the recently announced World's 101 Best Steak Restaurants 2021 shows that I the typical steakhouse isn't as typical anymore! What also caught my attention was that our locally established Bistecca Tuscan Steakhouse managed to clinge 13th spot in the list!  Not bad for a country that doesn't raise its own cattle!  The only other Singaporean restaurant that made it to the top 101 is the newly opened Butcher's Block.  Surprisingly, One Michelin Star CUT, didn't make it to the list!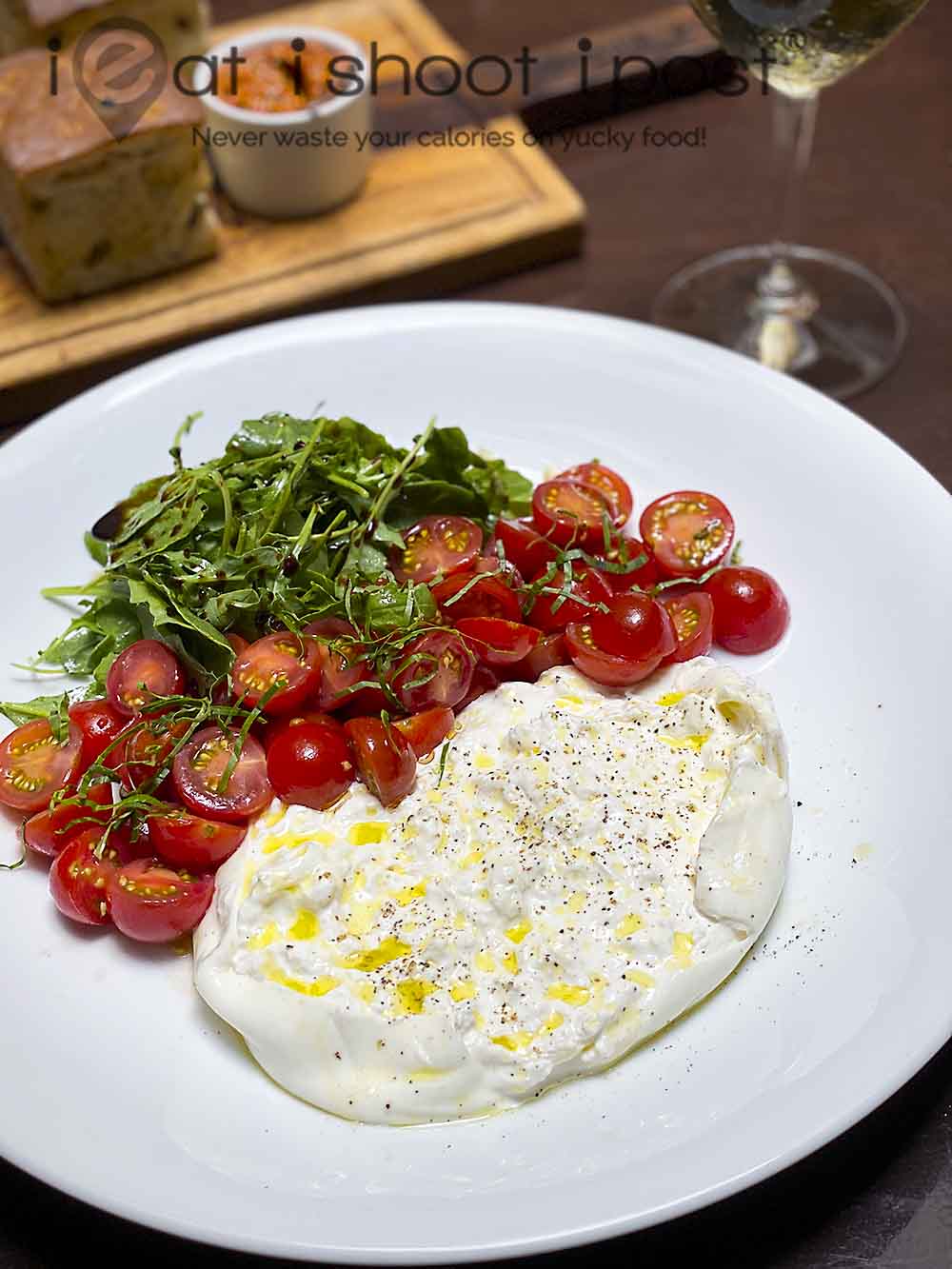 Being a Tuscan steakhouse, their signature steak is the Fiorentina which is basically a 1.1kg Porterhouse steak that is good for sharing.  But since Bistecca is an Italian steakhouse, it means that you need to get through the starters and the pasta before you get to the steaks!  (You don't HAVE to, but you would WANT to).
We started with their Burrata which is an Italian classic made with fresh a 300g Burrata airlflown from Puglia together with some lovely sweet tomatoes from Cameron Highlands.  It's too bad that the Covid situation meant that they couldn't get hold of Pachino tomatoes from Sicily which would have made the dish even more amazing!  The combination of a decadant burrata, sweet tomatoes olive oil and balsalmic vinegar is one of marriages made in heaven!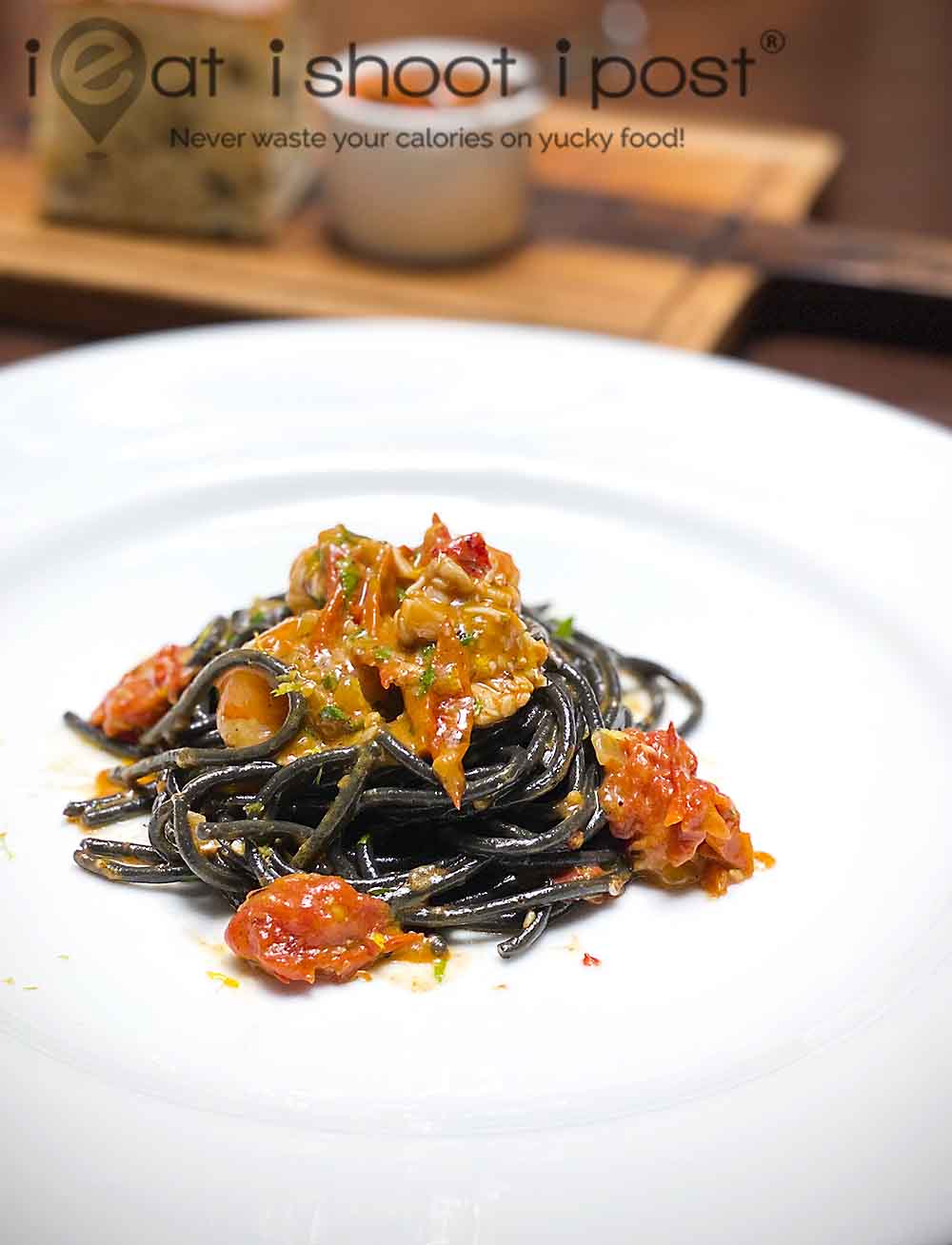 Initially, I was quite resistent to ordering the pasta as I usually like to maximise my stomach capacity for the steak.  But our host, insisted we need to try their pasta and so we had their squid ink pasta with lobster, prawn and uni butter which was really good but I had to restrict my portion so that I would still have appetite for the main event.  This is one thing I never really understood about Italian cuisine.  Unlike Chinese or Japanese cuisine where the carbs are given at the end to fill the tummy, the pastas in Italian cuisine always come before the meat!  It's something this chinaman still finds hard to get used to!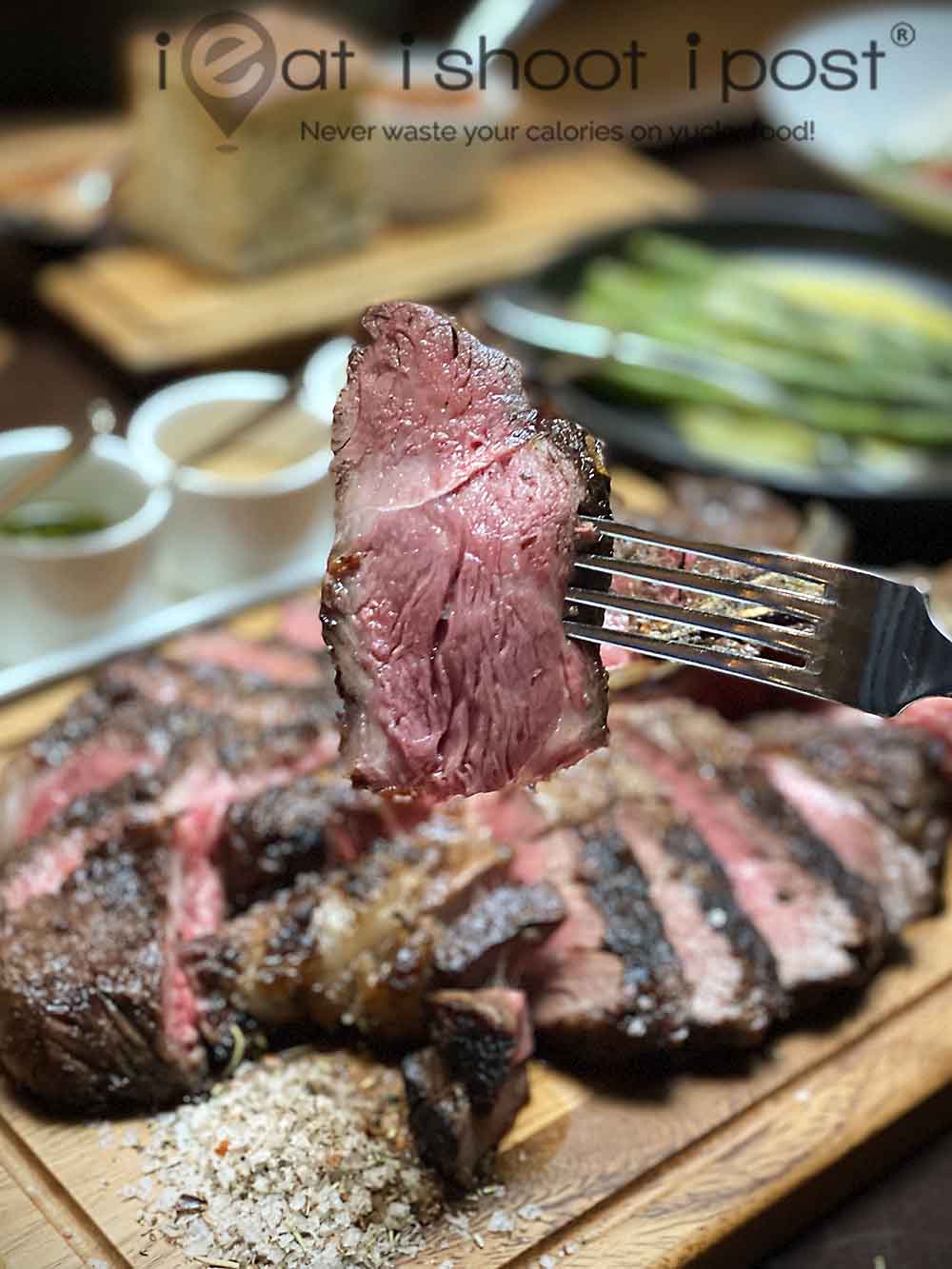 I was hoping that Bistecca had somehow managed to procure a bone fide Fiorentina from a Chianina cattle, but this is still not yet available in Singapore.  Instead, they are using a porterhouse from an Australian F1 Wagyu which has a nice balance of beefy flavour and marbling.
When Japanese Wagyu made its comeback in Singapore a few years ago, there was a period when we were going crazy over Japanese A5 Wagyu steaks.  Now that the initial craze has settled, the general consensus is that A5 is great for shabu shabu but a little too rich as a steak.  As such, the F1 Wagyu, which is a first generation cross between a Wagyu bull and an Angus cow offers a nice balance.  It  yields a juicy, tender and beefy steak which you can actually eat a good amount of without getting too greased out quickly.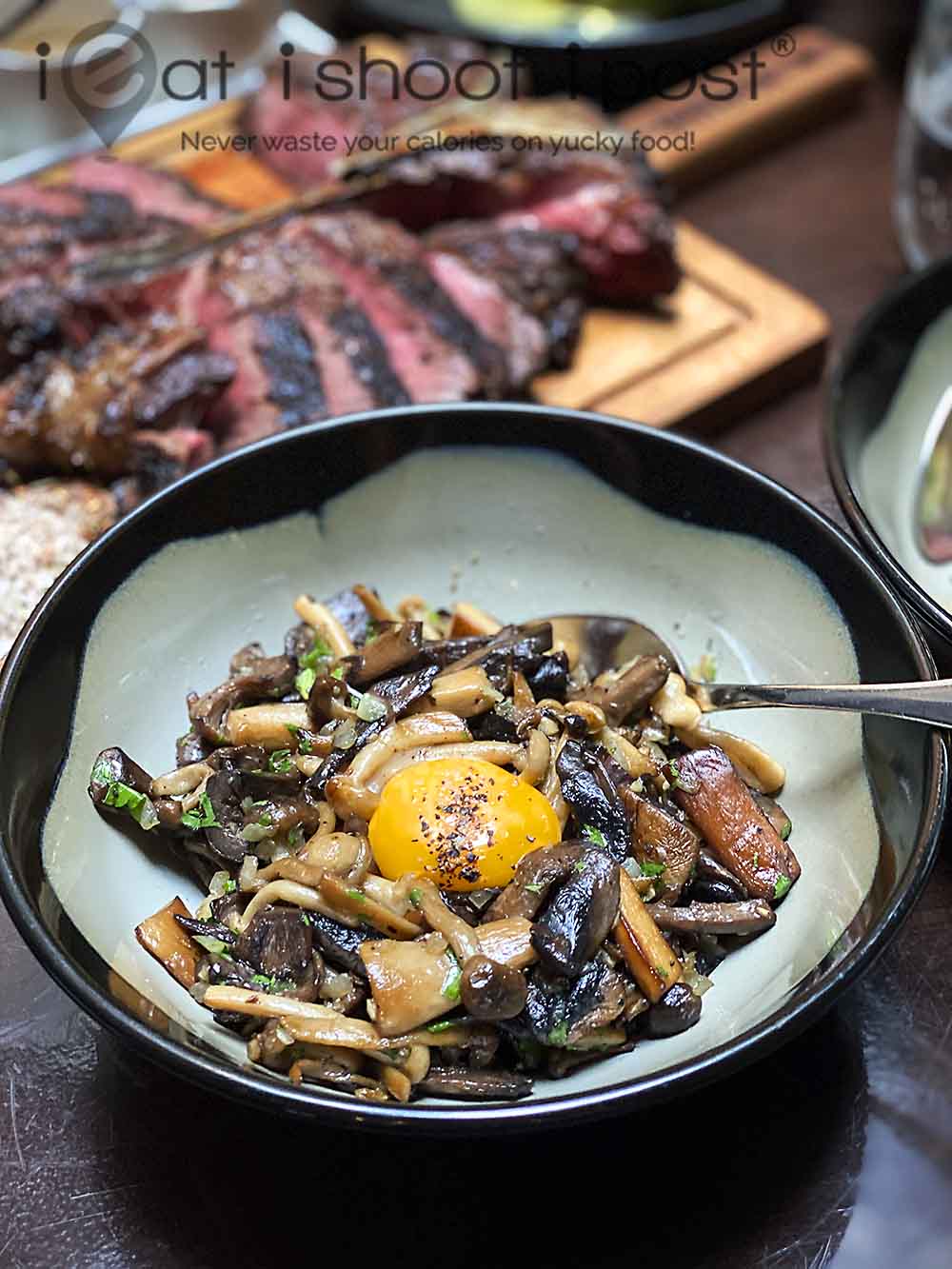 The steaks are simply grilled over wood and charcoal to the doneness desired and served with a selection of sauces.  There is no special oven or cooking method involved or dry aging of the meat.  (That is in the works) Just a great cut of beef, perfectly grilled and presented.
They have a selection of sides which are all quite competent except for the fries which I thought could have been much better.
The environment is casual but cosy, comfortable but still classy enough with lovely hand painted artwork of Italian ladies juxtaposed with digitally rendered Chianina cattles.  There are no white tablelcloths or waiters in suits nor are there steak knives that cost more than your steaks.  Expect to pay $85 for a 400g ribeye and $198 for a 1.1kg Fiorentina which works out to be perhaps $60-$80 per pax if you had a few starters, pastas and steaks to share.  Not too bad for the 13th best steakhouse in the world!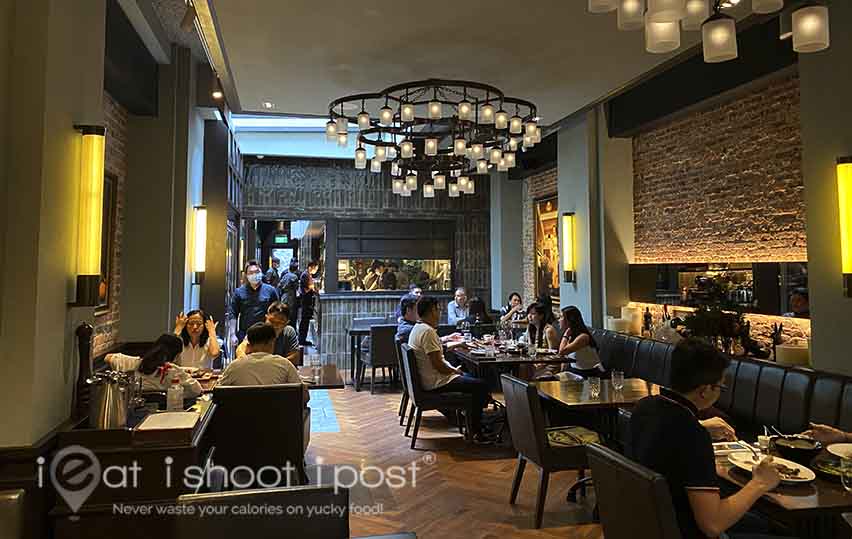 Conclusion
A classy but cosy place to get a great steak with Italian style sides and pastas to boot!
Disclosure
This was a media preview. That means that the food was provided with no obligations to write a review.