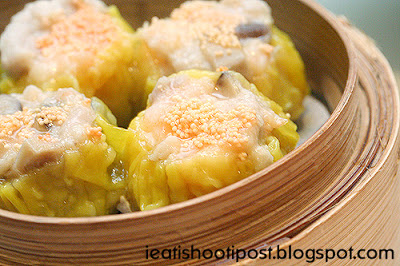 The Dim Sum is perfect for a 3 generation family lunch. You will always find something that the kids will eat. My son in particular used to love only Har Kow Skin. Then he moved on to Char Siew Cheong and then Char Siew Pao. So it is not only a good place for lunch, it is a great place to introduce your finicky kids to new foods as well. Now that my son is onto a lot more different Dim Sum, my daughter is just starting. She's only eating porridge and Pao Skin at the moment.
When it comes to Dim Sum, we all lament the fact that Singapore Dim Sum pales when compared to Hong Kong Dim Sum. But as a consolation, at least Singapore Dim Sum is better than Bangkok Dim Sum. I lived in Bangkok for 2 years and have not found a Dim Sum that is at least as good as our average Dim Sum here. So, always count your blessing eh?
The Dim Sum here is pretty above average. Most items are competent though nothing is absolutely outstanding. There were several other items here that I found worth mentioning though.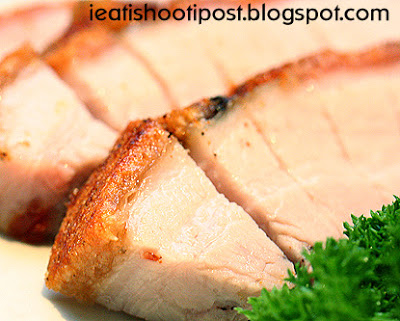 The first is the Sio Bak. The Sio Bak here is probably 90% the standard of what I had in Hong Kong in my most recent trip. The skin is crispy like a Violet Crumble and the meat is wonderfully tender and infused with a flowery fragrance what reminds you of a meadow in spring. Easily the best Sio Bak I had in Singapore (Tied with Peach Garden) 4.5/5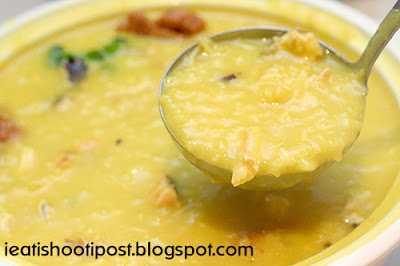 Crab Roe Porridge $18 feeds 6 (Seasonal)
For those who need to boost your cholesterol levels, you might want to try this seasonal dish which is Crab Roe Porridge. Super creamy porridge mixed with a generous portion of Crab Roe. It's probably the most unique and yummy porridge I have had for a long long time. But "long long time once" only ok? 4.25/5
Conclusion
Good Dim Sum place with reasonable prices. The Sio Bak is definitely worth coming for.