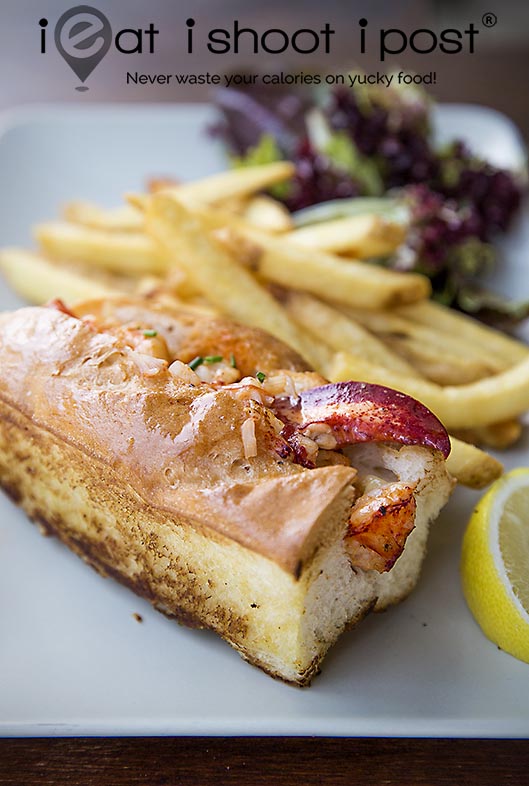 There are few things as sexy and seductive in the culinary world as a bright red lobster.  But like a lot of politicians, they tend to over-promise and under-deliver.  How many times have you eaten lobster and gone away thinking that you paid a lot of money just to look at a beautiful shell while the meat itself was nothing  to rave about? When was the last time you really experienced a lobster's rich, briny, sweet, crustacean flavour?  You know the kind of full on flavour that you find in a great lobster bisque which is missing in a cold, boiled lobster?
The real treasure of the lobster lies in the head where the tomally (liver) is as well as in the shell which contain carotenoid pigments. These are the pigments that turn from green to red when the lobster is cooked and is a good indicator of flavour power!The actual meat from tail is mild tasting and lacks that flavour punch that is released only when you cook the shell. I guess that is why I wasn't really swept up in the whole lobster roll craze last year.
The last time I ate a lobster sandwich was at Belle Isle, which was a little  seafood shack in Boston famous for its lobster sandwich.  It was good but not so good that it would be the one thing I must eat again on my next trip to Boston.
That all changed when I tasted the lobster roll at The Naked Finn.  Ken Loon had told me about his lobster roll since he introduced it last year, but it wasn't until I saw that it was listed as the best lobster roll in the Straits Times that I thought it is time to see what the fuss was all about. Most of the lobster rolls that we are familiar with are cold lobster rolls which is the version popular in Maine.  With this version, cold lobster meat is tossed in mayonnaise and served in a warm buttered bun.  In Connecticut where the lobster roll originated from, there are actually two versions. A warm lobster roll and a cold version known as a lobster salad roll.
Naked Finn serves a warm lobster roll because my crusty friend, Ken Loon knows that you can only tease the flavour out of a lobster by using the high heat from a cast iron hot plate.  Those carotenoid pigments turns the butter into a fiery orangey red oil packed with intense lobster flavour.   Ken Loon only uses live maine lobsters and dispatches the lobster only when the orders come in. The bread is a locally sourced soft bun with a thin, light crust which is lightly buttered on the outside and toasted on the hot plate.
Once the lobster meat is ready, it is quickly tossed in a bit of home made mayonnaise and stuffed into the bun.  It might sound simple but when you get the simple things right, the result is simply out of this world!  4.5/5
Conclusion
The Lobster Roll at The Naked Finn is not your typical cold lobster sandwich!  If you have eaten cold lobster sandwich and went away wondering why you spent all that money, then The Naked Finn's warm lobster sandwich might just change your mind!  $29 is expensive for a sandwich  but as far as lobster sandwiches go, it is pretty much mid range.  (prices across Singapore range from $19.90 to $49.90).  My only grouse is that the sandwich leaves me just half full and craving another one!