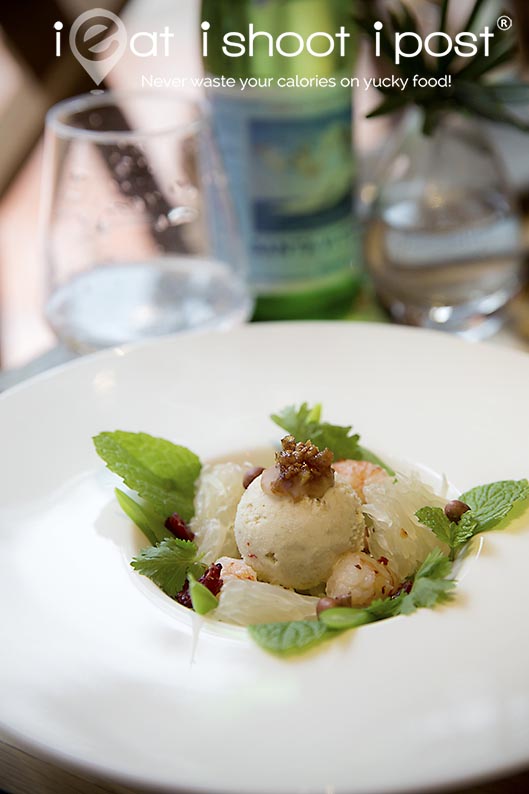 How do you know that you are really a Singaporean?  I guess that is the question that we are all trying to answer on the 50th year of Singapore's independence.
I guess there are many ways to define a Singaporean.
Legally, a Singaporean is one who holds a Singaporean passport.  Linguistically, a Singaporean is one who knows when and how to use the phrase "bo jio!".  Socially, it may be someone who knows how to be kiasu.  If you are a parent, then it might be the stress over primary school admission and the PSLE.  If a student, then the struggle with Mother Tongue.  But this is a food blog, so I guess we can all agree that a Singaporean can be defined as one who would might have the occasional craving for a bak chor mee mai ter gwa or char kway teow mai hum and a cup of kopi siu dai kay si and kaya toast mai gu you. Now, if you can understand and relate to the last sentence, then I can confidently say that you are truly a Singaporean at heart even if you don't possess a pink IC!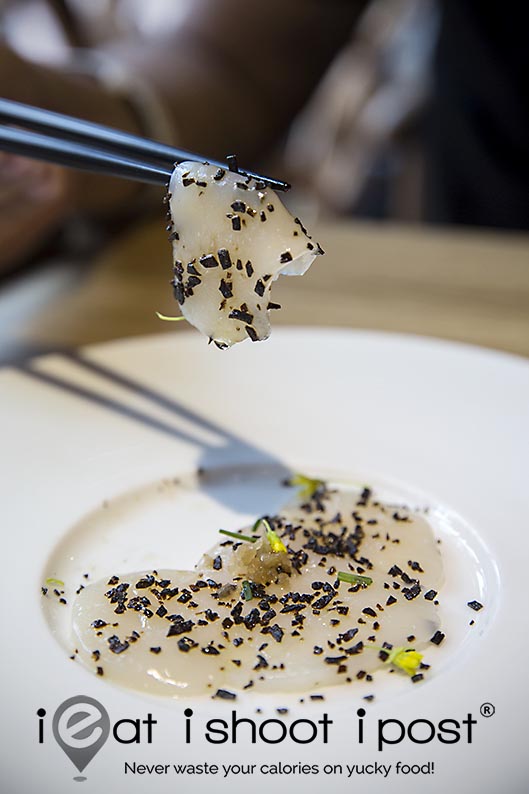 My friend, Willin Low is a Singaporean and proud of it.  Eight years ago he left his job as a lawyer to pursue his dream of being a Chef.  Eight years later, he has accomplished what most chefs can only dream about and he did it in Singaporean style.
Willin is the kind of guy who would dream about eating curry puffs and char kway teow.  His passion is to be able to translate the essence of our traditional Singaporean flavours for a modern audience.  If he had lived in the 70's, he would most probably have been a Chef owner of a Hainanese style coffee house.  But he started his restaurant in the mid 2000's  which was right at the beginning of our current culinary renaissance.  So, he opened a restaurant to showcase contemporary Singaporean dishes, a style he calls "Mod-Sin".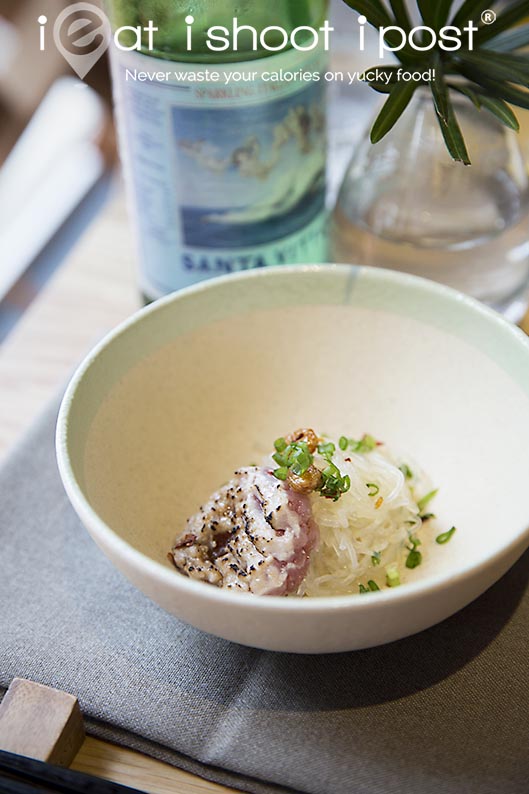 "Mod-Sin" is, of course,  short for "Modern Singaporean".  It is essentially nicely plated food using the best ingredients but heavily influenced by local Singaporean flavours.  It is the kind of cuisine that any Singaporean cook who is born and bred here would dream about cooking given the easy access to a wider range of available ingredients.  I know because I have had similar dreams before.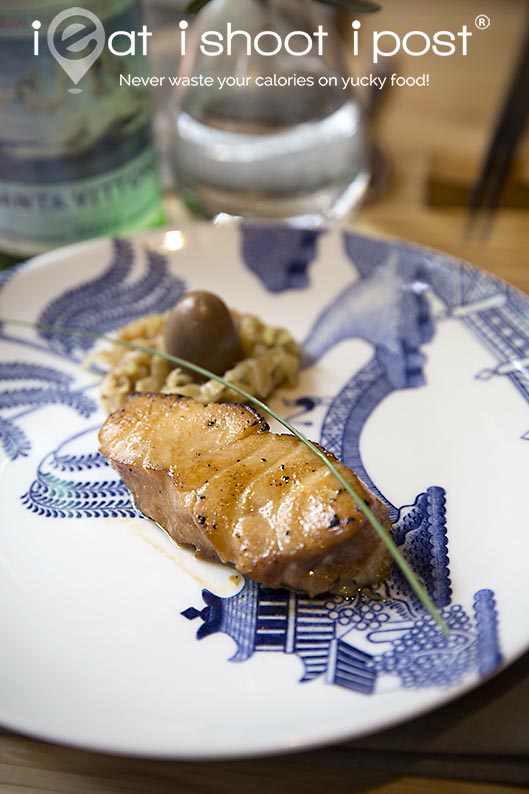 I don't know about you, but I get increasingly frustrated with the widening culinary divide that we are seeing in our country.  Why is it that we are willing to pay $18 for an aglio olio and complain when a plate of Hokkien Mee is $5?  Have you ever wondered what a plate of Hokkien Mee can taste like if we were willing to play $18 for a plate?  What would the hawker do?  Perhaps he would use better quality wild caught sea prawns to make his stock.  Perhaps he might take time to squeeze all that prawny goodness out of the prawn head to give the hokkien mee a boost of crustacean flavour?  Maybe a drizzle of melted lobster butter and use artisanal handmade Hokkien noodles that can really absorb the stock while still retaining a toothy texture?    Perhaps he would top it with tender slices of slow cooked Iberico pork belly slices? It might not be something you would order every day, but it's the sort of quintessentially Singaporean dishes which we can showcase to the world.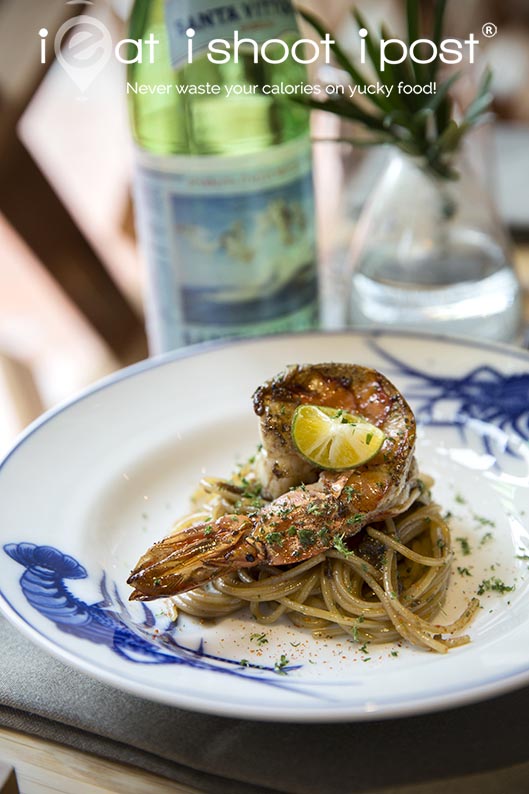 I think Chef Willin must have had the same kind of dream when he started Wild Rocket which is why he created his laksa pesto pasta which quickly became his iconic dish.  His interpretation of hokkien mee is expressed in his "Singapore Noodles" which is one of the courses in his Omakase menu.  Not quite the same vision of Hokkien Mee that I just described but still a very shiok dish with a robust prawny punch.  I thought it would have been even better with a toothier type of noodle like a udon instead of a spaghetti,  but I won't complain if he gave me a full portion of it!  4.5/5
Chef tells me that his starter of scallop sashimi with chye poh (preserved radish) was inspired by our local Chwee Kueh.  The dish itself marries fresh Hokkaido scallops with shiokombu (seaweed), truffle oil and chye poh!  You really can't go wrong when combine the sweetness of the scallops with the umami punch of both the shiokombu and chye poh and the musky aroma of truffle oil!  Only thing I can say is that the look of the dish may remind you of chwee kueh but it doesn't taste anything like it!  I thought it might be more reminiscent of chwee kueh if he had used a generous mound of chye poh in place of the shiokombu.  He must have tried it and found that it didn't work too well.  4.5/5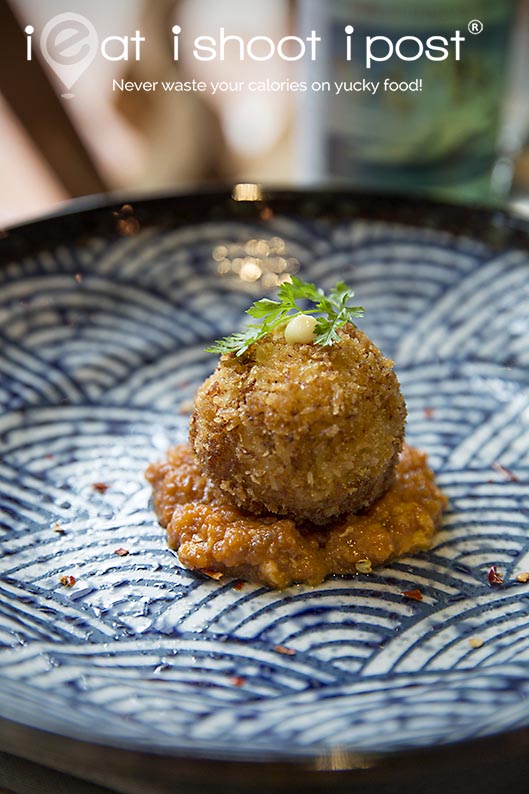 One of the ingredients which Chef likes to use is coconut cream which really gives dishes its South East Asian flavour.  The only non-Singaporean inspired dish in the Omakase course was the Pomelo Salad which was a dish he created for the Princess of Thailand when she visited his restaurant.  This was served as a salad starter and is a refreshing combination of frozen coconut milk that has been flavoured with fish sauce, pomelo, mint leaves and prawns. It was a refreshing way to start the meal  4.25/5
If you enjoy chilli crabs but hate getting your fingers dirty, then Chef's chilli crab dish will give you the chance to eat chilli crabs with a knife and fork.  He uses two types of crab meat, makes it into a croquette and serves it with the familiar sweet, spicy, tomato chilli crab gravy.  I still prefer to get my fingers dirty and lick the gravy off the shell of the crabs, but this is a nice way to introduce those who are new to Singapore to what most people consider to be one of the most iconic Singapore dishes!  4/5
The one dish that did not resonate with me was the Wagyu Beef and Buah Keluak Fried Rice.  I just didn't think that the flavour of the Buah Keluak paired well with the Wagyu beef.  Both were earthy and heavy flavours and the rice was a bit too dry.  Might be better if it were more creamy like a risotto.  3.5/5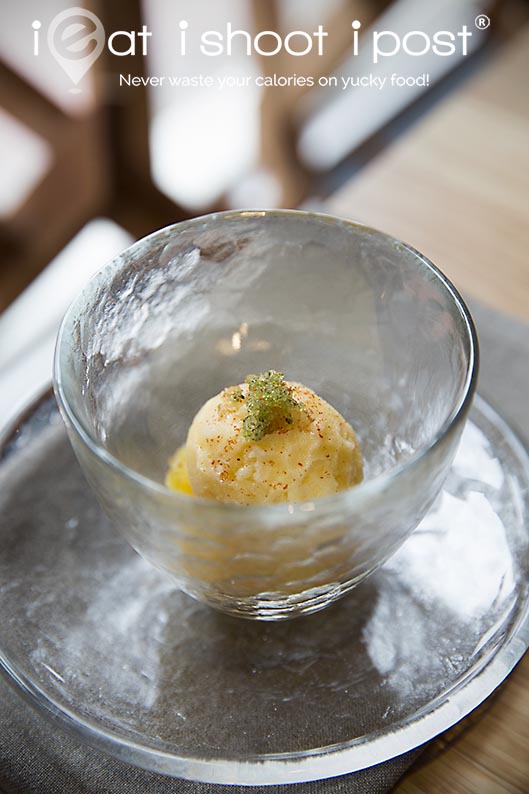 The desserts at Wild Rocket are also given the Singapore treatment.  Those of us who have grown up eating slices of pineapple with black soy sauce and cut chillies will be able to identify with Chef's Pineapple sorbet which is topped with chilli powder and soy sauce crystal salt.  These soy sauce salt crystals are the by product of soy sauce making and is essentially the salt crystals that are left in the fermentation urns after the soy sauce is decanted.  This is one dish that may have that might elicit an "Anton Ego" (Ratatouille) moment  with some of us!  4.25/5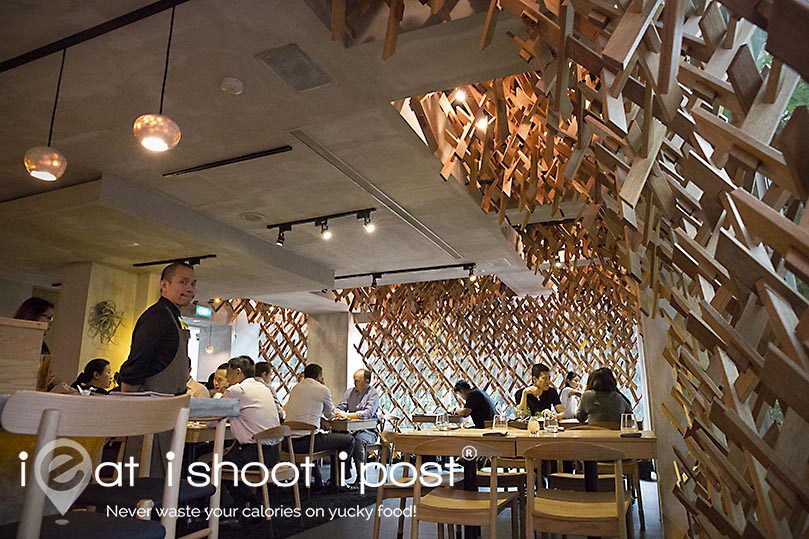 Conclusion
Wild Rocket is a celebration of the "Made in Singapore" label.  From the food to the decor to the crockery and even the staff uniforms; they all proudly bear the Singaporean label.  The food is creative and well executed and Chef is always around during service time to interact with his patrons.  (Chef has been known in some circles as an "Aunty killer")  It really does live up to its vision of being a culinary showcase of modern, contemporary Singapore and I would highly recommend it as a dining destination for visitors to our sunny little island.
Chef's Omakase is served at the bar and costs $115 for lunch and $135 for dinner.  An ala carte menu is also available.