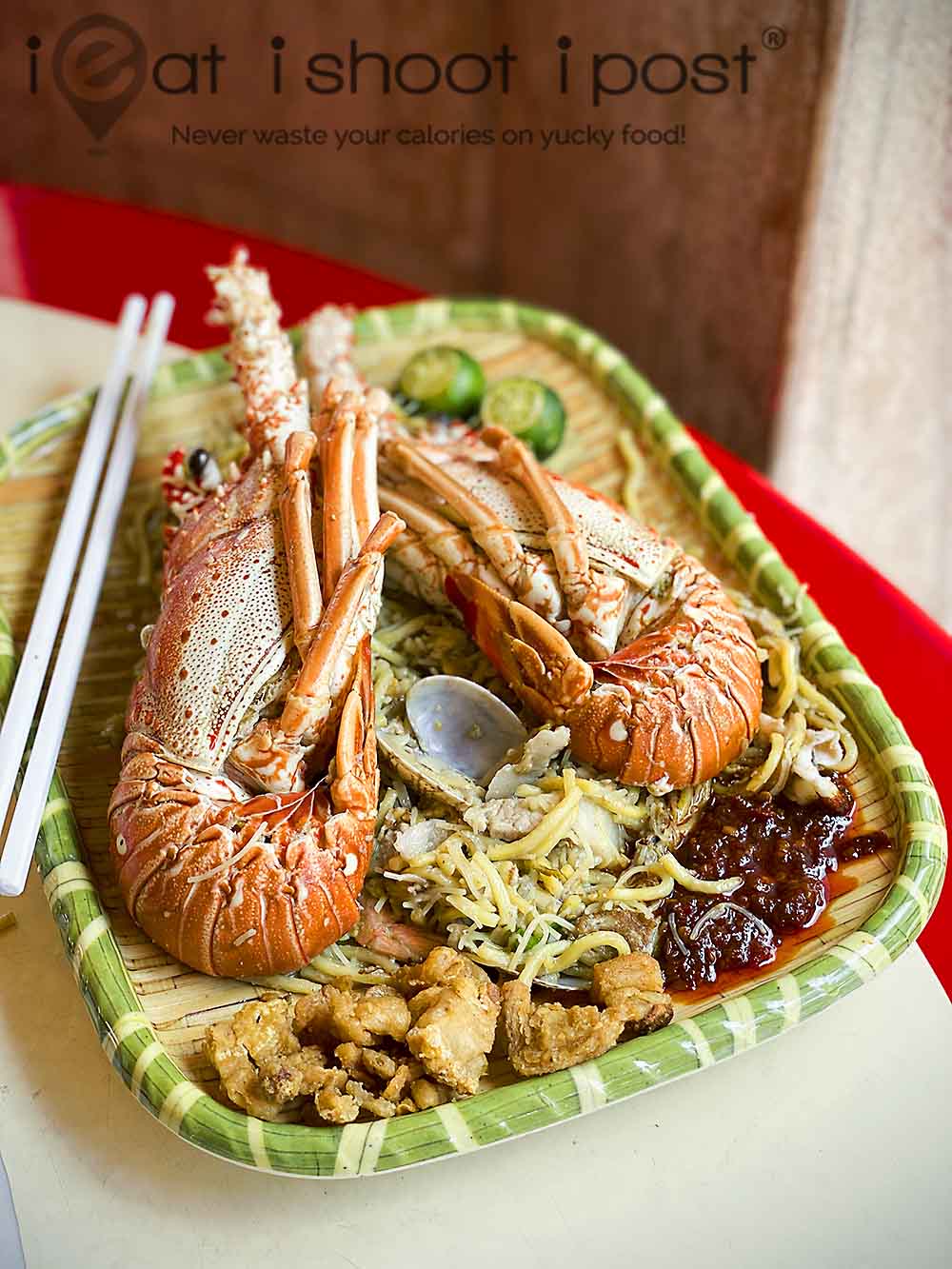 Those of you who have been reading this blog for a while will know that my all time favourite hawker dish is fried Hokkien Mee.  It is, in fact, the subject of my very first blog post which I wrote, way back on August 2, 2006!

Unlike Char Kway Teow which is still facing an uncertain future, I am very glad to report that Hokkien Mee looks to be alive and well!  Earlier this year I wrote about Hokkien Man, where we found a fine dining chef toss in his apron for a wok. Then there was the happy news that the sons of Nam Sing Hokkien Mee will be carrying on the family legacy!  Other heritage names like Ah Hock and Che Jian have also managed to successors to carry on the business and even new startups like Xiao Di have managed to find their legs.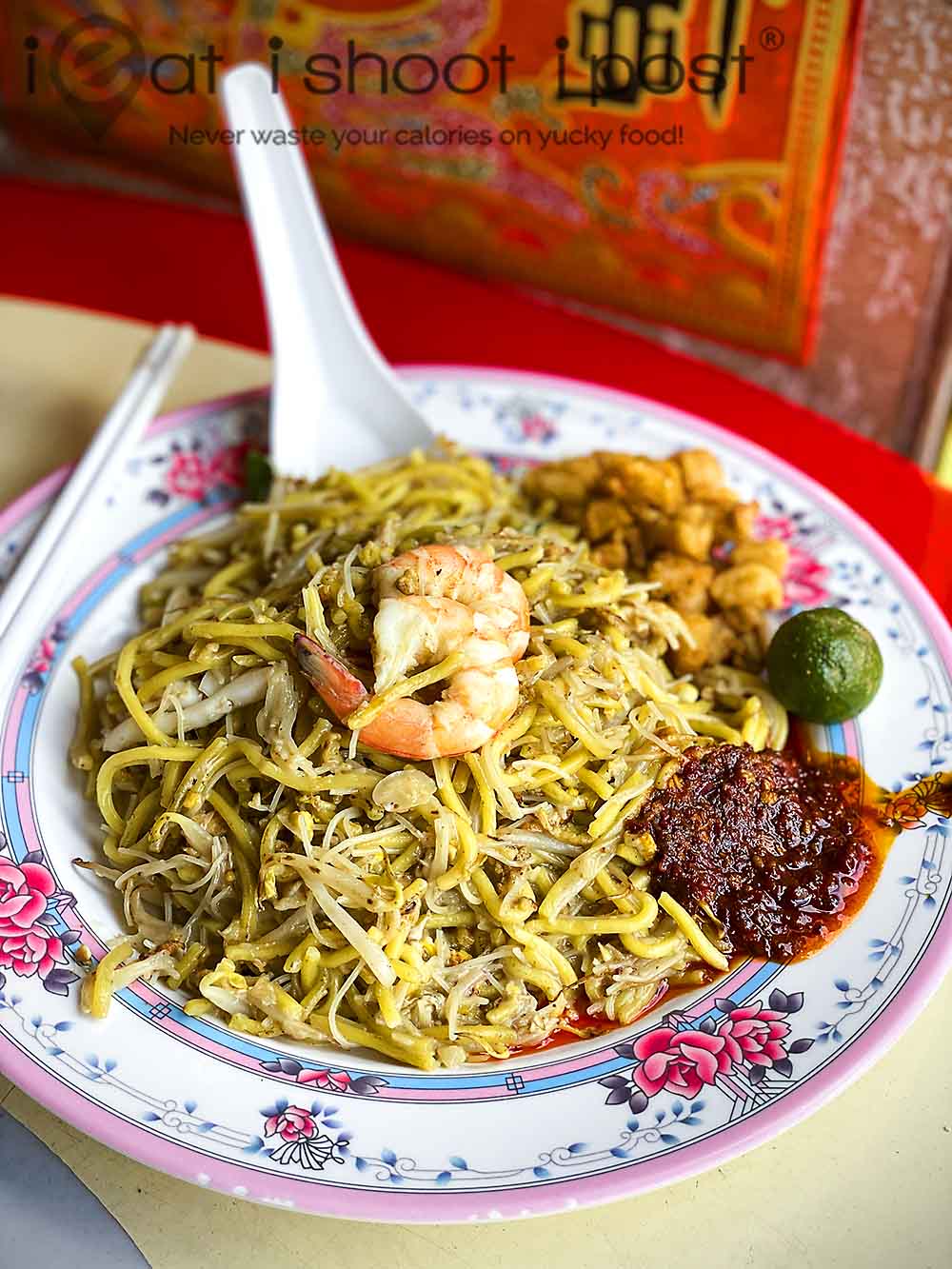 Today's protagonist is yet another next generation hawker who has decided to continue his family's legacy.  Hokkien mee lovers should immediately recognize the plate of Hokkien Mee shown in the photo above, right?  Yes, the style of the Hokkien mee and the plate resembles that of Hainan Hokkien Mee at Golden Mile Food Centre.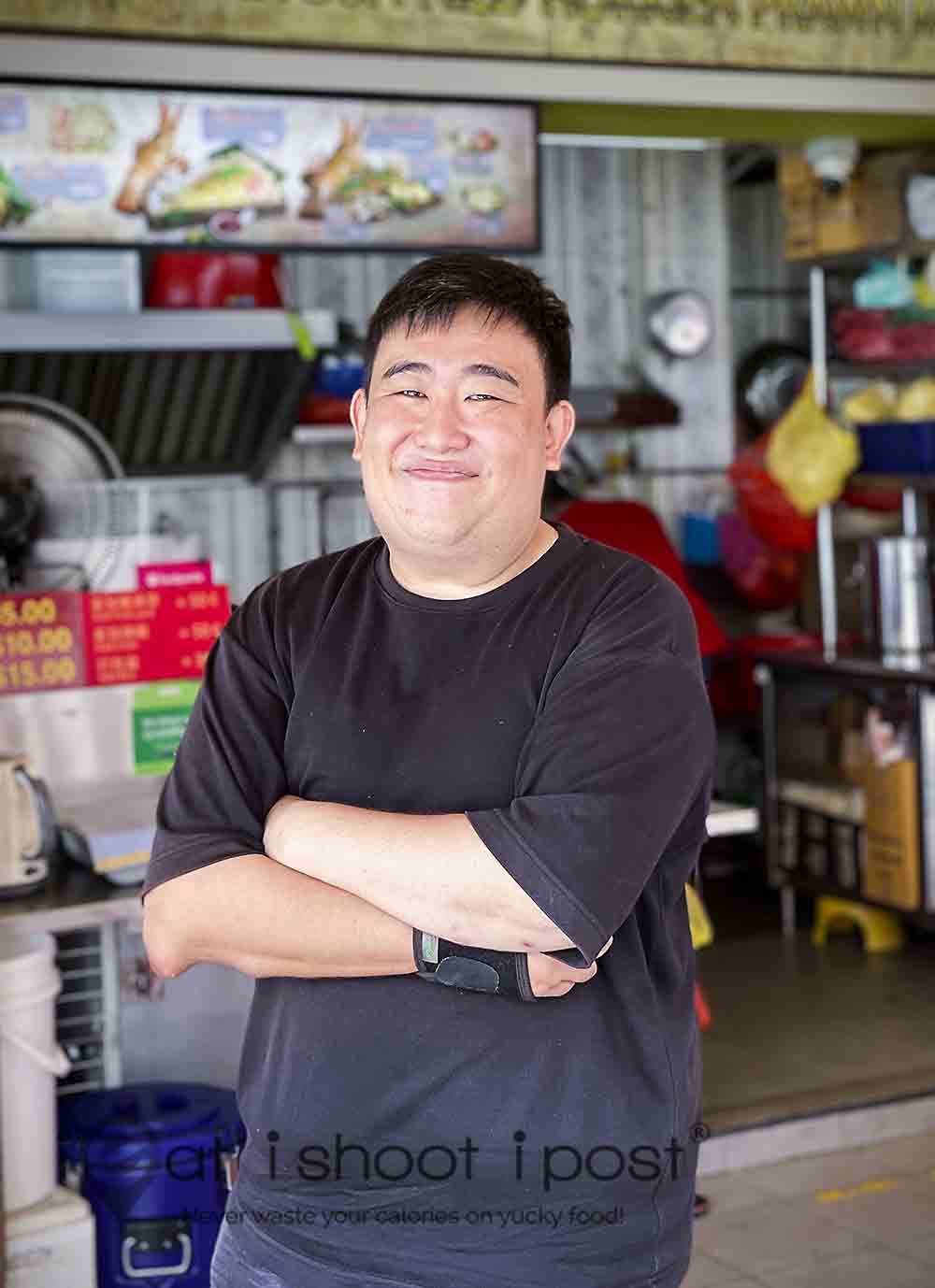 The next gen hawker behind this 7 month old stall at the junction of Geylang Lor 17 and Sims Ave is Ah Chiang whose parents run Hainan Hokkien Mee. He named the stall Liang Ji after his grandfather who was the original founder of Hainan Hokkien Mee.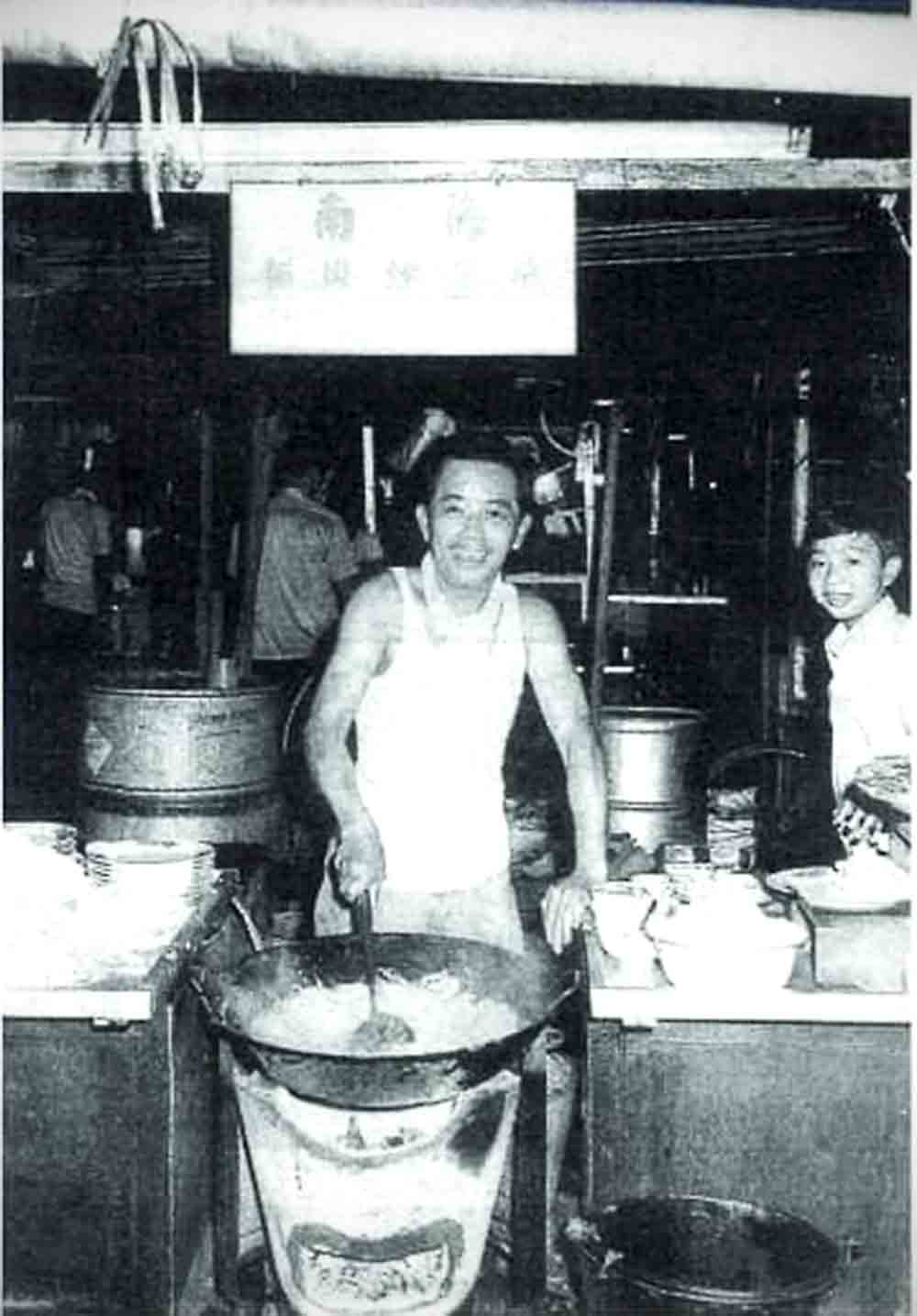 His grandad, Mr Liang can be considered the 2nd generation Hokkien mee hawker.  The first generation were a group of Hokkien coolies who first started to fry noodles from a make-shift stove  near the new Seven Storey Hotel.  (Read the story here) Mr Liang had apprenticed under one of these hawkers and since he was Hainanese, decided to call his noodles Hainan noodles instead!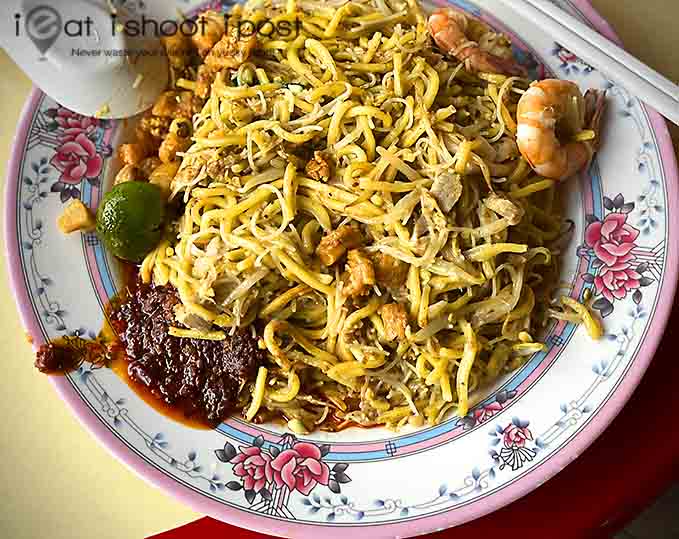 When it comes to Hokkien Mee, there are generally two styles.  The more common style is the one with thick beehoon and swimming in gravy.  This style takes less time to cook as the noodles are braised in the stock after a quick fry.  The other style which is closer to the original "Rochor mee" takes longer to cook because the noodles have to be fried until they exude that toasty fragrance before the prawn stock is added and fried until it is well absorbed.  This is the style of Nam Sing and Hainan Hokkien Mee and is also the style of noodles here.

Now, if you are used to the wet style Hokkien Mee then I would advise you not to visit this stall because you won't be given a plate of Hokkien Mee that is swimming in gravy.  However, if you like the dry style Hokkien Mee where the noodles have fully absorbed the prawn stock than you will certainly appreciate the Hokkien mee here!  One extra note is that the pork lard here is very good and if that is your kind of thing, then, do ask for extra pork lard which will will cost 50 cents extra but entirely worth it. 4.25/5
If you are looking for something even more luxurious, you might want to opt for the lobster Hokkien Mee ($26).  Ah Chiang buys his lobsters fresh from the market and they are very good quality.  The lobsters are first poached in the stock before it is added to already fried Hokkien Mee.  So, you do get an extra crustacean flavour from the lobster!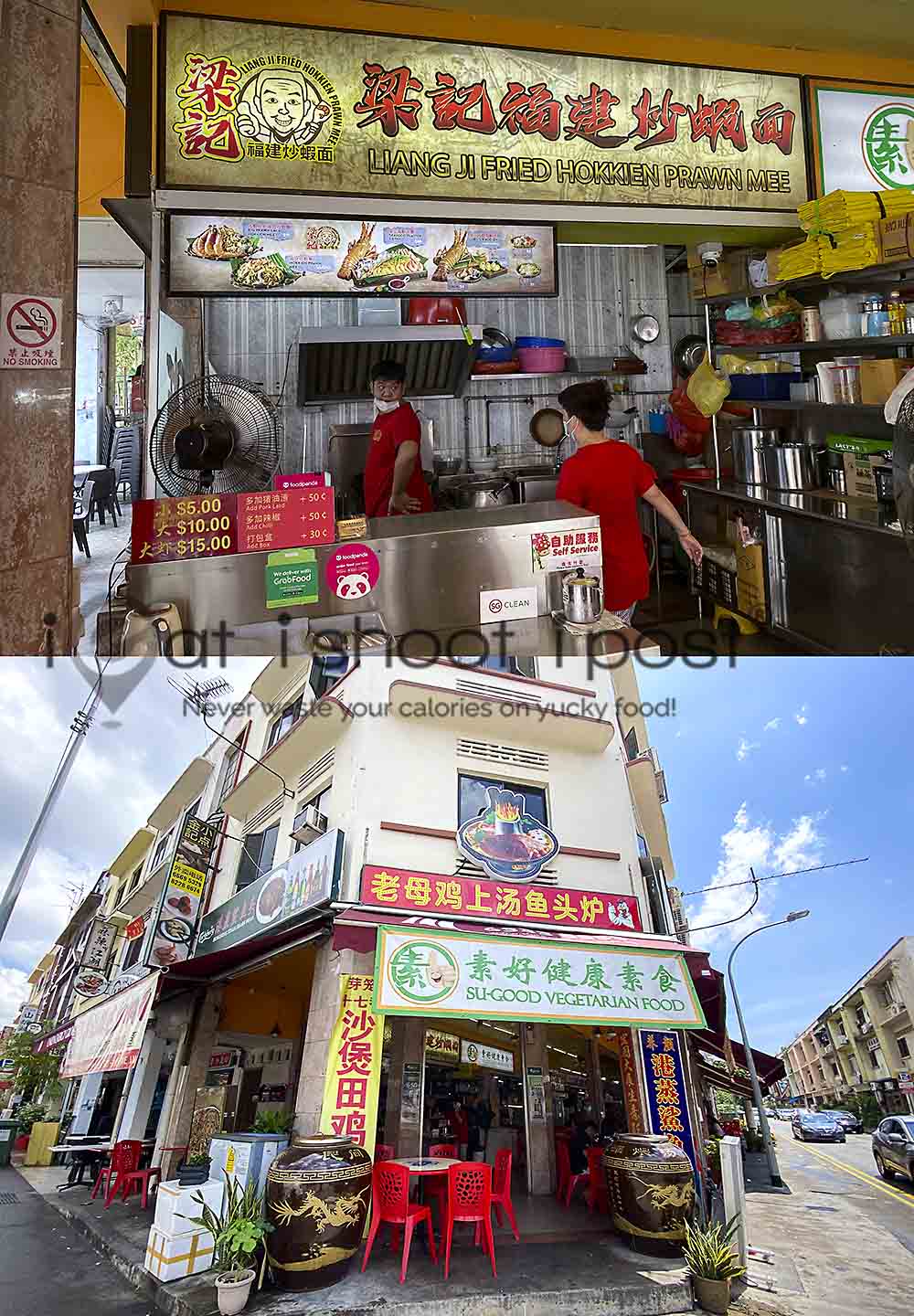 Conclusion
Good place for the dry style Hokkien Mee in the lineage of Hainan Hokkien Mee!