With Amagada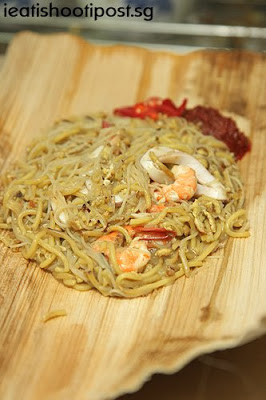 If you are looking for a truly traditional Hokkien Mee, then this is the place to get it. It's got it all. The opeh leaf, the crunchy pork lard, boiled melt-in-your-mouth belly pork, cut chilli and most importantly, a stock made from Sea Prawns or "Sua Lor" as it is called in Hokkien.
Yes, the taste of farmed prawns still fails to meet up to what God originally created prawns to taste like. When you bite into a "Sua Lor", you can immediately make out that extra sweetness in its flesh which you don't get with the farmed tiger prawns. And when they are used to make the stock, it adds that special old school taste to the Hokkien mee the fills the air with the aroma of anticipation when the Hokkien Mee is being fried.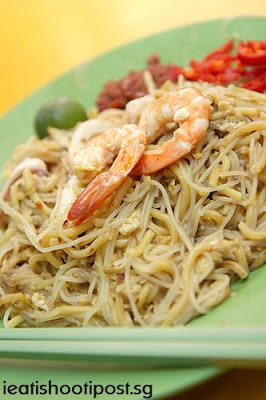 Chomp Chomp is a Hokkien Mee lover's paradise. Aside from this particular stall and Ah Hock which I blogged about in the previous post, there is yet another stall which is a branch of the famous Kim's which is not bad, but it can never compare with these two owner run stalls.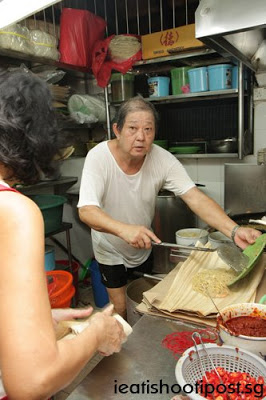 I think that there are going to be fans of both Hokkien Mees here. I ate both at the same sitting and in my opinion, Chia Keng edges out Ah Hock in terms of the taste of the noodles, the use of sea prawns, the addition of belly pork AND the fact that they have crispy pork lard when you request for it. So for that, it deserves a 4.5/5. And on top of that, their signboard is also quite old school, as is the old man's 555 all cotton T-shirt!
Conclusion
Two great hokkien mees in the one Food Centre! So how many are fans of Chia Keng and how many of Ah Hocks?