With Amagada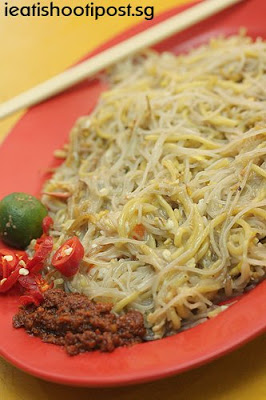 Fans of Ah Hock Hokkien Fried Noodles at Chomp Chomp can rejoice as the Old Man who has been frying Hokkien Mee there for the last thirty years has finally come out of retirement and is now back in a frying frenzy.
Chomp Chomp is one of those places that somehow still manages to keep its old world charm despite its recent renovations. The fact is that I haven't been to Chomp Chomp for at least 25 years, so actually I am not that familiar with the place. But, when I got there I could just feel the buzz in the air. Maybe it is just that it is cramped and looks as if there are too many stalls and too few seats. Or perhaps it is the sound of clanging woks and the extra saturated smell of frying food in a tight space that creates the atmosphere of intense anticipation. Whatever it is, hawker food needs to be eaten in a place such as this which is why it loses its charm when served in a Hotel.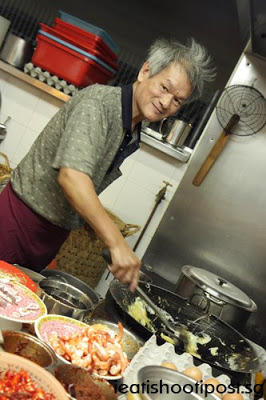 Yes, there is that element of authenticity in the Hokkien Mee. It could be because it was fried by a man whose white hair was flying in the wind like a modern day Beethoven conducting a symphony or the queue of people waiting in line, but somehow all these visual cues also add to the whole Hokkien Mee experience.
Tastewise, it was very good. They use the thin bee hoon here and the noodles were very well fried. I was a little disappointed that there was no pork lard or pieces of pork belly which would have added that extra oomph. Otherwise it was a Hokkien Mee that I certainly wouldn't mind eating again. 4.25/5
Conclusion
So are you a fan of this Old Man? Let us know how long you have been eating there!