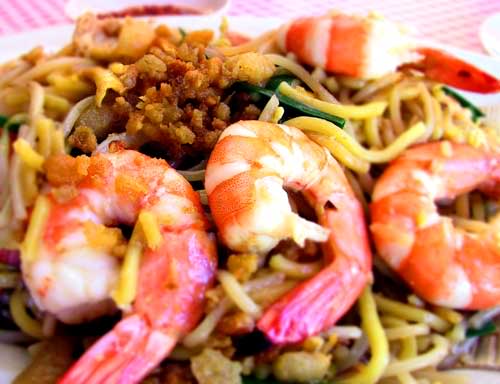 I have always wondered about Kim's Hokkien Mee. There are so many around that I suspect many are copy cats and illegally using his brand name. So far I have been rather dissppointed with the Kim's that I have eaten and have almost written them off.
However, that all changed yesterday when I finally discovered the original Kim's (or at least that's what they want me to think) at Joo Chiat Place. Now I know where to bring my foreign friends to taste this uniquely Singapore dish.
I believe that we have a 6th sense when it comes to quality. Sometimes you just know something is of good quality but you can't really put your finger on it. This particular Kim's just has that quality. Maybe it is the Al Dente firmness of the noodle or the way the tasty stock just beautifully coats the each strand of the noodle. What is most obvious is the quality of the prawns, which are quite large and fresh. And of course the bane of weight watchers and the friend of foodies: Crispy Pork Lard that is liberally sprinkled on top of the noodle. Phwaa Seh!
The nice lady at Kim's was quite friendly and accomodating. They also sell a claypot Abalone version of Hokkien Mee. Not a big fan of Abalone, I asked if she would do a claypot Hokkien Mee with simmered Crispy Roast Pork and she was quite happy to accomodate. Wait for the pics!

Conclusion
This is the Hokkien Mee stall for me!!
Kim's Hokkien Mee is at 37 Joo Chiat Place, just opposite a public car park. Across from them is a 24Hr Bak Chor Mee shop which looks quite promising. Within this shop is also an excellent Teochew Porridge place where they cook all your dishes on the spot. Seems like this is a happening place for late night supper. They are opened 11am to 2am.

4.25/5