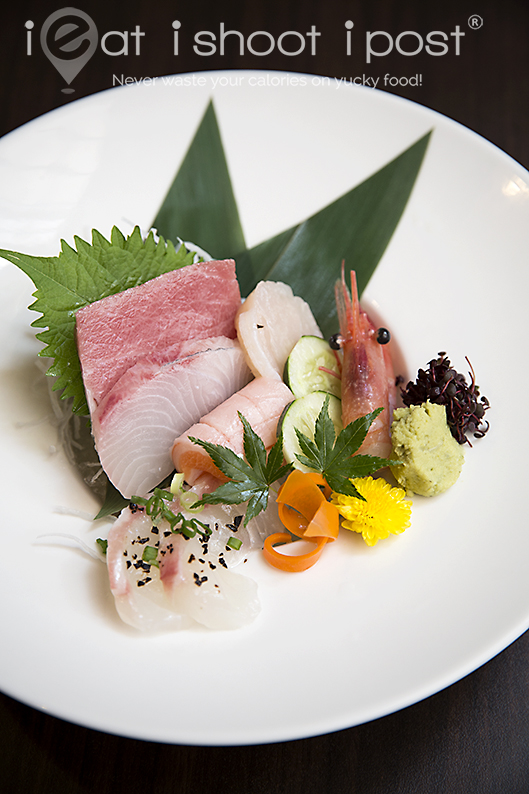 The ieatishootipost set has been very well received at Jin Fine Dining since I posted it back in Nov 2014. I think Singaporeans know a good deal when they see one. This summer season, I continue to work with my good friend Chef Thomas to introduce quality Japanese ingredients at affordable prices to you all.
The set comes with the same "kena sai" guarantee as the last time, ie Chef Thomas has been warned that if you all don't see the same thing on your plate as you do on the photos in this post, someone is going to "kena sai"! (Something's gonna hit the fan)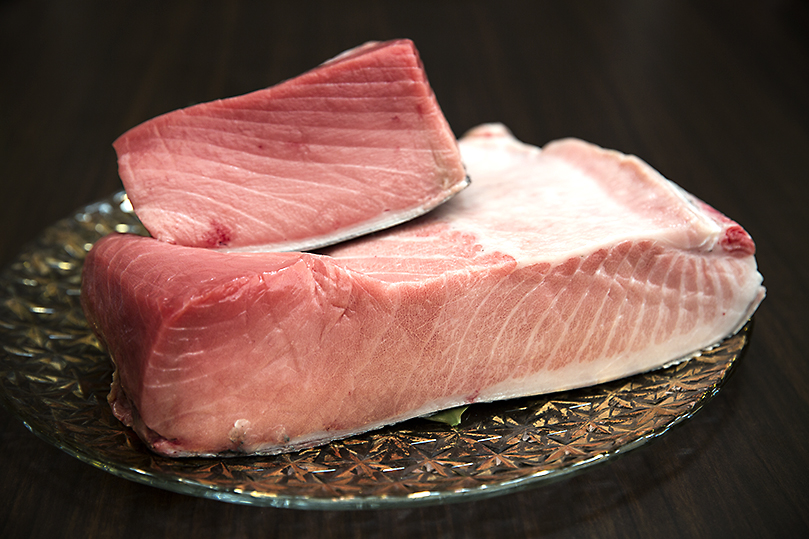 In the summer, the Northern Pacific Bluefin tuna migrates northward towards the Tsugaru strait (between Hokkaido and Honshu) and is caught in the Sea of Japan by fishermen from the town of Fukaura. These are known as natsu maguro (tuna caught in summer) and are considered the "Pride Fish" of Fukaura.
Those of you who are experienced sushi eaters will know that not every slice of otoro is the same.  Some sushi bars buy frozen saku blocks which are frozen tuna that are pre-cut into rectangular blocks.  These saku blocks can come from anywhere around the world and can remain frozen for a long period of time. You will never find these saku blocks used in high end restaurants.   Instead, the better sushi restaurants will buy a whole section of chilled tuna and divide it into akami, chutoro and otoro.  (For more info, read my detailed writeup on maguro).  Chef Thomas has confirmed that the tuna he is using is from the Sea of Japan and he only buys whole tuna blocks, so the quality is very good. A slice of otoro will be included in the sashimi platter in the ieatishootipost set and it will also be used in the Hokkaido rice bowl.
This season, they are also showcasing a new beef product from Japan call the F1 beef.  F1 Beef is no stranger to Singapore.  In fact, a lot of the Australian Wagyu which we have been enjoying are F1 beef  which is a cross between a Wagyu sire and another breed of cattle like Angus or Holstein.  This was initially done in Australia because they were only able to obtain a Wagyu sire which was then used to impregnate the local beef cattle.  It is cheaper to raise F1 beef because they have better yields which equate to lower prices.  Now Japan is also producing F1 beef which effectively means that we are able to enjoy Japanese quality beef at lower prices!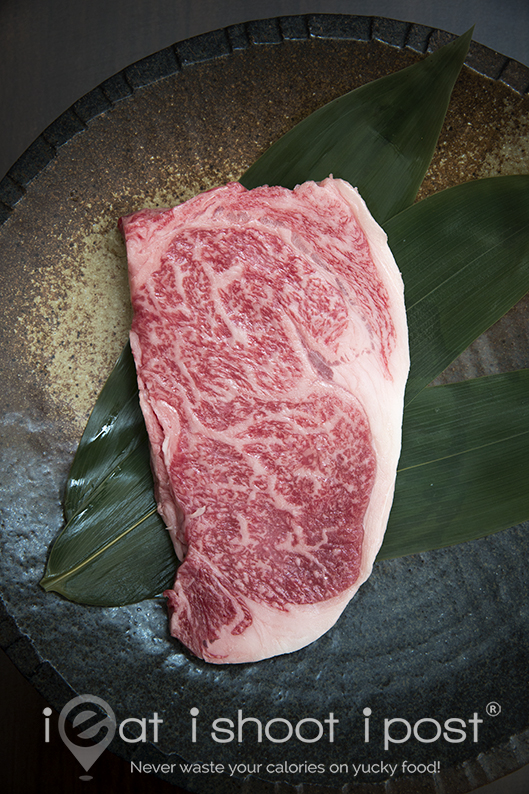 As you can see, the marbling on the F1 beef is actually quite good and makes for a juicy, beefy steak.  These are graded B3 and I feel are very good for steaks as they are not so fat as pureblood A4/A5 Japanese Wagyu which I personally feel are better suited for Shabu Shabu as they are too rich to be eaten as a steak.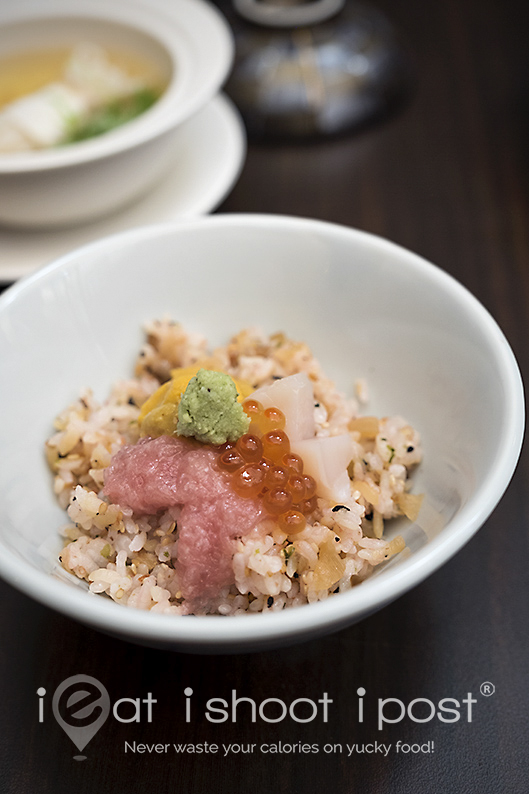 Hokkaido uni and hotate (scallops) are also in season and they will be featured in the finale which is the Hokkaido rice.  In this ultimate rice bowl, fresh uni, negitoro, ikura and hotate are put on top of seasoned Hokkaido rice.  This is really the good stuff!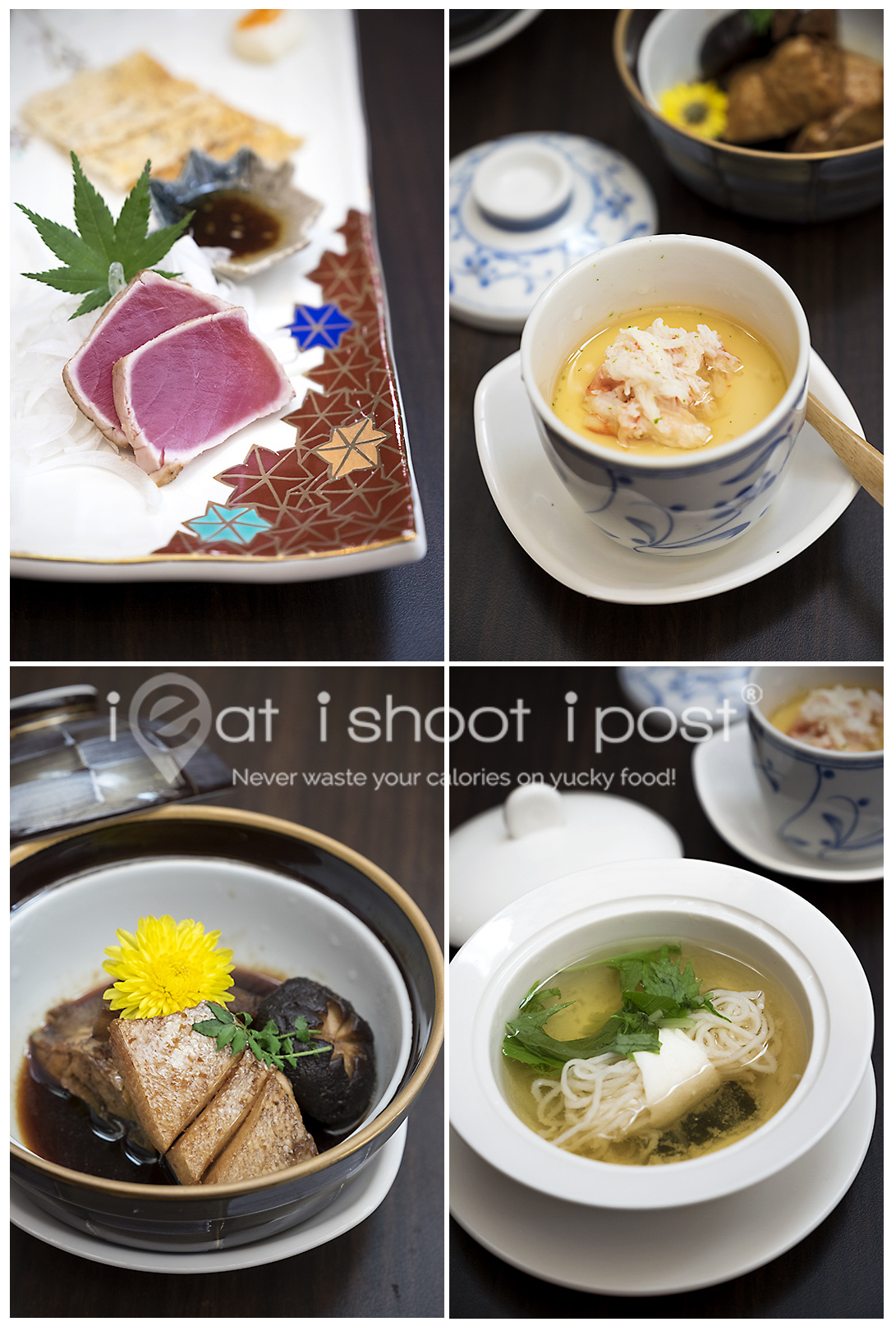 So here's the updated ieatishootipost menu at Jin Fine Dining:
1.  Hassen: Bachi Maguro tataki & Iwashi tatami
2.  5 piece sashimi set (with otoro)
3.  F1 Beef steak
4.  Kama Nitsuke (braised neck of hamachi)
5.  Zuwagani Chawanmushi (Japanese Snowcrab steam egg)
6.  Hokkaido Don
7.  Fish Noodles
8.  Green Tea Ice Cream
Price: $90++
Just call 65366258 and reserve the Ieatishootipost set.  Valid till the end of Sep 2015.
Read about Jin Fine Dining here.
Note:
Special thanks to Chef Thomas and Michael for their support of our Batam Orphanage Project.   Through our last makan session, they raised and donated $8000 to build the orphanage and will be organizing another private fundraiser in August.
Update 6 May 2016
The $80 Sushi course is currently on promotion:  Please click here for details.