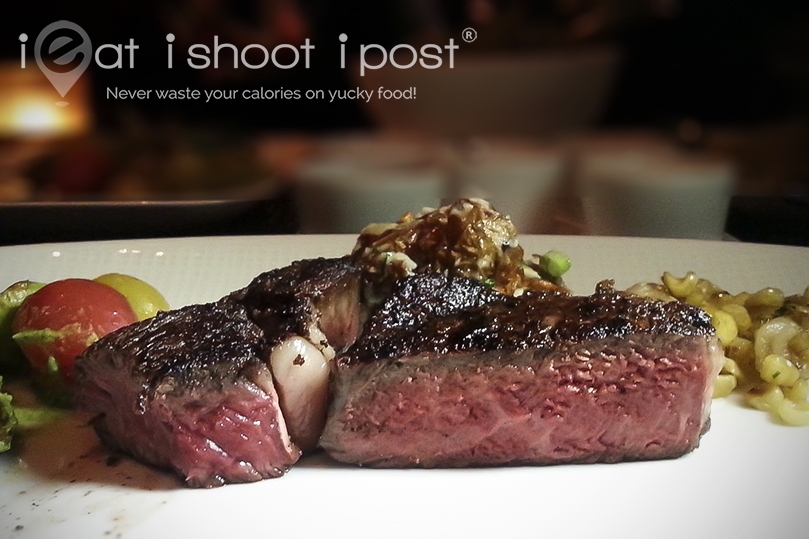 There has been quite a bit of discussion about grass-fed vs grain-fed beef in recent years. You hear chefs and food show hosts touting its flavour and health benefits on TV and food activists decrying the cruelty of feed-lots where the cattle spend its last few months fattening up for the slaughter. It is said that grass is the natural diet of cows and that the phenomenon of corn fed beef came about because, as author Michael Pollan puts it,
"The yield of an acre of American farmland went from 20 bushels … of corn in 1900 to 138 in the 1990s. So because of the improvements in technology in American agriculture — but specifically because of chemical agriculture, because of chemical fertilizer — we were able to get so much corn off the land that they didn't know how to get rid of it. So the USDA made it its policy to encourage people to feed corn, not just to cows, but to chicken and even fish and now in pigs. We had to get rid of corn."
Because of all this publicity, I have chosen to go for grass-fed beef on many occasions, but so far my experience has been less than stellar.   All the grass-fed beef I have tasted was a little tough and had a metallic after taste.  It is said that grass contains more iron than grain and subsequently grass-fed cattle produce meat which is higher in iron and other minerals than their corn fed cousins.   I have even tasted the much publicized Argentinian grass-fed beef but I wasn't too impressed either.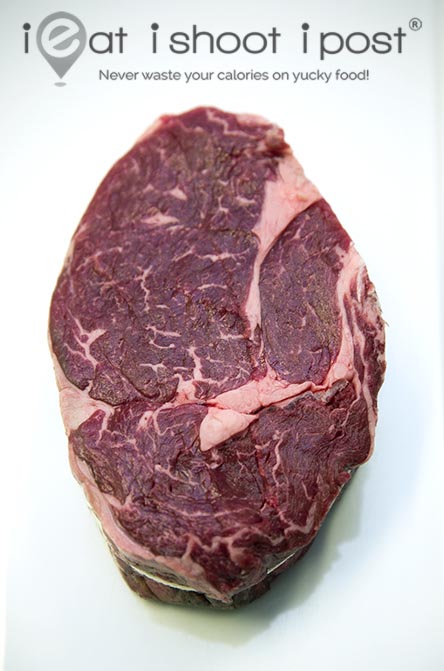 I must have just about given up on grass-fed beef when my friend, Chef Joshua Brown of CUT told me that he had brought in a limited supply of a 42 day, dry aged, Red Poll grass-fed beef from the UK that I should try.  Over the years I have been pushing Chef Josh to bring in Angus McKay's Scottish Highland Beef which was regarded by Mark Schatzker as the steakiest steak in the world after he had travelled the globe looking for the best beef steak.  Chef apologetically told me that the Red Poll beef which was raised in Dedham Vale, in the South of England was the closest he could get…. so far…. but promised that he will keep on the trail of the Holy Grail.
The ban on UK beef was only lifted in 2014, so we are now seeing more restaurants serving UK beef.  If the Dedham Vale Grassfed Beef is anything to go by, I would say that we have a lot of good things to look forward to!  I was very pleasantly surprised at just how good this grass-fed beef was!  The beef had been aged on the carcass for 42 days and had developed a funky flavour and a tender, yet substantial bite.  Surprisingly, there was no metallic after taste and the beef tasted beefier but not gamey.  In short, it was one of the best steak experiences I have at so far.  I would go so far to say that if I were to visit CUT the next time, this would be the steak I would go for.  The price of the steak is also quite reasonable especially when compared to the Kobe or Hokkaido beef steaks on offer.  A ribeye like the one in the photo would be selling for around $100 while the Japanese Wagyu is in the range of $200-$300!
Conclusion
I have been quite sceptical about grass-fed beef, but with my experience of the Red Poll Beef, I think I have just caught a glimpse of what the Angus McKay Highland beef is going to taste like!
Thanks to Chef Joshua Brown for his kind invitation to taste the beef!