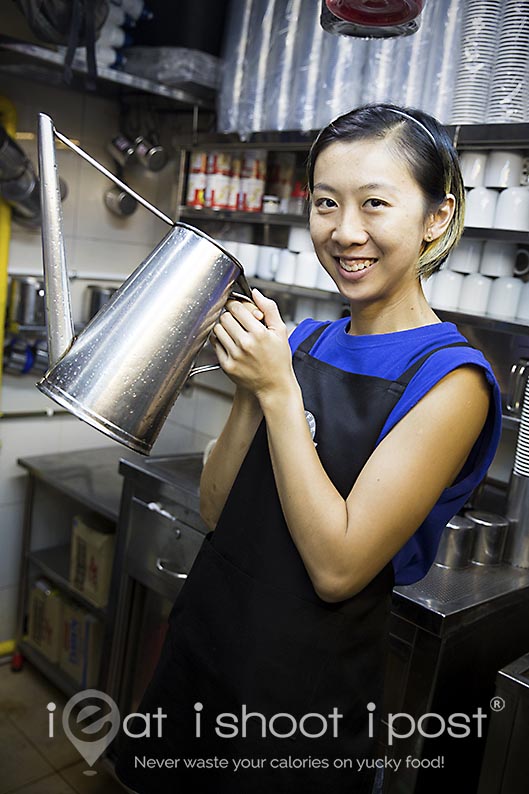 Ladies and gentlemen, I present to you the poster girl for the future of our kopi culture!
After searching high and low, I finally found Faye, a next generation kopi barista who, after spending years brewing espresso coffee has decided to return to her roots and take over the family kopi stall founded by her grandfather in 1935.
I asked her why she decided to do this and her answer will make many kopi aficionados feel justified.
"After tasting all the best coffees in the world, I have decided that what I actually enjoy most is the taste of our local kopi!"
For many years I have felt the same way but was a little sheepish about voicing my true feelings for fear that the coffee connoisseurs would just regard me as a mountain tortoise.  (Well, I really haven't tasted all the best coffees in the world, so I really can't be objective) But now I feel more confident in parading my Kopi Pride!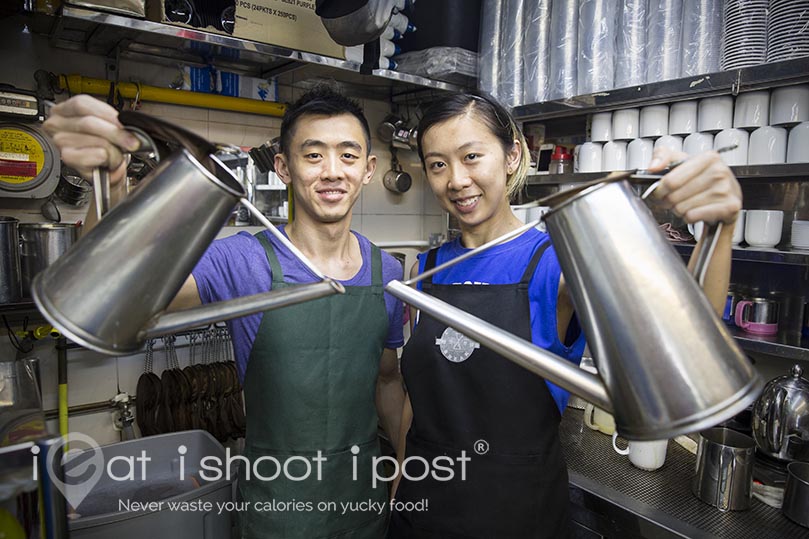 Together with her brother, Jack Sai, these two young graduates represent a new hope for our dying kopi culture.
Some might argue that our kopi culture is very much alive since we can now find a Ya Kun, Killiney or Toastbox in just about every shopping centre.  This is certainly a welcome trend compared to a decade ago.  But most of these mass market coffee chains are manned by workers who were just trained to brew a cup of kopi with the sock.  They are not artisans who have any say in what kind of beans to use and how they are roasted.    These old school kopi baristas, many of whom were Hainanese gentlemen who wore singlets and pajama pants at work were at one time found in most kopitiams (coffeeshops) across the island.  The most well known of whom was arguably "Ah Gong" of the Qiong Xin He coffeeshop which has since been renamed Killiney coffeeshop,  who had spent 54 years brewing kopi from a sock.  Killiney coffeeshop has since been renovated, so you won't get to see the nostalgic type of environment that Ah Gong was working in.  To get a sense of what coffeeshops were like in the past, one would have to visit Chin Mee Chin where bread is still baked fresh on the premises or Heap Seng Leong  where you can catch the  last remaining kopi Ah Gong who still wears pajama pants to work!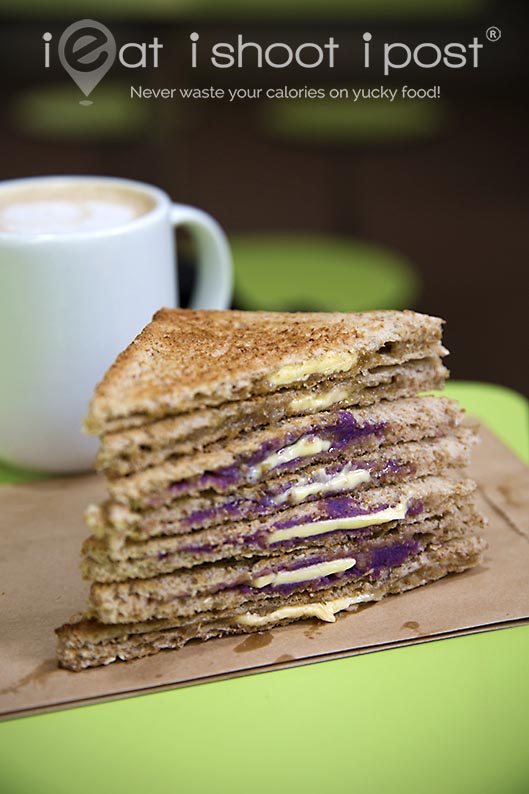 What I am hoping Jack and Faye will represent is the beginning of a kopi renaissance amongst a younger generation of Singaporeans who, having experienced the best of what the West has to offer, decide to return to our roots.  Judging from the number of cafes opening and closing across our island, it certainly seems that the novelty and demand for western style cafes is plateauing out. Perhaps, it is time for would be cafe owners to consider the opportunities presented by the Coffee Break model in re-branding our own Kopi culture and giving the cup of kopi a new lease of life?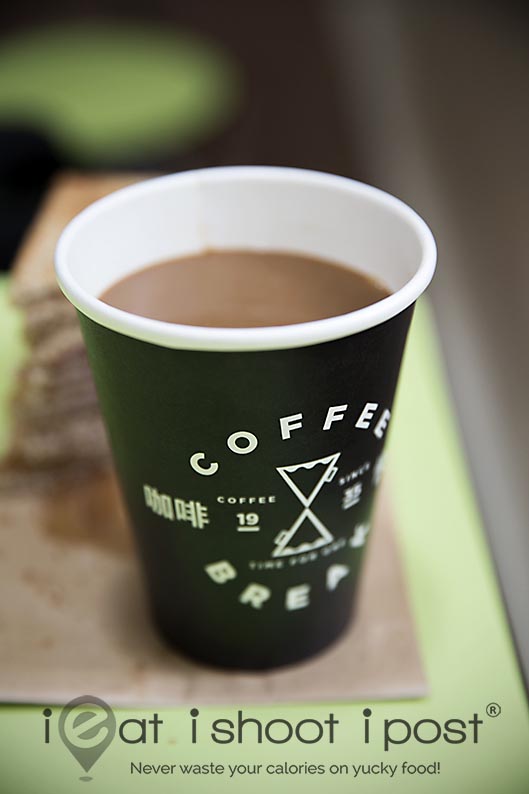 Coffee Break offers the traditional kopi as well as modern blends with an assortment of flavours all brewed with the sock.  Their traditional blend is very good.  The beans are sourced from several roasters who are still offering beans roasted with sugar and margarine. These several beans are blended and freshly ground to give their coffee its distinct flavour. What I like about traditional kopi is its smooth caramel flavour and bold aroma with little acidity which is exactly what a cup of kopi from Coffee Break delivers.  4.25/5.
It is a shame that they didn't go all the way to offer traditional bread toasted over a charcoal fire.  Instead, they use wholemeal bread which is toasted in an electric toaster.  They do make up for it by offering some homemade pastes like their black sesame paste which is very good and yam paste.  4/5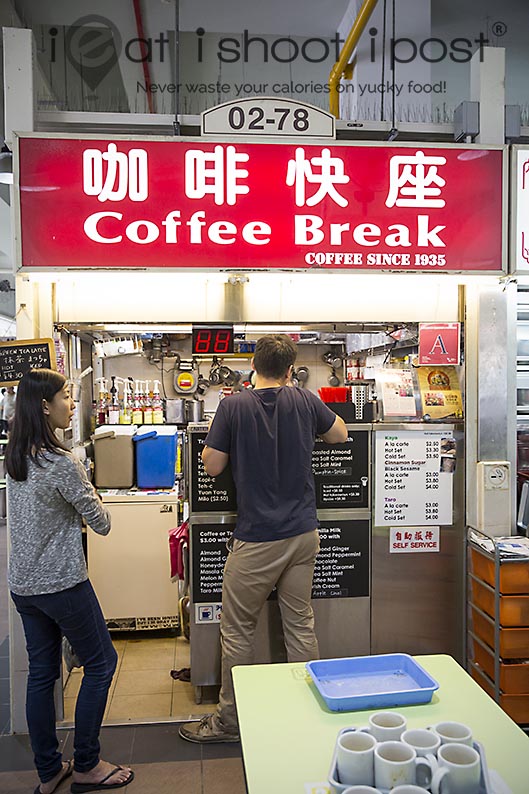 Conclusion
It is fantastic to see young Singaporeans who are passionate about brewing traditional sock kopi!  Such kopi sock artisans are a dying breed as most of our young people are going the way of the espresso.   Hopefully, more will notice their success and follow their lead.  The market is already saturated with cafes and mass market kopi chains when what we need are more places like Coffee Break which are serving artisanal kopi!