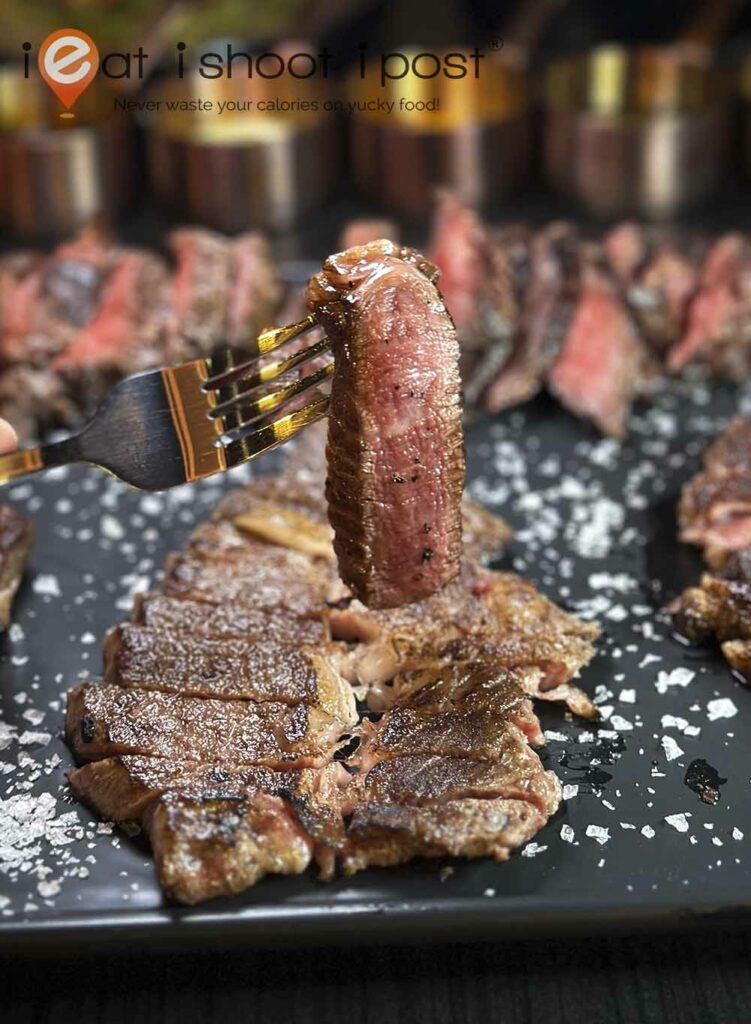 Good news for our readers who are looking for a Halal Wagyu steakhouse! You can now enjoy A5 Japanese Wagyu Steaks at this little steakhouse along Changi Road!
You might be wondering what makes Wagyu beef haram? Aside from the method of killing the animal, which must be done according to strict rules, is it because the cattle have been fed beer before slaughter?

The answer is NO.

Firstly, it is a common fallacy that Wagyu cattle are fed beer. The vast majority are not. The legend grew out from the old days before Wagyu became such a global phenomenon. I am sure videos like these which showed Japanese farmers with straw hats massaging their cattle and feeding them bottles of beer have something to do with it. I don't know about you, but to me, it looks like something straight out of some 60's American late-night satire!
But, even if the cattle drink alcohol, does it necessarily make the subsequent beef haram? According to this video, it shouldn't. But, the rules might vary from country to country, so best to check.
Anyway, Charr is one of Singapore's first (if not The first) Halal Certified Wagyu steakhouses. They import their Wagyu directly from a Halal-certified supplier in the Mie Prefecture, Japan. Being Halal certified also means that all the sauces used have to be halal. That means they need to use alcohol free substitutes for mirin and sake, which are commonly used in most Japanese cooking.
Main Dishes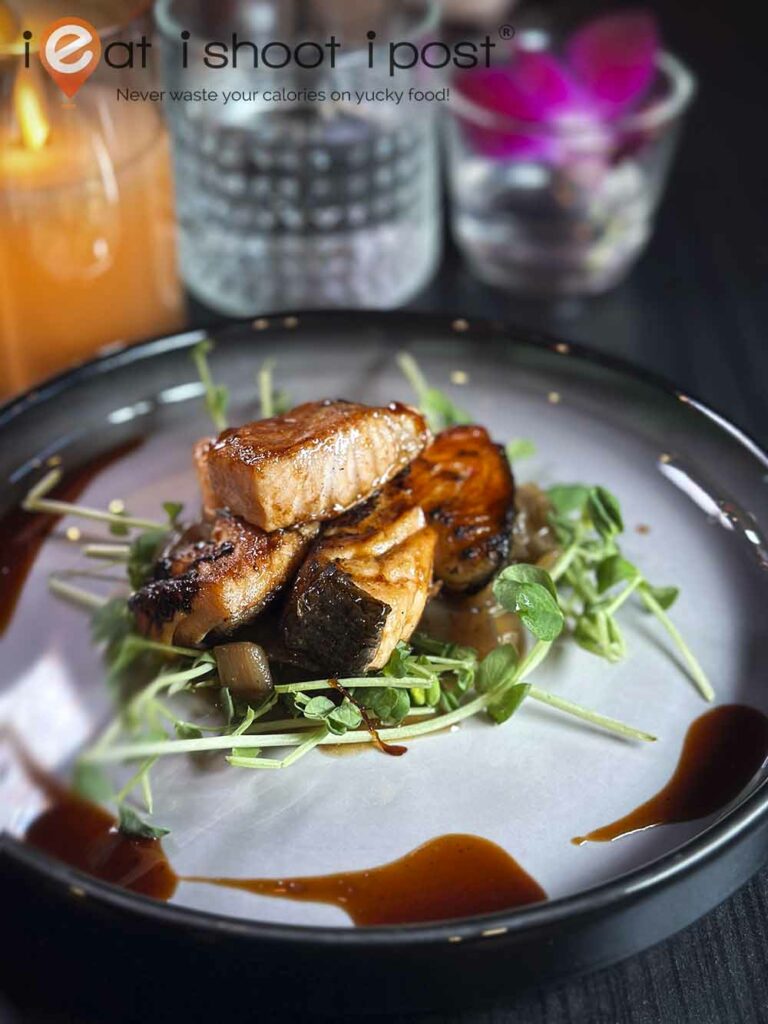 For starters, we had the Teriyaki Salmon Belly which was pretty good, despite the fact that the teriyaki sauce didn't contain mirin and sake, which are a major component of the sauce. The salmon was well charred and the sweet sauce was able to cut through the fats. 4/5
The quality of the wagyu was to be expected of Japanese A5 grade meat and the restaurant has kept the prices competitive. A 100g striploin costs $38 which is very good considering that retail prices of Japanese A5 striploin is already around $30/100g. However, with a name like Charr'd, I was expecting the steaks to be more well charred. It is not easy since they are only 100g, so its pretty thin. By the time you char the outside the inside would be well done. I was also disappointed that the steaks are cooked on a hot plate rather than over charcoal. Again, with a name like "Charr'd" that was what one would expect. Having said that, a Wagyu is still Wagyu and all you need to do is to make sure you don't overcook it and it would still taste good! 4/5
We were given the Heavenly Meat Board which has three Wagyu and a grass fed Hanger steak. The hanger steak is not bad but I felt 400g was a bit too generous for the platter. Would have been good if they reduced it to 200g and charge the meat Board $168 instead. Whatever it is, my advise is to order ala carte and go for the A5 striploin as you get the most bang for the buck. A5 Ribeye is more expensive and you have a piece of fat in the middle which you'd probably put aside.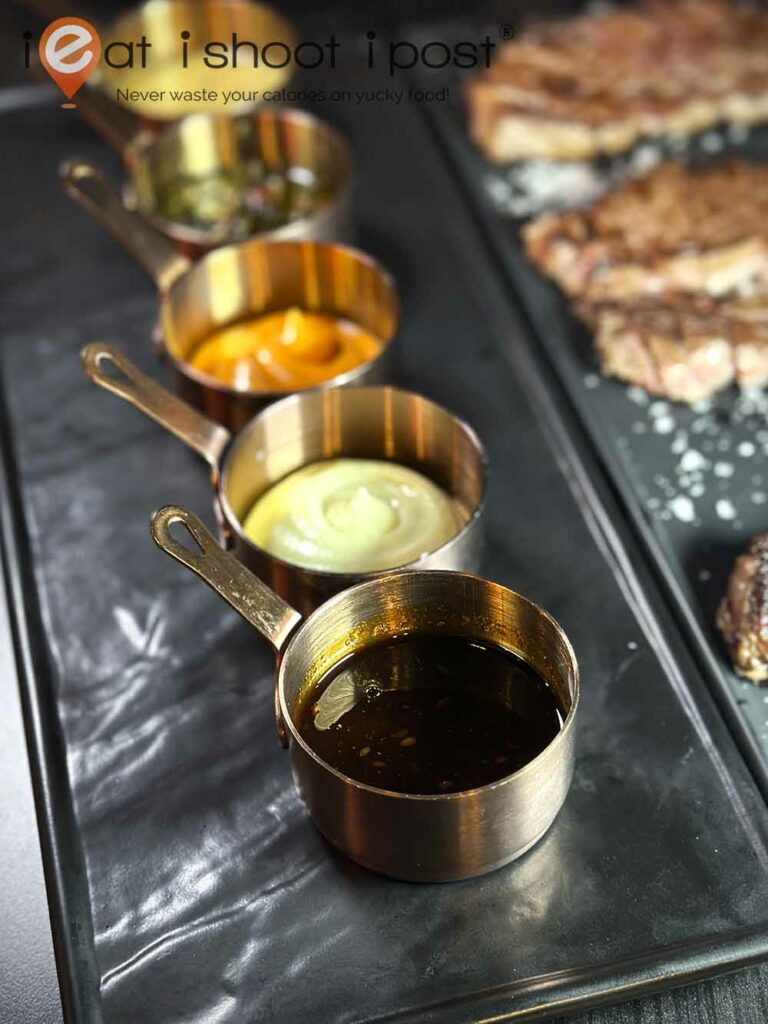 They have a range of sauces to choose from which includes bearnaise, chimichurri, ghost peppercorn mayo, wasabi mayo and yakiniku tare. You get to choose two for the heavenly meat platter and are around $4-$5 per serving. With Wagyu being so rich already, I thought the béarnaise and mayo sauces would not be good choices. I think the pickled wasabi stems or even plain wasabi would have been better than wasabi mayo.
Side Dishes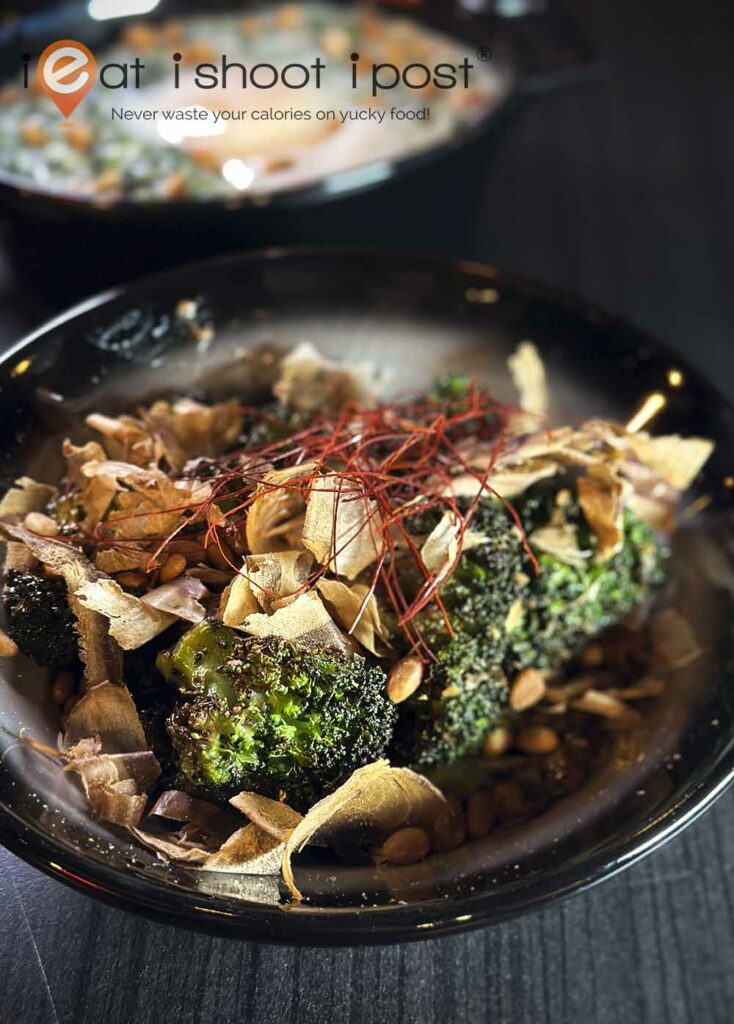 We were quite impressed with the side dishes. Their Charred Broccoli was well charred and tossed in a sweet and tangy sauce. 4.25/5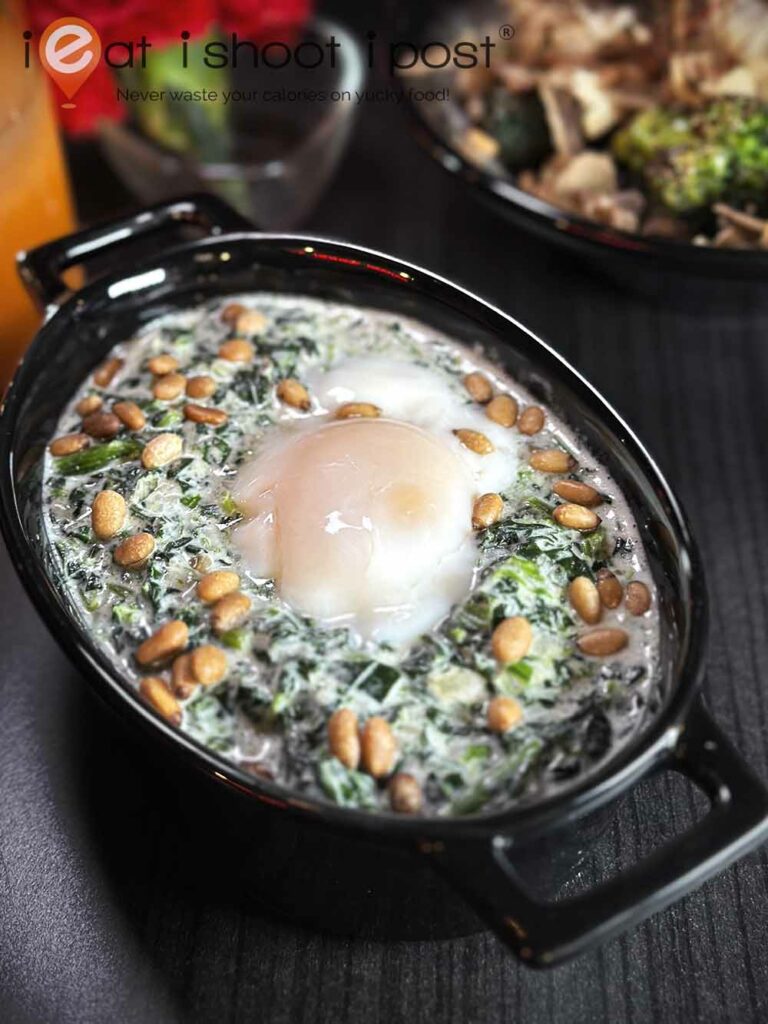 They added an onsen egg to the Creamed Spinach which was a nice touch. 4/5
Drinks and Dessert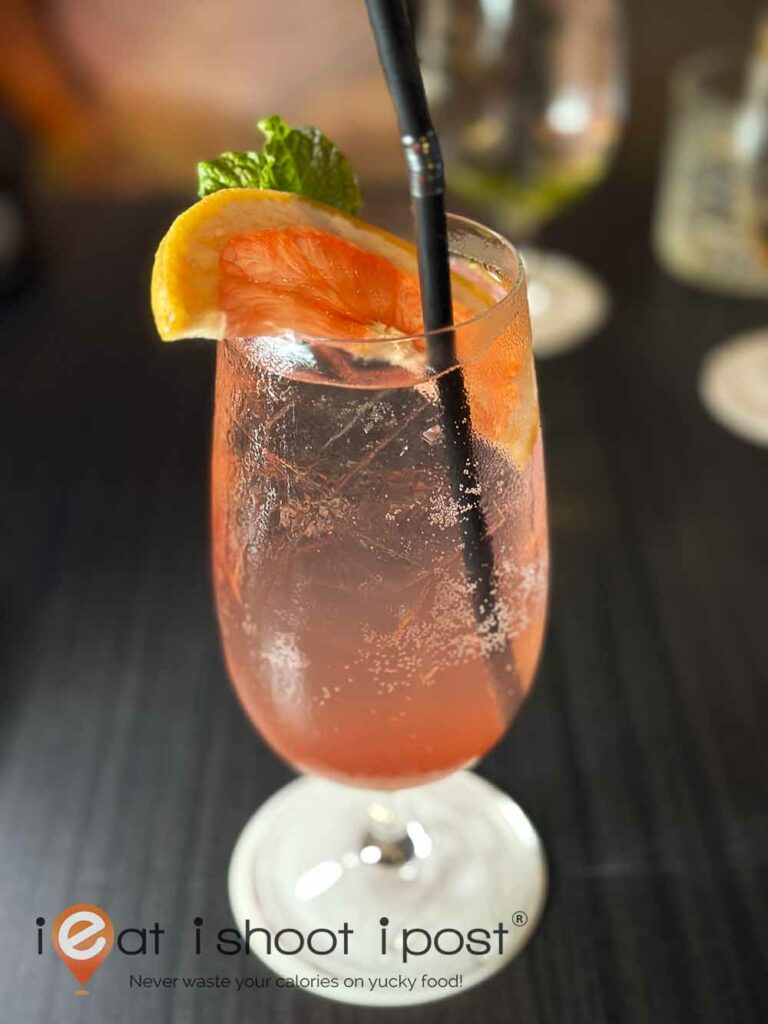 I wasn't all too impressed with what they call mocktails. Mind you, I don't drink, so I usually end up ordering mocktails whenever my wife have cocktails, so I know what mocktails are supposed to be like. These are more like fruit sodas. 3/5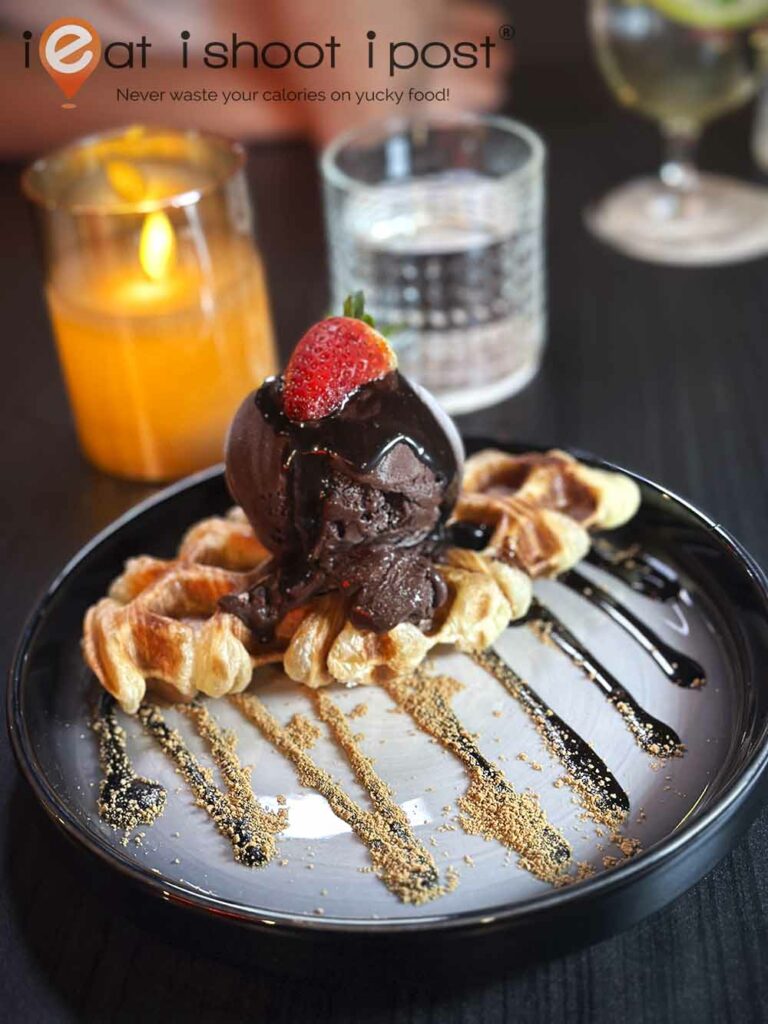 I am not sure what is the fascination with transforming croissants into all sorts of other stuff nowadays. There is a good reason why a croissant is a croissant and a waffle, a waffle. Putting a croissant into a waffle iron and calling it a Croffle, doesn't do it for me. 3/5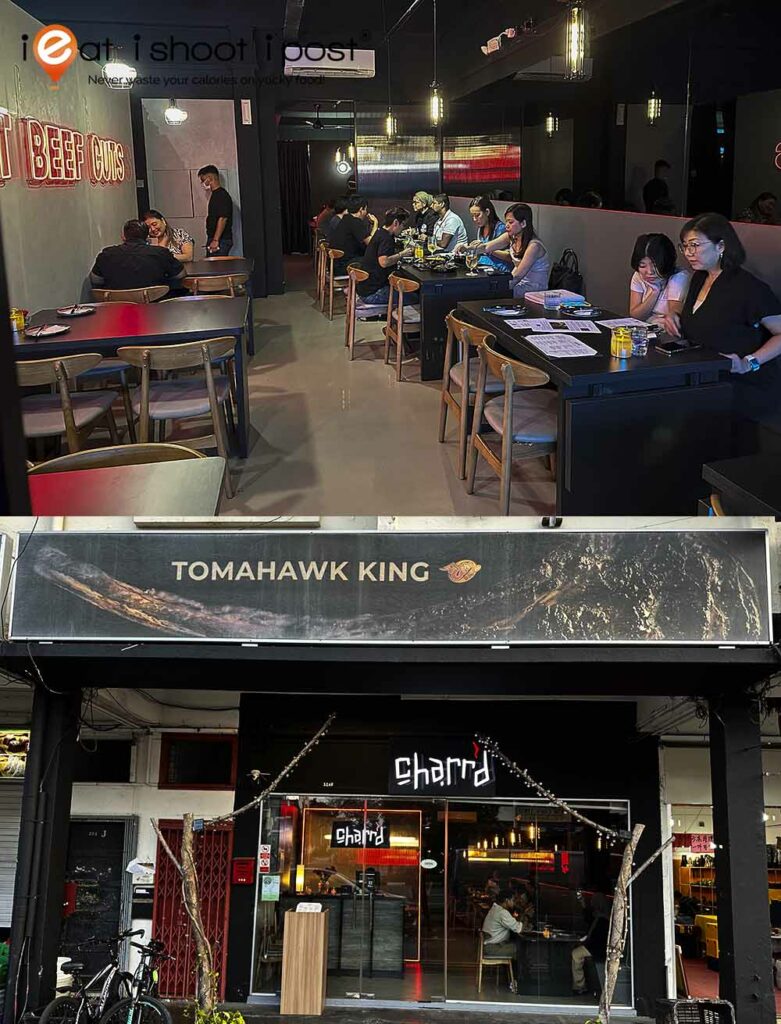 Conclusion
A decent place to get your Wagyu steak fix especially if you are after Halal Wagyu steaks. A bit disappointing that the steaks are not charred over charcoal as its name suggests. However, the prices are quite competitive and the sides are pretty good.
Disclosure: This was a media tasting. The meal was hosted with no obligation to write a review.