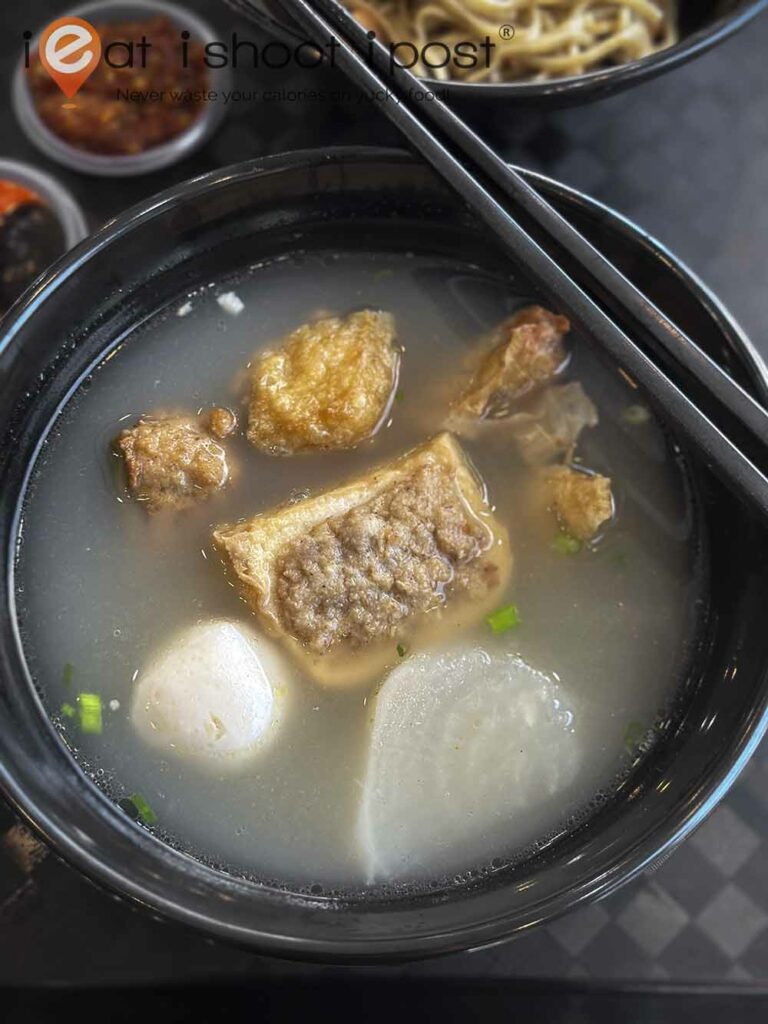 I have been following Chef Pang's Yong Tau Foo shop closely since he first opened his Hakka Yong Tau Foo stall at the now-defunct Xin Tekka food court. After a short stint there, he relocated to the Sprout Hub where I finally managed to sit down with him to understand the philosophy behind his stall. Since then, he has opened another stall for a short time at the ARC 380 food court, moved his main stall to Blk 131 Jalan Bukit Merah, and finally to the present location just across the entrance to the carpark of ABC Brickworks Food Centre.
It hasn't been an easy journey for the ex-Antoinette owner-chef, but after many trials and setbacks, it does seem that Chef Pang has finally found a place to settle down for good. The whole Heritage Hakka project has been a tremendous challenge for him since he started a pop-up stall in 2018 while he was still running Antoinette. Looking back, he tells me that aside from the issues with finding a good location, he has had to adjust the prices of his offerings so that it caters to the expectation of the general public.
When he first started, he wanted to present something that his grandma would have served at home. But, it wasn't realistic as the majority of Singaporeans are very price sensitive. As a result, he had to make adjustments to the recipe in order to come up with something that more Singaporeans would be willing to pay for.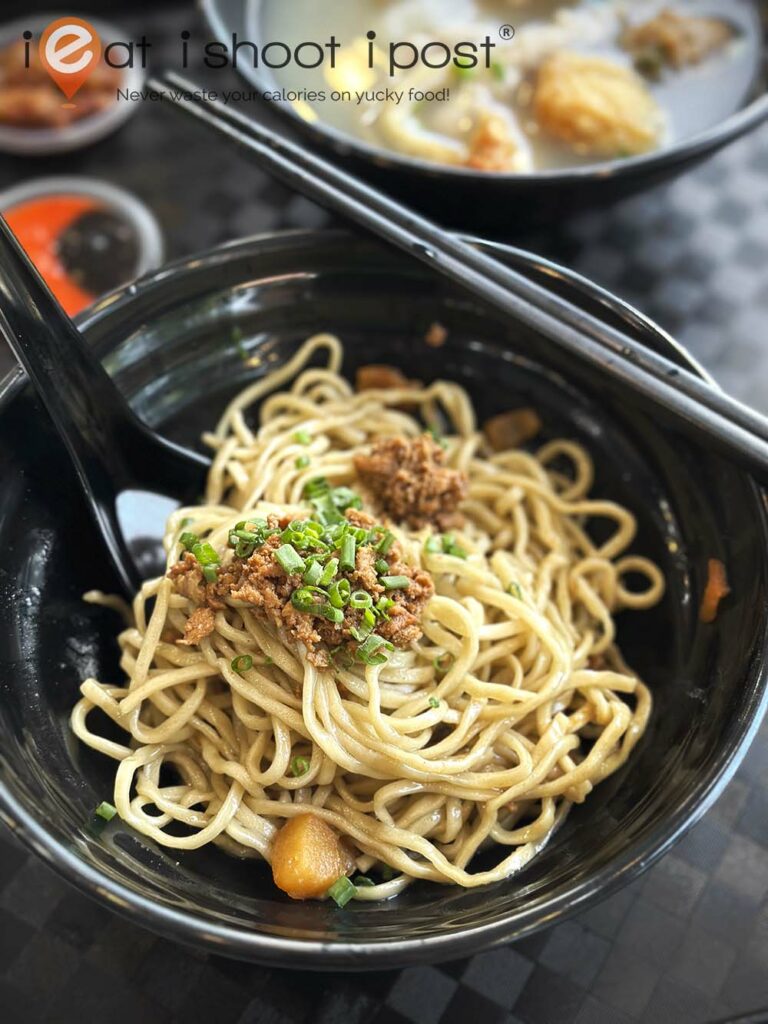 There are several reasons why you should visit this stall. One of them is the Hakka noodles. You won't be able to find this style of noodles elsewhere because it is Chef Pang's own recipe. The noodles are doughy and chewy and soak up the meat sauce beautifully. The Yong Tau Foo is stuffed with a minced pork filling which is seasoned with sole fish powder and dried shrimp for the umami punch. Chef used to use Mui Heong (salted mackerel) which was what his grandma used, but he switched to sole fish powder in order to keep prices competitive. The meat stuffing is still very tasty and personally, I prefer the more traditional meat stuffing to the fish paste stuffing for Yong Tau Foo. 4.25/5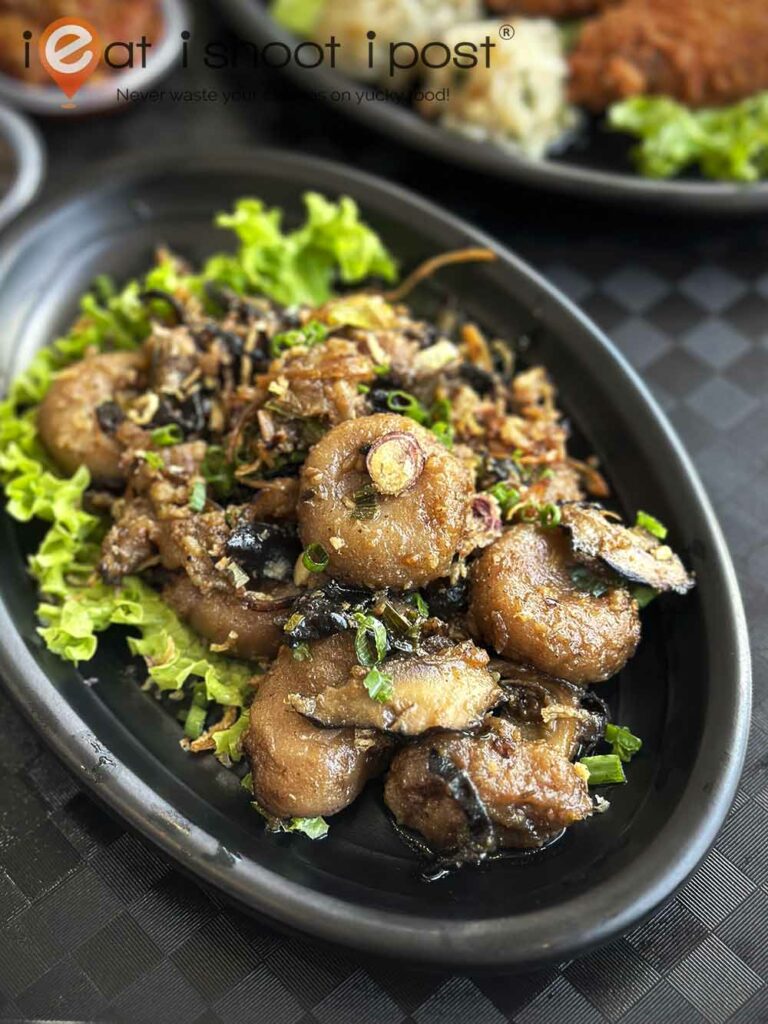 Another reason to visit is for their Yam Abacus. I have been enjoying Chef Pang's rendition of this traditional Hakka dish ever since he introduced it in Antoinette in 2017. At the time, he was selling his "Hakka Gnocchi" for $24! But of course, it was a fancier version of the traditional yam abacus. He makes his yam dumplings with 80% Thai yams. Chef managed to lock in that delectable yam flavor by using 80% Thai yam to make the "abacus seeds" and tossing them with shitake mushrooms and dried seafood to make a tasty side dish. 4.5/5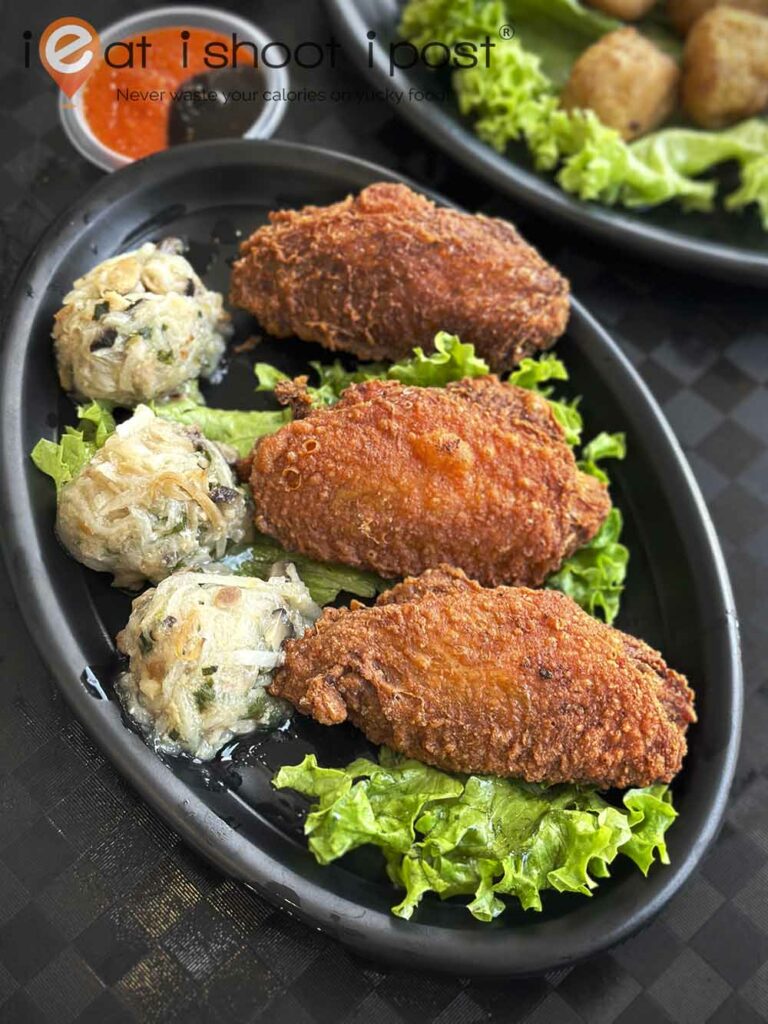 Other side dishes worth mentioning are their Hakka fried Mid Wings. They are an improvement from the last time I ate them at Sprout Hub. Now Chef uses mid wings instead of the whole wing. The wings are marinated with red fermented bean curd to give it that savory flavor. They are crisp on the outside and juicy on the inside. 4/5
The Hakka Radish Balls are something new to me. They remind me of the deep-fried radish balls my mom used to make, but these are steamed instead. They are nice, but not something I would order again. However, they would be a real treat for those who have grown up eating them! 3.5/5 Kudos to Chef for trying to resurrect heritage dishes.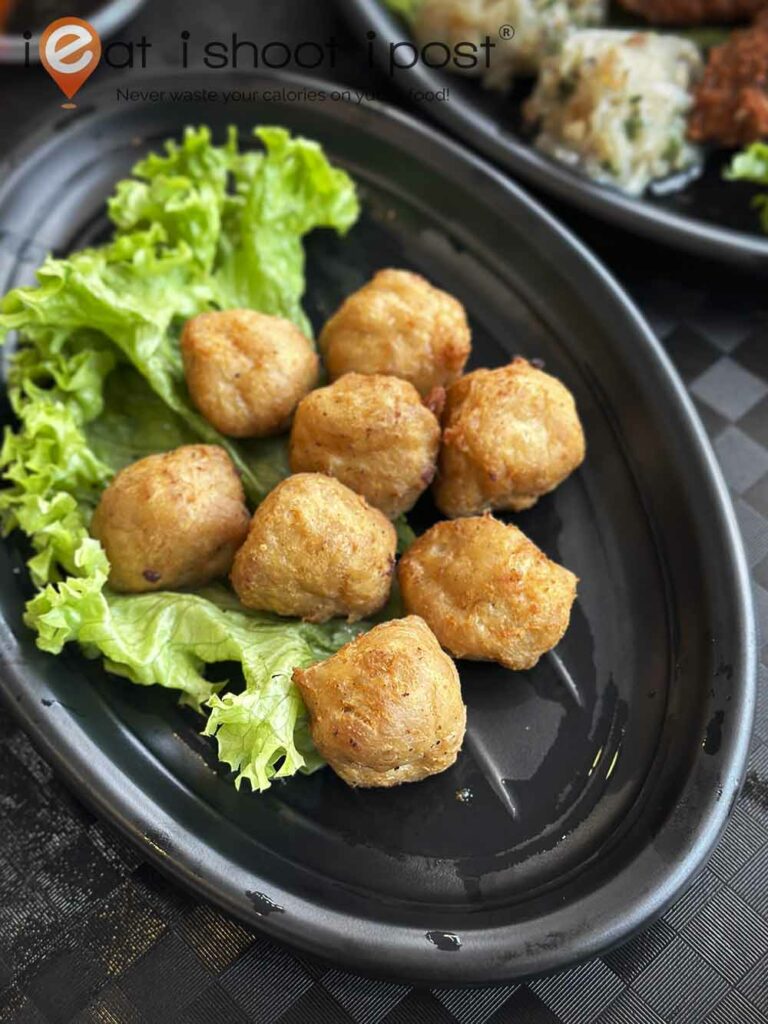 The meatballs actually taste very good but I feel Chef needs to work on their presentation. They are about the size of a grape and the crust is rather plain and uninteresting. They are essentially the same meat stuffing used for the yong tau foo but deep fried. 3.5/5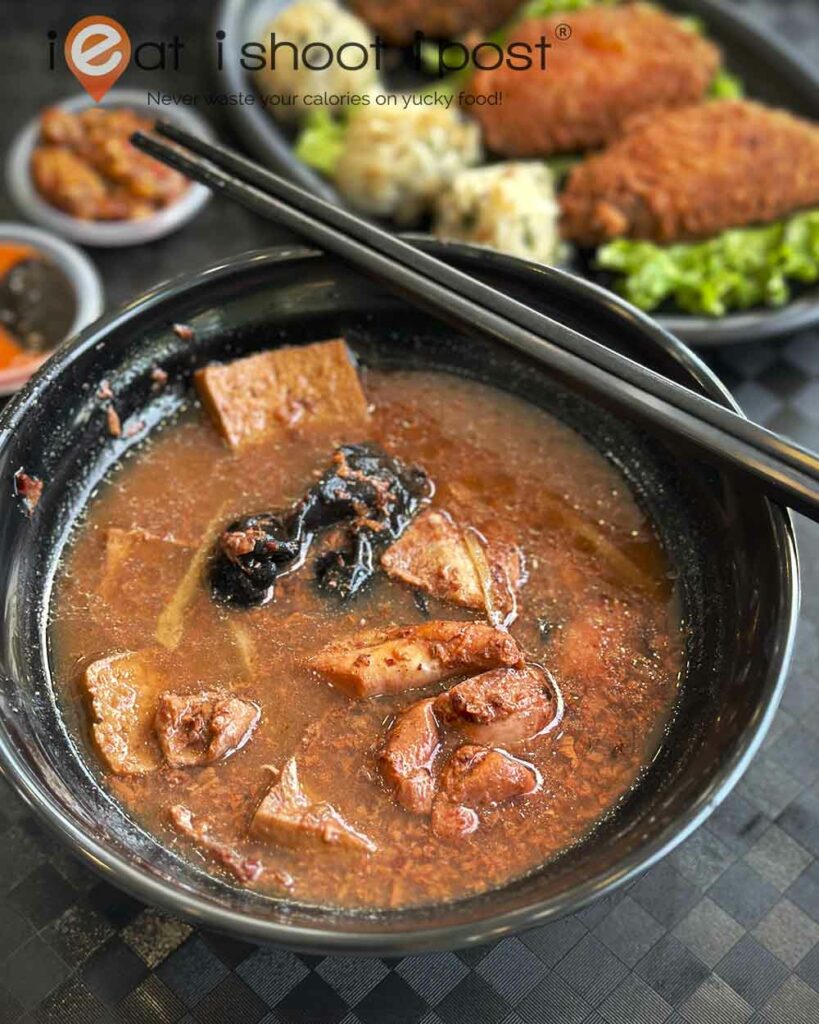 You can find the iconic Hakka dish of Red Wine Chicken at the stall. This is something which I think will appeal to those who grew up eating the dish. I have had it a few times, but I can't say it is something I look forward to eating. As far as Red Wine Chicken goes, I think it's ok but not the best I have come across. 3.5/5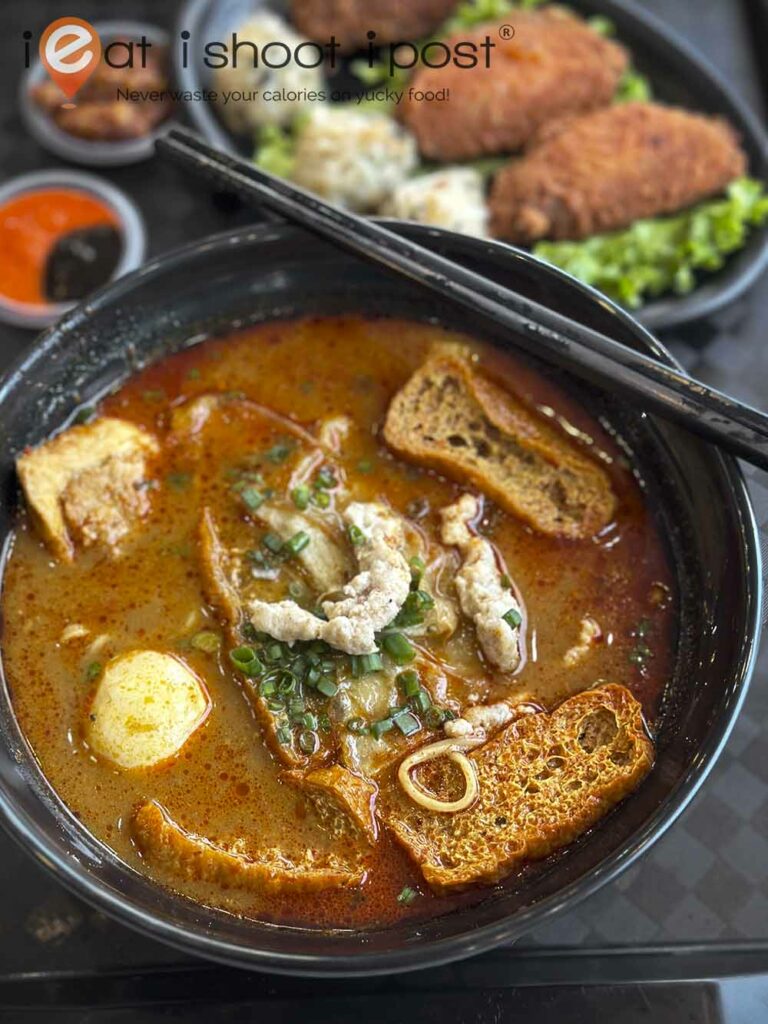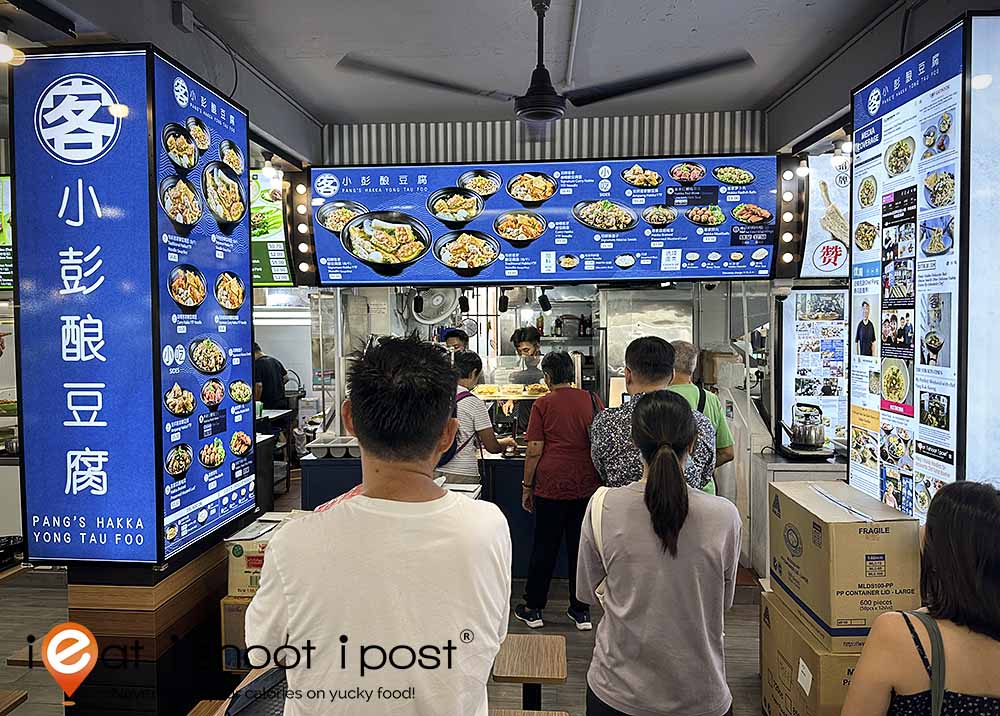 Conclusion
I think Chef Pang has finally found a place to settle down. This stall is more than just another Yong Tau Foo stall but a place to find authentic Hakka dishes. I would highly recommend the Yam Abacus and their Yong Tau Foo set. They are slightly more pricey than those that you find at the hawker centre, but I think the prices are justified by the quality of the food.