Stall Closed!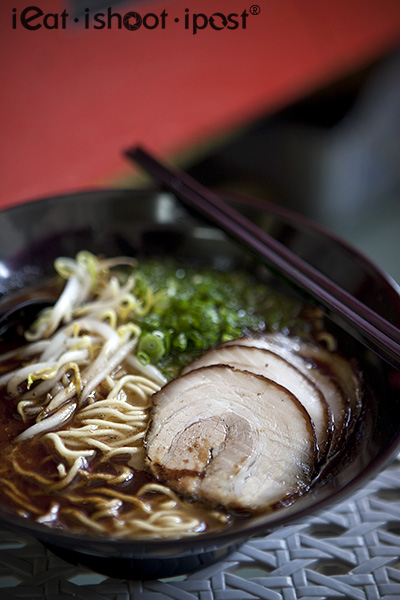 Ramen Soup $5.50
I have always wondered why a bowl of Ramen costs $15 while a bowl of Bak Chor Mee soup costs $3. Well, the long and short of it is, we've been had. Yes, hoodwinked, taken for a ride, kena ketoked, pian gao gong gong.
Don't believe me? Go down to Tanjung Pagar and order a bowl of Ramen for $5.50. Ok it can't beat the really good ones that use Kurobuta pork cheeks…… yet, but for $5.50, it's giving some Ramen-yas a run for their money.
Ramen Dry $3.50
Run by two brothers, this shop selling Ramen goes by the very schizophrenic name of Homebaked Dough. Yes, you heard right. Just like you heard right when I told you a bowl of Ramen costs $5.50. But you didn't hear wrong when I tell you that this is pretty decent bowl of ramen that is made by two young guys who started off making Ramen from a recipe they downloaded from the internet. But take another step back. They didn't start with making Ramen. They started by baking cookies and selling them on their online website. Then one day they decided they wanted to sell Ramen too. And hey presto, homebaked dough Ramen. It might sound crazy at first, but hey, wait a minute, this sort of quirky name might just be something a quirky Japanese could have come up with after using an online translator to translate whatever Japanese stall name into English.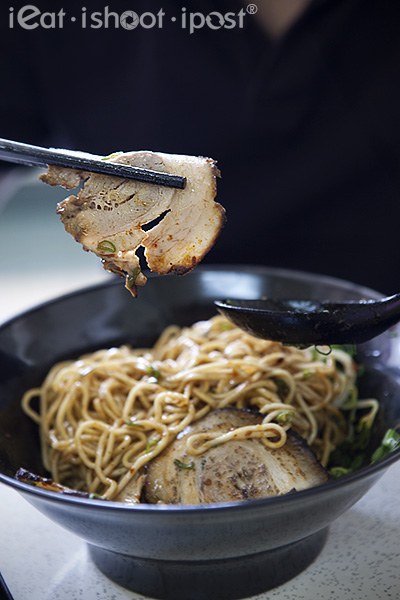 So what do you get for $5.50? In short, a bowl of Ramen for one third the price. The noodles are sourced from a local supplier and is actually quite good. It isn't the curly springy Hokkaido type ramen but more like the toothy Kyushu style ramen of Ippudo. The charshu is decent. Not quite as tender and flavoursome as I like, but you do get a couple of slices of rolled pork belly which is nicely torched if you order the dry version. The soup is robust and has a nice viscosity that comes from subjecting pork bones to a rolling boil for hours. It did have something in it which I thought wasn't quite Japanese but I can't put my finger on it. Nonetheless, the bottom line is this. If you are hankering for a bowl of Ramen and only have $10 in your pocket, you could satisfy that craving here and still have change for a drink and dessert, and still have change after that! 4/5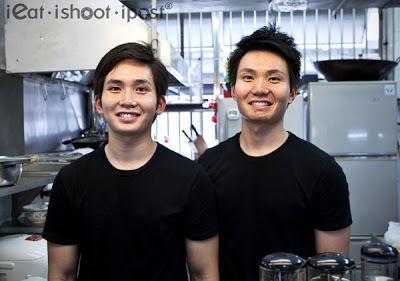 The other dish which I would recommend, two dishes really for all you girls out there, are the two hawker hunks who run the stall. Yes they are young and they wear tight black T shirts to show off their biceps, but more than that, these guys can cook and bake cookies! Last I heard, they are still single.
Conclusion
Yes hawker priced Ramen has hit our coffeeshops! Hopefully we shall see more and more places where we can enjoy a hearty bowl of Ramen for cheap!