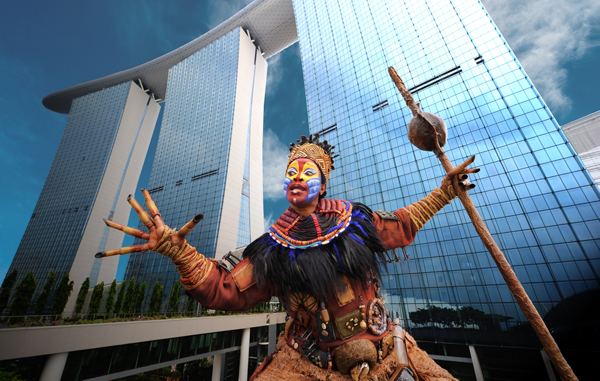 Photo courtesy of MBS
When I first watched The Lion King Musical in London 8 years ago, my first thought after the show was that I must somehow bring my wife to watch the spectacle.
Fast forward 8 years and thanks to the development of the integrated resorts, I have the opportunity of not only bringing my wife but my two kids to watch the musical. They loved it and couldn't stop talking about it after the show. We are all of course familiar with the story line, characters and the songs. The kids were humming along the familiar tunes of "Hakuna Matata" and "Can you feel the love tonight" and the African themed music was just fantastic even for a non-musically inclined person like myself.
My wife on the other hand is very musically inclined and this is what she had to say:
The Lion King was a delightful surprise! I thought it was going to an evening more for the kids as theywere both born after this hand-drawn Disney cartoon hit the big screens in 1994. But it turned out to be much much more!

The fun started from the first notes of "Na che ben ya…" and doesn't end until the last "Boom" when all the theatre lights went out. There were a number of original songs in the musical which were nice but I'm glad that they kept the favourites like "Can you feel the love tonight" and "Hakuna Matata" so we could all hum along.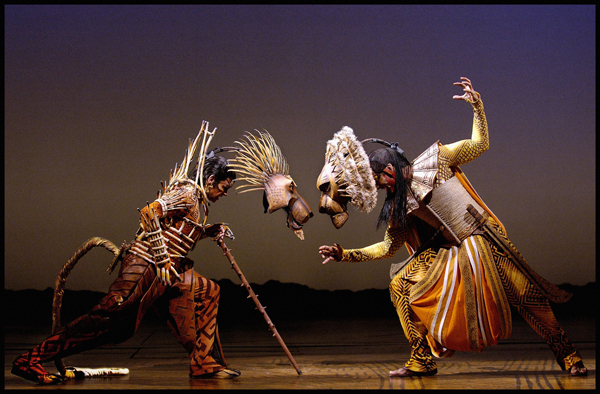 Scar vs Mufasa:Photo courtesy of MBS

The talented cast skillfully retold the timeless story of a Father's sacrifical love and a man (or lion) who came to terms with his past to move on, not just through theiracting and singing but skillful manipulation of their character puppets as well. I was impressed by the set designers'ability to recreate the stampede and Mufasa's reappearance in the night sky.
It was all up a wonderful evening as we soaked in the beautiful sets, clever costumes, familiar punch lines and magic of Sir Elton John and Tim Rice's music.The standing ovation given by the audience (myself included) is well deserved. Only advice I have is – if you are planning to buy a drink (soft drinks $5) during the interval, head out to the counter at the far right where most people don't know about.
The highlight for me were the costumes that the stage actors adorn. It's amazing how they managed to dress the actors up with costumes that enabled you to focus on the character rather than the actor and we are not talking gorilla suits here. The concept is more like how a ventriloquist animates and gives life to a wooden puppet, except it has been given a 21st century twist.
If you are planning a day out for the family, there are many restaurants in MBS are offering special pre-show dinner sets that you can order before the evening show at 8pm. I brought the kids to db Bistro Moderne as it is conveniently located just opposite the theatre. It was an opportunity for me to enjoy the legendary DB burger.
The DB burger is one of those things which I have on my list of things to try before I die. This was the burger that started the whole gourmet burger trend in the US when it was first launched in 2001. Yes Daniel Bouloud is a French chef and the burger is an American thing, which is kinda apt I guess when you consider that db Bistro is more like an American style French Bistro serving French food in a way that it might appeal to American tastebuds. So don't expect petite portions here. Americans like big portions and when it comes to burgers, they really like them BIG.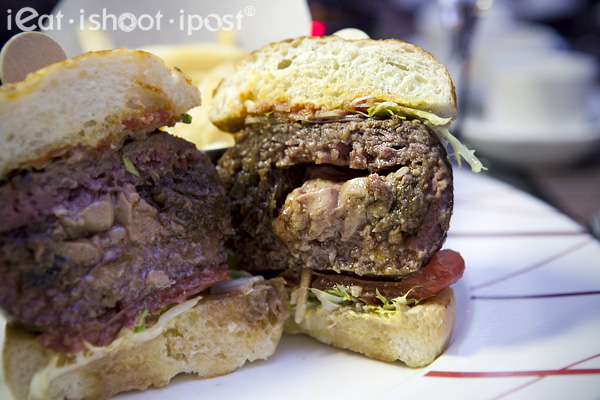 Foie Gras oozing out of the beef pattie
So, how would a French chef make a hamburger? Well, you start with a pattie made from a mix of sirloin and chuck, stuff it with foie gras and braised short ribs and serve it in a parmesan cheese grilled bun. The pattie is so big that the burger comes already cut into half so that you can actually bite into it.
The burger certainly looks impressive but honestly, I wasn't really bowled over by the taste. I liked the addition of the braised short ribs and the foie gras, but it might have tasted better if they sauteed the foie gras and added it on top of the pattie rather than using it as as stuffing. Same goes with the braised short ribs. That said, it is still a burger worth trying so that you can at least said that you did. 4/5
If you like to try something decidedly French, then you should go for the Coq Au Vin. The sauce is thick and sticky and very flavourful. Each plate comes with one thigh and two drumsticks which makes you wonder what happened to the other thigh? I think the reason there is an extra drum is because one is just not enough for the American appetite. The dish comes with a side ofSp?tzle which aren't really French but went very well as a pasta to accompany that wonderful sauce. 4.25/5
If you have a sweet tooth, then the desserts will put a smile on your face, especially if you have ordered the profiteroles. These chocolate crusted choux pastries are filled with mashmallows and coffee ice cream and doused with a generous chocolate sauce. As usual, the portions are quite large, so its quite good value at $15 considering that this is a "Celebrity" restaurant. 4.5/5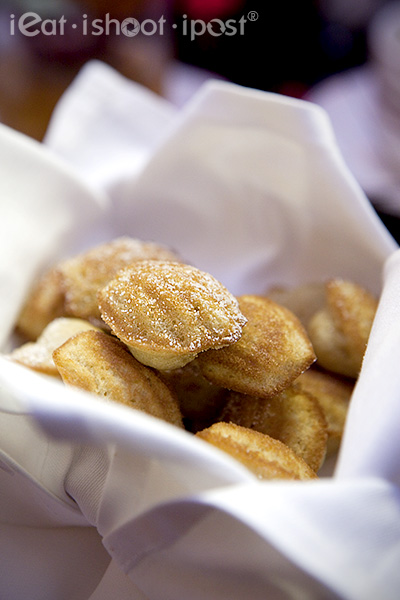 Warm Madeleines $8 (for Table to Share)
The warm Madeleines are a delightful addition for the table to share and are especially good for soaking up the extra chocolate sauce and ice cream!
Conclusion
This is the second time I am watching The Lion King and I still go away amazed at the costumes and the wonderful music. It's a great day out for the whole family I highly recommend it especially for those who don't think they will enjoy musicals (like me previously). This one will make you a convert!
There are many dinner options around MBS ranging from Rasapura food court just downstairs from the theatre and the various restaurants around MBS which are offering pre-dinner menus. The db Bistro is offering a $58++ 3 course set menu from 5.30pm to 7.00pm to cater for theatre goers. You of course go ala carte if you are after the DB Burger and other dishes like the duck confit and the cote de beouf which I am told, is excellent. I am glad that they have positioned this Celebrity restaurant as a mid ranged Bistro as it is more accessible for casual dining. However, I felt that I haven't really experienced Daniel Boulud at his best. That said, if you just walked into this Bistro, not knowing it is a "Daniel Boulud" restaurant, you would be very pleasantly surprised.
The Lion King website can be found here
This was a media review