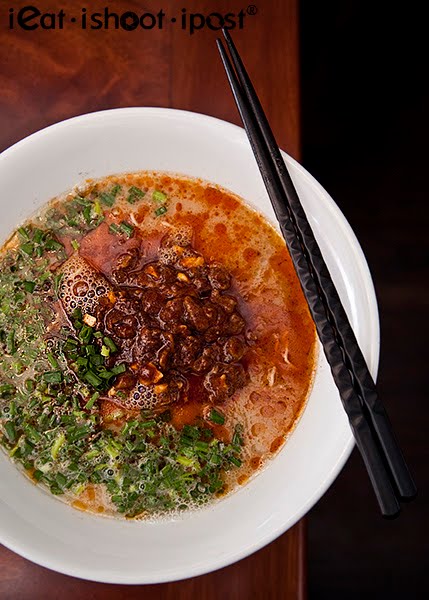 Ippudo Karakamen – Spicy Tonkotsu Ramen served with minced pork and spicy paste $17
The top ten list would not be complete without the inclusion of Ippudo, the world's largest Ramen chain of restaurants. Imagine eating Tai Hwa Bak Chor Mee in a chic airconditioned setting and you will understand what Ippudo is all about. You see, Ramen is the Japanese equivalent of our hawker food. The Ramen-yas in Japan are typically one man operated shops with a small counter and a line of "salaryman" lining up to fill their tummies after a hard day's labour. The floor is often covered with grease and everything is dirty. For us in Singapore, that's just a hawker centre, but in Japan it is one of the cheapest ways to eat out compared with the other stuff like sushi or tempura.
Imagine you are a lady eating in a canteen in Defu Industrial Estate and you get quite an accurate picture of a Ramen-ya of the past (many Ramen-yas are still like this). But the founder of Ippudo, Shigemi Kawahara changed all that when he decided to set up a Ramen shop that would appeal to the ladies and create a Ramen for the middle class. Now, when are we going to have the Singapore equivalent of Shigemi Kawahara to bring our Bak Chor Mee to a higher level? I believe that the Japanese would lap up our Laksa if we opened up a Singaporean Laksa Ramen in Japan, don't you? Or do we need to wait for another smart Japanese entrepreneur to take our Laksa recipe and make "Raksa Singaporu" out of it, just like what they did with Pork Tonkatsu (Pork Schnitzel, Austria) and Ramen (La Mian, China)?

Shiomaru Classic – Original recipe tonkotsu soup served with thin noodles $17
Ippudo serves Hakata Style Ramen. Hakata is a district in Fukuoka City in Kyushu which is at the Southenmost part of Japan. The Tonkotsu style soup which we love here is characteristic of Kyushu style ramen. However, Hakata Ramen is served with a thin, whitish noodle rather than the yellow curly noodles and the Shiomaru Classic is your archetypal Hakata Style Ramen.
Ippudo is famous for two different styles of Ramen, the Shiomaru and Akamaru. The Shiomaru is the one that we all recognize and it is basically a Tonkotsu base soup where the pork bones have been on the rolling boil for 15 hours. If someone told you that the soup is made from just pork bones, don't believe it. There are many other parts of the pig that has lots of collagen and fats like the head which plays a big role in making the soup creamy. You wouldn't want to see the vat of soup base, just enjoy it.
If you like curly yellow noodles, you are going to be disappointed because Hakata style noodles is served with thin straight noodles. And don't even think of requesting yellow curly noodles with your Shiomaru because your request will be turned down. It is not like ordering Mee Pok (thin flat) or Mee Kia (thin round) noodles with soup. The Japanese are extremely meticulous about such things and each bowl of Ramen has been designed precisely to optimize the Ramen experience. They will not even let you Tar Pau (doggy bag) back in your own container!
It is interesting to note that Ippudo's noodles are all made in Singapore. But it is not done in just any factory. Ippudo has set up their own factory here to make the noodles and the soup to their exacting specifications. They make five different types of noodles here which range from thin to thick, straight to curly, white to yellow. These noodles are all paired with different styles of soup. For the Hakata style Ramen, the thin straight noodles accompany the soup because, it is believed that with thick broths, the soup is able to cling to the noodles without the need for the curls.
At Ippudo, they tend to under cook their noodles by default as they like it katame (固め -al dente) and the noodles quickly become tender if you take too long to eat it. If you like your noodles more tender you can request for it to be futsu (普通 – regular), or if you need to have it like chicken noodle soup, you can ask for yawarakame (soft). Japanese eat their ramen real quick wheras we like to eat it slowly here. That means that the noodles get soaked in the soup for a longer time resulting in softer noodles. At Ippudo, what they do is to serve you a small amount of noodles first and then you have the option to top up the noodles for an extra $2. This way, the noodles will not get too soft. The soup does not come free as is usually the case at our hawker centres.
The soup base for the Shiomaru is delicate and fragrant without being too kotteri (heavy). Some people might find it a bit thin and not creamy enough. If you like soup with a bit of body, you should order the Miso Kyushu Tonkotsu instead. That one would be equivalent to a heavy laksa, the Tonkotsu soup is more like our Fish Head Bee Hoon soup.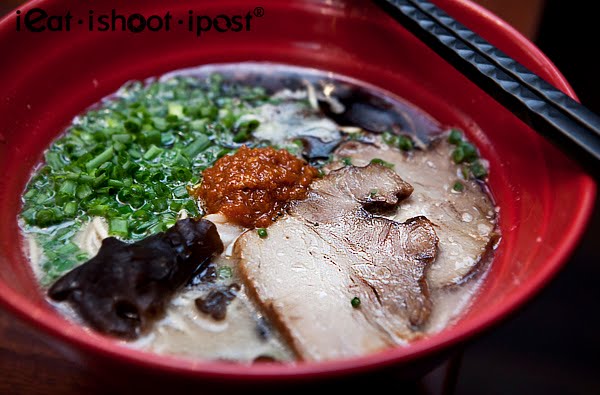 Akamaru Modern $15
The one that I would recommend is their Akamaru Modern which is the Shiomaru with a dollop of specially prepared miso paste called Umami-dama and a fragrant black garlic oil. The Umami-dama literally means "flavour ball" and if you taste it on its own, you will know why. This fragrant black garlic oil is starting to make its appearance here, made popular by the newly opened Nantsuttei. Have a taste of the Umami-dama and a sniff of the garlic oil before you mix them all up. These two extra ingredients basically adds the Tenor and Bass to the Soprano and creates a complexity of flavours which I really enjoy.
Akamaru Modern also comes with a slightly thicker Ramen and Charshu Pork Belly instead of Charshu Pork Loin as is the case for Shiomaru. So if you look at the difference between the two, I would say that Shiomaru is their female version and Akamaru, the male version. One is more delicate, the other more robust. I prefer Akamaru because of the many layers of flavour but it can be a bit overwhelming if you are after a light lunch.
Shiomaru: Noodles 4.25/5, Soup 4/5, Charshu 4.25/5
Akamaru: Noodles 4.25/5, Soup 4.5/5, Charshu 4.25/5
Conclusion
Ippudo is controversial. There are many who love it and some who have used terms like "overrated" and "disappointing" when describing their Ippudo experience. I think that if their Ramen were priced at $13 per bowl and if Shigemi Kawahara weren't three times Ramen Champion and the Ramen King, most people won't be complaining. I don't think being more expensive is the problem. I think the problem is that Singaporeans want an Ippudo Ramen that is exactly the same as what we can get in Japan and anything less is a disappointment. From what I know of the history of Ippudo, a man like Shigemi Kawahara will not satisfied until he is the undisputed King of Ramen in Singapore as well so there should be better things ahead!