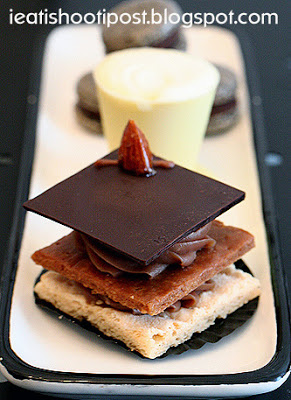 I have been hooked on Menu Degustation since my delightful experience at Iggy's last year. The great thing about a Degustation type meal is that you don't get overly full and yet your tastebuds are contented after the meal. Great for aging people like me but maybe not for younger people with insatiable appetites where Buffets are the way to go.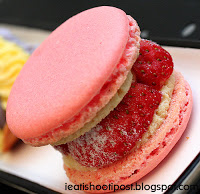 When it comes to desserts, the only way so far to try a variety of desserts in small portions is to eat at a buffet. But how many of us would actually go for a buffet just for the desserts? Well I think I might have found the Holy Grail of all dessert lovers — Dessert Degustation!
This little homegrown store tucked in the 3rd floor of Katong Mall makes all sorts of teeny weeny dessert creations ranging from chocolates, macaroons, cakes etc all beautifully presented in bite sized portions! Great idea right? Now, why didn't I think of that?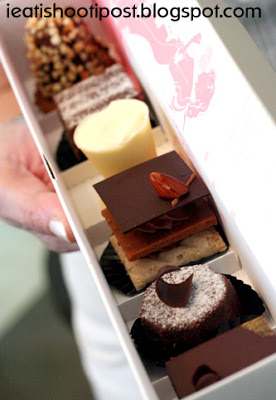 I sampled six of the various items and especially liked "Between the Sheets"(top pic) which is praline sandwiched between sheets of dark chocolate sitting on a meringue base. Another nice one is the "Cupid" which is cheese mousse with kirsch in white chocolate cups. The other one that stands out is the "Sweet Expectations" which is a Strawberries and Cream Macaroon "burger".
You might be wondering why the name Gobi Desserts? It so happened that one of the owners, AiMing had a vision (or was it delusion caused by dehydration?) of making these cute desserts while hiking in the middle of the Gobi Desert! Gobi Dessert, Gobi Desert get it? It's true! No kidding!
Conclusion
Again, I think this is a great idea! They also do baby's first month cakes where you can have the name of your baby spelt out on tiny cakes! How's that for something novel? You can choose any 6 items for $10.90 and 12 for $19.90. Not exactly cheap, but worth that initial "Wow" factor especially for that extra special significant other! Wink Wink.