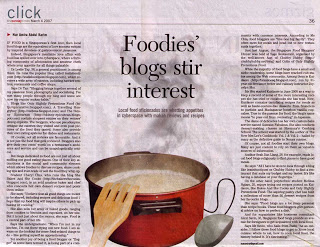 Yesterday's Sunday Times featured an article on the impact of Food Blogs in Singapore and ieatishootipost has been featured for the very first time alongside Singapore's most well known food blogs. I could not have imagined this when I started to blog 7 months ago!
I'd like to say a big THANK YOU to all ieaters for your continuing support for the blog. Your comments, emails and recommendations are a great encouragement for me to continue blogging! Its a buzz when I startup my computer to find a whole list of new comments, so please continue to write in AND don't forget to tick the "Others" box and give yourself a pen name if you are not already registered with Blogger.
I have been toying with the idea of organizing a makan session on a Saturday evening so that we can all meet up to EAT and MEET each other. At least you get to meet the people whose moustaches and mouths have been featured on the blog! Do let me know if you will be interested!
A very WARM WELCOME to all our new readers who have just visited the blog through the Straits Times article. Thank you for visiting and I hope you will find the information useful. You might like to visit the introduction to ieatishootipost to find out stuff like the mission statement, how to I rate food, why you should never waste your calories on yucky food and other FAQs.
For those who might not have the opportunity to read the article, here it is! Just click on the image to enlarge.