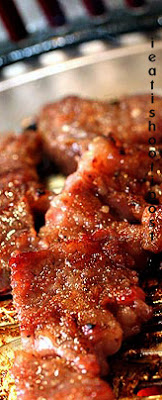 I have finally found a Korean BBQ that I can file under my list of regular places to eat. My quest for the Galbi (Marinated Beef Ribs) started in Sydney few years back when my brother brought us to a Korean BBQ restaurant in the sleepy little town of Eastwood which is slowly evolving into the Little Seoul of Sydney. Since that unforgettable experience, I have had little success trying to find a good Galbi in Singapore which was not helped by the ban on US beef in recent years. There was once I even rushed to gobble down a Galbi set meal while transitting at Incheon Airport in Seoul. Sadly, even that did not meet up to my expectations. Since then, I have tried several Korean Restaurants and Food Court stalls in Singapore but they have all been dissappointing.
So you can imagine my exhiliration when I took my first bite of the tender, sweet and beefy Galbi here! It is best described as a "holy grail" experience.
In Psychology, we talk about how our brain functions by employing Heuristics which are essentially short cuts which the brain uses to process complex decisions. Well, if I were to express, in mathematical notation, the heuristical formula in my brain that day, it would look something like this:
Tender, juicy flavoursome USDA prime beef + $30 for 180g + free flow Kim Chi (free) + comfortable environment = I've found my Korean BBQ restaurant
Whether you realise it or not, we use heuristics everyday in making decisions. For doctors, a clinical judgement that we need to make everyday is "Is this patient sick enough to be admitted to the hospital?" Often times, even before we do the full examination, we intuitively already know the outcome. For real estate agents, it might be the ability to tell if a particular property is going to fetch a good price. For brokers, it might be the split second decision to hold or to sell. Some may like to call it a "gut feel", but calling it a "gut feel" won't enable you to write a book and sell the idea for millions of dollars. Calling it Heuristics would.
So whether or not your pride yourself as a foodie, we all have had that "holy grail" experience when we eat something so good that we can stop searching for something better. It is not a decision that takes a lot of analysis or consideration. You just know it intuitively. Now that's heuristics at work.
Having only been in operation for 3 months, Jang Shou has already gained a reputation amongst the local Korean community as a restaurant that serves authentic quality Korean fare. I was introduced to this restaurant by a Korean patient of mine who ate there within a month of its opening. It's amazing how fast word gets around in the local expat communities.
Perhaps the most important ingredient in its quick success is the decision to hire Mr Ju Kyunn Eung, a well known Food Consultant to several of Korea's biggest restaurants. Under his strict supervision, only prime meats and authentic ingredients imported from Korea are used in the preparation of the dishes.
The first dish we had was the Marinated Beef Ribs (Galbi). I have never figured out how they managed to take a rib of beef and slice it so that it becomes a foot long fillet of beef. The Ribs are marinated for 2 weeks so that the meat is nice and tender but it has to be taken well done. Wrapping a piece of tender marinated beef together with rice, soybean paste and a slice of onion in cold crisp lettuce has got to be my top 5 favourite bites of all time.$30 for 180g 4.5/5
Those who prefer to the natural beef flavour can try the Seasoned Beef which is nicely marbled Short Ribs (Top Pic) lightly marinated in Sesame Oil. This one is best taken medium rare to savour the natural juices of the beef. $35 for 180g 4.25/5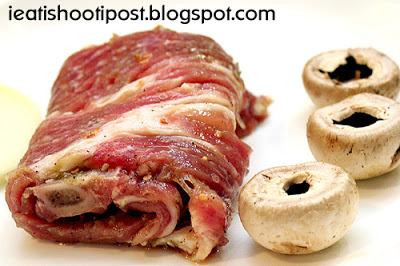 Non-beef eaters need not despair. They have a great selection of other meats such as the Olive Pork Ribs with Honey (Jangshou Galbi) which was sliced in the same way as the beef and was equally tender and delectable. $25 4.5/5

The Kim Chi here is all prepared in house under the direction of Mr Ju. Again, even though you might not know the details of the amount of attention given to the preparation process, you know instinctively that it is quality stuff. Their selection of Kim Chi also changes according to the availability of seasonal produce.
Conclusion
Great authentic Korean cuisine at reasonable prices. There are so many other things that look good on the menu, like the thinly sliced beef brisket and the marinated 3 layered pork which I really would love to try. My dilemma is whether to try the new stuff or stick with the old favourites next time I visit!
8.75/10 (T3.25+V2.5+S2+E1)