This stall is closed With khim, SCSbutter, HappiMummi and amagada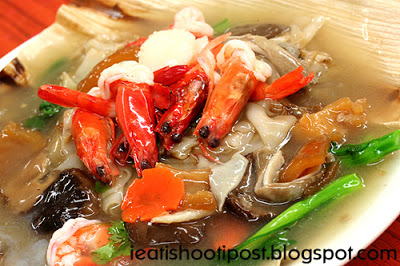 I am starting on my quest to find the ultimate Hor Fun in Singapore! For me, the ultimate Hor Fun must satisfy 2 criteria. First, the Kway Teow has got to be slightly charred and be so tasty that you can eat it on its own, and secondly the gravy must have that "what the heck did they put into the Shang Tang (stock) flavour". Now the humble Hor Fun is pretty much an uncelebrated staple in the Singaporean diet. Uncelebrated because it never makes it onto the "Recommended" list in your typical Cze Char Menu. It appears to me that the Hor Fun is always on the "In case you don't want to spend more than $3 on your meal" list. As a result, there aren't many "Star" Hor Funs out there. Or so I thought.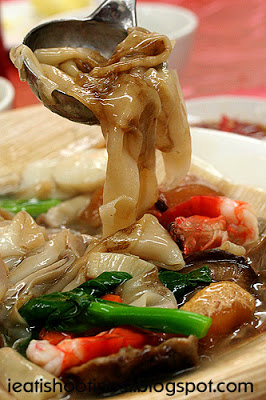 When khim wrote in about this $10 Hor Fun which had sea cucumbers, scallops, prawns, mushrooms and other goodies, it seemed too good to pass up. It was like something that I would have suggested to a hawker to do! The use of the Opeh Leaf and the fact that the Hor Fun was on top of the recommended list was the first indication that this was a going to be a special Hor Fun. Now to the taste test to see if it is just "Ho Toi Bo Hor Jia" (Attractive but lacking substance) The Hor Fun was nicely charred and had a good Wok Hei flavour! Criteria One checked. The gravy was very tasty and there was a great selection of good stuff like sea cucumbers, pork tripe, scallops, mushrooms and prawns. SCSbutter remarked that the tripe was really tender and it takes skill to be able to cook it that way. I felt it would have been even more impressive if they would use bigger sea prawns or crayfish instead of tiger prawns and if the gravy had a bit more ooomph.
Conclusion
Certainly a good Hor Fun for those who enjoy lots of liao (ingredients). The Hor Fun itself was well fried but somehow I suspect that somewhere out there there still lurks something even better. Let the search begin! 4.25/5