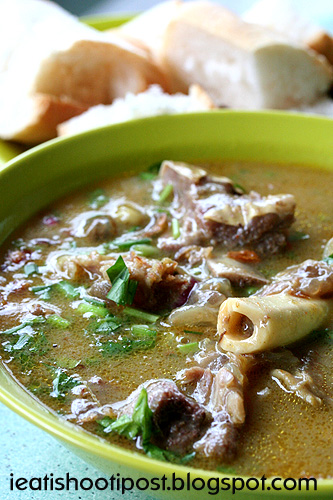 In my earlier blog on the Mutton Soup at Geylang Serai Mkt, I made mention of the famous Sup Kambing at the original stall in Upper Boon Keng FC. So here it is!
This is the most decorated stall at Upper Boon Keng FC. We went round the stalls in the FC 3 times and even sampled some of the worthy-mentionables but I decided not to include them in the blog. In other words, the only reason to come to this FC is for the Sup Kambing. (If there is another good reason, please let me know!)
So what's so good about this stall?
The soup is quite shiok, although I would advise readers to go there at night. By then, the soup would have had sufficient time to really extract all the flavours of the mutton so that you really get a great Umami Rush. I had mine at 3 in the afternoon, so I felt that it was just fell short of reaching the climax for my tastebuds. What's really good here is that they are generous with the use of mutton ribs. So you get really nice tender pieces of short ribs.
Besides the ribs, they also serve enough of other parts of the goat such that you can conduct an anatomy class here. As we Teochews like to say, "Oo Tao, Oo Buay" (Got head, Got Tail). Starting from the head, you get to eat goat's brain, which is particularly good for those who are a little sheepish. (Assuming that's an improvement) Next we proceed to some of the stuff in the middle like the stomach and ending at the rear with the er….how should I put it…… the dingly dangly thingy… the John Thomas… the little Willie…. It is supposed to be good for those who may have problems reaching 4th gear but are too shy to approach their Doctor for Viagra. (There is no evidence that eating penis will improve virility! So I am in no way advocating the practise!)

Conclusion
Quite a shiok mutton soup BUT I feel that the ones I used to eat as a kid had just that extra ooomph. I don't know if it is just nostalgia playing tricks on me or if stallowners nowadays pull back on some of the shiok stuff in favour of offering something more suitable for the modern health conscious consumer. At this point in time at least, if I have a craving for Sup Kambing, this would be the stall that I will go to to satisfy that need. 4.25/5