This stall is closed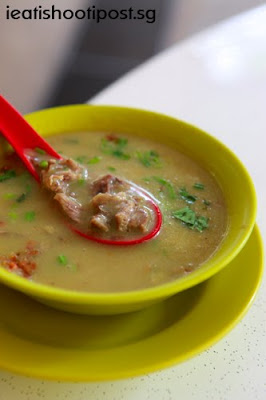 One of my fondest food memories is how my Dad used to rave about Soup Kambing. I can't remember where we ate the Soup Kambing, but I would always remember that it was one of his favourite dishes. But even though I cannot remember the place, I will always remember the taste of the soup kambing we had years ago.

All the Soup Kambing I have blogged so far had never come close, that is, except till now. When I had my first taste of this Soup Kambing, I had that Chor Chor "This is the taste! This is exactly the taste" type reaction. Uncle Smart who was with me had the same reaction. In fact, he thinks that he has actually eaten at this man's stall 30 years ago and the taste is still much the same.
The Soup Kambing is so good that I actually finished the whole bowl. Normally I would just take half a bowl because I don't want to eat too much of these sort of cholesterol rich dishes. But I couldn't help it cos I just enjoyed the taste. It also helps that the soup itself is actually not as oily as some other places. 4.5/5 (Smart gave it 4.6/5).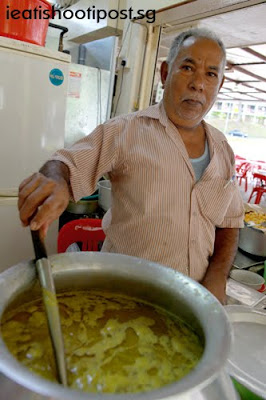 It is easy to just walk pass the stall without even noticing it. The unpretencious little stall is run by an elderly Indian man who has been cooking his Mutton Soup for the last 30 years. He comes from a generation of Singaporeans who migrated to Singapore but still has his family back in India. He told me that he has a house back in India and both his kids have all grown up and have their own careers. I quipped that uncle must have returned to India every year to find that his wife had given birth to another child!
Uncle tells me that he cooks one pot everyday and when it gets sold out, he goes home. His pot of Soup Kambing is ready by 3pm and he is usually opened until the evenings. The best time to eat the Soup Kambing is in the evening when it has time to simmer for a few hours. We had ours in the afternoon and it was already very good. I wonder how it would be by the evening!
Conclusion
Simple, classic Soup Kambing that harken back to a generation of immigrants for whom Singapore will always be a foreign country to work in order to send money back home.
You can have a satisfying bowl of Soup Kambing here and then go to the food centre next to it to wash it down with a refreshing Mango Pomelo dessert at the Buzzing Cashier Stall, Bee Garden.