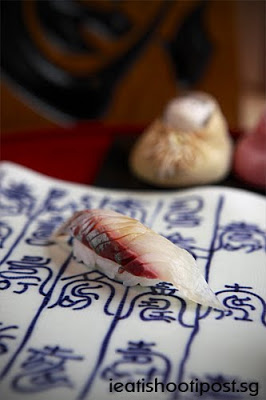 Hamachi – Japanese Amberjack
As I continue on my journey to Sushi Enlightenment, I realise that the reason I enjoy eating Sushi on the counter is because, aside from being able to learn from the itamae (Sushi Chef), the rice is molded just before you eat the Sushi. Now, we all are very familiar with the Sushi trains where some of the Sushi have been going round and round the conveyor belt. The Sushi that have already been a few times round the block must feel like the last boy to be picked for a soccer team. By the time you finally decide to end its miserable existence, the rice is already dry, grainy and frankly a waste of calories.

One of the essential differentiating skills of the Sushi Chef is his ability to pick up around 150 grains of rice and mold it with just the right amount of pressure so that it sticks together but there is enough air in between the grains to give you just the right bite to complement the fish. It has been said also that there are very few (I have not seen any yet) lady sushi chefs because the hands of a woman are far too warm to make Sushi.
I continue on my project of cataloging all the common types of Sushi starting with the Hamachi today. If you are a Sushi beginner like me, you might be confuse the Hamachi with Kanpachi since sometimes both are referred to as "Yellowtail". Well, the thing to remember is that Hamachi is the most sought after and it is known as the Japanese Amberjack. Kanpachi on the other hand is the Greater amberjack and its flesh is not as buttery sweet as Hamachi. Put it another way, you might get easily cheated if someone serves you Kanpachi and tells you it's Hamachi.
Verdict: Very pleasant way to start a sushi course!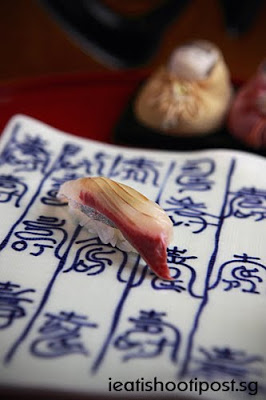 Hiramasa – Yellowtail
You really have to be a seasoned sushi eater to be able to tell straightaway if the fish you are eating is Hamachi or Kanpachi or in this case, Hiramasa. I won't pretend that I can tell the difference even though I had Hiramasa (Yellowtail) right after I had Hamachi. Rockett girl says that the flesh of the Hiramasa is slightly tougher than the Hamachi. The fact is that if you gave me this and tell me its Hamachi, I won't be able to tell the difference….. yet.
Verdict: Another pleasant way to start s Sushi Course.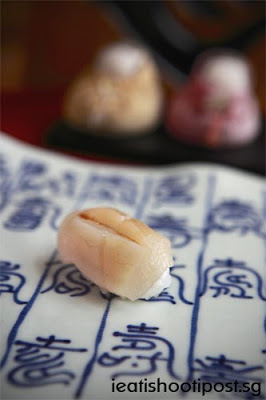 Hotate (Scallop)
Rockett Girl's all time favourite Sushi is Hotate (Scallop) which she would order at her favourite stall in Tokyo the minute she reaches Shinjuku. Hotate it is one of the first Sushi that I learnt to like. It is hard not to like it. The flesh is fresh and sweet and it is the kind of sweetness that lingers at the back of the palate for a while. The best kind of Hotate are the large Hokkaido ones where you get just one piece of the smooth adductor muscle. Sometimes you find Hotate at Sushi trains which has the rest of the scallop (intestines etc) rather than just the muscle. It just means that they are using smaller, cheaper scallops.
Verdict: Definitely on the menu especially if eating with wife.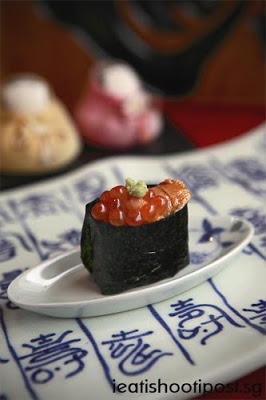 Nama Sujiko with Uni (Fresh Wild Salmon Roe with Sea Urchin)
Sujiko is Salmon roe but it is not Ikura which is more commonly seen on the sushi trains. Sujiko is Salmon roe which has been marinated while still in the sack while Ikura is removed from the egg sack before marinating. Kevin tells us that this particular Sujiko is made from wild Salmon and is seasonal. The taste of Sujiko is richer than Ikura and once you had this, you would probably find Ikura a bit bland. Paired with Uni, this is certainly something you want to savour with your eyes closed for a while.
Verdict: Another one please!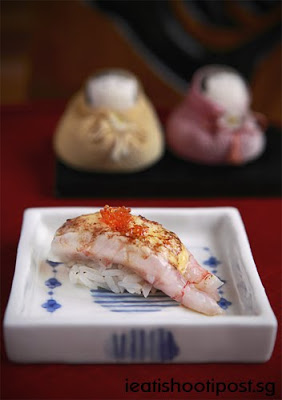 Aburi Amaebi
Amaebi or sweet shrimp is already one of my favourite sushi, but Chef Kevin decided to do something different this time and lightly grilled it with a bit of mayonaise and topiko (flying fish roe). The result is fantastic. The contrast between the rich warm mayo and the cold sweet and pastey Amaebi is quite enjoyable.
Verdict: Oh yes, another one for me please.

Shingo (Baby Kohada/Buzzard Shard)
I mentioned in my video blog that in order to make assess the skills of an unfamiliar sushi chef, there are three dishes that you would want to order. They are Tamagoyaki (Fried folded eggs), Anago (Sea Eel) and Kohada (Gizzard Shard). That is because all these three dishes tests the itamae's (chef) cooking skills rather than just his knife wielding skills.
Of these three I would not want to order the Kohada because it has a strong fishy smell. In fact, I don't like any fish which has that particular silvery skin. Be it Kohada or Saba (Mackeral). I don't like the strong fishy taste. The baby Kohada is no different. I don't think it is Chef Kevin's lack of skill in preparing this dish, it's just a fishy fish.
Verdict: Nope, not wasting my money and calories on this one.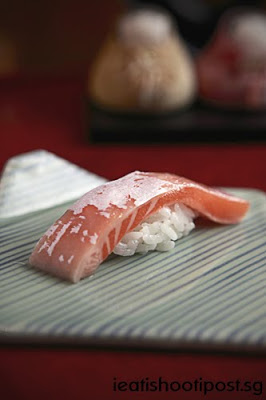 Salmon Belly just before they torch it
When eating Sake (Salmon), always try to go for wild Salmon because not only does it taste better, it is actually healthier. The explosion of Salmon farms in recent years has meant that the once exclusive fish is now one of the cheapest items on the Sushi train. However, when you eat raw farmed Salmon, there is a risk of parasitic infection and chemical poisoning since overcrowded Salmon farms increase the risk of parasitic infestation. In order to combat this, the farmers throw in pesticides which then introduces harmful chemicals to the fish. So be wary about eating lots of cheap Salmon Sushi!
If you like that creamy, savoury, uni-otoro like experience, then Salmon belly is another dish to put on your list. It tastes even better lightly torched such that there is the aroma of sizzling fats and the fish just simply melts in your mouth!
Verdict: Definitely on the menu
Conclusion
Well, that wraps up Part 3 of the Sushi Series. I don't know how long this is going to go for, but they tell me that there are still plenty of fish in the sea!
The sushi set is $60++. If Chef Kevin is around, let him know you are a blog reader and he will throw in a few special pieces for you!