Advertorial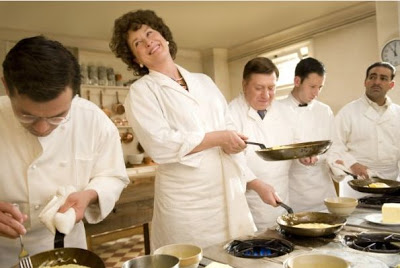 Julie and Julia is a film about food and how the passion for food transformed the lives of two ordinary women. It is the first film to give a more intimate look into the life of a food blogger and needless to say, I thoroughly enjoyed it since I could identify with a lot of what the onscreen food blogger had experienced.

The story revolves around Julie Powell who is a down and out, low level government official searching for significance. She decided one day that she would start a blog about cooking and that she would cook all 524 recipes in Julia Child's classic cookbook on French cooking in 365 days. By the end of her project, her blog had became so famous that she wrote a book, Julie and Julia, which eventually got turned into a film.
The other personality is, of course, Julia Child, the iconic and flamboyant TV cookshow host of "The French Chef" and author of "Mastering the art of French cooking" who is widely acknowledged as the person who brought French cooking to mainstream America. Julia Child started her career as the wife of diplomat Paul Child (played by Stanley Tucci) who was posted to Paris and took up a cooking course in Le Cordon Bleu so that she would have something to do.
I haven't watched any foodie films since Ratatouille and sometimes I wonder why they don't make more foodie films. It is always so enjoyable to watch how the actors act out that expression of epiphany and sublime shiokness as they savour the dishes.
Watching Meryl Streep's character in post war France was a real joy. In fact, her portrayal of Julia Child was so enjoyable to watch that I was a bit disappointed that the real Julia Child was not more like her. The chemistry between the flamboyant Julia with her more measured husband, Paul was excellent though I find it just a tiny bit unsettling to see big women (the director really made her appear huge!) snuggling up to small men. (Nothing wrong with that, but when you watch the movie you would know what I mean)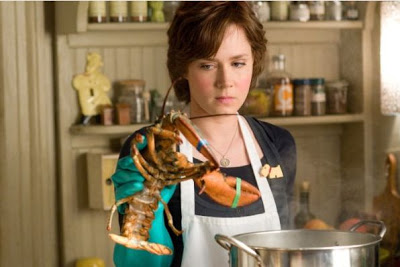 However, the same cannot be said about Julie's character back in present day Queens. For me, it was as if Julia Child's bit was the real movie and Julie Powell's bit was the advertisement that I had to sit through to wait for the show to start again. Well, I guess it wasn't all that bad, but it was just that I really enjoyed watching the lumbering and larger than life Streep much more than I liked watching Amy Adams character. Just about the only parts that were memorable and worth talking about after the film were that of Julie's husband, Eric Powell (Chris Messina) enjoying the food.
Overall, Julie and Julia was a fun film to watch and I would recommend it specially for anyone who loves food and just want to watch a movie that makes you feel all nice and warm inside. Beware though, as with all foodie films, make sure you eat a proper meal before watching the show or you might find yourself wanting to pop out to grab a bite to eat.