This stall is relocating.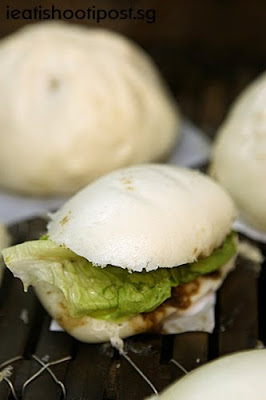 Kong Bak Pau $1.20
Back in 2006, I met Mr and Mrs Cheng and remarked how nice it would be to have those gigantic paus that you often see along the highway while driving in Malaysia. They took on the idea and it is good to know that four years on, the Godzilla Da Pau is still doing very well. The couple has since moved from Tampines to Pasir Ris and continues to sell the Pau. In fact, when they moved, they even renamed their stall Godzilla Handmade Pau!

Since that first success, the couple have been very motivated in coming up with novel flavours every few months and whenever there was something new, they would drop a few off at my clinic for me to try (they live close by) in order to give them some feedback. So over the years, we have gone through coffee pau, chicken sausage pau, cheese pau, luncheon meat pau, Gu Chai pau, durian pau and a few other exotic flavours. Some, like the coffee pau and durian pau have since become standard items on their menu.
Recently, I gave them the recipe for Japanese Char Shu which we used while filming the video blog series on Japanese cooking. I told them that Japanese Char Shu is currently the rave in Japanese Ramen resturants but their Char Shu is very similar to our Kong Bak, so it would be interesting to try making a Japanese style Kong Bak Pau.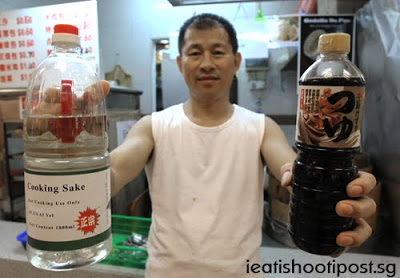 Mr Cheng showing off his Japanese sauces
They were quite excited and so went off to experiment with the new idea. After a week, they popped by the clinic again with their Japanese Char Shu Kong Bak Pau and I was very pleasantly surprised! The flavour was very good and when paired with their excellent pau skin, the result was a Kong Bak pau which I feel is much better than most Kong Bak Paus being sold at pau shops. Of course, you can't compare this with the ones that you eat at restaurants but I found them tasty enough to finish two of them right after lunch.
Japanese ingredients are not cheap, but the couple did end up sourcing Sake and Japanese Soy sauce for their recipe and although the result is not exactly what you would get at a Japanese Ramen restaurant, I think what they have come up with is a very tasty and clean tasting Kong Bak pau. I have always liked the pau skin here as it is more like the homemade style buns. That means that they are thick, soft and fluffy unlike the usual flat pau skins you buy from the supermarkets. It would have been even better if they could assemble the pau on the spot rather than having them ready in the steamer but I guess that would be impractical for them to do. 4.25/5

Godzilla Da Pau $3.80. It's a whole handful!
Cactuskit and I also tried the Godzilla Da Pau recently and I am happy to report that they are still as good as before. They have stopped putting abalone in the pau recently due to the high food costs, but I don't think that made much of a difference to the Pau. It still has the salted egg yolk, chinese sausages, mushrooms and meat. At $3.80, it is one meal in itself, plus a bit more.
Conclusion
It is good to see that some hawkers can be innovative. Since the introduction of the Japanese Char Shu Kong Bak Pau, they have seen their sales of Kong Bak Pau tripling and now they are already selling close to 100 a day on the weekends! It has proven to be very popular amongst the people living around the area. In case, you are new to the blog, this is a good chance for you to discover the Godzilla Pau and grab a few Japanese Cha Shu Kong Bak paus while you are there!