Remember Baba Bento? They made quite a splash when they opened their kiosk in the basement of Hong Leong Building back in 2018. During their short stint there, they managed to garner quite a following with their homestyle Peranakan food. Unfortunately, they had to close temporarily for renovations. After a two year hiatus, they have reopened at Pasir Ris Hawker Centre as Nonya Pok Pok Kay.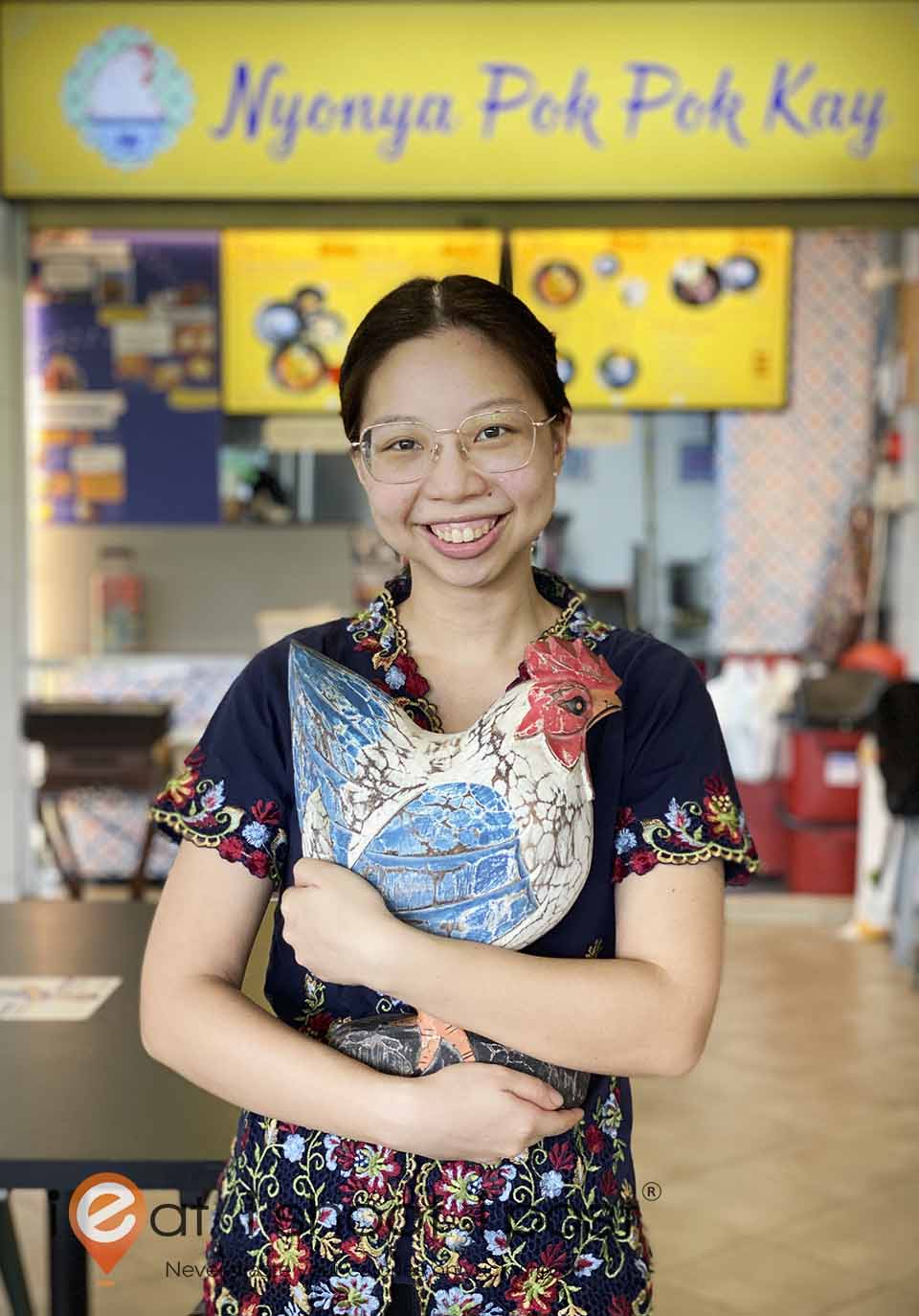 In case you are wondering why the name changed, it's because the stall is now being run by Sarah, a 27-year-old hawkerpreneur, and daughter of Mr Leon Sng, 57, who was the Baba behind Baba Bento. The "Pok Pok Kay", of course, alludes to the clucking of a chicken while it's going about doing its chickeny things.
The recipes are inherited from Mr Sng who had been trained as a Chef at Shatec and had worked in a few restaurants before opening an Economic Rice stall at Tampines Polytechnic years ago before he and his wife became full-time Christian missionaries.
I know the family quite well so when they opened the stall at the beginning of the year, I was one of the first to visit. I didn't write about them at the time because I felt that the food wasn't quite ready and Sarah was still very much under training. Six months on, Sarah is now cooking the dishes herself and the quality of the Ayam Kapitan has markedly improved.
Story behind how it all started
See the video interview that Lisa did with Sarah and her dad Leon. Read the full story behind how Sarah decided to run her own hawker stall here.
The Dishes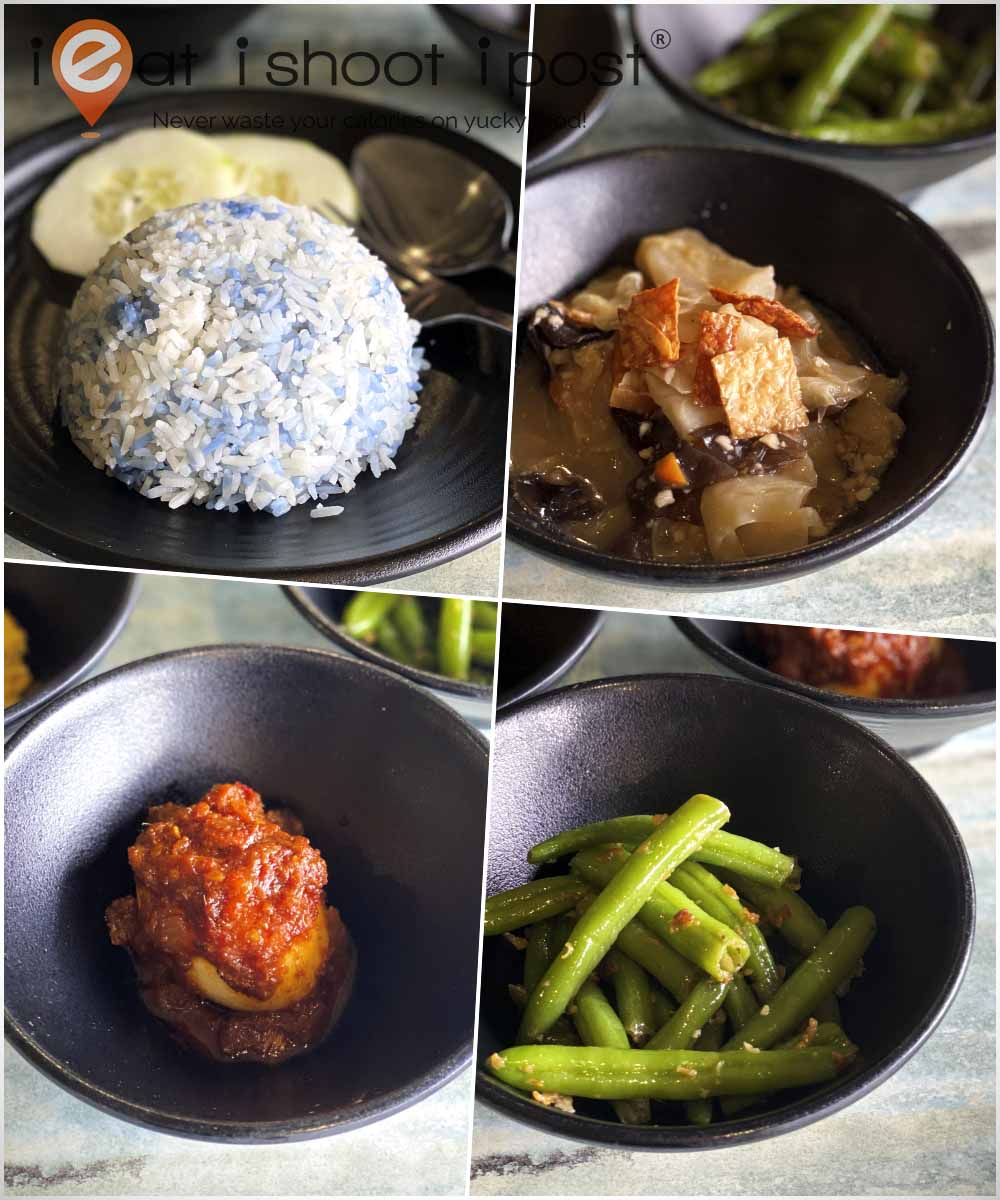 Unlike the usual Nasi Padang stall where you get to choose from a bedazzling array of dishes, Nonya Pok Pok Kay offers only a limited menu. They currently have two main chicken dishes: Ayam Kapitan and Ayam Sio, and four side dishes: Radish omelet, sambal egg, french bean with hae bee and chap chye. Each set comes with blue pea rice, a choice of mains, and two side dishes.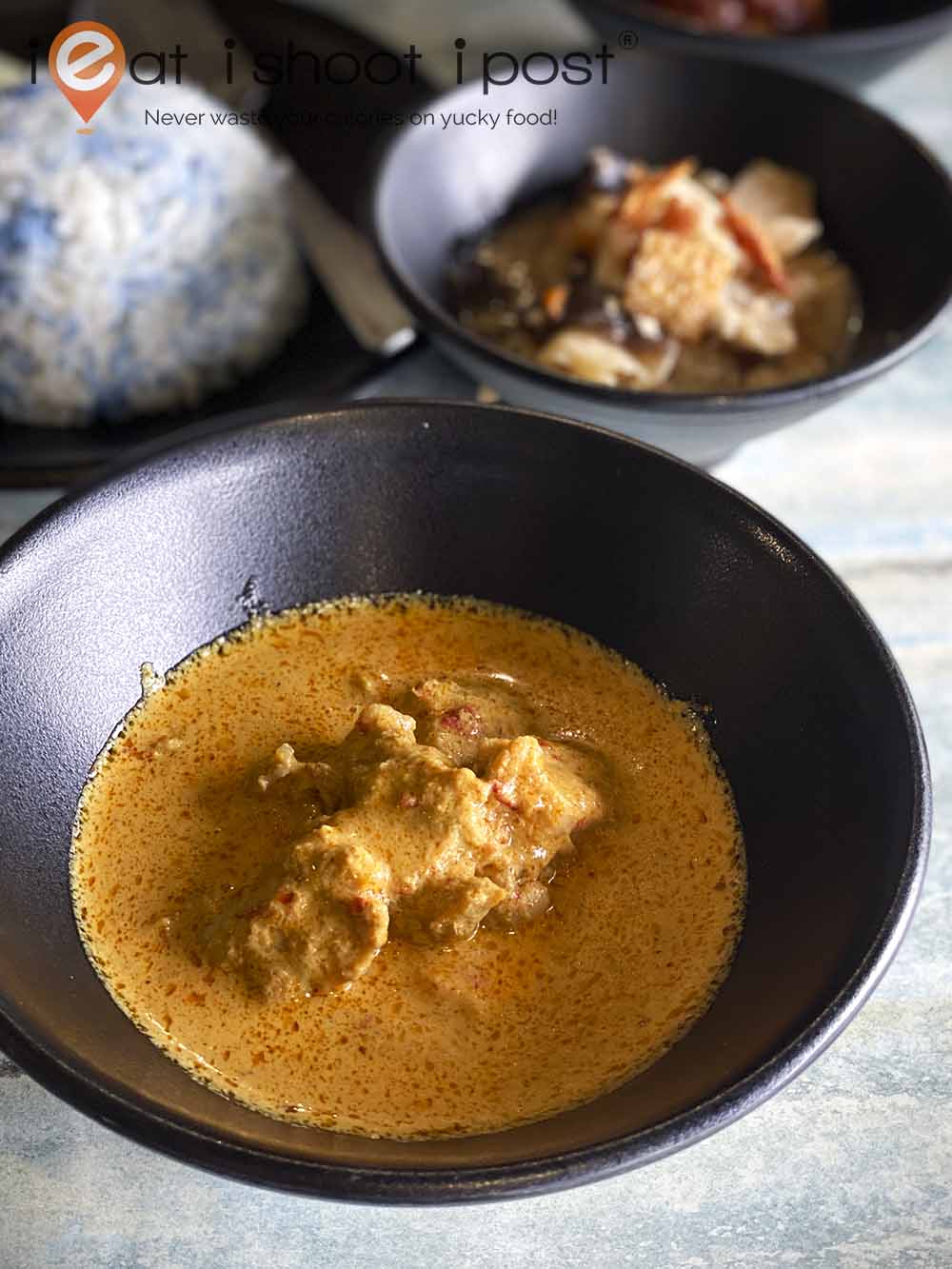 I have always enjoyed Leon's Ayam Kapitan. I have tasted it when he was doing his private dining as well as at Baba Bento. This is one of his signature dishes. They currently use frozen boneless chicken leg due to the lack of fresh chicken from Malaysia, so it doesn't look as substantial but the flavour is still good. I still feel that lacks that ooomph when Leon cooks it at home, but it still has that lemak curry flavour which goes well with the blue pea rice. 4/5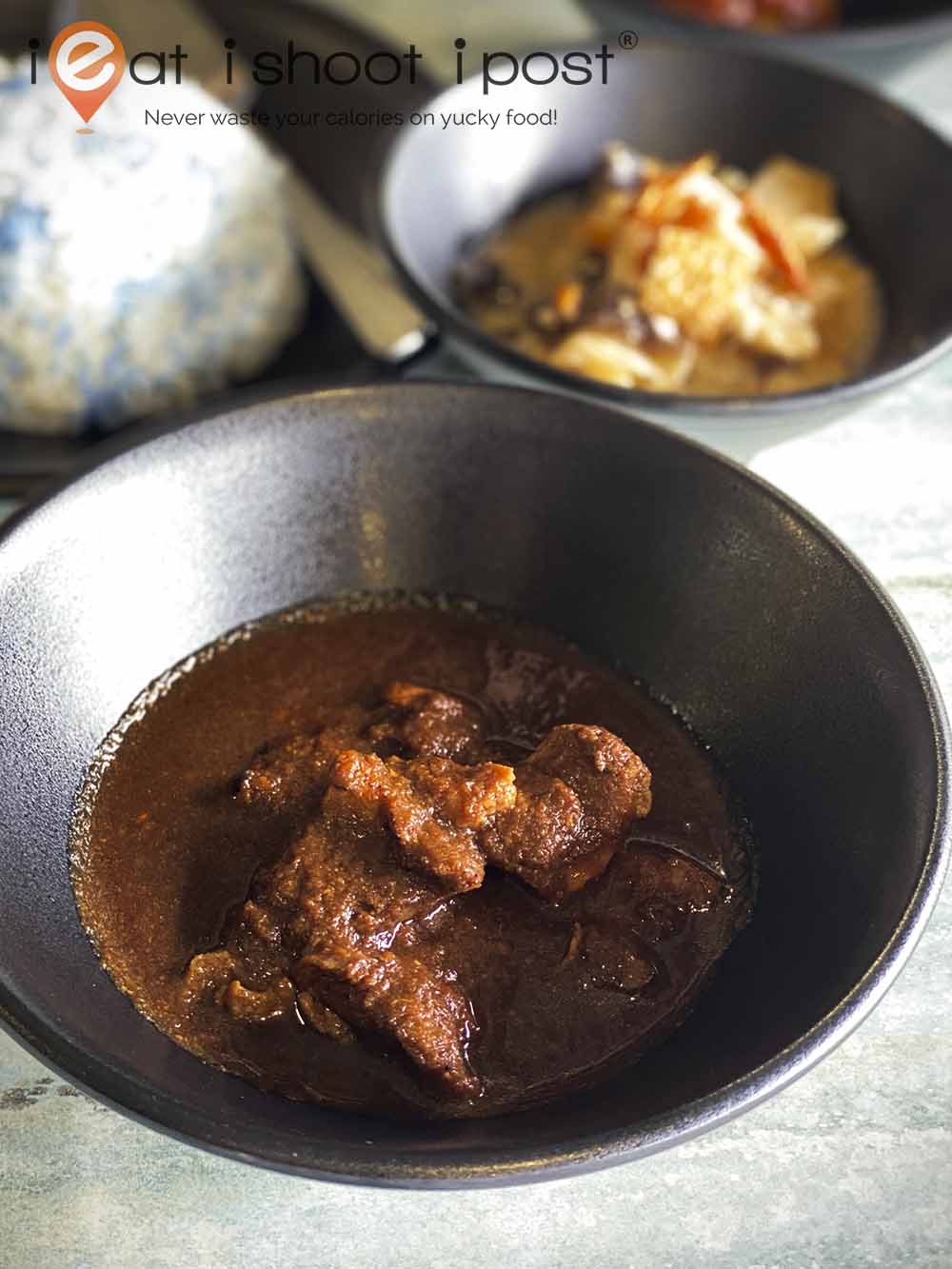 Ayam Sio is quite a new dish for me. It is essentially chicken cooked in tamarind and coriander. This sweet and sour dish is a favourite of Peranakans which is not so commonly found at the hawker centres. Consequently, they now have a fan base who come especially for the dish. The dish is a little on the tangy side and the coriander flavour is quite strong. I can't eat it on its own but found that it was better when combined with the Ayam Kapitan. 3.5/5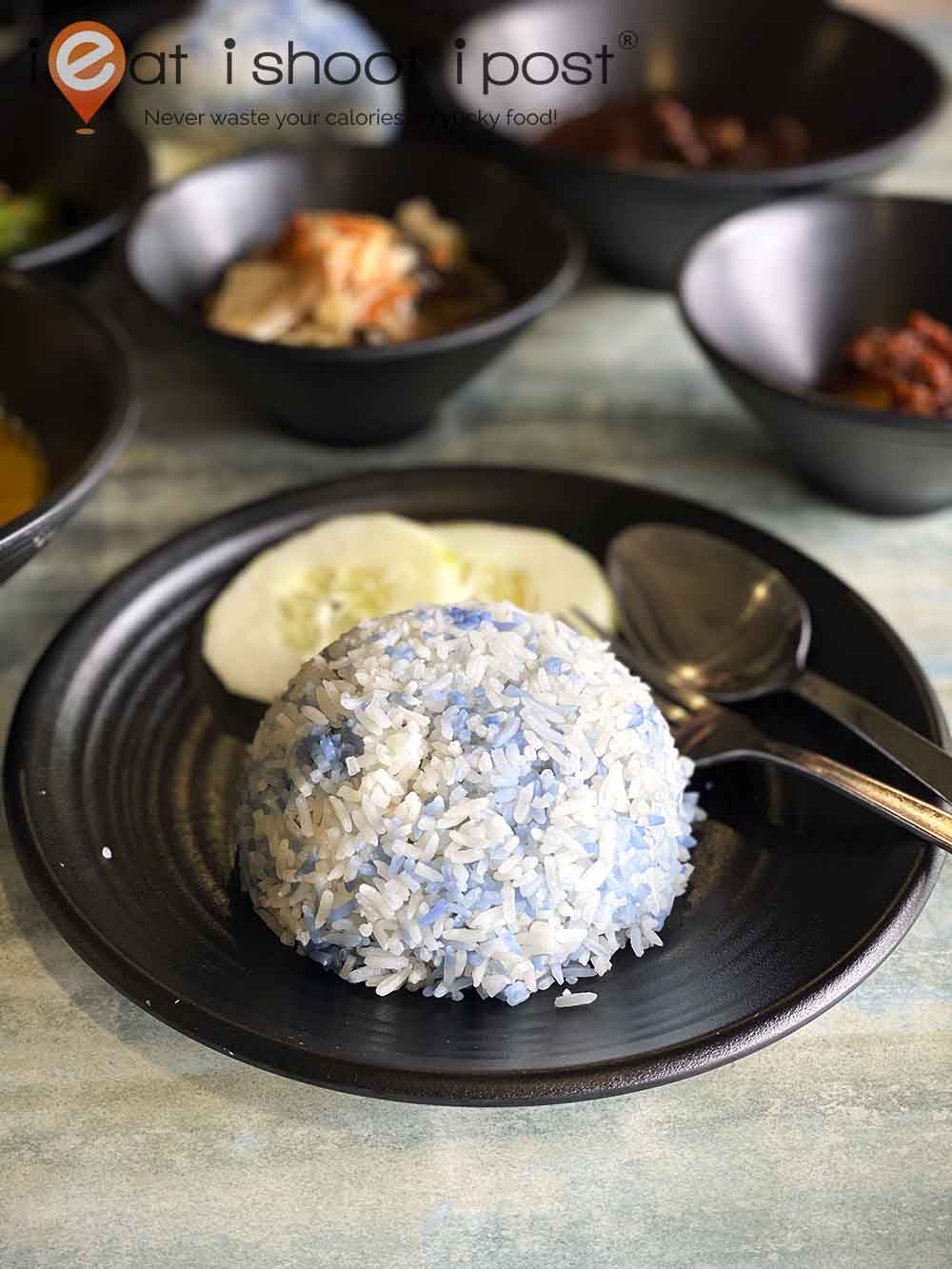 Now I have to say something about the presentation. Unfortunately, the policy at Pasir Ris Hawker Centre is that all hawkers are required to use the same black plates for ease of dish washing. Unfortunately, it doesn't do much for the food at NPPK. You essentially get your blue pea rice on one plate, ayam kapitan in a bowl that is slightly too big and the two side dishes in their own bowls which are also slightly too big. Compare this to the Bento Box that they used to serve at Baba Bento and you'll see a huge difference in the perception of value.
My peeve about the plating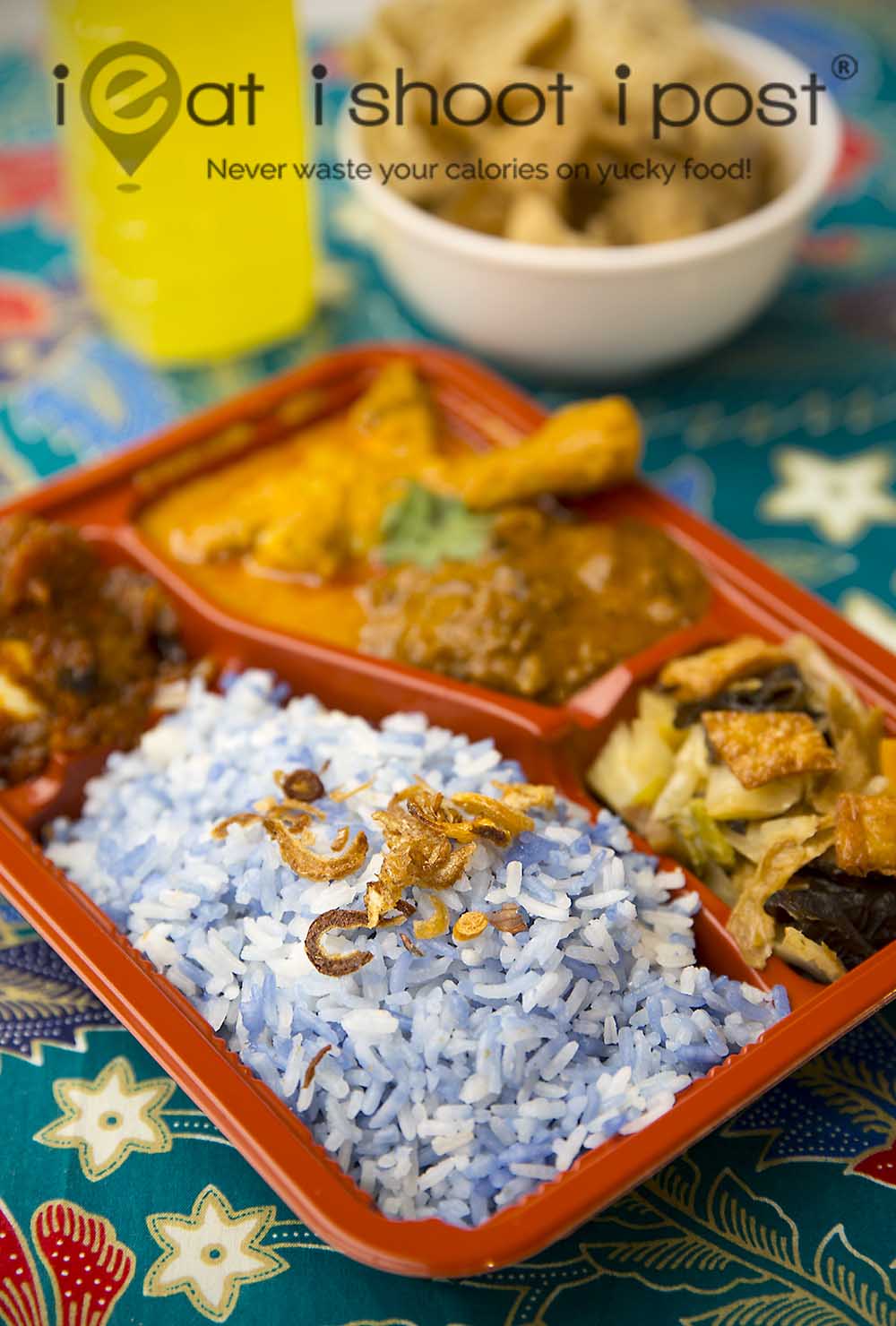 I feel that it would look much better if they place the rice, curry and two sides onto one single black plate as shown on the topmost photo. That would look much more attractive, but the perceived value would then be compared to the usual Economic Rice, in which case, the $7.70 price tag would make it look too expensive.
The bottom line is this, I personally feel that this whole policy of compelling hawkers to use common, uniform plates is not a good idea if we really want to nurture a robust hawker culture. It robs hawkers of their creativity and individuality and forces everyone to conform to a boring norm. On one hand, the management are trying to encourage hawkerpreneurship but on the other, they are giving them the freedom to express their culinary efforts to the full. It's a really bad idea and I hope they will eventually change their policy!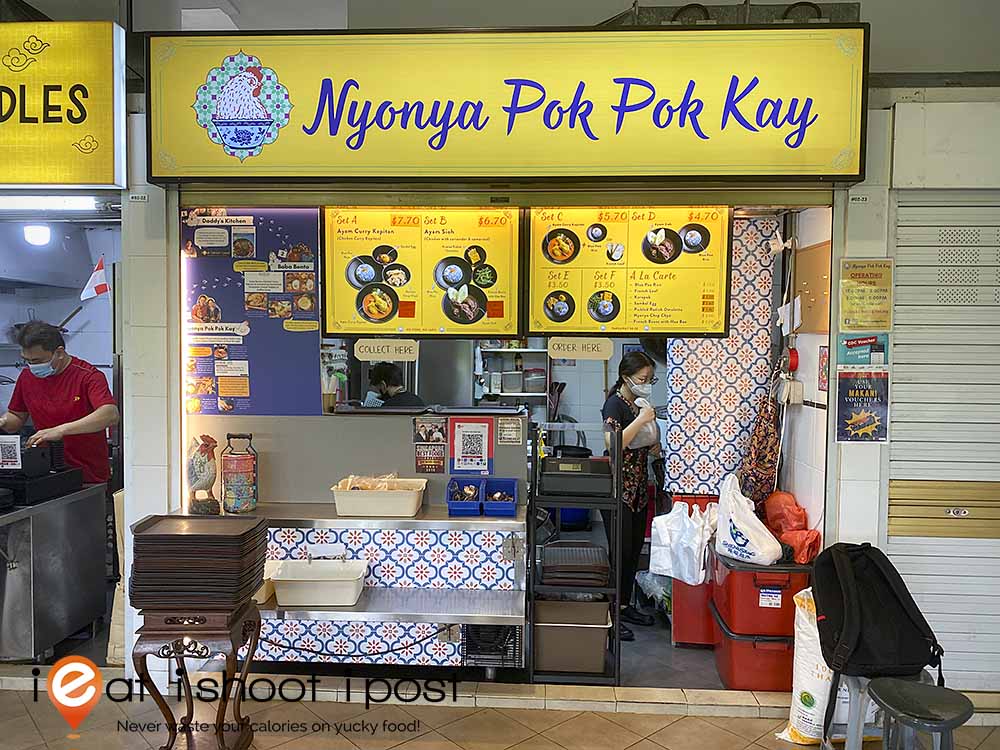 Conclusion
Good place to find quality homecooked Peranakan-style dishes. The menu is quite limited, but you can be assured that it is done with as much passion as a Nonya in her own kitchen.