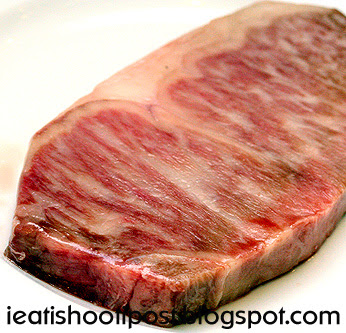 Now THIS is a real "Holy Grail" experience. If you all have been following my blogs, you would know that the one thing that is on the top of my list of food to eat is Kobe Beef. Granted this is not Kobe Beef but I think that it is as close as I would get to eating Kobe Beef in Singapore.
Just when I thought that Wagyu Grade 9 was the best steak available in Singapore, Aston has managed to exceed expectations again by managing to procure this Wagyu Striploin which I think should be at least a Grade 11 on the marbling scale.
According to Aston, the supplier came by and told him that they were sent a batch of these Striploin Steaks which were ungraded. Normally the highest grade only goes to Japan, and the best grade that we get here in Singapore is Grade 9. However, you would agree that the marbling on this steak far exceeds the Wagyu Grade 9 that I blogged about earlier. I don't know about you but this sound suspiciously like some underground smuggling job to me!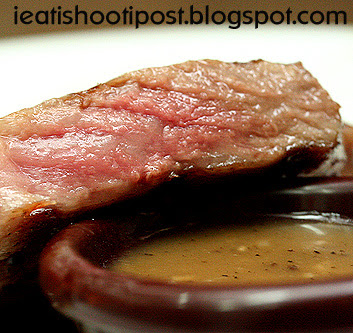 I don't think I need to describe the taste of the steak because I don't think I can find the words to do justice to it. The pictures speak for themselves.
I will make one confession. The steak was so rich, that my conscience restricted me from finishing the whole steak. Even though the beef suppliers would insist that 70% of the fats are monounsaturated fats, somehow I still doubt that eating such a fatty piece of meat (or should it be meaty piece of fat) can lower your cholesterol levels. Anyway, I am on a fruit and vegetable fast today and maybe tomorrow!
Conclusion
This one is for the real Steak Afficianados which is why I felt obligated to share it with you immediately. Aston has brought in 9 steaks (as of 11pm yesterday), each weighing 250g and it is priced at $150 with 2 sides. You can eat it all by yourself of course, but I think it is best to share such a steak with a few friends. You will be doing your friends and your body a big favour!