I have blogged hundreds of hawker stalls in the last five years and you'd think that I would have covered a lot of ground by now. In the first few years, I has churning out one blog post daily. Now I am averaging around 3 posts a week. But you know what? There are still lots of stalls out there waiting to be discovered and my to do list seems to be getting longer every day!
You would think that there would be a limit to the number of good hawker stalls in a small place like ours, but every once in while, you will still come across an un-decorated little stall which is known only to their own fans. Now, I am talking about stalls that have managed to escape the radar of the newspapers, TV shows, magazines,etc over the past 50 years or so. Our stall today happens to be one of them!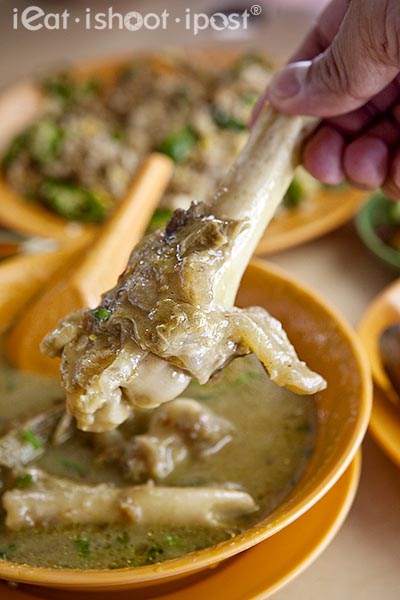 How did this superb Sup Kambing manage to stay under the radar for so long? It took only one mouthful to know that this Sup Kambing is special and something I have been looking for since the beginning fo the blog. The Mutton flavour was strong enough to be savored but not overly gamey. It was spiced just right so that you can finish the whole bowl and be satisfied without being jialak (bloated). The tendons are wonderfully gummy and the chunks of meat are tender and satisfying. I have been lamenting that I couldn't find the mutton soup of yore, now I lament no more! 4.5/5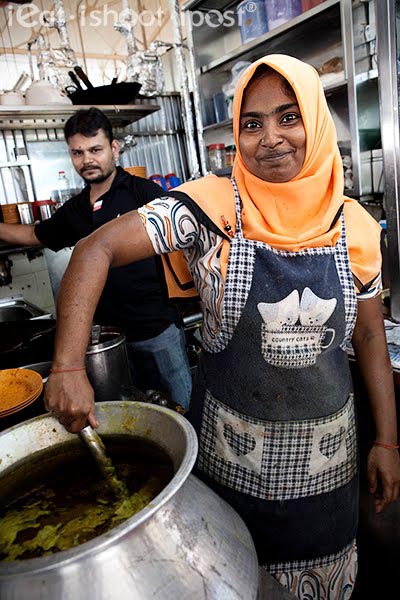 The stall is run by a 2nd generation hawker who is a young lady who has taken over the stall from her father. She comes in at 8am in the morning to start cooking and doesn't go home till 2am! And the stall is only closed once every fortnight! When I heard how hard she worked, my first thought was how such a young Singaporean could tolerate such a lifestyle. Well, it turns out that she was brought up in India! A lot of Indian migrants like her father would come to Singapore to work but raise their kids in India. So even though the parents are now Singaporeans, she still holds only a permanent resident visa.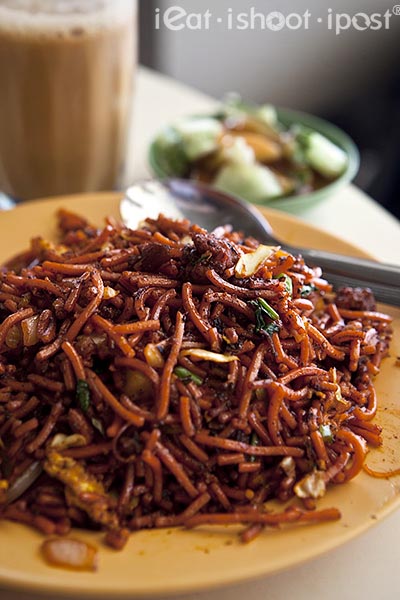 Aside from Sup Kambing, I have also been lamenting over the lack of a good Mee Goreng. Now this Mee Goreng might not be the ultimate Mee Goreng of all time, but its pretty good. At least it is better than any Mee Goreng I have tasted in the last few years, although I must admit that Mee Goreng not a priority food for me. This one has enough kick from the pieces of spiced mutton that you get a mini burst of flavour every now and then. The sambal that they add when they fry the noodles is not overly spicy. I am getting closer to what I am looking for! 4.25/5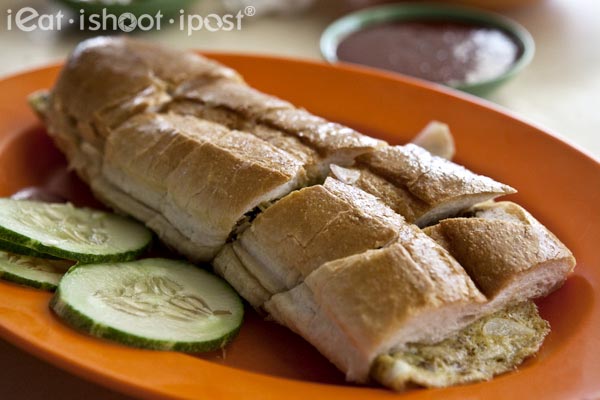 Have you ever considered the fact that Roti John is only available in Singapore? Yes it is! Food Canon, recalled that he was surprised when he saw this dish when he first came to Singapore as a student from Malaysia! In the old days, Roti John was simply french baguette fried on top of an onion and minced mutton omelette and eaten with a chilli sauce. Nowadays, the Roti John comes graffiti-ed with mayonnaise and chemically constituted cheese sauce!
I am glad that Subhaini still does Roti John the traditional way. That same spiced mutton gives the omelette its muttony kick and their homemade chilli sauce is excellent. Only thing is the baguette is not as crispy as I would like it. Don't you think it would be great if some hawker would use good quality, crusty french baguette to make this dish? 4/5
Conclusion
If you are hankering for some great Indian Muslim (Mamak) dishes, this is definitely one of the places to get it. The Sup Kambing, in particular, is worth the trip as it is getting so hard to find great Sup Kambing nowadays.